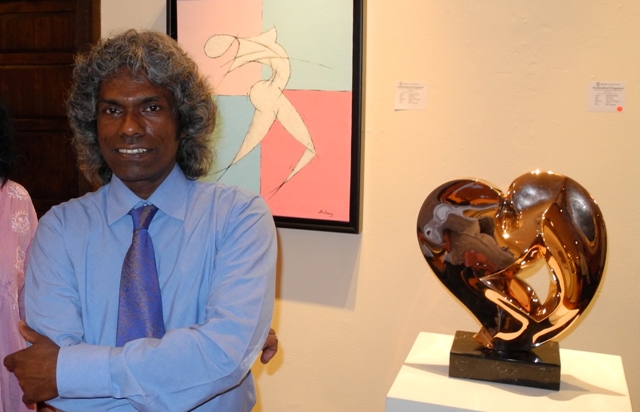 From tapping rubber as a boy to creating stunning bronze sculpture, life has been unexpected for Michel Anthony. Sarah Rees speaks with the award-winning Malaysian sculptor to discover how luck and daring came together to take this Perakian from the plantations to the prize podiums of Europe.
Whatever you expect when you hear the words "awardwinning sculptor", it will not be the dapper, wide-smiling Indian man with the engorged mop of curly hair who greeted me at the Sutra Gallery surrounded by his bronze works. With a firm handshake and an easy manner, Michel Anthony oozes a healthy balance of confidence and humility that is the product of an unlikely life and the sign of a talented man who still believes in luck.
Michel is currently enjoying awards and adoration as a sculptor working with bronze, and from his studio in France he creates beautiful drawings and paintings that evolve into sculptures that have wowed art admirers at shows all around Europe and worldwide. But this is certainly not the life he was born into, nor is it an existence that he ever visualised when tapping rubber alongside his parents as an eight year old boy.
A Childhood On The Move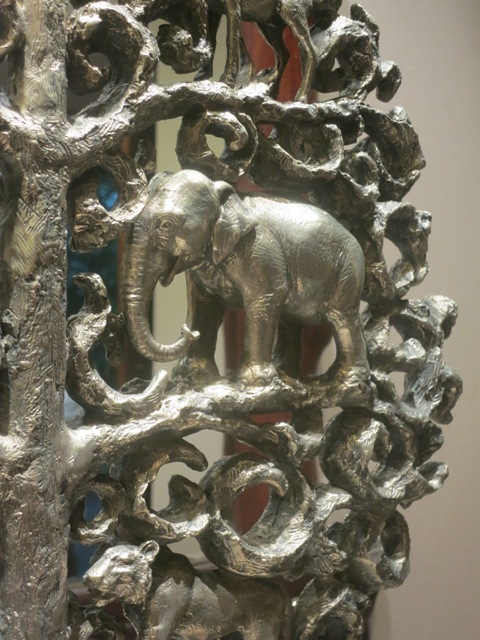 "I was always very adventurous," explains Michel as we start his story where it all began, as the second eldest of eight children growing up on a rubber plantation in Perak. "I liked being outdoors – fishing, hiking. And I was a bit naughty, too."
While this may paint a picture of an impish boy racing around the plantation, the reality was somewhat less romantic. "I worked with my parents tapping rubber before school in the morning," he says. "That was the way of life." When the money ran out to pay for his school bus, Michel made the decision to quit school and work to help the family: he was just 12 years old. What followed was more than a decade of unexpected twists and turns of life, from working in a dispensary to taking tourists around on a fishing boat in the waters around Penang, the latter giving Michel his first sight of the ocean and introducing him to the pleasure of sailing.
After proving himself on various stints as a skipper on yachts in Penang, Michel was invited by a foreign skipper to help deliver a sailing yacht to the Mediterranean, and he couldn't refuse. "I wanted to travel," he says. "When I was a teenager working in the dispensary, I used to read the Children's Encyclopaedia Britannica and decided I was going to marry a French girl!"
He shakes his head in amusement. He did marry a French girl, and ended up settling his life and finding his vocation on French soil.
French Fancies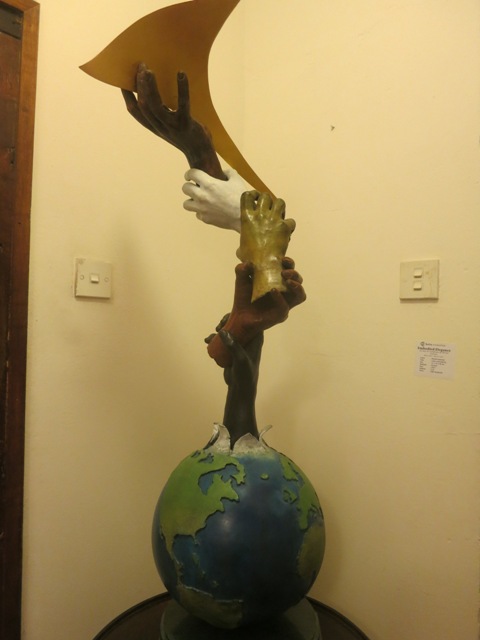 That is not to say that his progression has been straightforward, and Michel is the first to admit that "life has not been easy for me. Being an artist is no joke. There is so much competition, and you have to be different; extraordinary. I had no intention of just making postcards for tourists – I wanted to be the best. I dared to be different. Its challenging, but you have to dare."
It was surely daring that tempted Michel away from his reliable life as a yacht skipper in the Mediterranean to Milanto try his hand at art, encouraged by a serendipitous meeting with the American fashion designer Ken Scott on board a boat. Scott spotted the enthusiasm and natural eye for drawing in this young man – "I suppose I had always been good at that in school," Michel adds thoughtfully – and swiftly invited the Malaysian to become his personal assistant. Suddenly having access to the world of art opened up a whole realm of opportunity for Michel, and he quickly moved from drawings and paintings to sculpting. "The painting is just a study," he says, articulating the development from 2D to 3D. "The sketch is what inspires the sculpture. I want to create things that people want to touch."
Bronze was his only choice of material – "I always loved the volume and the form, you can communicate more with it," he explains – and when researching foundries in his area, he stumbled upon the world famous foundry, Massimo Del Chiaro, in Florence. With his first ever sculpture in his hand, the daring Malaysian knocked on the door and took his first steps into a very different way of life. That first sculpture won him his first award, and life has been on an upward trajectory ever since.
Home Calling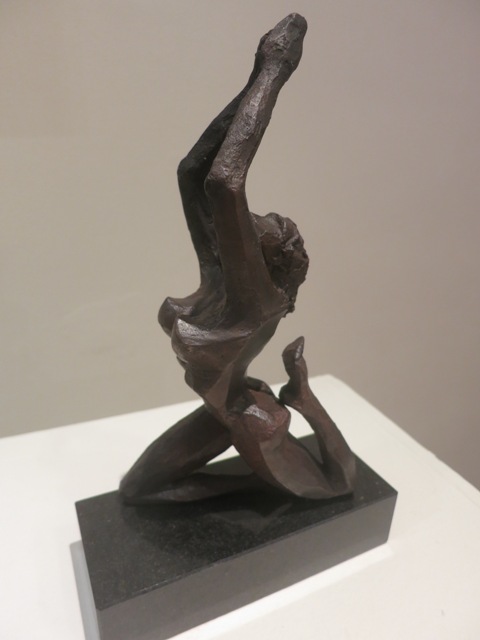 Europe is very much Michel's base and field of industry for the moment – exhibitions and award ceremonies throughout the continent clamour for his work, and his beloved foundry lies in the heart of Italy, and yet Michel is quick to correct any misconception about the place Malaysia occupies in his life.
"Malaysia is like my sub-conscious; it's always there," he explains, gesturing to his 'Tree of Life' series of work that is inspired by his homeland. "I'll definitely come back to Malaysia," he says quickly, with a firm nod of the thick hair. "My whole family are here. My parents died young so the rest of the family look to me. I did it, you see."
"It" seems somewhat too limited a word to encompass all Michel has achieved in his life, and just how far he has moved from his poor upbringing on the rubber estates. His trajectory was as improbable as it is uplifting and Michel, while delighted at his success, is pragmatic enough to assign his career to both serendipity, luck, and his own daring in equal measure. "My experience, the things I've seen; all this builds up and it makes me different. You have to be willing to look like a fool, you have to dare. I made the right decision, and I had the determination to carry on."
His determination continues, and he has no plans to stop making art. "That's the best thing about it; there's no age limit!" he says, laughing. Expect to see much more of this daring local talent, whose success can be credited to his nose for adventure and eye for creation. His tale is an unlikely as his appearance, but his art is a marvel you are unlikely to forget.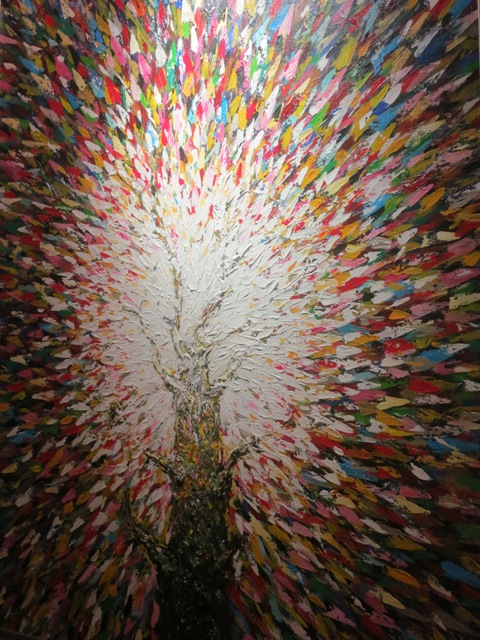 ———————————————————————————————————
For more details on Michel Anthony, visit www.michelanthony.com.
———————————————————————————————————
Source: Senses of Malaysia Jul-Aug 2013
What are your thoughts on this article? Let us know by commenting below.No registration needed.



" ExpatGo welcomes and encourages comments, input, and divergent opinions. However, we kindly request that you use suitable language in your comments, and refrain from any sort of personal attack, hate speech, or disparaging rhetoric. Comments not in line with this are subject to removal from the site. "



Comments