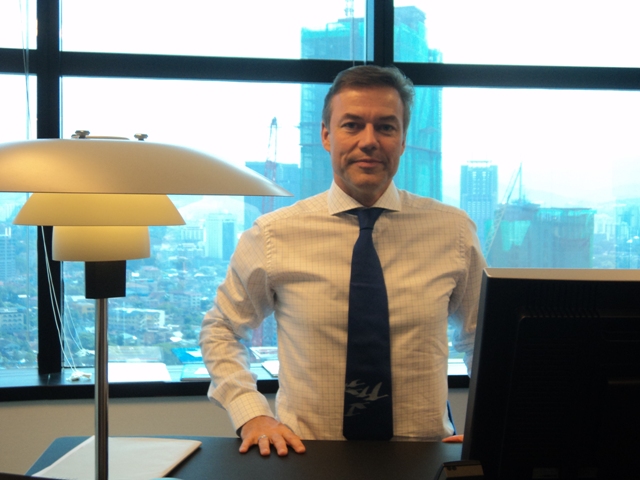 His Excellency Nicolai Ruge is a wanderer at heart. The Danish Ambassador to Malaysia has travelled to every nook and cranny of the world for work and pleasure. "At an early age I was interested in foreign cultures, society, and history. Every penny I saved, I spent on travelling," he says. "I lived on a shoestring budget, travelled through Europe, the Middle-East and then Africa, and it completely broadened my perspective. Now of course, I'm in a job where I can travel so it's perfect!"
Hailing from the provincial town of Aalborg in Denmark's wintry north, Ruge's initial dream of being a scuba diver was put on ice when he delved into Political Science at university with a focus on International Affairs and Development Issues. Sparked by an interest in that realm, Ruge earned his fieldwork chops by volunteering at the Ugandan Red Cross Society before becoming an intern at the Danish embassy in Nairobi.
Fresh out of university, Ruge started his career in international diplomacy by being posted to one of the most far-flung places in the world. "The United Nations development programme in Papua New Guinea was my first posting abroad. Although I had travelled extensively already, I still remember being a little apprehensive at the thought of working in an international organisation in what was possibly one of the last frontiers on earth," he recalls. "I was so humbled the first day I walked through the streets of Port Moresby, trying to find the office of the UN."
After an energetic two years, Ruge went back in his native Denmark and joined the Ministry of Foreign Affairs before jetting off to Vietnam for the next three years, then to the The World Bank and the UN, followed by a return to Denmark to work on international trade policy with frequent periods at the the World Trade Organization. More travelling ensued when he was appointed Deputy at the Danish embassy in Tanzania for four years, and this was followed by another return to Copenhagen to head the ministry's department of quality assurance before Ruge and his family set off for Malaysia's shores in August 2012.
"I love that Malaysia is so green," he says. "Granted, that is because it rains frequently, which can be a bit too much at times, but the landscape is very colourful and there are so many outdoor opportunities. I also love exploring the city; going down small alleyways in Chinatown, or visiting one of the museums and art-galleries in KL. I'm a huge consumer of culture," Ruge admits.
Ruge's daily work duties encompass a diverse range of tasks, a facet of the job he very much appreciates. "I enjoy the variety of my work. The different parts of society that I get to interact with are fascinating and the issues I get to work on – from consular affairs to trade promotion to discussing politics and advising Copenhagen on issues – are all very stimulating. No two days are ever the same."
Not surprisingly, Ruge does not feel adapting to different cultures is much of a challenge. "I've undergone courses in cultural sensitivity and the like, so it has not been too difficult fitting in wherever I go. Perhaps it is also my natural train of thought, but I think there's an element of common sense involved," he states matterof-factly.
He may have travelled to many corners of the world, but Ruge is visibly stumped when asked to pick a particular country or experience that stands out the most. "I can't really choose!" he exclaims. "Ghana, Afghanistan, Bhutan, Vietnam, and Mozambique – there have been so many captivating experiences. Kabul stands out as the most dramatic as we were only able to move around in armoured vehicles while visiting our embassy there, which is really a cluster of heavily fortified buildings," he says.
He also recalls a meeting with the chairman of the Happiness Commission in Bhutan as a highlight – "We met in what is called a Dzong and which I can only describe as a spectacular mix between a fortress, a government office, and a Buddhist temple" – and cites accompanying Danish ministers on visits to remote parts of Tanzania as completely fascinating.
Achieving a work-life balance is one skill Ruge has yet to perfect. "My schedule is rather busy, but I definitely do attempt to prioritise some things. I try to find the time for sports, as I like to play squash, tennis, and golf. I also love travelling so I'll definitely be visiting places around Malaysia – especially the reefs and rainforests!" he says enthusiastically.
It seems like Ruge's love for travel has been passed on to his children, who have accompanied him on every posting he has been sent on thus far. "It's really quite amazing. They have lived in several countries and their earliest memories are from Tanzania. In fact, my son sometimes says he's half-African since he has spent almost as much time there as in Denmark!" he laughs. "They really are citizens of the world."
The same could be said about their father.
———————————————————————————————————
Source: The Expat August 2013
Read more:
What are your thoughts on this article? Let us know by commenting below.No registration needed.
---
"ExpatGo welcomes and encourages comments, input, and divergent opinions. However, we kindly request that you use suitable language in your comments, and refrain from any sort of personal attack, hate speech, or disparaging rhetoric. Comments not in line with this are subject to removal from the site. "
Comments