Malayisa's rich and authentic Chinese culture ensures that expats can sample some of the best of China's varied cuisine without having to board a plane. Editor Chad Merchant spends many weekends enjoying yum cha – the cantonese tradition of drinking tea and eating dim sum.
Curiously, the first time I ever had dim sum was in the place credited with popularizing this traditional and enjoyable Cantonese style of eating. I was travelling in Hong Kong and found myself at a crowded dim sum restaurant fronting Kowloon Park. I had absolutely no idea what was going on, what to do, or how to order. I was on my own, so they sat me at a large table with some other diners, mostly older Chinese "aunties." None of them spoke English, but they took pity on me all the same and seized baskets of dumplings from the trolleys that were rolled by, ordered three different types of Chinese tea, and always kept my cup full for me. To this day, I still don't quite know what I ate, and I left the restaurant every bit as baffled as I was when I arrived, but it was a memorable introduction to something I now, years later, absolutely cherish.
The story goes that the ancient Silk Road, which linked the Asian landmass with the faraway lands of the Mediterranean and Europe, was dotted by small teahouses set up along the route to provide tea and snacks – and a bit of relaxation – to weary travellers. Over the intervening centuries, the Cantonese of southern China changed the quiet and restful afternoon yum cha into the raucous and boisterous affair dim sum dining is today. If you visit a popular dim sum restaurant during peak times, you may be amazed (and overwhelmed) at how energetic and chaotic it can be.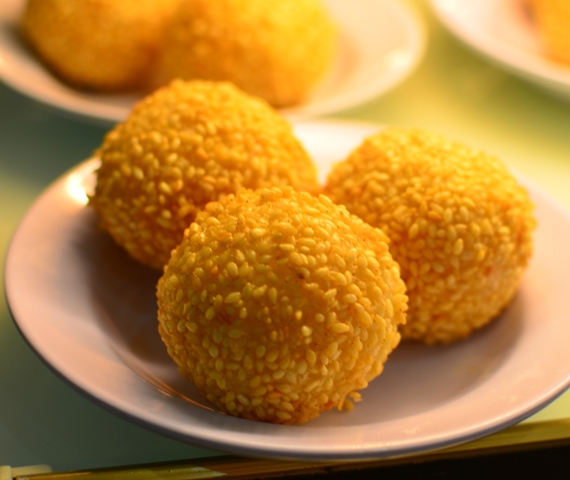 Keeping with tradition, many dim sum eateries open quite early, as in Hong Kong it's common for older residents to enjoy these flavourful dumplings as a morning meal after their pre-dawn tai chi or other exercises. However, modern times have interwoven their own demands into tradition, and now you'll see dim sum restaurants serving their little baskets of steamed and fried goodies well into the afternoon and evening. Here in Malaysia, weekends are an immensely popular time for families or groups of friends to go for yum cha, still a common way to refer to a dim sum meal.
Much like the tapas style of eating in Spain, dim sum affords diners the chance to select small portions and try many things. Baskets typically contain two, three, or four dumplings or buns, and are either steamed, pan-fried, or deep-fried. There are other choices, too, and for the uninitiated, the best thing to do may be to just point to what you think looks good – or go with a seasoned pro. If your companion speaks Cantonese, that's a bonus, too! I'm not quite sure how I initally got hooked, but after trying out a number of dim sum places in KL and PJ, I've been going to mostly the same one in Damansara Jaya – one branch of a well-regarded local chain of dim sum eateries – almost every weekend for well over two years now.
For me, the dumpling by which I measure the restaurant's entire worth is siew mai. This immensely popular snack is not complex, but a good siew mai, succulent and freshly steamed, can be a blissful experience. The best are made by hand, filling a thin wheat flour dumpling (often coloured a golden yellow) with pork sausage, prawns, or if you're in the right place, both. Topped with a bit of orange crab roe, these little open-topped parcels of yumminess are steamed until perfectly cooked. Served juicy and piping hot, and dipped in a bit of chilli sauce or sweet and savoury hoisin sauce, this may just be the quintessential dim sum dumpling.
Not to be outdone, the char siew pao, a fluffy white bun stuffed with delicious Cantonese barbecued pork in a deliciously sweet and tangy sauce, stubbornly vies for top bragging rights, too. Rice rolls, commonly called chee cheong fun, are equally tasty, stuffing layers of rice dough with meats such as chicken, prawns, or pork, then rolling them up. The dim sum version I order is served with bits of veggies like pak choy.
There are other delights, too, of course, and what's on offer typically varies from place to place. Har gow, prawns in a delicate, translucent rice flour or wheat starch dumpling, are a mainstay, though – almost all dim sum restaurants will offer these. Standard meat dumplings, the fare that made Din Tai Fung famous, are another popular treat. Typically served with a dipping sauce of rice vinegar and soy sauce, perhaps punctuated by julienned ginger, these dumplings can just explode with flavour when they're done right. Yet another popular dish is wu gok, a fried yam pastry with a lovely barbecued pork filling (char siew), or opt for the jin deui, a fried ball coated with sesame seeds and typically stuffed with black bean or lotus paste. Fried prawn rolls, fried beancurd, pan-fried dumplings… now I'm getting hungry. One favourite that can vary in taste and quality rather significantly from place to place is the sticky rice dish known as lo mai kai, glutinous rice with chicken, a bit of Chinese sausage, a mushroom cap, and some of that delicious char siew.
Traditionally steamed in a lotus leaf, lo mai kai is commonly cooked under a metal dome now. If you're in the mood for porridge, rice congee is a great choice. Sometimes served with pork or chicken and a "thousand-year egg" (preserved egg). Dessert dim sum is also a common offering – some more traditional than others. Mango pudding, lotus paste buns, egg tarts, and the deliciously rich golden bun, filled with a sweet, hot egg yolk custard that is finger-licking good.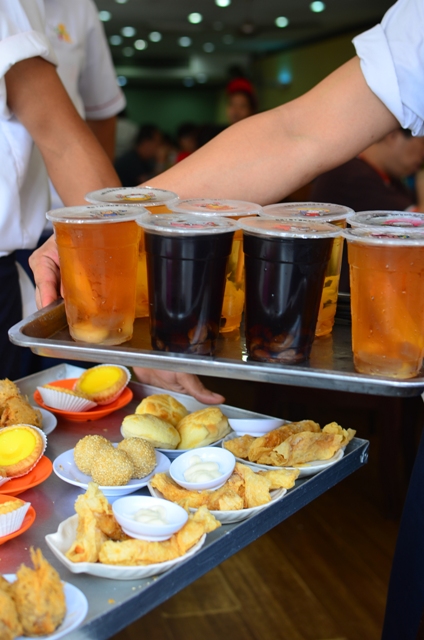 And don't forget the tea – an essential element of dim sum dining! Most places will have several options of Chinese tea, from the black pu-erh tea, to tikuanyin and shui xian (both are semi-fermented oolong teas), chrysanthemum tea, jasmine tea, and a blend of pu-erh and chrysanthemum leaves called guk boh. If you prefer something special, try the luo han guo herbal tea or another refreshing drink made with sugarcane and water chestnut.
Depending on where you go, you may order your dim sum from a menu or simply point to it as it gets wheeled by you on a trolley (or paraded by on large trays). If it's during a busy time, there will almost certainly be no menu ordering; you'll just have to fend for yourself as the dozens of baskets are carried or rolled through the crowds. But it's worth the effort, and the sheer spectacle of a frenzied dim sum restaurant is certainly something expats in Malaysia should experience. Take a seat, pour your tea, and get your chopsticks ready!
———————————————————————————————————
Source: The Expat August 2013
Read more:
What are your thoughts on this article? Let us know by commenting below.No registration needed.



" ExpatGo welcomes and encourages comments, input, and divergent opinions. However, we kindly request that you use suitable language in your comments, and refrain from any sort of personal attack, hate speech, or disparaging rhetoric. Comments not in line with this are subject to removal from the site. "



Comments