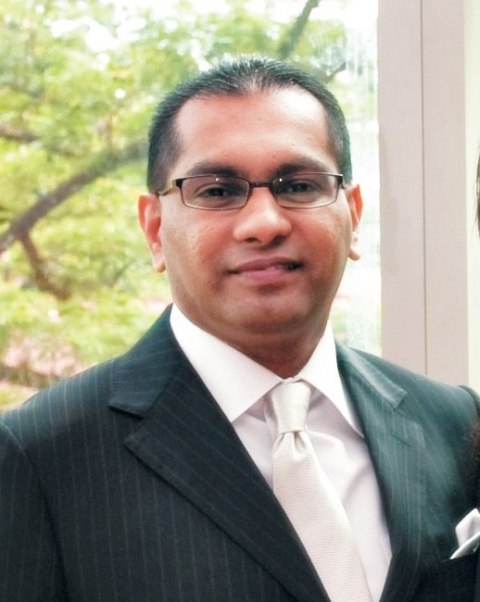 A chat with the Honorary Consul of Bangladesh shows Sarah Rees how Shaik Ismail Allaudin is perfectly positioned to bring together the interests of his ancestor's country with that of his current home.
There can surely be few Consuls more ideally suited to the role, and yet it was one that Penang-born Shaik Ismail Allaudin little expected when the position of Honorary Consul of Bangladesh was offered to him nearly nine years ago. It was a prestigious opportunity to say the least, and one that allowed Allaudin is step into his father's shoes and take on the responsibility of bringing Bangladesh and Penang together.
Career Choices and Chances
Bangladesh may be his ancestral heartland, but home for Allaudin has always been Penang. "I have lived all my life in Penang," he explains, "expect for when I was studying in the US for almost four years." After a period of study at the University of Franklin (Ohio), the young Allaudin returned to Malaysia with a Bachelor's of Science in Marketing and International Business and immediately joined one of the oldest shipping companies in the country.
This was to be a life-shaping experience, exposing Allaudin to the world of international trade and providing him with opportunities for travelling and engaging with the international community. It was also a path that his father had chosen many years previously, and he had established a shipping company of his own which was passed to his son in 2001. Neither realised at the time that, within three years, Allaudin would take over another role that his father had excelled in before him.
Allaudin's father had been guiding the relationship between Penang and Bangladesh in his capacity as Honorary Counsel for 16 years when he passed away in 2004, and the last thing his son had expected was another of his father's positions.
"The appointment came as a surprise to me," he admits, "but the government of Bangladesh felt that I had the characteristics and the ability to take on the role because of my business involvement with them."
Reality and Responsibility
It is common practice for an established expat to take on the role of Honorary Counsel, and Allaudin undertakes his offi cial duties while maintaining his position of Managing Director of his late father's company. "I try to spend an hour or two each day looking into matter relating to my consular work," says Allaudin, "and the majority of the time I am receiving visitors."
This may sound like an easy role, but the reality of the responsibility that falls onto Allaudin's shoulders is no light load. "I'm responsible for the welfare of Bangladeshi citizens and I look into areas of improving diplomatic relations between Bangladesh and Penang" he explains. "I also represent Bangladesh in numerous state government functions and also offi cial ceremonies."
The enjoyable social offshoots are counterbalanced by some quite intense experiences, and Allaudin cites one of his most memorable moments as visiting a convicted Bangladeshi murderer being held in the Penang jail. "That was my first visit to the jail to witness a murderer who was all chained up," he recalls. "I had to interview him and report the matter back to the Bangladesh authorities concerned."
While this was something of a one-off encounter, regular challenges crop up in the form of dealing with the issues facing the many Bangladeshi labourers living and working on the island – there are nearly 12,000 of them in Penang. Allaudin is also responsible for supporting the 80 professionals and 50 students that have journeyed from Bangladesh to make their lives here in Penang, and he manages to meet and celebrate with a number of them during the two major events he organises each year: Bangladesh Independence Day (26 March) and Eid (7 August).
Fulfilling Life in Penang
Despite his responsibilities to his company and his government, Allaudin still fi nds time to be a committed and loving father and husband, and any spare time he has is spent with his family. "I'm married to lovely person – Yasmeen – and we are blessed with three lovely kids: Sameera (12), Afnaan (8), and Reyhaan (4)," he explains. "As my children are still young, I try to spend my weekends with them. If not, I usually catch up with friends for drink or dine out." Life in Penang seems to have it all for this talented businessman, and his love for his island home is matched by his enthusiasm for the honorary position that, even after nearly a decade, he never takes for granted. "It has surely changed my life," he admits happily. "I'm honoured to have been appointed."
It has certainly offered him a life experience he never expected, and it is one that might eventually find its way onto the pages of a book. "When my time as Consul ends I will try to write a book on my experience," he says.That said, he is not looking to the end just yet. "At the moment, I still have a long way to go."
This is surely good news for the Bangladeshi community of Penang – Allaudin will continue to be the reliable, confident point of contact for help and assistance, and shall continue to nurture the link between Penang and Bangladesh as his father did before him.
———————————————————————————————————
Source: Penang International Aug 2013 – Sept 2013
Read more:
What are your thoughts on this article? Let us know by commenting below.No registration needed.



" ExpatGo welcomes and encourages comments, input, and divergent opinions. However, we kindly request that you use suitable language in your comments, and refrain from any sort of personal attack, hate speech, or disparaging rhetoric. Comments not in line with this are subject to removal from the site. "



Comments