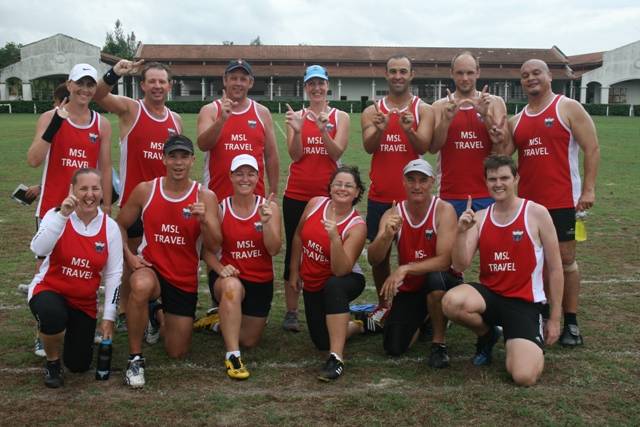 This post was written by John Nisted
Touch Football gets serious at the annual Asian Club Championships and International Club Challenge.The Penang Panthers team travelled to Kuala Lumpur to participate in this gruelling two-day event held in early June. Team member John Nisted recounts the experience.
The cal went out – "Waikato!" – what does that mean again? With lungs bursting and legs like jelly, my befuddled brain struggles to recall the manoeuvre practiced during team training sessions. My 51-year-old body questions the wisdom of playing in a competition dominated by much younger players, but soldiers on.
The Penang Panthers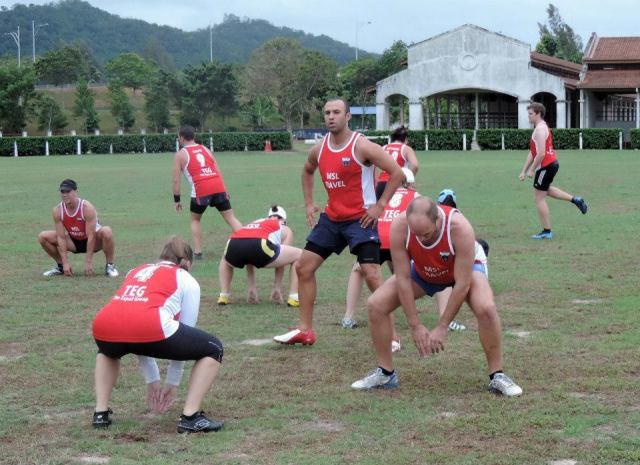 Twice a week, the mostly expat team members meet for a cheerfully social game. Our venues are the Polo Grounds and Soccer Experience. Our standard of play is far from professional, and when Coach Matt Lee suggested that the team enter the competition, most of us were dubious. Matt's enthusiasm was infectious, however, and 14 of us decided to give it a go.
With less than 6 weeks to plan, train and perfect our skills, we didn't have a lot of time to learn moves with strange names like "the pump," "ruck and roll," "switch out," and "bounce." To the uninitiated, it sounded more like some kind of crazy night club dance move rather than serious touch football plays.
About the Game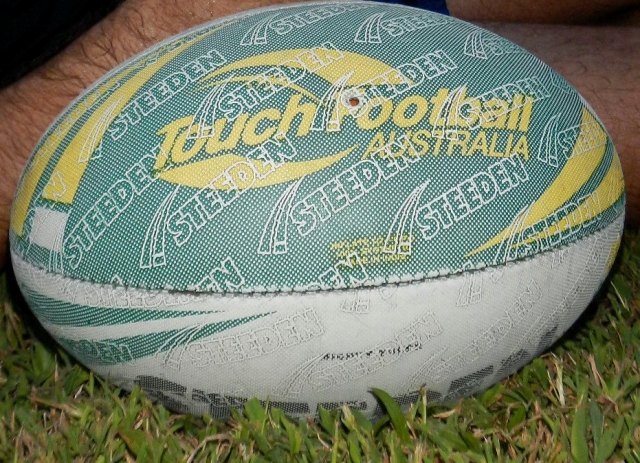 Touch football is a limited contact sport played in over 80 countries. Originating in Australia in the 1920s as a bit of fun in the park, it was not until the late 1970s that the game gained international recognition. There are now over 400,000 registered players in Australia alone.
The game's popularity is growing rapidly in Malaysia. A governing body – Touch Malaysia (TM) – promotes and manages the game in all states, including junior development and the organisation and coordination of international competitions.
Touch Malaysia is a member of Federation International Touch (FIT). FIT is responsible for adherence to international rules as well as technical development for coaches, referees, players and offi cials.This ensures skills development is in line with international standards.
Touch football is played by both men and women, and in age divisions from primary school children to over-50s.The mixed version of the game (where both male and female players are on the field at the same time) is particularly popular with social players, and is widely played in schools.
Teams consist of six players on each side with a maximum of 14 players, allowing for up to eight substitutes. The rules are very simple – catch, run, pass and score. Because there is minimal physical contact with opposing players, injuries are few and far between.
A Challenging Two Days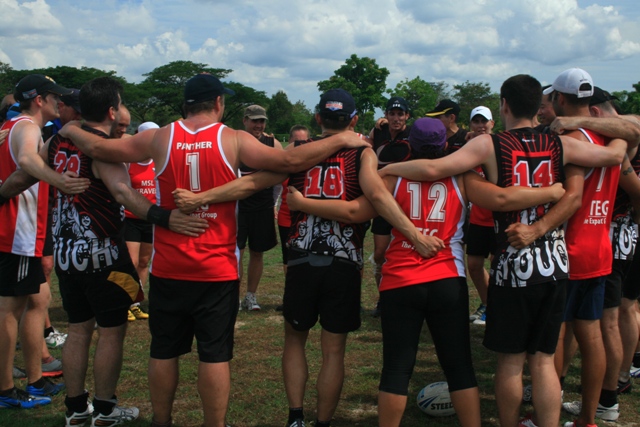 On the morning of 8 June, the teams assembled at the Putrajaya Equestrian Park in Kuala Lumpur. Teams from Malaysia, Australia, Singapore, China,Taiwan, Indonesia, and Malaysia sized each other up to assess the competition.We quickly realised that this was very different from our friendly social games. Matt Lee was the only player on our team who had experience at this level. He played touch football for over 20 years and made the Australian squad for the Trans-Tasman test series earlier this year.
We watched the girls from Singapore warming up and practising their moves. Penang Panthers winger, Errin Attard, muttered worriedly, "What have we gotten ourselves into?"
The Mixed Open division stipulated a minimum of three females on the fi eld playing at any one time.Whilst our team consisted of both male and female players, we could not guarantee that we would have sufficient females available for every game. We therefore entered the Men's Masters (over 30) division.There were only three teams playing in this division, therefore the organisers also pitched us against teams in the Mixed Open division.
Over two days of competition, we played eight gruelling games. Each 25-minute match seemed like an eternity in the tropical heat and humidity.
Our first game was against the girls from Singapore, a 'mixed' team that had travelled to Edinburgh, Scotland to compete in the world championships in 2011. Their training routine (which we had casually observed earlier) was inspirational. We scored first – credit goes to Matt's quick thinking and elusive dive. The Singaporeans were the better team, however, and the game ended 3-8 in their favour.
The Penang Panthers managed to win two games out of eight – quite an achievement considering our lack of experience at an international level. Our most signifi cant victory was the semi-final on Sunday morning – we beat 'Tawon', the Jakarta team 5-3.This win propelled our team into the final against a very well drilled side from Shanghai.We did not win (the score was 5-2) but we accepted our runners-up badge with great pride and honour.
Beyond expectations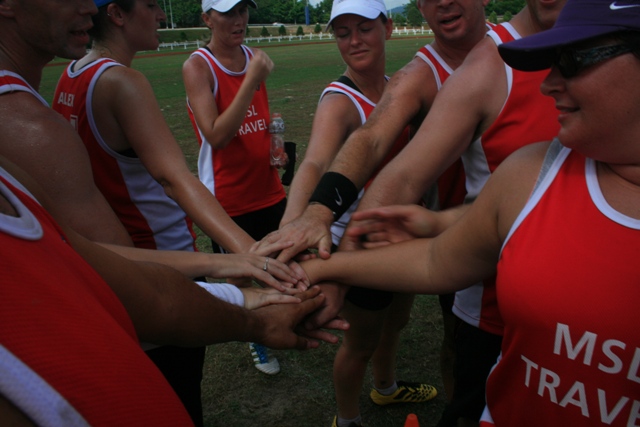 Team captain Matt proudly said, "Getting this bunch of expats together to play in what was for most, their first and possibly only major touch football comp, felt great. The improvements that I saw develop not only through training but more so in the couple of days of competition has been really rewarding." Needless to say, Matt is already planning our entry for next year!
Despite our aching muscles, grazed shins, and utter exhaustion, we were fi lled with a great sense of achievement. An amazing metamorphosis had occurred.The apprehensive team of touch football novices that Matt had taken to Kuala Lumpur returned to Penang much wiser, and more skilled.We really did "Ruck n Roll"!
———————————————————————————————————
Fact File:
The Asian Club Championships and International Club Challenge began in 2002 and has so far been held in Bangkok, Singapore and Kuala Lumpur.
Penang Panthers Team Members:
Matt Lee (captain/coach), Chris Woodhams, Daniel Fenwick, Dave Laurie, Mardi Laurie, Alex Backhouse, Amanda Fredericks, Shazlan Mazlan, Justin Durling, Matt O'Callaghan, Lee Bossler, John Nisted, Errin Attard, Carly MacDonald
Team Manager: Tanya Lee
Team Mascot: Cate Laurie
Sponsors: MSL Travel and the Expat Group
Want to give touch football a go in Penang? Contact either Matt Lee at [email protected] or John Nisted at [email protected] or 'like' the Penang Panthers Facebook page www.facebook.com/groups/222574981179490/
———————————————————————————————————
Source: Penang International Aug 2013 – Sept 2013
Read more:
What are your thoughts on this article? Let us know by commenting below.No registration needed.
---
"ExpatGo welcomes and encourages comments, input, and divergent opinions. However, we kindly request that you use suitable language in your comments, and refrain from any sort of personal attack, hate speech, or disparaging rhetoric. Comments not in line with this are subject to removal from the site. "
Comments