Interview by Manveen Maan, Words by Sarah Rees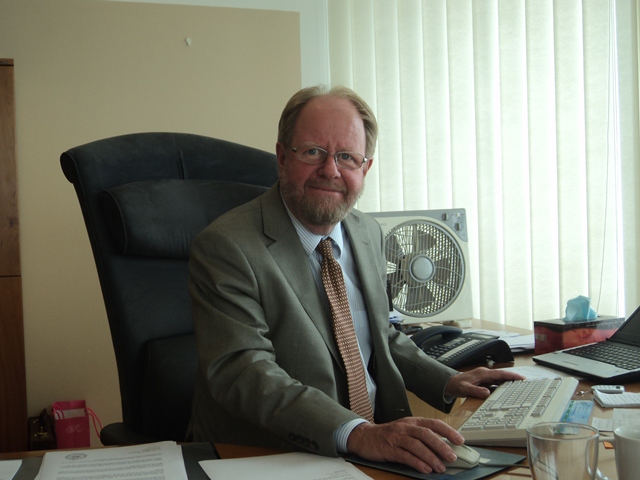 He couldn't be much further from home, and yet His Excellency Hans Ola Urstad, the Ambassador of Norway, seems utterly entranced with his new posting and home of nine months. "Malaysia has far surpassed all my expectations," he says delightedly of his new abode, "it's an amazing country with summer temperatures all year round!" It is little surprise that the weather is a factor in Urstad's delight, as he describes his home as, "Cold and rainy most of the time. I can tell you one thing I do not miss," he adds fervently, "and that is the Norwegian winters!"
But don't be fooled into thinking this is a man not fiercely proud of his small nation and their contribution to the world. Much of his 33 year career in the Foreign Service has been towards easing the aggression that mars too many nations of the world. "Norwegian diplomacy is very rooted in peace and peace negotiations," he explains. "Remember Norway was never a colonial power. We are a small country with limited resources, but we can still make a difference."
Urstad himself has certainly been involved in making a difference to countries suffering from the after effects of war or harsh regimes; indeed his first posting took him to Poland just as the revolutionary zeal was sparking what would, in time, bring about the end of the communist control in that country. "Nobody knew where it would lead," he remembers, of the time "Poland was a great place for me to start."
It certainly set the standard for postings that would be unpredictable and allowed him to experience nations on the cusp of huge changes, like his two postings to the Balkans in the aftermath of the war. "It was difficult," he says of the nine years he spent there in total, "but challenging in a good way."
Suddenly being propelled into a life of constant change and upheaval sounds like a huge leap for a boy who grew up in a small southern island six hours from Oslo, where he fished on the lake and read about places like Malaysia in his school text books.
He initially studied psychology, before ending up at the International Research Institute studying International Relations and Law but focusing on environmentalism and energy issues. His area of focus is no doubt connected to his appreciation for the natural world – he marvels at Malaysia, a "tremendously beautiful country with such diversity!" – but it was always international relations that was the major appeal, not least the potential that career path offered him.
"When I passed my test, I always looked at the Foreign Service as my ticket out of the country," he admits. "I want to see as many countries as possible and work with different cultures and people along the way." After postings in Europe and America, Malaysia has given him a first slice of Asia and already he has made the most of being in this region.
"I've been to Bangkok, Jakarta, and Singapore a few times, as well as Sarawak, which was just great!" he says. He has also embraced the edible treats on offer, and while he confesses that "It takes a while to get used to the spices," Urstad and his wife have been eager to dig into the food on offer, even giving the mighty durian a chance: "We enjoy the durian desserts," he says.
It is not all play and no work, of course, and Urstad takes his role seriously, looking to promote the exchange in trade and industry between Malaysia and Norway and continues to build on what he describes as a "solid and good relationship."
Despite Norway's slightness in size, the country has 50 companies based in Malaysia and RM2.5 billion in investments. He cites the Norwegians' linguistic skills as one of the reasons they can succeed internationally, explaining that "Everyone under the age of 70 speaks fluent English, as it's obligatory. Students have to speak English, German, and French by the time they reach high school. It's a necessity when you are part of such a small language group."
Linguistic skills combine with Urstad's intellect and commitment to his role to make him a sharp and successful ambassador, and his diverse body of experiences allows him to approach each posting and each challenge with an open mind. "You learn to live with situations as they are," he says calmly of his range of postings, from Serbia & Montenegro to America. "You take precautions with your personal and work life; it's all part of the game."
And it's a game that Urstad will continue to play here in Malaysia for a good few years yet – he is only nine months into what could be a five-year posting – allowing him to embrace all the pleasures that this warm country has to offer.
Source: The Expat September 2013
Read more:
What are your thoughts on this article? Let us know by commenting below.No registration needed.



" ExpatGo welcomes and encourages comments, input, and divergent opinions. However, we kindly request that you use suitable language in your comments, and refrain from any sort of personal attack, hate speech, or disparaging rhetoric. Comments not in line with this are subject to removal from the site. "



Comments