This post was written by Gordon Reid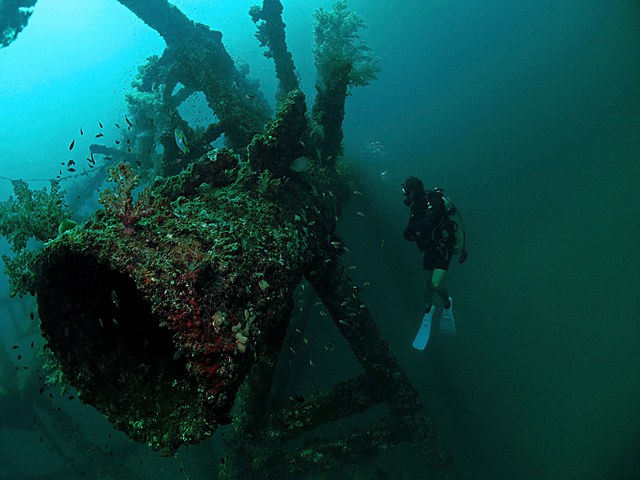 It's common knowldge that Brunei is rich with oil, but diving photojournalist Gordon Reid shares with us how to access some of Brunei's lesser-known treasures lying under the waters of Brunei Bay. You do, though, need to be a scuba diver and it helps to like exploring shipwrecks.
Earlier this year, I finally achieved a long-held ambition: to dive the Labuan Wrecks. For the uninitiated, these are four large shipwrecks that sit at the bottom of the sea just off the north coast of Borneo. They are probably – no, definitely – the best diveable wrecks in and around Malaysia.
The funny thing is that I did not dive the wrecks from Labuan, but instead from neighbouring Brunei. Why so? Well, for a start, the wrecks are as near to Brunei as they are to Labuan: in fact, they lie spread around Brunei Bay, with some nearer to Brunei while others are closer to Labuan. Which is why, although many dive books list them as the Labuan Wrecks, they are also, rightly, called the Brunei Wrecks. Secondly, for some reason the Malaysian dive centres that used to operate from Labuan no longer do so. So if you want to dive the wrecks nowadays, your only option is to do so from Brunei. Luckily, however, it's a great option! See below to find out why.
THE WRECKS
Let me start by telling you a bit more about the wrecks themselves. There are four main ones, as follows (in rough order of their proximity to the coast of Brunei):-
1) The Australian Wreck is not in fact Australian at all. She is a 1909 Dutchbuilt steamer called the SS De Klerk. Scuttled by the Dutch off Peninsular Malaysia in 1942, she was refloated and used by the occupying Japanese, but then sank once again in 1944 when she hit a Japanese mine. Her 85m-long hull lies on a 33m-deep sandy bottom, largely intact but tilted onto the port side. Along with the Cement Wreck (see below), the Australian is the best – meaning easiest and safest – to penetrate. Divers without a wreck specialty will enjoy swimming through her open upper decks and dipping down into her large cargo holds; while qualified Wreck Divers can explore all the way along two or three of her lower decks.
2) The American Wreck is at least American! The 75-m USS Salute was built in 1943 as a minesweeper and saw lots of action in WWII, but was sunk by a Japanese mine in 1945. She is the most broken up of all of the wrecks, with her collapsed bow lying spread out along the seabed, virtually separate from her slightly more intact rear. Penetration into the wreck is not advisable, but divers will enjoy exploring around both sections. Various interesting military artifacts, including small arms ammunition, can be inspected around the bow. And the Salute's still-intact gun turret and barrels make an imposing backdrop for a picture. More so than the Australian Wreck, the Salute also has some good coral and other marine life on and around her.
3) The Cement Wreck is, I must admit, my favourite. But first a bit of history. This 92-m freighter is Japanese – her real name is the MV Tung Hwang. However, she did not see any action in the war, but sank much later, in 1980, when she hit a sandbank with a cargo of cement destined for the Sultan's new palace. She is the most intact of all the wrecks, and sits bolt upright at 32 metres. As a result, her superstructure sticks up much higher, with her bridge gantry topping out at eight metres. Unlike all the other wrecks, therefore, the Cement Wreck offers multi-level – and so longer – dives. That is one reason I particularly liked her. A second is that she is penetrable (for qualified Wreck Divers). And a third is the prolific range of marine life living in, on and around her. The soft corals swathing her masts and gantries, for example, are absolutely swarming with small fish, crustaceans and other species. Great for photographers like me!
4) Finally, we have the Blue Water Wreck. The 80-m Mabini Padre is a large Filipino trawler that sank in 1981 due to a severe fire. The deepest and furthest from Brunei of the 'Big Four' wrecks, she lies on her portside in 35 metres of water, with her highest point being at a challengingly deep 24 metres. Her name comes from the clear waters in which she lies; and indeed, visibility on the Blue Water is generally better than elsewhere in Brunei Bay. She also has a good range of marine life swimming around her, including some larger pelagic fishes like barracuda and trevallies. The only drawback is the distance – a good hour from the coast of Brunei – which means that the Blue Water is visited less often than the others.
There are also some very nice reefs off Brunei. The artificial 'Rig Reef' (no guesses what it is made from) offers abundant colourful soft corals, as well as hidden gems like nudibranchs and a variety of shrimps. 'Abana Pole' and 'Barat Bank' meanwhile display an array of fan, harp and whip coral, all in amazingly good condition.
And let us not forget the marine life on the big wrecks themselves. Among the highlights I saw were full-sized seahorses, ghost pipefish, some resident octopuses (one of whom helpfully popped out to be photographed), lionfish, sizable groups of snappers and other schooling fish, scorpionfish, pufferfish, and many more. More than enough to keep my camera snapping… and me happy!
WHO TO DIVE WITH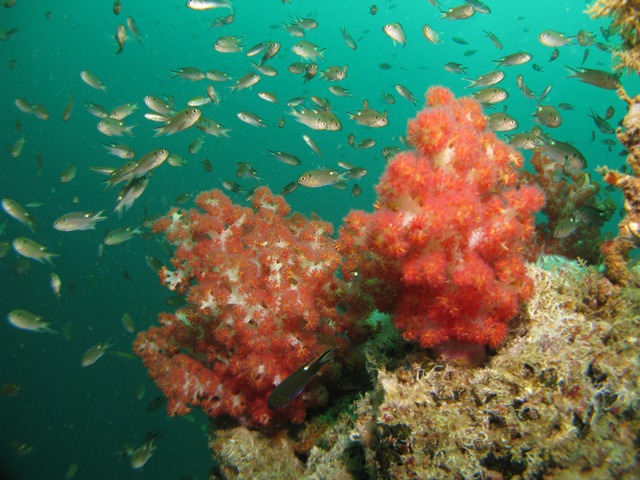 There are only two dive operators in Brunei: Oceanic Quest and Poni Divers. I dived – and stayed – with the first of these, Oceanic Quest. Owned and run by a Malaysian, Paul Ng, this is an excellent operation. Their all-in packages include airport pickup and dropoff, very decent accommodation handily located right above the dive centre, all meals, and three boat dives a day. Equally important, their dive staff (mainly Westerners) are helpful, knowledgeable, and professional. The divemaster I dived with certainly knew his way round and through the wrecks and where to find the best stuff.
HOW TO DIVE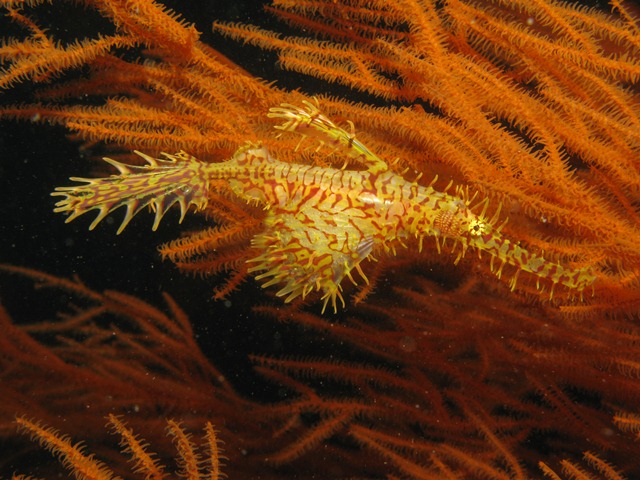 Both dive centres operate with boats launched from slipways. This gives them flexibility. Most of the time they enter the water from a beach near Muar, close to the main wrecks (and only about five minutes by car from Oceanic Quest). But they can also drive further along the coast and launch from there in order to visit the smaller, more distant wrecks and reefs.
You can do either two or three dives a day. The first two will usually be to wrecks, with the third, shallower one taking in one of the reefs on the way home.
A word of caution here: Diving the wrecks is deep and quite demanding, and visibility is at times limited. This is not a place for novices. You should be at least a PADI Advanced Diver or the equivalent. You also need to be Nitrox-certified (though you can do the course on the spot in Brunei) since, apart from the Cement Wreck, all of the wrecks are single-level dives at 20 metres or below. Nitrox is, therefore, a must to give you decent bottom time.
WHEN TO DIVE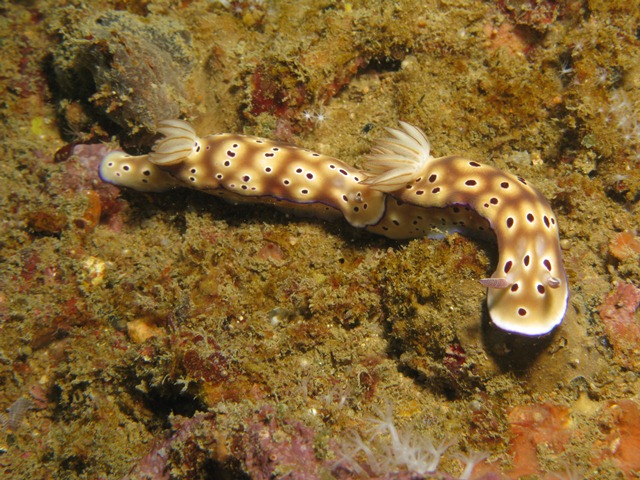 There is no pronounced monsoon season, so diving is possible all year round. However, cold currents sweep through the waters north of Brunei from approximately late December to early March, bringing colder (20-24°C) and rougher seas, as well as reduced visibility. If any of these things bother you, it is best to avoid that period.
HOW TO GET THERE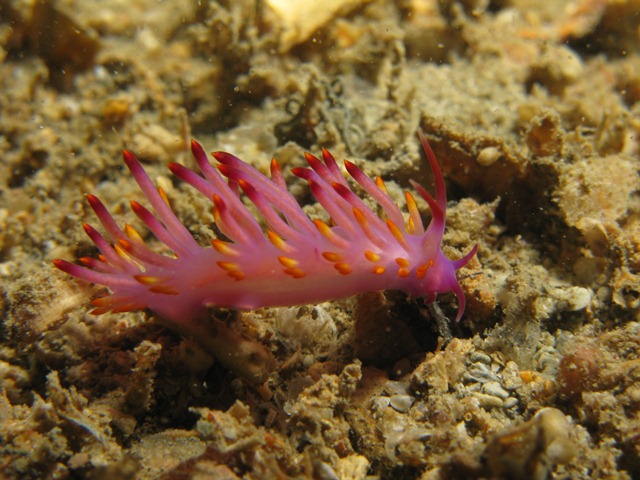 You need to fly into the Bruneian capital, Bandar Seri Begawan, from where it is a short drive to the dive centres. From Kuala Lumpur, you have a choice of three airlines with frequent flights: Royal Brunei, Malaysia Airlines and Air Asia.
For more information on the wrecks and diving off Brunei, see the Oceanic Quest website (www.oceanicquest.com) or www.bsadc.com. If you have any further questions, feel free to contact the author on [email protected].
Source: The Expat September 2013
Read more:
What are your thoughts on this article? Let us know by commenting below.No registration needed.
---
"ExpatGo welcomes and encourages comments, input, and divergent opinions. However, we kindly request that you use suitable language in your comments, and refrain from any sort of personal attack, hate speech, or disparaging rhetoric. Comments not in line with this are subject to removal from the site. "
Comments