Some expats move to Malaysia at the request of their company. Some move here to accept a job with a new company. But a handful of expats move to Malaysia and just start their own company! It's a risky venture even in a person's home country, but trying it in a foreign land adds a few more layers of risk and uncertainty.
The Expat's editorial team tracked down a few of these entrepreneurial-minded globe trekkers and sat down to get their views on living in Malaysia and running a business (or in some cases, just a venture to satiate a particular passion). We found their stories to be interesting and their openness and sincerity refreshing. Enjoy these tales from your fellow expats who have embraced the challenge and found the satisfaction in starting their businesses in Malaysia, their home away from home.
Geoff Siddle, Sid's Pub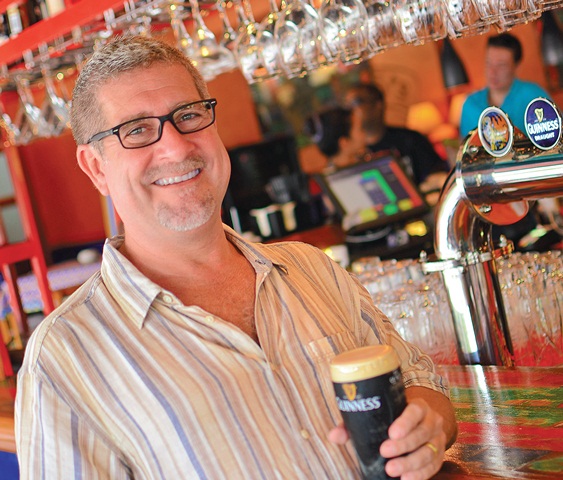 A self-described "expat brat" who left the UK at an early age and never looked back, Sid's Pub owner Geoff Siddle grew up in Hong Kong and did "tours of duty" in Macau and Singapore, too. Today, Geoff lives with his own family in Bangsar, but he's not the only Siddle who calls Malaysia home: his parents live in Melaka and he has two brothers in the KL area. It looks like the lifelong traveller has set down roots here, too: With a quarter century of various pub ownership under his belt and 16 years in the Malaysian capital, Geoff is about as well-versed an expat as you could ever hope to find in all things pub-related, and he certainly knows a thing or two about life and business in Malaysia.
"Malaysia is the nicest place in Asia to live," Geoff said pointedly as we sat and chatted over a tipple in his latest venture, this time a pub with a decidedly Latin American theme. Naturally, it's named "El Sid's" and it's easy to see why Geoff has made pub ownership a lifelong avocation. He has a real passion for what he does, and the popularity of his four Sid's Pubs in the last six years show that he does it well, too. After initially running a pub on Changkat Bukit Bintang, Geoff worked with Finnegan's Pub for a time. Wanting to scratch the ownership itch, Geoff enquired about the prospect of him buying in as a partner. When he was rebuffed, he left to open his own pub, and the first Sid's opened its doors in TTDI in 2007 and has grown steadily in the years since with well-trafficked branches in Bangsar South, Bukit Tunku, and Damansara Heights, the latter of which was recently named the Best British Overseas Pubs by The Telegraph in the UK. I asked Geoff what he thought of doing business in Malaysia.
"It was quite easy, really. Everything is straightforward and transparent. I don't have any problems." He continued, "I think it's just important to realise that, as expats, we're all guests here. So if you're polite and sincere, and perhaps culturally aware, it makes the process smooth."
Geoff is a big fan of the neighbourhood pub concept, so while his establishments may lack a lot of loud splash and flash, they're long on comfort and authenticity. As anyone who has ducked into one of Sid's Pubs can attest, it's a little slice of England right in KL. And in that same vein is now El Sid's. Owing to its neighbourhood location and fantastic décor, much of it sourced and chosen by Geoff himself, it's easy to feel you're in a cosy, airy bar in South America, with all the authentic cocktails, relaxed ambiance, and delicious tapas you would expect to find.
If you stop by one of the pubs bearing Geoff's moniker, you may see him, but check your watch before talking business to him: Geoff has an admirably strict rule, and that's "No business after 5:00." We finished our drinks, the interview concluded, and I glanced at my watch: 4:54pm. Just in the nick of time!
To learn more about Geoff's popular and award-winning collection of neighbourhood watering holes, visit www.sidspubs.com.
—————————————————————————
Oran Kivity, Meridians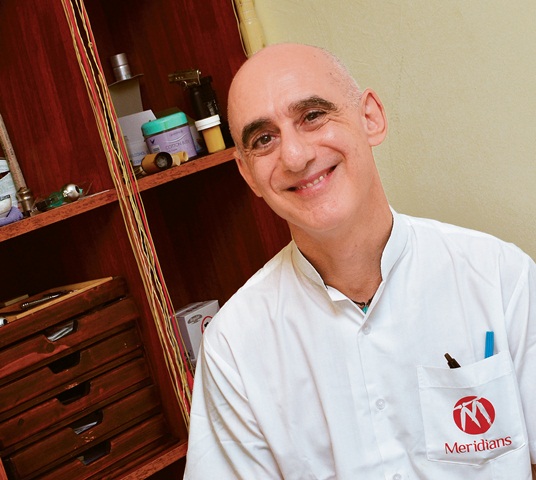 As a 24-year-old living in his native England, Oran Kivity lived in a shared house. People came and went in due course, but one neighbour in particular caught the young man's interest and changed the course of his life. When the woman moved in, Oran struck up a conversation with her and found that she was studying acupuncture. At something of crossroads – as many of us are in our early 20s – Oran found it interesting and realised it was something he could do himself. And thus, the die was cast.
Years later, following a lot of UK training and after completing some acupuncture coursework in China, Oran came to the realisation that he wanted, somehow, to live in Asia. Oran specifically chose Malaysia, too, particularly over neighbouring Singapore. "There's almost a cartel there with regards to acupuncture," he explained of the small city-state. "You must be educated in and part of their system to be licensed. I'd never have been able to work there."
Contrast that with Malaysia, where he's found success with his partner and currently owns and operates a health care centre in Solaris Mont Kiara Right to the Point called Meridians. "Malaysia has been wonderful," Oran told me. "There are very clear guidelines for the Department of Traditional Chinese Medicine, under which acupuncture falls. I work closely under the rules and licensure of the Ministry of Health, and the whole process was so professional and transparent. No shortcuts, no corruption. The guidelines and rules of engagement are well-defined and properly upheld."
Oran is now a well-qualified and certified practitioner of Japanese acupuncture, a field of treatment that deviates from its origins (as well as Oran's initial training) in Chinese acupuncture. "The field evolved differently in Japan," he explained. "A blind master practitioner named Waichi Sugiyama set the gold standard in Japan in the 17th century, becoming so renowned he was tasked and entrusted with providing care to the shogun warriors, the de facto rulers of the nation." Over time, the practice of blind caregivers meant that more emphasis was placed on touch and the interpretation of what that touch revealed to the practitioner. Though needles are used, as in Chinese therapy, the blind Japanese practitioners use them differently, such as in "touch needling," where the needle tip is pressed to the skin, but does not puncture it. For children (and nervous adults), a rounded probe called a teishin can be used to "touch needle" the point.
"Japanese acupuncture is what I do best," Oran offered, and it's easy to see why. With his soft-spoken and measured approach, his entire demeanour surely inspires a calm confidence in his patients before he even begins the treatment. He makes a point of explaining every step of the treatment, too. "With Japanese acupuncture, less is more. It's minimalist, like so many aspects of the Japanese culture. The idea is to get the maximum results from the minimum treatment."
He explained further, "Acupuncture can yield results that may seem like magic, but that's not the case. The treatment just triggers the body to do what it needs to do." He drew a comparison to a doorbell. "Pressing the doorbell doesn't open the door, but it triggers the person inside to get up and go open it. That's how acupuncture works."
Oran talked about life in KL and the process of opening a business here, paying special compliments to the climate and round-the-clock availability of all sorts of good food. "I particularly like eating in KL," he laughed. "It's also a great travel hub for the region, and it's an easy 'landing' for a foreigner. Settling in Asia can be challenging for Westerners, but in Malaysia – KL especially – it's much easier." As for the business side of things, Oran reflects on his time in KL, "I really like it. I like the way the Ministry of Health works here, the startup capital was quite reasonable at the time we opened, and since law here is largely based on the UK legal system, it was a smooth transition."
Oran notes that his patients comprise about half expats and half locals. For relief from pain, insomnia, anxiety, or any number of mental or physical maladies, check with him for the suitability of treatment from a British master of Japanese healing arts… right here in KL.
For more information about Oran and Meridians, please visit www.meridians.com.my.
———————————————————————————————————————
Monica Tindall, The Yum List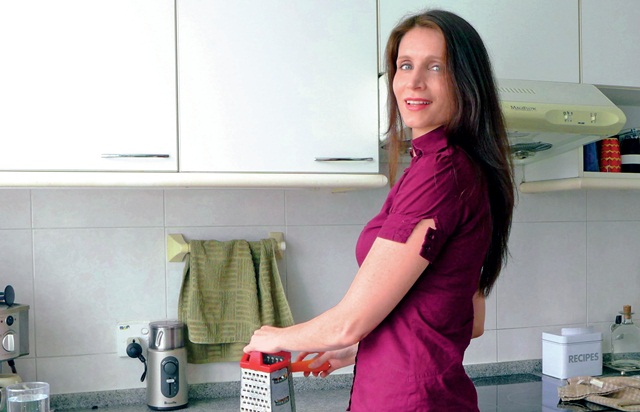 Monica Tindall is something of an accidental entrepreneur, and is the first to admit that the reputation she now carries as one of the most sought after food and hotel critics in the country is not what this Australian educator had envisaged all those years ago when she took the tentative first steps into the world of online blogging.
"The Yum List really started as a humble little pastime," she says, explaining how her blog was originally inspired by a community message board where expats asked each other for recommendations on food and travel destinations. "I thought it would be a good idea to take our collective wisdom and put it all in one location. The idea was that if anyone found a place worth sharing, they would post it on the blog. This turned into me receiving emails saying, 'Monica, you should go and write about it.' So, I did!"
The Yum List, as her blog is called, has become an award-winning site that offers honest, fair recommendations for expats and travellers on where to eat, spa, and stay in Malaysia and the region. Reviews are completed and documented by Monica herself or one of her team of expat writers, and they only write about the things they like, ensuring that everything on the site is worth readers' time and money and prevents any compromise on the honesty of content.
"The Yum List sticks firmly to the practice of only posting something we'd recommend to a friend," Monica explains. It is this commitment that has prevented her from turning the hugely successful blog (the site gets over 100,000 visitors worldwide per month) into a commercial enterprise. "People look at me in amazement when I say no to advertising," she admits, "but I feel that if money were involved, the site would lose its integrity."
It is clear that Monica is determined to be fair with her readers, and has gathered writers who are genuinely passionate about eating and travelling, with the experience and knowledge to offer objective accounts. "We are professionals from around the world with diverse travel, culinary and cultural experiences," she explains. Her team of nine assists in the documenting of an astonishing array of restaurants, hotels, and spas, and they seek to avoid being elitist: there is a place for independent establishments alongside established brands.
"I've written a number of posts on independent, humble family businesses that don't normally get much media attention," she says. "Sometimes it's the smaller unexpected occurrences that mean the most. The gratefulness and pleasure the owners express after reading an article is really heartwarming."
With The Yum List attracting more followers every day, Monica shows no signs of slowing down. This also seems to be her own approach to life in Malaysia, which has been home to her and her Venezuelan husband for more than a decade. "We came for two years and have been saying, 'just one more year' ever since," she laughs. Citing the climate, the lifestyle, and (of course) the food as aspects she enjoys the most, it is clear that this Aussie has few plans beyond Asia at the moment.
For The Yum List, however, there are big plans for expansion and for generating awareness on issues Monica feels strongly about. "I'd like to increase our focus on places that are involved in community education, use sustainable practices and provide healthy food," she explains. "I know that by promoting these practices, I can help to spread the word and 'grow the good'."
Visit the site at www.theyumlist.blogspot.com or drop Monica and her team a line on [email protected].
——————————————————————————————————————–
Leagha McMahon, The London Orchid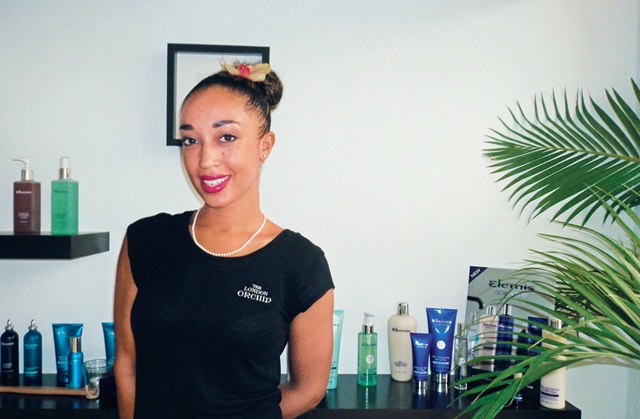 Businesswoman Leagha McMahon arrived in Kuala Lumpur with a one-way ticket and a dream to set up her own business in 2010. Hailing from Oxford in the United Kingdom, Leagha's love for warm weather brought her to Malaysia, along with her thirst for adventure.
"I had lived in the UK my whole life and really needed a change," she says. "So I packed my bags and got on a flight to Kuala Lumpur and the rest is history!"
By a stroke of luck, Leagha did not need to wait long to achieve her goals. "My godfather lives here so I dumped all my bags at his place and went travelling around Asia first," she explains. "When I returned a few months later, I met an expat lady who was selling her salon and actually wanted to purchase some of her equipment for a beauty room I was planning to set up. Instead, she talked me into buying the place, and that's how The London Orchid was born."
Much to Leagha's delight, her godfather living here aided in the purchasing of the space for her salon. "You can't be a director of a company in Malaysia unless you have been in the country for 180 days. Initially, the directors were my godfather and his Malaysian friend," she recalls. "After that, I took over as director, along with my friend Nastassia who is a local. Having a Malaysian on board definitely makes things easier."
Despite getting a head start, Leagha had to start from scratch, building her business up from the very basics. "I had to do it all, including a massive refurbishment. I called in workmen to help but I learnt to drill tiles in and even tried my hand at plumbing," she laughs. "I needed to get a pipe sorted and could not get a plumber in, so I watched some videos on YouTube and fixed it
myself!"
Being a one-woman show, Leagha was in charge of everything from the marketing and PR to the cleaning and laundry. "Now I have help, which is great, but you never really forget the early days," admits the tenacious businesswoman.
However, like anything in life, success does not come without the hard work it goes hand-in-hand with. "I networked a lot and joined many expat associations to get the word out about the salon," she explains. "I also hardly ever turned down a client request – even if it had come in at 10pm the night before, I would be ready and waiting for them the next morning."
Her business savvy and persistence has definitely paid off. With more staff joining her and a clientele that is now in the 60:40 expats-to-locals ratio, things are looking up for the bubbly lass from Oxfordshire. "It's definitely been fulfilling. Owning your own business is a lot of hard work but ultimately very rewarding," she stresses. "Yes, there's a lot of responsibility that comes with it, but the freedom to work for yourself is something to be cherished."
And what is the secret to her smooth-sailing success? "Having a positive attitude is handy," she smiles. "Having no fixed plans also helps. Change is good. Always be willing to embrace that and adapt to new situations." With that sort of motto in life, great things are definitely in store for Leagha.
Visit The London Orchid's website at www.thelondonorchid.co.uk or follow them on Twitter @TheLondonOrchid for more updates.
——————————————————————————————————————–
Pam Gartner & Joanneke Verwiel, WorldPieces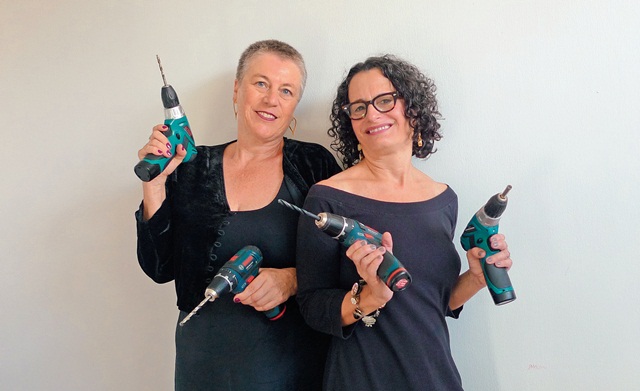 When American expat Pam Gartner met Dutch expat Joanneke Verwiel at a book club meeting four years ago, neither of these two gregarious ladies could have foreseen the partnership that was to arise. They found they had several shared interests, and one day, they were in a shop and saw a chandelier made from a disused English tea set and remarked to one another, "We can do this!" They thought they might do it differently, but their comment proved to be more than a casual offhand remark; it was to be the genesis of a fun and enjoyable venture called WorldPieces.
With a lot of patience and tenacity, Pam and Joanneke spent countless hours chatting up friendly hardware shop owners and digging around in all sorts of musty bins and cramped shops, all in a bid to not only find objects which they could "repurpose," but to figure out the proper way to drill them, the best way to connect them, and where to find the tools of their upstart trade.
"We use everything but plastic," Joanneke explained. "Metals, woods,ceramics… these are among our favourites. We think of ourselves as 'diggers,' simply because that's often what's required to find the objects we ultimately choose to use in our art. We have to dig around a fair bit to find what we like."
"Connecting the pieces is the real fun part," Pam laughed, fishing around in her ample purse and extricating a small piece of threaded rod. "I carry this around with me everywhere I go, just in case I find that perfect piece to use. I have to make sure it will work with the connector."
The finished products that Pam and Joanneke ultimately fashion from all manner of things are not only beautiful and creative, they're actually usable, too, whether as a candle holder, a mutli-tiered serving tray, or anything you can think of. The pieces routinely encompass cultural elements from the different peoples of Malaysia and other countries.
"Every piece has a name," Pam explained. "Sometimes meaningful, sometimes whimsical, but each piece is completely handmade and unique." Joanneke jumped in and added, "Pam and I have similar aesthetic ideals, so we work well together, but we have different processes to arrive at the final product. We like to find ordinary objects and use our creativity to fashion them into a beautiful and useful piece."
Oftentimes, these ladies will work on a commissioned idea. "One favourite we did was creating a piece for a teenage girl's possessions," Pam shared. "We used little objects from every country where she had lived before. The finished piece really told a story."
To see more of these fascinating works of art and learn more about WorldPieces, visit their Facebook page at www.facebook.com/Worldpieces.
———————————————————————————————————————
Shalini Ganendra, Shalini Ganendra Fine Arts
Moving from your homeland to uncharted territory is never easy on anyone, but one woman has not only mastered the art of relocation, she has done it with style. Shalini Ganendra was born in Sri Lanka and then moved to the United States with her family at the tender age of five, where she completed her primary and secondary school. She then finished her undergraduate study at Cambridge University in the United Kingdom, followed by postgraduate legal studies back in the US at Columbia Law School, New York. Her travels did not stop there – she joined a Wall Street law firm, where she worked in both their New York and London offices.
When Shalini married her Cambridge University beau, she knew her life was going to change as she was aware she would have to eventually settle in Malaysia. So in 1993, Shalini followed her husband to Malaysia and like many expat spouses, she knew continuing her previous career in her new country was not an option. With her career being put on hold, Shalini turned to her passion – the arts, to invent a new career path for herself and hoped to be recognised for her talent and skills.
"Knowing that I couldn't practise law helped me focus on reinventing and creating a new career path. I adjusted to the situation through a productive enterprise that not only boosted my confidence but also gave me a voice and identity that were independent of my spouse's," said Shalini. "The artistic interest was nurtured by my grandfather, followed by my parents who all support the arts, this interest translated into visiting museums, reading about art and curatorial perspectives, learning about artists' lives and meeting artists. Therefore it comes as no surprise that I've had lifelong passion for arts and anything beautiful," she said wistfully.
Shalini, now a Malaysian citizen, explained that the need to reinvent mandated a more entrepreneurial approach, thus she started off with an art gallery in her home to foster that intrinsic passion. After four moves for the gallery, the present day Shalini Ganendra Fine Arts is housed in an award-winning public space (a green building designed by Ken Yeang) in Section 16 Petaling jaya.
"Starting a business is always a challenge, what more when it is in a foreign country, but my passion and determination for the arts saw me navigating challenges to ensure SGFA stays as an establishment that promotes the region's best visual talent as well as fostering understanding/ appreciation through outstanding education initiatives – for all ages," said the mother of three.
"At SGFA, we do things differently in order to be distinctive in this highly competitive, high value market; for example, we've housed the gallery in a residential area because we emphasize the concept 'living with art'. Exploring new territories and setting new standards are not new to us. Did you know we were the first to show art from Sri Lanka and Malaysia during New York's Asia week and Contemporary Art Week in 2005, and that the SGFA artists distinguish themselves by winning awards and fellowship titles?" she asked excitedly. Apart from these initiatives, Shalini also explained that SGFA strives to be a model gallery by publishing regularly to increase understanding of the art world and share it with others, maintaining strong programming and cross cultural ties, presenting art and programmes in an innovative space that is a work of art and design, on its own merits. "The gallery has received accolades, including coverage by the Wall Street Journal, and numerous international and local publications," said Shalini, with a hint of pride.
Her advice to women who are moving to a foreign country and want to establish their own business, Shalini has these tips for women to take note of, "evaluate and assess the practises and psyche of the local market and target group, find out as much as you can about the competition, maintain an international standard of excellence, be patient and stay alert to every experience and what it teaches and lastly continue to stay in the minds of the market through innovative actions," she concluded.
As an expat finding her place in Malaysia and wanting to feed the need within her to become an independent and a successful entrepreneur, Shalini said that Malaysia is a great country as it represents growth, interest, and challenge.
For more information about Shalini and SFGA, please visit www.shaliniganendra.com or www.facebook.com/SGFA
———————————————————————————————————————
Rafael Rosario, Movimento Simples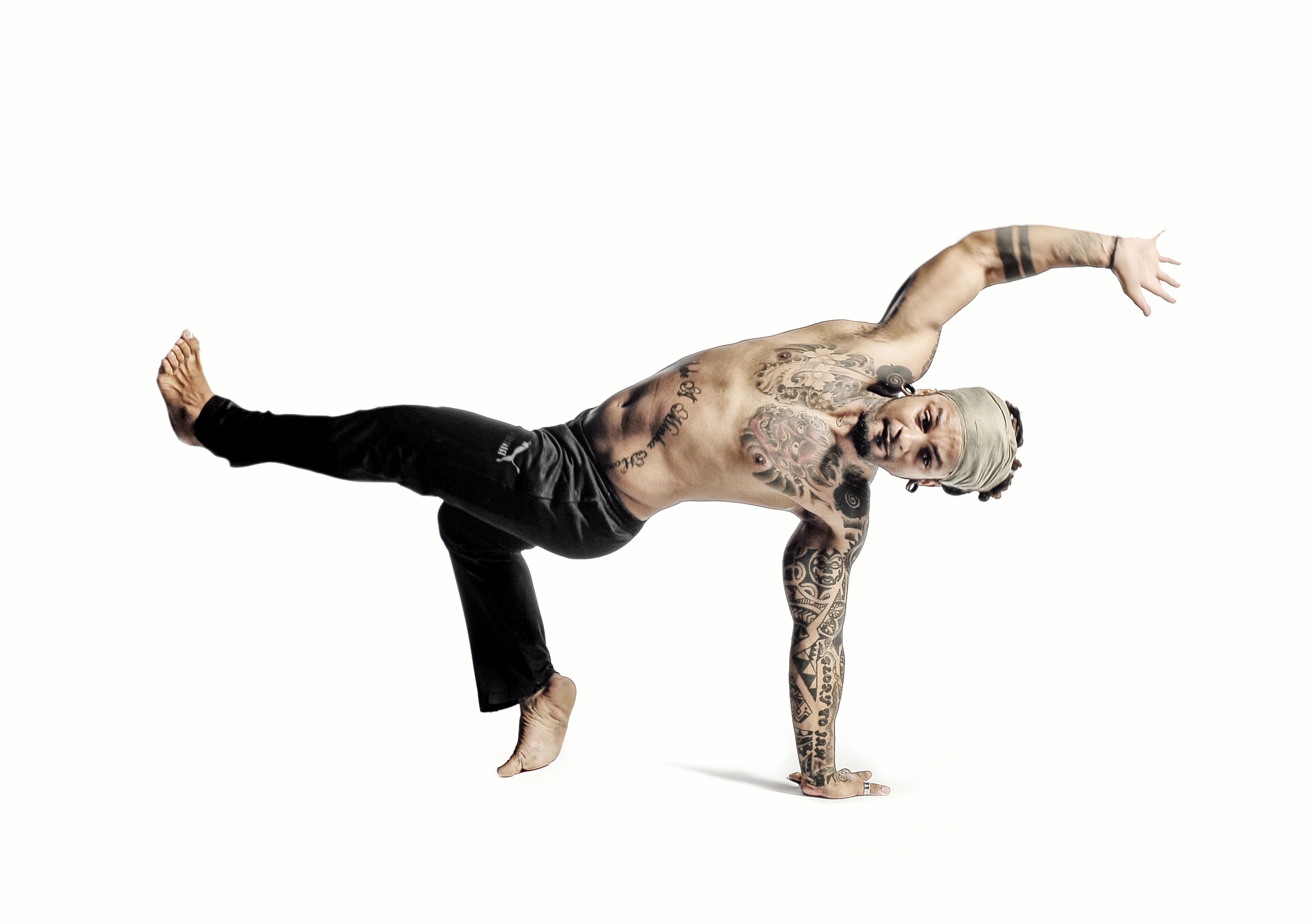 Capoeira instructor Rafael Rosario is a long way from home. The Belo Horizonte native first landed on Malaysian shores 10 years ago, when the capoeira services of a native Brazilian were much-needed. "I was living in Perth before then, when my Master told me that a school in Malaysia was looking for a capoeira instructor," he explains. "So once my time there was over, I boarded the plane to Kuala Lumpur and… I'm still here!"
Born with samba rhythms flowing through his veins, Rafael's love affair with capoeira started at the tender age of five. "I was born in a favela, which can be quite a rough place," he states. "Capoeira became my lifeline so I started practicing and then eventually made it my profession."
Described as a Brazilian martial art that combines elements of dance, acrobatics and music, capoeira is known for its quick and complex moves, power, speed, and leverage for a wide variety of kicks, spins, and highly mobile techniques. Now boasting a cult following all over the world, Rafael insists that the beauty of the sport lies in its versatility. "Capoeira can be a martial art, a hobby, a lifestyle, fitness, music, culture, or just fun," he says. "A lot of people come into a class with different goals. Capoeira can be anything and everything at the same time."
Having started his school, Movimento Simples, a mere six months ago, Rafael and his team now teach between 80 and 100 students weekly at their headquarters in Sri Hartamas. Along with in-house classes, Rafael also teaches at various international schools in Kuala Lumpur and does classes for toddlers (ages 2-4) alongside their parents. "It's great to watch them together," he grins.
But it was not always smooth sailing for this dreadlocked dancer. "It was quite tough when I moved here," he admits. "I did not speak any English and everything was completely different – the culture, the food, the language, everything was new and strange. I felt very isolated."
Over time however, Rafael's language and social skills gained traction, along with his reputation as a teacher. "When I first started out, no one knew what capoeira was; so we played videos, did street dances and performances to raise awareness," he explains. "Our motto was to always make our students feel comfortable so via recommendations from them, our network grew. Now with Facebook and Twitter, promoting capoeira is much easier."
Rafael attributes much of his school's success to the capoeira lifestyle that goes hand-in-hand with the activity itself. "We do things together. We're like any other family – we talk, laugh and help each other out," he says. "We also do social projects with Yayasan Chow Kit, KL Krash Pad, as well as classes with the Deaf Society. There's more to capoeira than just going to a class and working out."
Not surprisingly, the school's "pay it forward" motto stems from none other than Rafael's own take on life. "I always try stay positive and look at the bright side of things. If you have a negative view of the world, you'll never be happy," he says. "I have a family, a house, a car, and enough for a comfortable life. At the end of the day, that is what keeps me going." So will this martial arts extraordinaire return to his roots anytime soon? "No, KL is my home. Now if only they could fix the traffic situation here!" he quips.
Visit the Movimento Simples website at www.movimento.my for more information on classes and schedules, or follow them on Facebook.
Source: The Expat September 2013
Read more:
What are your thoughts on this article? Let us know by commenting below.No registration needed.
---
"ExpatGo welcomes and encourages comments, input, and divergent opinions. However, we kindly request that you use suitable language in your comments, and refrain from any sort of personal attack, hate speech, or disparaging rhetoric. Comments not in line with this are subject to removal from the site. "
Comments