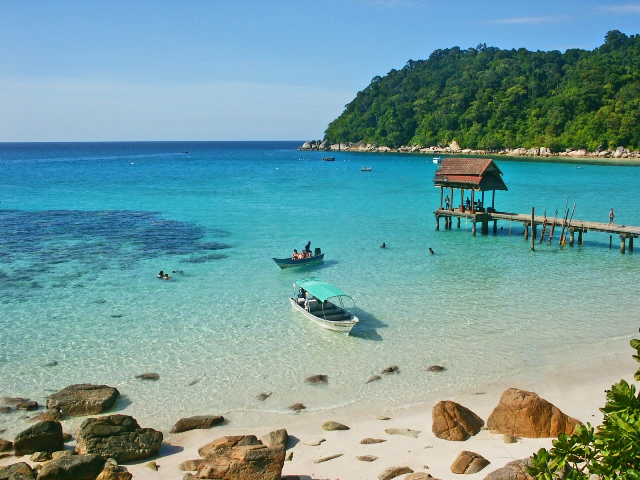 Discover a land of ancient rainforests, fascinating people, a massive lake, and some of the most stunning beaches and islands in Southeast Asia. Vatsala Devi journeys to Terengganu and finds that this land of promise may just be Malaysia's promised land.
Mention a beach holiday and the first place that comes to mind for many people in Malaysia is Terengganu, and who can blame them? A leisurely drive along the Terengganu coastline showcases an impressive 244- km stretch of sandy coasts and swaying coconut palms lining the white sand beaches. And beyond Terengganu's beautiful coastline lie some of the most popular island destinations in Malaysia, the spectacular emerald isles of Pulau Perhentian, Pulau Lang Tengah, Pulau Redang, Pulau Bidong, and Pulau Kapas. With their powdery white sands, azure waters, naturally formed coral gardens, and spectacular marine life, these islands – which hold lush tropical rainforests, lakes, dazzling waterfalls, exotic flora and fauna, and other natural wonders – are a magnet for tourists from throughout the region.
History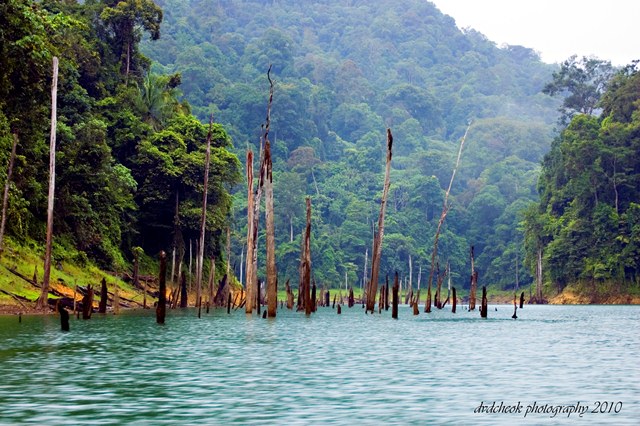 To fully appreciate Terengganu's allure, a quick lesson in history comes in handy. In the year 150 CE, a renowned Greek scholar/traveller made mention in his journal of two important trading posts in the east coast region of present-day Peninsular Malaysia, identified as Kole and Perimula, both believed to be ports of call for coastal traders. Kole is believed to have been in Kemaman while Perimula is believed to have been around Kuala Terengganu. Going much further back, archaeological artifacts found in Bewah and Taat Caves in Kenyir Lake indicate the existence of Neolithic settlements some 10,000-14,000 years ago.
Terengganu's location along main sea routes has long attracted traders from the four corners of the world. With an archipelago of scattered offshore islands serving as a shelter from vicious monsoon winds, Terengganu became a trading post, its history predates the establishment of the Melaka Sultanate. Straddling these ancient trade routes, it was, according to records from the Chinese merchants and other seafarers from as early as the sixth century, under the influence of Srivijaya and saw extensive trade with the Majapahit Empire, the Khmer Empire, the Arab, the Indians, and the Chinese.
Lake Kenyir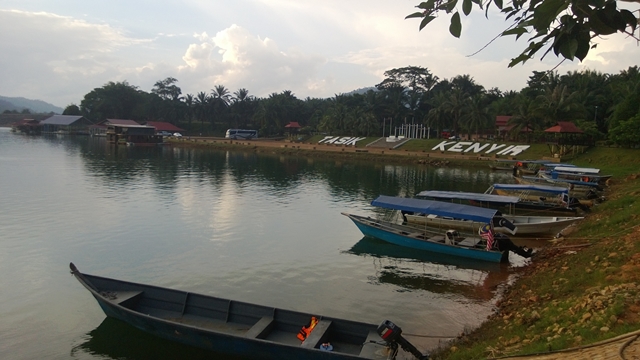 Nestled in the heart of Terengganu is Kenyir Lake, reputed to be one of the largest and most fascinating man-made lakes in Southeast Asia. Covering an area of 209,199 hectares, it comprises islands, waterfalls, rivers and rapids. Kenyir Lake, which is approximately 55km from Kuala Terengganu, is also Malaysia's largest rockfilled hydroelectric dam. Further, the lake is a popular retreat for nature lovers, bird watchers, anglers, photo enthusiasts, and fun seekers. The rainforest that cradles the area bestows the lake with an incredible variety of flora and fauna, including rareferns, exotic orchids, hornbills, elephants, and panthers. The area is home to more than 8,000 species of flowers, 2,500 species of plants and trees, 800 species of orchids, 300 species of fungus, and hundreds of freshwater fish species.
The construction for Kenyir Lake began in 1978 and took seven years to complete, upon which it was officially opened by the Sultan of Terengganu. Kenyir Lake takes its name from a former main river, now a part of Kenyir Lake. Legend has it that Kenyir Lake's completion was unexpectedly assisted with a helping hand from Mother Nature – a year before the lakebed was to have been inundated with water, a heavy downpour that lasted for two weeks caused most of the area to be flooded, sinking millions of dollars' worth of machinery. It is said that all this equipment now lies beneath the calm surface of Kenyir Lake.
Kenyir Lake is also the home of Malaysia's largest rock-filled hydroelectric dam, the Sultan Mahmud Hydro Electric Power station. The lake itself is dotted with 340 islands, many of which are as big as or bigger than Singapore. These islands were created when the hilly region was covered in water, as the hilltops were above the water level. With such a vast area, and with so many islands, the best way to enjoy the scenery and tranquillity of Lake Kenyir is by boat. And to make it easy, boat operators provide visitors with the option of fiberglass boats or double-deck houseboats.
Lake Activities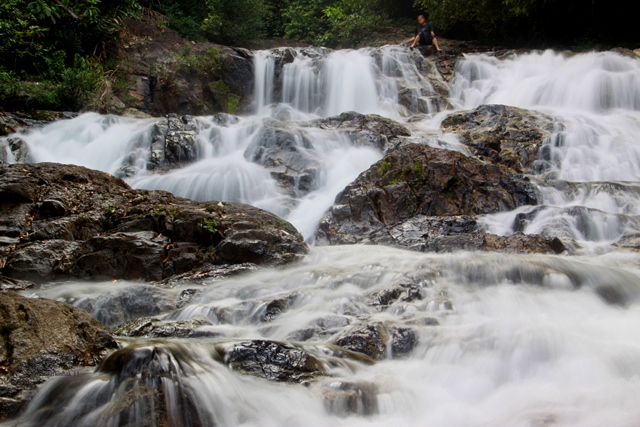 Kenyir Lake has a bevy of activities to bring out the adventurous nature in you. If you are an ardent angler, this is the place for you as the many rivers are breeding grounds for numerous game fish species. Anglers are encouraged to fish at dedicated spots such as Cacing, Leban, Petuang, Saok, and Terenggan River. Private boat operators and most chalets or resorts can organise fishing trips to these remarkable spots with the provision of the compulsory fishing permit from the Wildlife Department.
The lake has a water catchment area of 38,000 hectares with over 300 species of freshwater fish. The submerged portions of fallen trees serve as a breeding ground for fish, offering both protective shelter and sustenance. The fish thrive near estuaries where nutrients are found in abundance. Large-scale fish breeding is also done in cages in some areas of the lake with estimates of 60 to 100 tonnes of fish harvested yearly.
If outdoor activities are your priority, Kenyir Lake provides an ideal rendezvous with Mother Nature where peaceful campsites are plentiful around the lake. With miles and miles of shoreline, and numerous secluded jungle trails and mountainous paths located throughout the area, camping, jungle trekking, and bird watching are some of the favourite pastimes for visitors. Popular campsites have been set up along Gawi Jetty and Bewah Cape, and also along the rivers of Saok, Lasir, Tembat, and Lawit. With guides to assist, challenging trails up Mount Gagau and Lawit reward trekkers with an unforgettable sight of the vast lake and surrounding forest.
For those with a penchant for water sports, the lake's boundless horizons and endless waterways provide ample opportunities for various water sports. Adrenaline junkies visiting Kenyir Lake can take part in kayaking, canoeing, boating, jet skiing, rafting, shooting rapids, and other water-related activities. With so much to offer, it's no surprise that Kenyir Lake is host to various international extreme sports events such as regattas, triathlons, angling competitions, and 4×4 off-road challenges, as well as mountain bike and motocross championships, where teams compete in a varied range of sports and outdoor activities, in the water, on land, or through a combination of the two.
Of course, words cannot fully do justice to Kenyir Lake and Terengganu; you really must be there to experience its beauty. In fact, even before arriving, the allure of the area is evident from the air. If you are coming by plane, you will pass over the tropical rainforests and circle out over the ocean before descending across the foaming surf and beaches to the airport. A better welcome than the one nature has extended here is hard to imagine! With so much natural wonder to explore, so many traditional experiences to enjoy, and such a unique heritage to uncover, there is plenty for everyone to enjoy in Terengganu. The treasures of nature, tradition, and heritage are yours. In conjunction with "Visit Terengganu" tourism campaigns, destination-based sports, cultural events, and activities are organized to further boost awareness on various products and destinations in Terengganu.
Read more:
---
"ExpatGo welcomes and encourages comments, input, and divergent opinions. However, we kindly request that you use suitable language in your comments, and refrain from any sort of personal attack, hate speech, or disparaging rhetoric. Comments not in line with this are subject to removal from the site. "
Comments