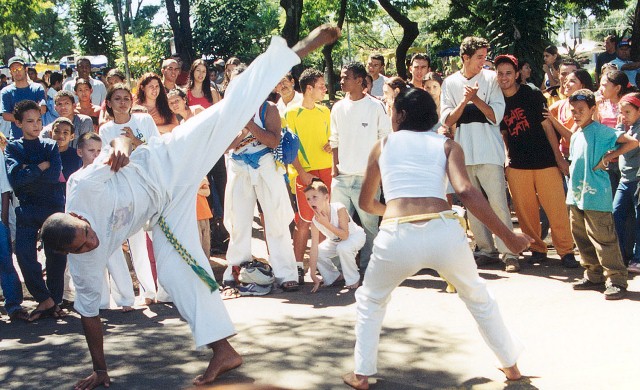 The 9 – 5 grind often prevents us from pursuing leisure activities that are fun, enjoyable and healthy. One effective way to inject some fun and fitness into a mundane routine is through a particular trend that is picking up steam across the world – capoeira, an activity that combines movement, music and elements of philosophy.
Capoeira is a Brazilian martial art, accompanied by rhythm and song that dates back to more than 500 years ago. The art form is deeply rooted in rich African traditions that were brought to Brazil by African slaves, to increase their chances of liberty and independence. Under the pretence of dance, the slaves disguised this form of self-defence from their captors.
Capoeira has harmony of forces that gives an individual strength, flexibility, endurance and self-discovery while keeping the mind, body and soul in balance. The art form stays true to its traditions and enables a person who practises capoeira to revitalise their mind, body and spirit.
Combining elements of fighting with dancing, singing, and musical instruments performed in a fluid series of agile acrobatic and martial movements, these elements of capoeira come together to form a unique workout. Capoeira is expressed in a roda, the circle where training manifests into games between two capoeira players (capoeiristas), while an orchestra of berimbau (a one-string musical bow) is complemented by the pandeiro (tambourine), atabaque (single-headed standing drum), agogo (double bell), and reco-reco (grooved segment of bamboo scraped with a stick) to provide the musical energy.
The essence of capoeira is experienced by "playing" a physical game called jogo de capoeira (game of capoeira). During this ritualised combat, two capoeiristas exchange movements of attack and defense in a constant flow while observing the rituals and manners of the art. Both players attempt to control the space by confusing the opponent with tricks and deceptive moves. During the jogo, the capoeiristas explore their strengths and weaknesses, in an enjoyable and challenging combination of fitness, flexibility and fun.
There are various capoiera moves and techniques that can be divided into several groups:
Main Capoeira Moves: These are the basic moves that every capoeirista has to learn in order to partake in the game.
Defensive Capoeira Moves: Also called escape moves, the player uses these moves to protect him or herself from the opponent's kick or other attacking move.
Capoeira Kicks: In capoeira, there are two types of kicks – straight and spinning. Both these types of kicks are often used in the Roda and are a great way to defeat the opponent.
Capoeira Hand and Arm Strikes: Although not very common, these strikes are part of the capoeira game. They can be used to block blows from the opponent or as an offensive tactic.
Capoeira Head Butts: There are only three moves that fall in this category (Arpao de Cabeca, Cabecada and Escorumelo) and they are highly useful in the game, as well as effective when administered correctly.
Capoeira Take Downs: These moves are the best way to take the opponent down on the ground. Some of the most popular moves include the banda (sweep), tesoura (side takedown), vingativa (toppling the opponent) and rasteira (forward sweep).
The speed and character of the jogo are generally determined by the many different rhythms of the musical accompaniment, while the session is called roda de capoeira (capoeira wheel) referring to the ring of participants that define the physical space around the two capoeiristas.
Today, capoeira is no longer for the oppressed but has evolved to capture the interest and attention of anyone after an all-rounded, fitness based lifestyle. While some capoeira schools have attempted to maintain the original characteristics, others have developed their own styles, resulting in a unique form of modern capoeira that reflects the diversity and richness of this multi-dimensional art form.
The younger generation's passion for capoeira is derived from its enthralling movements: the art form's acrobatic aspects, its effectiveness as a form of self-defense and its continuous flow that exudes a primitive force. Whether your goal is to lose weight, develop flexibility, endurance, or strength, you are bound to find the help you need in a capoeira class. Capoeira practitioners find they build confidence, learn to step outside of their comfort zone, develop leadership skills, and form lasting relationships. And let's face it – this stuff is cool.
The art form may be new in Malaysia but it is experiencing its fair share of popularity, especially amongst the younger generation, who have embraced capoeria with gusto. For those interested in mastering the Capoeira, check out these three schools:
Academia Grupo Capoeira Cordao de Ouro Malaysia
19-3 Right Angle, Jalan 14/22, Section 14, 46100, Petaling Jaya, Selangor
www.capoeira.my
Casa do Capoeira
B-3-2 Block B, Plaza Damas, Jalan Sri Hartamas 1, 50480 Kuala Lumpur
www.movimento.my
Caboco
B-16-1 Zenith Corporate Park, Jln SS7/26 Kelana Jaya
Read more:
---
"ExpatGo welcomes and encourages comments, input, and divergent opinions. However, we kindly request that you use suitable language in your comments, and refrain from any sort of personal attack, hate speech, or disparaging rhetoric. Comments not in line with this are subject to removal from the site. "
Comments