At 6pm every day, rain or shine, Khun Abdullah and his wife Khun Paday, wheel their rotee wagon across busy Tha Phae Road to get ready for the evening's business. For the past 23 years, they've been setting up in the same spot outside Wat Mahawan, in the northern Thai city of Chiang Mai. They were newlyweds when they started their rotee business back in 1976, and they've only changed their location once in all the years since then.
Back then, Chiang Mai was a sleepy provincial town and their customers were locals popping out for an evening snack. These days, they serve sweet and savoury treats to an equal number of tourists and Thais. Paday and Abdullah are a delightful couple, well past retirement age. Abdullah remembers eating rotee at home as a child, made by his Malaysian mother, but he never imagined that he would spend his life making them. When I mentioned to a Thai friend that I wanted to write a story about "Paday Rotee," I discovered their reputation as, hands-down the best rotee makers in town. I asked Abdullah about this, and he smiled modestly, admitting that they're so popular, people drive as far as 10km to buy their rotee and mataba (which is the same as murtabak here in Malaysia).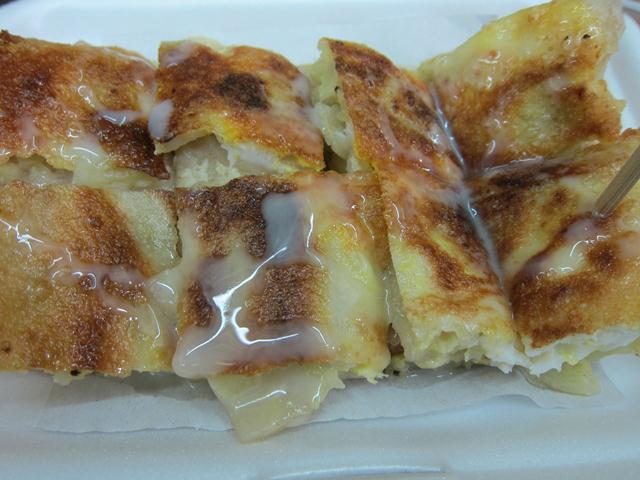 He explained that the secret of their success lies in the cooking techniques perfected by Khun Paday. Every morning, she mixes 10kg of flour with salt, oil, and water and forms the dough into small balls. In the evening, the rotees are freshly made to order as customers arrive. Each ball of dough is flattened into a circle then slapped vigorously on the table, rotating it all the while, to increase its diameter. To make a plain rotee, the sides are folded in before it hits the well-oiled griddle. For a rotee filled with egg, jam or banana, the paper-thin pancake goes straight onto the griddle, and is folded over the filling. Paday never rushes a rotee, but allows it to cook slowly in a generous amount of oil, gradually crisping to a golden brown. Abdullah is in charge of serving, and he deftly cuts the cooked flatbread, places it carefully in a disposable serving dish, adds toppings and a bamboo skewer for ease of eating, and it's ready to go. The mataba is filled with ground chicken, onion and salt, a simple combination that's remarkably tasty and flavourful.
When I first visited Thailand in 1998, I discovered the sweet, Thai version of Indian roti in Sukhothai, and it was love at first bite. I remember the young woman who made them was called Poo, pronounced "Boo," and she cooked up a storm near my guesthouse. I think I had one of her crispy, chewy treats every night back then, but now I have to ration myself to one or two a week. I enjoy them vicariously though, by roping in new customers. One night in Chiang Mai, I persuaded a pair of Japanese students to try Paday's rotee. They chose my favourite, a square one stuffed with banana and topped with condensed milk, and it was an instant success. Here were two more satisfied customers with plans to return the following night for the same again, but with the addition of chocolate sauce.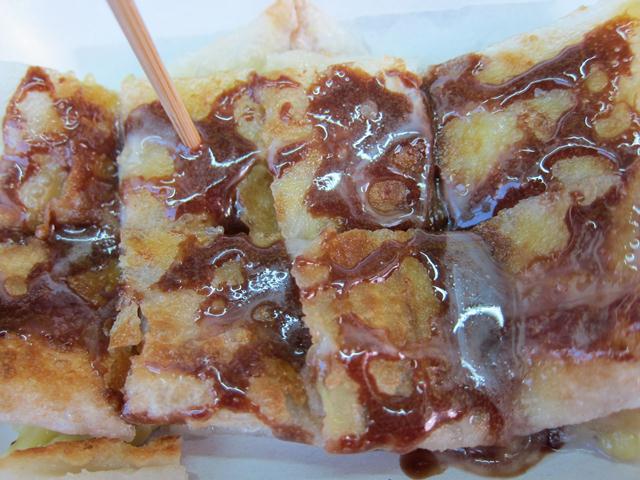 Paday's Rotee has the perfect location and visitors to Chiang Mai should be able to find them easily. They're on the right, between the Tha Phae Gate and the Night Bazaar, about halfway down the Tha Phae Road. I spent the month of June in the city and stopped to chat almost every evening as I walked back to my apartment.
To give an idea of just how busy they are, here's a 10-minute vignette from beside the rotee wagon when things are in full swing. A Thai man pulls up on a motorbike, buying several banana-egg rotees to take home for his family, then a Westerner, who agrees that this is the best place in town, orders his favourite banana-nutella combo. A Thai couple arrive and choose plain rotee. They're from Bangkok and always make a detour to this rotee wagon when they're in Chiang Mai. A group of six tourists stop to look at the menu, and every one of them chooses something different. This is a happening location every single night.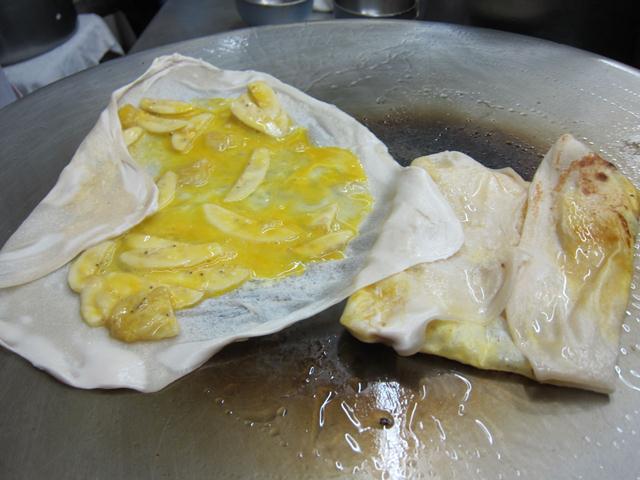 Paday and Abdullah rarely have time for a break, and they don't close until at least 11pm. Their stamina is amazing. They keep right on smiling and I've never seen either of them sitting down. Abdullah told me that he and his wife have no plans to retire any time soon. "This is our life," he said, "and we love what we do." Well, many people love Paday Rotee, and I'm sure their customers hope they'll be serving their delectable treats for years to come.
Source: The Expat October 2013
What are your thoughts on this article? Let us know by commenting below.No registration needed.
Read more:
---
"ExpatGo welcomes and encourages comments, input, and divergent opinions. However, we kindly request that you use suitable language in your comments, and refrain from any sort of personal attack, hate speech, or disparaging rhetoric. Comments not in line with this are subject to removal from the site. "
Comments