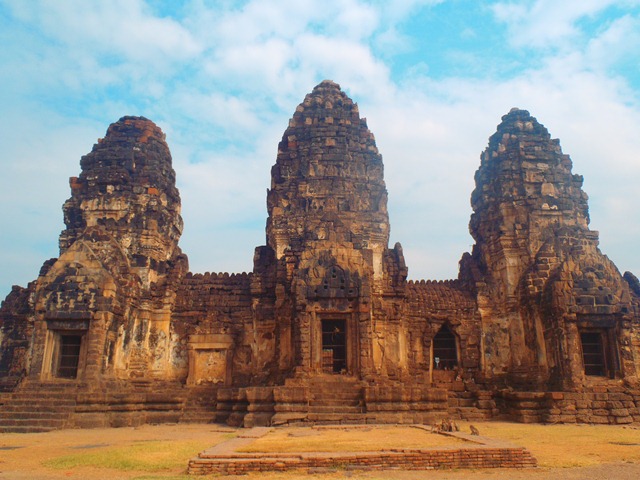 Countless holidaymakers routinely head for the world-renowned beaches and islands of Thailand. However, as travel photojournalist David Bowden chronicles here, the mainland treasures of this history-rich kingdom present an allure and fascinating heritage all their own.
UNESCO's World Heritage List (www.unesco.org) tends to be my ready reckoner of places to visit around the globe. I figure that if a site is good enough for the boffins at UNESCO, it's got to be a place I need to see. I've yet to be disappointed so on my most recent trip to Thailand, a quick check of the UNESCO website revealed several places of interest.
For those who don't know; UNESCO divides its places of global heritage as natural, cultural or mixed sites (that is, those with some cultural and some natural fascination). Thailand has several of both natural and cultural but it was culture that I was seeking. (And goodness knows I need as much as I can get!)
There are three UNESCO-accredited cultural sites in Thailand: the Historic City of Ayutthaya, the Historic Town of Sukhothai and Associated Historic Towns, and Ban Chiang Archaeological Site. Being close to Bangkok, Ayutthaya is the most accessible and most visited while the other two require a concerted effort to visit. While Ban Chiang is the most important prehistoric settlement so far discovered in Southeast Asia, it would have to wait, as it is located in Udon Thani Province and wasn't on my travel itinerary.
Sacred Sukhothai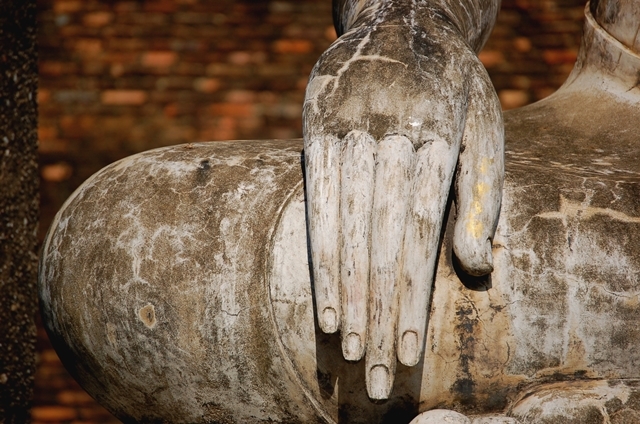 Sukhothai is considered the first independent Thai kingdom and is ranked by historians as the country's golden era which helped mould many of Thailand's religious practices, arts, language, and trade. Visitors to Sukhothai in northern Thailand are initially impressed by its vast scale and yet its real grandeur is in its intricate stone, brick and laterite detail on the temple walls.
The principal Sukhothai period lasted 200 years from 1238 to 1438 after which it was annexed by the Kingdom of Ayutthaya. During this time, nine kings ruled over Sukhothai with the most notable being King Ramkamhaeng who introduced Theravada Buddhism, developed the Thai script, and maintained trade links with China.
The city which developed here was protected by massive walls in the shape of a square that was protected by two moats and earthen banks. The Inner City was ordered with a well-laid out street plan. Budding archaeologists will find some 20 historical sites and four large ponds to explore in the principal site. There are another 70 sites within a 5-km radius of the main complex.
Sukhothai's history is closely linked to that of the neighbouring Khmers as the current borders didn't exist between the nations that are now known as Thailand and Cambodia. Before Sukhothai became the powerful force in central Thailand, the Khmers encompassed much of the area in the 11th and 12th centuries.
Present-day visitors to Sukhothai can view some examples of outstanding Khmer architectural features in three temples – Ta Pha Daeng Shrine (made from laterite rock which was a popular stone used in Angkor), the three central parts of Wat Si Sawai and Wat Phra Phai Luang. King Intradit forced the Khmers out in 1238 and started to build his own kingdom. Most of the Sukhothai structures are enclosed and protected by the Sukhothai Historical Park, which is well-maintained by the Thai authorities.
The most noteworthy Sukhothai period ruin is probably the royal monastery known as Wat Phra Sri Mahatat. This is the largest Sukhothai temple and it was used by members of the royal family to perform their religious rites. Cross-legged Buddha images are the most photographed features in this temple. The restoration work, completed in the late 20th century by the Thai Fine Arts Department, adds to the architectural and historical complexity of the temple.
Visitors should also visit the Ramkamhaeng National Museum which is a modern Thai building located inside the east gate of the complex. The collection showcases the evolution of Sukhothai art and how it was influenced by neighbouring countries such as present day Myanmar, Cambodia, Sri Lanka and peninsular Thailand. A trip around the site on a tram is also advisable to get an overview especially as the main complex is expansive.
Visiting the site at different times of the day is recommended especially for photographers as the sun is important for admiring different sites in different light. Early morning and late afternoon are best for photographs, but Wat Mahathat, Wat Si Sawai, and Wat Chana Songkhram and best viewed at dusk.
Ancient Ayutthaya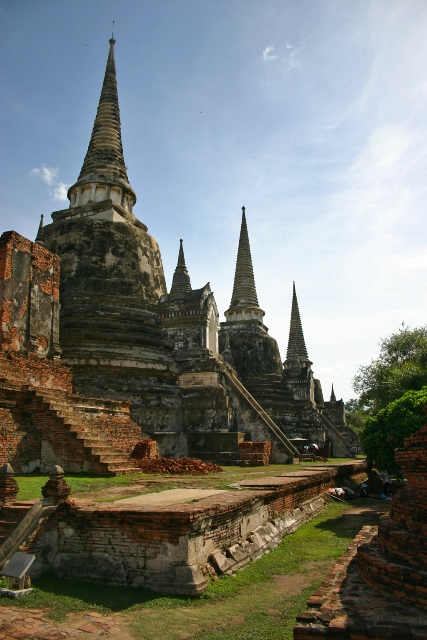 Ayutthaya was the Thai capital from the 14th to the 18th century. It then supported one of Asia's most powerful civilisations and contributed to the foundations of the current Thai way of life. Ayutthaya was then courted by European powers and neighbouring Asian diplomats and merchants. Many of the original stone structures remain in ruin but they're being progressively restored and in the process, have become a significant tourist attraction.
Ayutthaya is a symbol of a former religious and political power that was ruled by over 30 Siamese kings. At its cultural peak, Ayutthaya had several hundred wats (temples) and thousands of Buddha images. It was the Thai capital for more than 400 years until 1767 when the Burmese conquered it and, in the process, destroyed many structures. Time and climatic conditions have not been kind to the bricks and mortar of those that survived the Burmese conquest.
While modern urban life has engulfed many of the monuments, life behind the walls of these ancient wats is refreshingly quiet and tranquil. This tranquility is best experienced in the mornings when the city is at rest and before the day-tripping tourists arrive. This is also the time when monks in their saffron robes move about, seeking alms.
The Chao Phraya, Lopburi, and Pa Sak Rivers converge on the city and all are connected by a canal that surrounds the inner city. The original city was encircled by a 12km-long wall featuring three palace complexes and over 400 wats. Ayutthaya's main tourist sites include the Reclining Buddha, Wat Chai Wattanaram, Viharn Phra Mongokol Bopit, Wat Mai Chai Mongkel, Wat Phra Mahathat, Wat Phra Sri Sanphet (former royal palace), and city museum.
One significant carved-stone Buddha is located in the grounds of Wat Phra Mahathat, a 14th-century site that's well worth visiting. The temple is located near Wat Phra Sri Sanphet, a temple that originally stood within the king's compound. This temple is distinguished by a row of three chedis that typify Ayutthaya style.
A two-hour's drive north of Bangkok, it can be toured on a day visit but would-be archaeologists may want to spend several days exploring the major ruins here. Buses to from Bangkok to Ayutthaya regularly operate throughout the day while there are several trains a day departing from Bangkok's Hualamphong Station. One of the most relaxed, but expensive ways to visit Ayutthaya is on the luxurious Oriental Queen ferryboat, which departs daily from near the Oriental Hotel on the banks of the Chao Phraya River. As the various ruins are scattered throughout the city, it's difficult to walk from site to site, so hiring a three wheeled tuk tuk is a good idea. Longtail boats can also be hired to visit some of the temples located along the various riverbanks.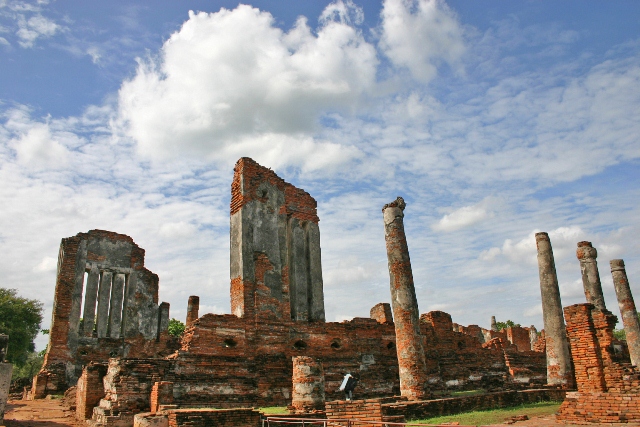 ———————————————————————————————————————-
Getting There: Fly to Bangkok on Thai Airways, Malaysia Airlines, or AirAsia. The quickest way to Sukhothai is by flying from Bangkok to Phitsanulok, situated 50km east of Sukhothai (25km from New Sukhothai). Bangkok Airways also flights from Bangkok to New Sukhothai and then onto Chiang Mai so both these great destinations can be combined with Bangkok Airways. Sukhothai is 435km north of Bangkok.
Getting About: Sukhothai – The park is 12km from New Sukhothai and local songtaew (truck/buses) travel to the park. Alternatively, hire a bicycle or a motorbike in town and travel to, around and from the park. Ayutthaya – hire a tuk tuk, long-tail boat, join a tour or walk around the historic temples.
References: Dawn F. Rooney, Ancient Sukhothai – Thailand's Cultural Heritage, 2008, River Books Bangkok, (www.riverbooksbk.com).
Contact: Tourism Authority of Thailand (Tel: +6032162-3480
+6032162-3480, www.tourismthailand.my).
Source: The Expat October 2013
What are your thoughts on this article? Let us know by commenting below.No registration needed.
Read more:
---
"ExpatGo welcomes and encourages comments, input, and divergent opinions. However, we kindly request that you use suitable language in your comments, and refrain from any sort of personal attack, hate speech, or disparaging rhetoric. Comments not in line with this are subject to removal from the site. "
Comments