This post is brought to you by Tesco.
Back in the days, grocery shopping with the family used to be a weekly (sometimes monthly) affair where the whole family would get in the car and drive to the nearest supermarket to stock up on essentials. But today, getting your groceries can be a hassle what with traffic on the road, crowded supermarkets, limited parking spaces and time constraints as almost everyone works late these days. This is why online shopping has become so popular among people, especially for expats and working individuals in Malaysia.
Shopping for groceries online in Malaysia is still pretty new, but it has picked up pretty fast as more and more people are open to the idea of buying groceries with the click of a mouse. Not that many supermarkets have introduced an online shopping option for customers, but among the select few that have, Tesco stands out as a popular choice, especially among expats in Malaysia.
Here are three reasons why you should consider buying groceries online with Tesco.
1) Save Lots of Time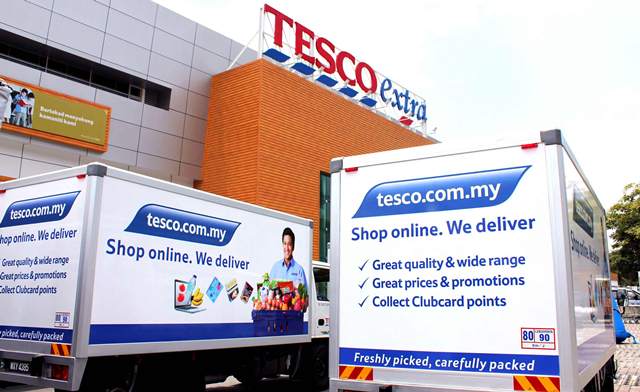 In this fast paced life, time is often difficult to spare. With work, family and social life, finding the time to make a grocery list, driving to the supermarket, finding parking, navigating among other shoppers, waiting in line to pay for your purchases and then traversing through the ever-present traffic in Malaysia back home can be a bit of a headache. This is why shopping online with Tesco is perfect for those with busy lives.
Shoppping online is easy and fast, as you just use your mouse and click the items you wish to purchase. All you need to do is to spare a few minutes to register an account. After that, all you have to do is select your groceries, choose a delivery slot which is convenient for you, review your selection, check out and wait for your purchases to arrive based on your selected delivery time and day.
Once you have shopped online with Tesco, your purchases will be saved under Favourites. This way, it is like having your very own personal shopping list online with Tesco. You will also be updated with in store and online purchases from time to time. This is a another way you can save time with online grocery shopping.
When you sign up for Tesco's Clubcard, you will be able to collect points every time you spend. This way, you will earn rewards such as offers, coupons and receive information relevant to you. To find out more about Tesco's Clubcard, click here.
2) Save Money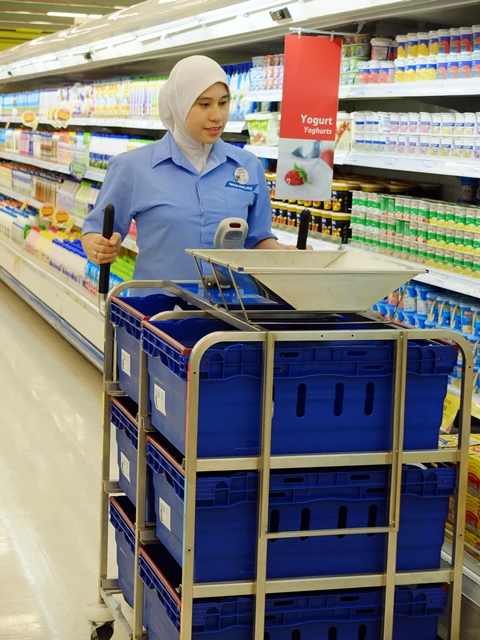 It is a lot easier to shop for your groceries online instead of going to the supermarket. But easy does not mean it will be more expensive. In fact, it can be cheaper to shop for your groceries online. The prices of each product you purchase stay the same, online or in store.
Also, when you shop online, you can avoid driving costs: you don't have to pay for petrol, tolls and parking tickets.
Some of us tend to get distracted with the special promotions and colourful displays in store and end up purchasing unnecessary items. If you bring your children along, you might end up buying something unnecessary for them as well. This then leads to having dinner out with the whole family. All of this adds up to quite a bit on your budget. When you shop online, you avoid spending on unncessary items – just the groceries you want.
Delivery free is a minimal of RM10, which is affordable considering what you would normally pay for petrol, toll and parking.
Another great thing with shopping online with Tesco is you can track your purchases with each item added to your cart, instead of waiting till you are finished with your shopping. This way it is easier to control what you put into your cart.
3) Shop Practically and Efficiently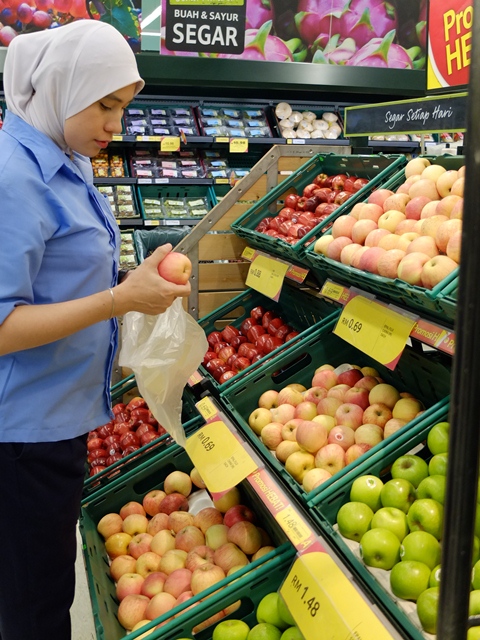 Imagine this situation. It has been a long week at work with many late nights. When the weekend arrives, the last thing you want to do is make your way out with the weekend traffic and shoppers to get your groceries. Instead of this, you can conveniently turn on your computer or tablet from the comforts of your home and shop for what you need. Searching online is easier than having to walk from aisle to aisle as you only need to click on the desired category.
You can also schedule delivery times according to your convenience. Delivery time can be scheduled based on a calendar available on the website, which includes weekends.
Shopping online with Tesco is also a convenient way to purchase fresh produce. Many might still have the mind-set that purchasing fresh produce is better done in person or at the market. But with Tesco, one can be assured that all fresh produce purchased will arrive still fresh. This is because your purchases are freshly picked and packed by trained staffs and then transported in trucks with separate compartments for fresh, frozen and dry food. Fresh produce aside; customers will no doubt be able to find a wide range of products online. To see what they have to offer, click here.
Another thing to keep in mind is that you can avoid carrying heavy bags back with you. For those who purchase heavy items or buy in bulk such as beverages, tin foods and appliances, it is much easier to purchase them online and have them delivered to your doorstep.
Delivery is available to most places in Kuala Lumpur, Selangor, Penang and Johor Bahru. More locations will be added pretty soon. To check if your area is within the delivery coverage area, click here. If you don't find your area in the list provided, give the customer service a call to see if something can be done.
How to Shop For Groceries Online with Tesco
Choose
Look for what you need by browsing through the wide range of products by categories. You can also search for specific items by keying it in the keyword search bar or checking out the promotions available. Add what you need, and how many you need, to your cart. Every item added to your card will show you the total you have spent so far.
Delivery and Payment
Have a look at the delivery schedule and pick your preferred day and time slot. Delivery is priced at RM10. Choose your delivery method, either credit card or debit card. Payment will only be deducted after you have received your purchases.
Changing Orders
Once you have finalised your orders and chosen a delivery time, you are still allowed to make small changes such as deleting or adding items up till 11pm on the night before your delivery.
It's Here!
All your purchases will be delivered in a temperature controlled van or truck where fresh, frozen and dry items will be separated in different compartments. The delivery staff will also carry your purchases into your home if you'd like, making it easier for you to check the items. Sometimes, if the item you ordered is unavailable, a substitute will be brought for your consideration. If you would rather not take it, then said item will be removed from your final bill. You will only be charged for items accepted.
Payment
Keep in mind that payment will only be accepted after you have received your purchases. Payment can be made at the door via credit or debit card. Online payments will be deducted at the end of your delivery day.
Visit the Tesco Online Shopping Portal here.
Have you shopped online with Tesco before? What do you think of this service? Post in the comments below.
Read more:
---
"ExpatGo welcomes and encourages comments, input, and divergent opinions. However, we kindly request that you use suitable language in your comments, and refrain from any sort of personal attack, hate speech, or disparaging rhetoric. Comments not in line with this are subject to removal from the site. "
Comments