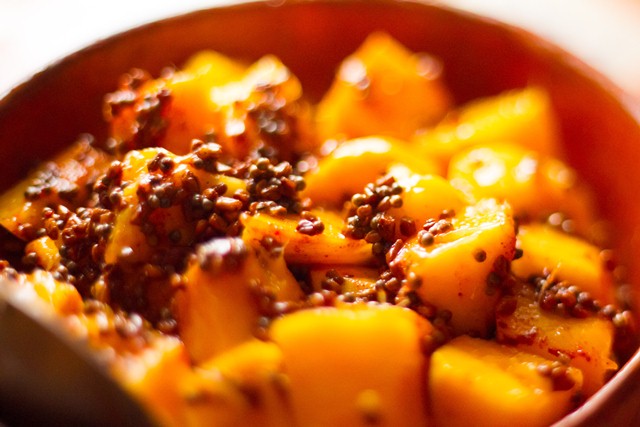 Malaysia's multicultural cultures and traditions are not only evident in the lifestyle, but are also seen in the diverse spread that makes Malaysia a veritable food haven. Popular meals are often lauded for their amazing flavours, but it is the lesser-known condiments that add that extra zing to these delectable dishes. Vatsala Devi explores the 'stuff on the side'- Malaysian-style.
Acomplete meal is comparable to an award-winning movie in which the main and supporting casts all come together to give you a satisfying performance; the same can also be said about having a wholesome and balanced meal: the main course and condiments on the side come together like a beautiful symphony. But as any restaurant or hotel buffet spread can attest to, it is the main dishes that are given prominence while the accompaniments are grouped together and side-lined to just a passing glance. Have you ever stopped to ponder that without the condiments, your meal would be less than perfect as these unsung heroes are the ones that add the pizazz to your meal?
Condiments are a great way to complement any meal and diners would be spoilt for choices with the varieties that are served and not all condiments are unhealthy. Initially, these condiments started out as belonging to a certain culture but over the years, these accompaniments have crossed cultures and are no longer confined to Malay, Chinese, or Indian cuisines. If there is chemistry between the condiments and main courses you can then pair them up and custom make a delicious meal of your choice. In Malaysia, some of the most popular condiments are sambal, south Indian pickles, and garlic.
Spicy Sambal
Sambal is typically a spicy sauce or relish that is popular in many countries across Southeast Asia especially Malaysia and Indonesia. Usually made from a variety of chilli peppers, the sauce consists of ground or puréed chillies and other ingredients such as citrus juice, shallots, salt, and sugar and in some instances other spices to elevate the taste of the sambal.
There are hundreds of varieties of sambal and they vary according to the type of chillies used, other added ingredients, texture, and region in which it is made. Popular chillies used include habanero, cayenne, bird's eye, and Lombok. The texture of sambal can range from a coarse relish to a smooth purée. Traditionally, sambal is made using a stone mortar and pestle to grind the chillies and other ingredients into a paste. Sambal as we know it today is used as an all-purpose condiment: it may be added to noodle dishes, soups, stews, meat, rice, and even eggs. It can also be used to add heat and flavour to marinades, dips, sauces, and spreads.
Some of the popular sambals from around the region are Indonesian varieties such as sambal andaliman, sambal asam, sambal bajak, sambal balado, sambal buah, sambal tempoyak, and sambal oelek while some well-known versions in Malaysia are sambal belacan – a Malay-style relish of fresh chillies pounded together with toasted shrimp paste in a stone mortar to which sugar and lime juice are added – sambal jeruk, sambal daging, and sambal tempoyak, the latter of which is prepared from fresh chillies pounded together with dried anchovies and served with fermented durian.
Pickin' on Pickles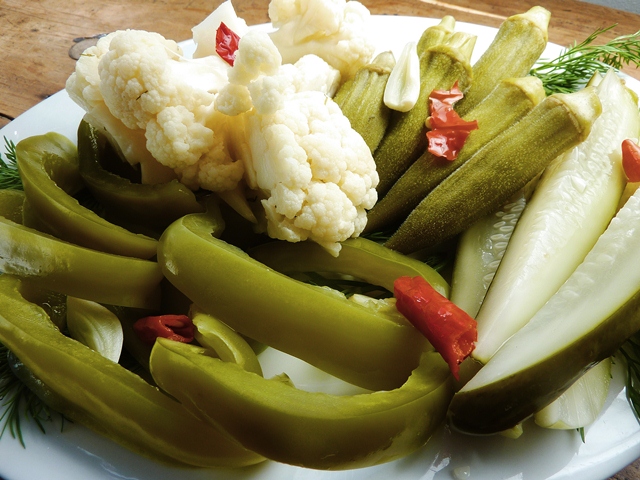 Walk into any Indian restaurant and the standard fare of a banana leaf meal will be accompanied by sides such as papadam, sundried chillies, and south Indian pickles. The south Indian pickles, unlike the pickled cucumber commonly known as pickles in the United States and Canada or as gherkins in the United Kingdom are made from certain varieties of vegetables and fruits that are chopped into small pieces and cooked in sesame oil or brine with many spices like asafetida, chilli powder, turmeric, fenugreek, and salt.
The pickle serves as a flavour enhancer and is eaten typically in small pieces with the rest of the meal. Indian pickles are a popular condiment in the Indian Subcontinent, in Southeast Asia, and in many other areas among ethnically South Asian communities, and there is a wide variety on offer. Some of the famous pickles are made of amla (gooseberry), lime, mango, green chillies, onions, and garlic, just to list a few. The humble pickle has gone through a revolution thus there are also non-vegetarian pickles using meat and fish and can be eaten with noodle dishes, porridge, and in some instances it can also be used as a dip or spread.
Such pickled fare is not confined only to Indian food, of course; pickled chilli is a famous condiment that accompanies many Southeast Asian and Asian dishes, especially noodles. The pickled green chilli condiment (made using green chillies, Chinese rice vinegar, salt, sugar, and water) is prevalent among the Chinese community. The tartness from the rice vinegar and the pickled green chillies are best served with fried mee hoon, dry wonton noodles, fried rice, and other dishes. In Chinese and Thai restaurants, a small container of picked green chillies placed on tables together with soy sauce is a common sight. Pickling chillies is a great way to add a spicy kick to your meal without too much intensity: soaking the green chillies in vinegar and sugar has the effect of distributing the hot chilly flavour through the dish and moderating the heat.
Asian Sensation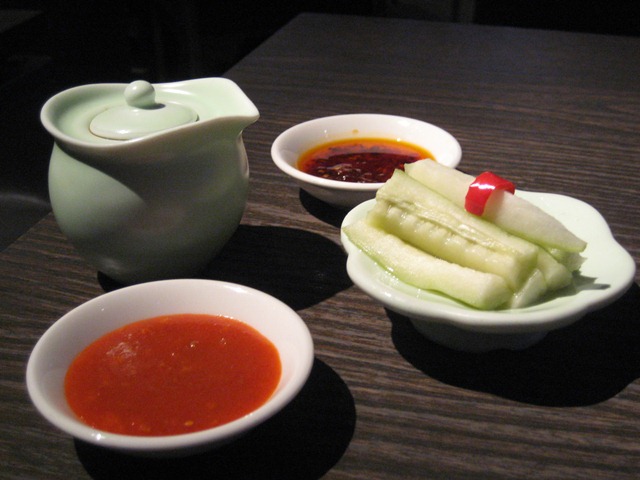 Condiments for Chinese cuisines are varied as some of the accompaniments work best with only certain dishes. In addition to the pickled green chillies, another sought-after condiment is the chilli sauce served with Hainanese chicken rice, among Malaysia's most beloved dishes. Many of the prominent flavours of chicken rice can be attributed to the condiments – the sesame/soy dressing, the chilli sauce, and the ginger. For the dish to sizzle as one, all parts must work together, and it must be said that the accompanying ground chilli paste has the ability to make or break the dish. This chilli sauce is unique to every chicken rice seller and though it varies somewhat from one cook to another, essentially the paste comprises minced red chillies and garlic. To enhance the colour of the sauce, only fresh red chillies are used. The tanginess of the chilli sauce blends well with other rice dishes and can also be used as a dip for other types of food. These flavour kick-starters serve to drive home the point that condiments should not be relegated to the second tier; in some instances they have the potential to outshine the main dish! For food aficionados, Malaysia is a culinary haven where you'll enjoy experimenting with new cuisines as well as those time-tested dishes that your taste buds will tire of.
Source: The Expat November 2013
What are your thoughts on this article? Let us know by commenting below.No registration needed.
Read more:
---
"ExpatGo welcomes and encourages comments, input, and divergent opinions. However, we kindly request that you use suitable language in your comments, and refrain from any sort of personal attack, hate speech, or disparaging rhetoric. Comments not in line with this are subject to removal from the site. "
Comments