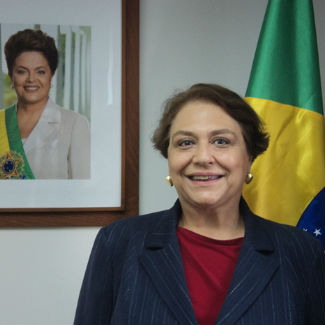 From the time she was born, Her Excellency Maria Auxiliadora Figueiredo has been exposed to a myriad of cultures. "I was born in and grew up in São Paulo, which is an extremely cosmopolitan city," says the Brazilian ambassador to Malaysia. "We have a huge mix of cultures there – including a massive Japanese community. So you can say I've grown up with Asian, European, and African influences in my life."
This amalgamation of backgrounds taught Figueiredo the importance of flexibility at an early age, a trait that has come in handy on many occasions, especially when it came to choosing a vocation. "I initially wanted to do something in the sciences as I had a great aptitude for math but decided on a philosophy course," she explains. "Unfortunately the department closed down, so I had to change majors!"
Eventually, Figueiredo made a decision and graduated with a degree in Literature and Philosophy. Soon after, she entered the working world but still felt like a fish out of water. "I was working in a private company then, doing the budgets because of my math skills," she laughs. "I didn't quite know what I wanted to do, but decided to go down the diplomatic path because of the foreign policy at the time."
By chance, Brazil's foreign policy at the time was both refreshing and exhilarating. The country was one of the first to recognise Portuguese-speaking nations in Africa as independent states, sparking Figueiredo's interest in the field, and propelling her to try her luck in the ministry. "I sat for the exams, passed them… and here I am," she smiles.
The planets seemed to align, as almost immediately Figueiredo was sent to Madrid to pursue her first love – political information. "At the time, Felipe Gonzales had just been elected, so it was a very exciting time. To see his socialist government win for the first time after a dictatorship and right-wing government was sensational," she recalls.
Figueiredo's passion for her work did not go unnoticed. Despite being Third Secretary, her superiors promoted her to head of the political unit: "My ambassador saw how much I loved reporting, so I got the job and had an awfully good time!"
That posting kick-started the first of many stays in countries across the Caribbean (Trinidad & Tobago), Europe (Portugal), and finally Africa – bringing Figueiredo back to the continent that propelled her to pursue the political path. "I love Africa," she confesses. "I feel like I'm a specialist of sorts on the place because I've spent so much time there now."
First setting foot in Mozambique during a period of civil unrest, the gutsy Figueiredo stresses that her safety was not compromised. "The fighting took place mostly out of the city, but Maputo was a little deserted. The stores were empty and there was a feeling of precaution around, but I felt like it was fairly safe still," she says.
A second posting in Nigeria cemented her love for Mother Africa. "I first arrived in Abuja and was there for two years as Liaison Officer. Then we opened a Consulate General in Lagos, so I moved there and headed the office as Consul General for three years."
With one-fifth of Brazilian's Afro population coming from Nigeria, it is no wonder Figueiredo felt right at home in the country. "We think the same [Brazilians and Nigerians]. We did inherit lots from Portugal, but the way our minds operate is quite African. We are very broad and open-minded," she explains. "In school, all our textbooks were from Europe so it wasn't until I moved there that I realized how alike we really were. The African culture is very strong. "
After five years in Nigeria, a quick stint in Ivory Coast as ambassador saw Figueiredo heading to her first Asian posting in 32 years – Kuala Lumpur. "My boss gave me the choice of going to Malaysia and before he could tell me the rest of the countries, I had already said yes!" quips the affable Figueiredo.
Citing the great weather, easy way of life, and delicious food as factors she enjoys most about Malaysia, Figueiredo also relishes the opportunities she gets to meet new people via her work: "There is a fantastic group of women diplomats here. We're all very close and meet up once a month. They are very dear to me."
With such a veritable force of women in politics, Figueiredo acknowledges the evolving role of women in foreign ministry, but is quick to point out the distance that still remains to that glass ceiling. "Times have definitely changed, but I do think there's always room for improvement," she stresses. "When it comes to promotions, there is always at least one woman on the list. But why can't it be at least half the candidates?"
Although a certified globetrotter now, Figueiredo's heart will always belong in Brazil. "I miss my family and my friends – and the overly dramatic Brazilian soap operas!" she laughs. Who doesn't love a bit of drama?
Source: The Expat November 2013
Read more:
What are your thoughts on this article? Let us know by commenting below.No registration needed.



" ExpatGo welcomes and encourages comments, input, and divergent opinions. However, we kindly request that you use suitable language in your comments, and refrain from any sort of personal attack, hate speech, or disparaging rhetoric. Comments not in line with this are subject to removal from the site. "



Comments