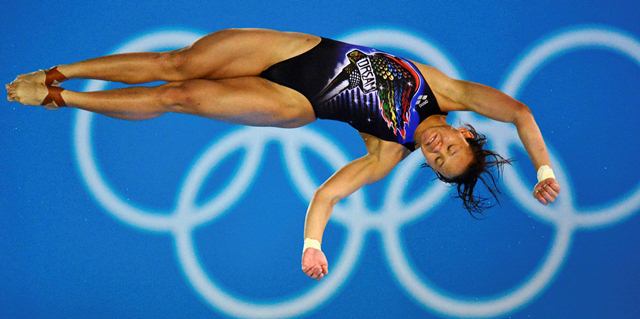 She came out of nowhere to clinch a bronze medal at the 2012 London Olympic Games, becoming the first female medallist in Malaysia's Olympic history. Manveen Maan speaks to national diver Pandelela Rinong Pamg and discovers an athelete made of steel, spice, and everything nice.
Diving into history was never a part of Pandelela Rinong Pamg's plan. "It was a bit of a surprise, really," she recalls of her momentous finish at the London Olympics in 2012. "I was just concentrating on doing my best. I didn't start off strongly, but I did well on my last two dives, and with a bit of luck, I managed to get the bronze."
In doing so, the dark horse became the nation's darling, delivering the country's first non-badminton medal at the Olympics and propelling her to instant fame. "It was really surreal," the 5'5" athlete says of the experience. "It felt great seeing the Malaysian flag up there, during the medal ceremony." Not many thought Malaysia could bring back a medal, but Pandelela Rinong went against all odds and delivered – something, I learnt, she has been doing all her life.
A Star Is Born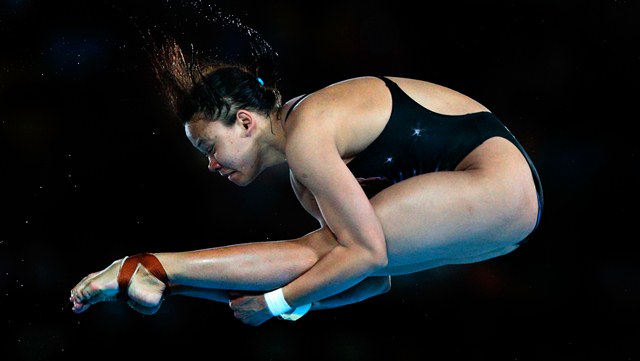 Born in March 1993 to a modest family in the small town of Bau, Sarawak, Pandelela's childhood was a simple but idyllic one. Growing up in a loving home provided her the support network she needed when pursuing her passions, both inside and outside the classroom. "My parents and family have always been my biggest supporters," stresses the Bidayuh lass. Having first gotten into the pool at the age of 8, Pandelela's talents quickly became obvious, resulting in her coaches recruiting her a year later to pursue diving more seriously.
After winning a host of competitions for her home state of Sarawak, Pandelela's aptitude for diving caught the eye of sport scouts, and eventually secured her a coveted spot on the national team. Although a huge honour for the then-14 year old, the national team inclusion was a bittersweet moment as it meant moving away from her close-knit family. Most kids that age probably would not have lasted, but the gritty Pandelela took it all in her stride, putting in the demanding hours in the pool, and eventually giving the more experienced divers in the team a run for their money.
"This is the nature of the sport," she explains. "As long you are dedicated and committed, victory is always within reach."
The Makings of a Champion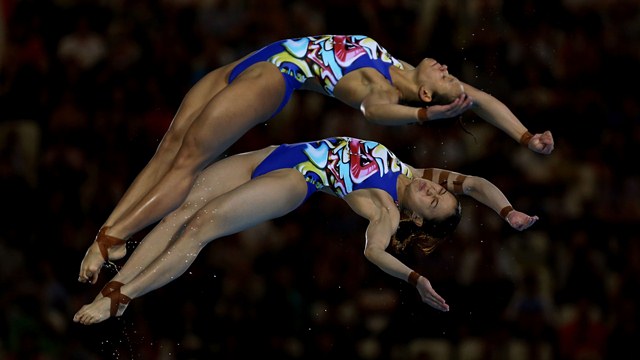 The path to success, however, is not lined with gold. A punishing daily training schedule meant Pandelela spent most of her time practicing challenging routines and twists, but that did not deter her ambition. Early morning starts followed by four hours of tough training, with a break for lunch and some downtime before resuming another five hours of pool action, is a schedule that would challenge even the toughest of competitors. But the gritty Pandelela persevered, with her efforts paying off soon after. "Mental training is just as important as physical training. Even when your body is tired, you just have to push through to complete the session, even if it's not your best," she stresses. Together with veteran teammate Leong Mun Yee, Pandelela secured a bronze medal in the synchronized event at the 2009 World Aquatic Championships, sending a loud and clear message to the diving fraternity: she was a force to be reckoned with.
The affable Pandelela then qualified for the 2008 Beijing Olympics but failed to secure a medal finish. Undaunted, she struck back at the World Youth Olympics two years later, bagging a silver medal in both the 10m Platform and 3m Springboard events. "I think I did OK," laughs the modest athlete.
Pandelela did not need to wait too long to break more records. Her next moment of glory came in the form of a gold medal – her first individual one and the first aquatic medal for the country – at the 2010 Commonwealth Games in New Delhi, marking another milestone in Malaysian diving. "That was really cool," gushes the Sports Science student. "It was one of the best moments of my life."
Olympic Glory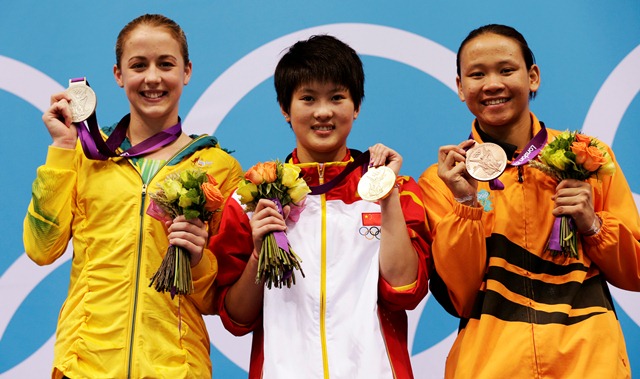 If all her accolades weren't a good enough indicator as to what was in store for the feisty young athlete, Pandelela then raised the bar for women athletes in the country, when she was chosen as Malaysia's first female flag bearer at the 2012 London Olympics opening ceremony. "The atmosphere at the Olympics was just awesome," she enthuses. "The crowd was amazing, the Games village was so cool, and I got to meet people from all over the world – fantastic!"
Besides divers from other nations, Pandelela relished the opportunity to catch a glimpse of superstar Jamaican sprinter Usain Bolt ("He was in the cafeteria, but I couldn't take a picture with him because he was being mobbed!"), the most decorated athlete in history, American swimmer Michael Phelps, and Britpop sensations One Direction. "They were being interviewed next to me," blushes the 20-year-old. "I quite like their songs."
Rubbing shoulders with some of the world's best didn't sway her concentration, as by competition's end, Pandelela had twisted and somersaulted her way to a bronze medal in the women's 10m platform event, winning the hearts of Malaysians everywhere. "I felt so happy that I was able to bring joy and pride to my country," the down-to-earth Pandelela says, smiling.
Upon her return, Malaysia's sweetheart was catapulted to star athlete status, meeting everyone from politicians to top sporting personalities in the country. "I had to do a lot of interviews but it was fun," laughs Pandelela. "I also got to go home for two weeks. In fact, there was a huge national event right after I returned, and my family was flown into Kuala Lumpur to join in on the festivities. That was amazing!"
Diving Darling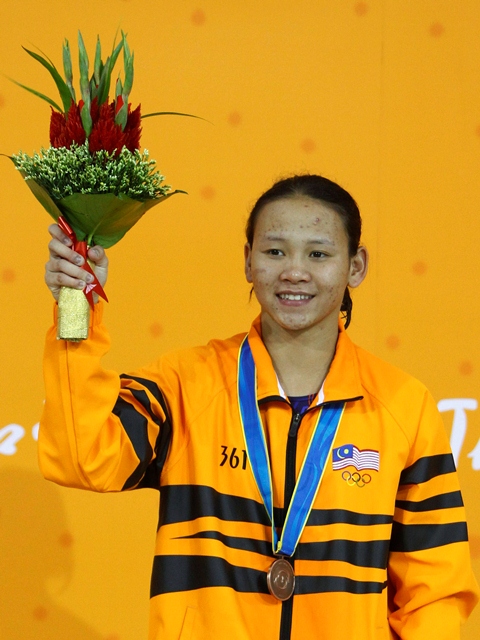 Becoming one of the most-loved Malaysian athletes and garnering worldwide praise has not changed the girl from Sarawak one bit. At just 20 years old, Pandelela has the world at her feet, but is resolute about continuously pushing boundaries. "I want to keep competing and hopefully win an Olympic gold medal in the future," she says. "I also hope that I'll still be in shape when the Tokyo Olympics come around (in 2020), because I absolutely love Japan!" she quips.
An avid traveller, it is no wonder Pandelela relishes the opportunity to visit new countries while competing in events. "I really like Rome and I hope to visit Korea someday. I'm a huge fan of their food,music, and culture," confesses the Korean hip-hop fanatic.
Despite all her achievements, Pandelela remains focused on achieving her dreams, with her eye set firmly on the prize. In spite of her youth, this sneaker-wearing, K-pop-listening, foodie-diver has sage advice for aspiring athletes: "It's really quite simple: with grit and dedication, a person can achieve extraordinary feats, even in the face of hardships and many obstacles. If you concentrate on the task at hand, there's no telling what barriers you can break."
Spoken like a true champion.
Source: Senses of Malaysia November/December 2013
Read more:
What are your thoughts on this article? Let us know by commenting below.No registration needed.
---
"ExpatGo welcomes and encourages comments, input, and divergent opinions. However, we kindly request that you use suitable language in your comments, and refrain from any sort of personal attack, hate speech, or disparaging rhetoric. Comments not in line with this are subject to removal from the site. "
Comments