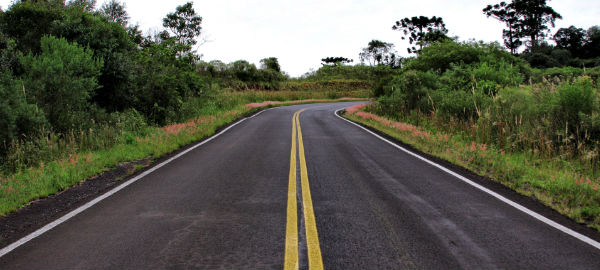 A road trip is often perceived as a rite of passage for the adventurous traveller. David Bowden hits the roads of Malaysia and manouevres his way through the many sights on his journey to the north of the country.
Excellent highway conditions from the Malaysian capital Kuala Lumpur (KL) to the island of Penang mean that the car journey only takes four hours. However, with so many attractions to see along the way, inquisitive and adventurous travellers could spend a leisurely five days exploring Malaysia's two largest cities and the route between the two. In addition to KL and Penang there are sights to be seen in the Cameron Highlands, Ipoh and Kuala Kangsar along the way. The maximum speed on the North-South Highway is 110km/hour and radars are used to detect those who speed. Toll charges apply on main highways and the Penang Bridge and these can be paid in cash or via pre-paid electronic "storedvalue" cards.
See also:
Day One – Kuala Lumpur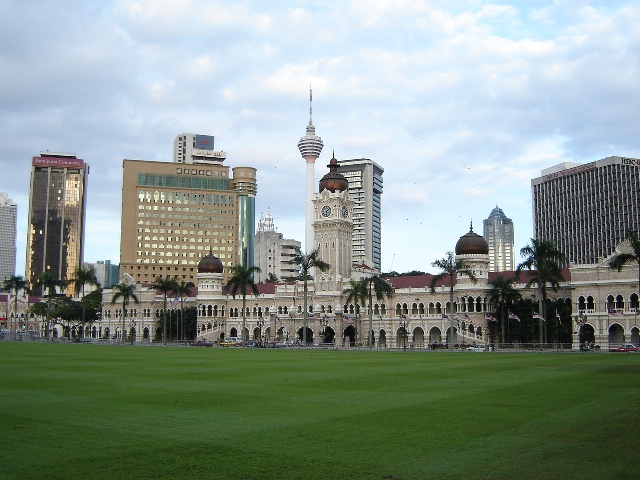 Arriving into Kuala Lumpur International Airport was straightforward, and once I'd cleared the hassle-free immigration and customs counters, I headed to the car rental desk within the terminal. My plan was to see KL and then head north and drop off the car in Penang.
Adjusting to new driving conditions is a challenge in most countries and while Malaysia is a relatively easy country to negotiate by car, I quickly learned a few early lessons. Firstly, a car with a GPS is essential, especially in the KL city centre. I had been advised to be prepared for any eventuality on the road and to drive cautiously as not all drivers use indicators or mirrors when changing lanes. Knowing this helped me negotiate the crowded inner city roads to my downtown accommodation.
From the car, it was easy to see that the capital was an energetic and vibrant city with various architectural styles. I took the advice of the hotel concierge and used public transport to see the sights of KL. This meant taxis, the monorail and the KTM train system to reach attractions such as the old train station which provides access to Merdeka Square. Buildings here such as the station and the Sultan Abdul Samad Building, feature ornate Moghul architecture of grand arches and domes.
Using a tunnel under the road, I walked to the Islamic Arts Museum of Malaysia which houses Asia's largest collection of Islamic art. It fronts onto a large green area known as Lake Gardens where there is a giant aviary, orchid garden, walking trails and shaded recreational facilities.
My hotel concierge suggested that I should head to Marini's on 57 in Tower Three of the famous Kuala Lumpur City Centre, with its bar, restaurant, and lounge high atop the city. He stressed that sunset was the important time of day as this was when the lights to the adjoining Petronas Twin Towers were turned on. I joined a lively sunset hour crowd and was lucky to meet their mixologist, Junior, who prepared me a signature cocktail of Earl Grey-infused whisky with tamarind. The soaring Twin Towers were even more impressive from this intimate and lofty vantage point.
Day Two – Kuala Lumpur to The Cameron Highlands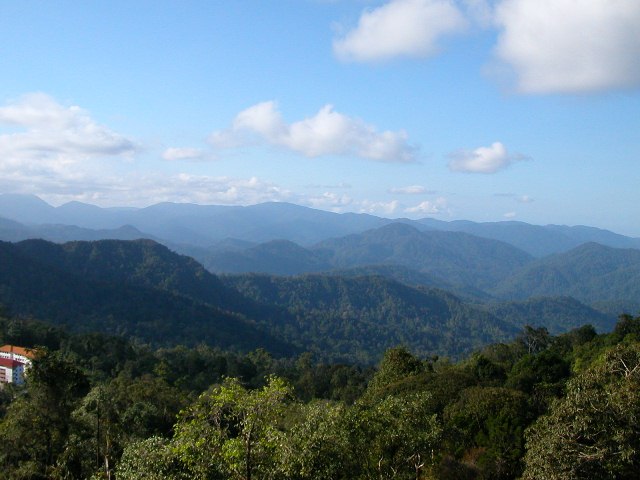 After breakfast, I travelled north from KL and avoided much of the morning traffic jam as this was mostly heading in the opposite direction to me. My car's GPS helped me reach the North- South Highway and once I was on it, it was 110km/hour on a six-lane highway through a landscape of tropical forests intermixed with oil palm and rubber plantations. Before leaving the highway at Tapah, I stopped to refuel at the large roadside R & R. This and other R & R stops are designated rest stops for petrol, food, drinks, and restrooms. Once I turned off the highway at Tapah, with the Cameron Highlands in my sights, the road narrowed and I needed to concentrate as there were many hair-pin corners on the steep climb.
Cameron Highlands is the centre of Malaysia's tea growing production and was once a favourite retreat for British colonialists in pre-independence Malaya. Its Tudor-style architecture provides a setting that looks more like the English countryside than tropical Malaysia. Boutique hotels such as The Lakehouse and The Smokehouse Hotels and Restaurant Cameron Highlands all offer the charm of bygone days. Both the Lakehouse and the Smokehouse serve delicious Devonshire teas of hot scones, thick cream and locally-grown strawberries.
Hill slopes blanketed in tea plants provide a picturesque backdrop, and the cooler temperature of the mountains ensures that the highlands are still a popular tourist destination. Mystery prevails here, too, as American silk entrepreneur Jim Thompson went missing over 50 years ago, and conspiracy theories provide fodder for a steady flow of inquisitive tourists. They come to see for themselves the dense montane forests where he disappeared.
Day Three – Cameron Highlands to Ipoh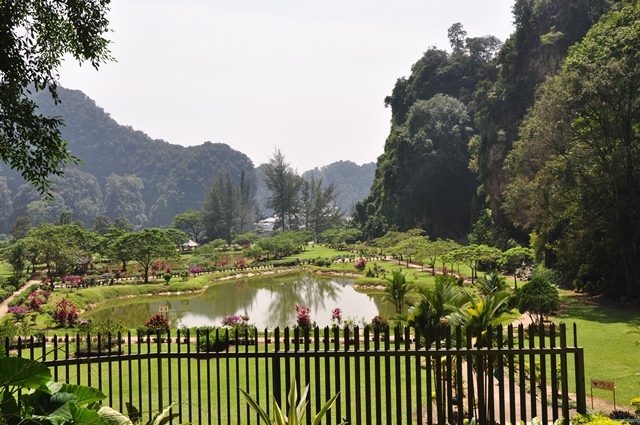 After breakfast, I headed down the range towards Ipoh on the new (but still rather circuitous) road to rejoin the North- South Highway at Simpang Pulai. Ipoh was once the centre of the nation's tin mining industry and many tin lakes can still be found around the city. Impressive limestone caves on Ipoh's outskirts are home to Hindu and Buddhist shrines with Sam Poh Tong being the district's largest. Nearby, stalls selling pomelo fruits might just be reason enough to stop here!
Ipoh is also home to the water theme park called the Lost World of Tambun. This tin themed adventure park has many slides and glides in picturesque surroundings that also include a resort hotel.
A heritage walk in Ipoh was recommended, so I parked the car at Ipoh Train Station to explore the historic city centre on foot. Built in the mid-1800s, the train station is an ornate structure of similar Moghul architecture to its counterpart in KL. The Royal Ipoh Club is a Tudor-style building located near the High Court Building and, just opposite, St Michael's School is a grand building with a long arched façade. Indulgence Restaurant and Living is the most luxurious accommodation in the city and is perfect for those who like to wine and dine as the downstairs restaurant is considered one of Malaysia's finest establishments.
Day Four – Ipoh to Penang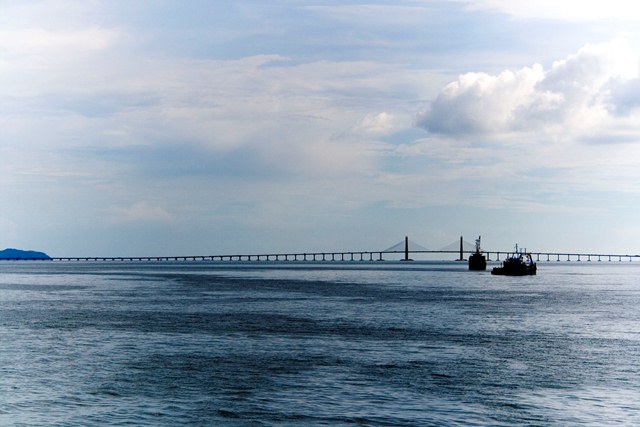 Back on the highway, the royal town of Kuala Kangsar is located just north of Ipoh. It was a rewarding detour where I could admire some the fascinating architecture of Ubudiah Mosque, the Sultan of Perak's residence and Istana Kenangan.
Istana Kenangan or the Bamboo Palace (comprising a colourful yellow, white, and black bamboo exterior) was once the Sultan of Perak's official residence but now a museum for state royalty. Nearby, the Ubudiah Mosque is one of Malaysia's most spectacular mosques with its glistening golden onion domes and white minarets.
Returning to the highway, the highway weaves across the mountain through the forested range. Bukit Merah Laketown Resort is another water theme park that features rides such as the Giant Wet Bubble and Boomerang Fun Slide.
While most people know Penang as an island, part of the state is centred on Butterworth on the mainland. Visitors cross one of Asia's longest bridges in the Penang Bridge to reach the island. Penang was once a very strategic port during the era of the spice trade and is now best known for its beaches along a strip of coastline known as Batu Ferringhi as well the historic precinct of George Town. My accommodation was situated along historic Armenian Street. Straits Collection is one of several quaint boutique heritage properties that have sprung up in the city since it attained the status of a UNESCO World Heritage Site. I dined in ChinaHouse located on nearby Beach Street. This multifunctional café, restaurant, gallery, and performance space is located in four renovated old shophouses and typical of the direction in which urban restoration is currently on the island.
Day Five – Penang Island
Penang has undergone a resurgence since joining UNESCO's illustrious list. With its narrow streets, I decided to discover the city on foot in the early morning.While old shophouses are being rejuvenated as cafés and boutiques, many retain their original functions as shops, residences, and workspaces. Armenian Street is particularly fascinating with its evening flea market, street art, and enticing shops selling designer jewellery, art, and photographs. Kapitan Keling Mosque is just around the corner from Armenian Street, and Khoo Kongsi is not to be missed as it is one of Penang's best preserved clan estates.
Distances on Penang can be deceptive and, I was told the traffic can be painfully slow, so on my last afternoon in Penang, I decided to head out of Georgetown towards the famous beach strip of Batu Ferringhi. Much of the coastline on the northern coastline of Penang is lined with hotels and resorts, but there several areas and car parks for public access.
This casuarina-lined beachfront is very tranquil and the occasional small fleet of colourful boats made for some interesting photography. The main road through Batu Ferringhi is a haphazard assortment of shops and restaurants, but in the late afternoon and evening it becomes a busy night market. My afternoon was spent in the lush gardens of the Tropical Spice Garden at Teluk Bahang just beyond Batu Ferringhi. In stark contrast to the night market stretch, these picturesque gardens are a tranquil retreat well worth spending an hour or more in. What was once an abandoned rubber estate has been lovingly transformed into gardens that support over 500 species of tropical plants. A team of hardworking gardeners lovingly tend the plants with organic fertilisers. There is an amazing collection of welllabelled plants including cycads, orchids, bamboos, spices, ferns, and gingers, and several themed trails provide access through the gardens. The Spice Museum and Shop with an adjoining café is worth spending time in and I noticed that daily (except Monday) cooking classes are conducted with most of the ingredients being sourced from the gardens.
With the onset of dusk it was time to complete my road journey from Kuala Lumpur to Penang and head off to the airport to drop off my rental car and take my return flight back to Kuala Lumpur. The modern road trip may not have originated in Malaysia, but thanks to good roads and a lot of interesting sights along the way, it's a trip worth taking.
Homepage higlight photo credit: Michael Camilleri, Flickr
Source: Senses of Malaysia November/December 2013
Read more:
What are your thoughts on this article? Let us know by commenting below.No registration needed.



" ExpatGo welcomes and encourages comments, input, and divergent opinions. However, we kindly request that you use suitable language in your comments, and refrain from any sort of personal attack, hate speech, or disparaging rhetoric. Comments not in line with this are subject to removal from the site. "



Comments