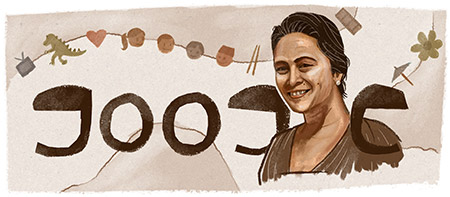 Yesterday, Google paid tribute to renowned Malaysian filmmaker, writer and scriptwriter, the late Yasmin Ahmad, with a doodle on its homepage logo.
The doodle was in conjunction with her birthday and her achievements. The simple doodle which featured Yasmin's smiling face was a pleasant surprise for many Malaysians as it brought back memories of this talented Malaysian's work and life.
Google occasionally comes up with unique doodles to celebrate international holidays, anniversaries and to celebrate the lives of famous people who have made an impact in the world or in their respected fields. There is a special team of Google doodle designers who produce these doodles based on the suggestions of Googlers and its users. Those who visit www.google.com will get to see the doodles.
Yasmin Ahmad passed away in 2009. She had produced a number of heart-warming commercials and movies in Malaysia which were known for its heart-warming messages of love cutting across cultural barriers. She is also the recipient of many notable awards and was inducted into the Malaysian Advertising Hall of Fame by the Association of Accredited Advertising Agents Malaysia in 2008.
Yasmin used to produce festive commercials for national oil giant Petronas. There was a time when Malaysians would eagerly look forward to festive seasons and Malaysia's national day just to watch these commercials. Yasmin also directed award-winning movies such as Rabun, Sepet, Gubra, Mukhsin, Muallaf and Talentime. Yasmin's movies would depict events and relationships which were considered a taboo subject in Malaysia as they challenged cultural and racial preconceptions. Needless to say, she used to get into a tight spot because of this.
Yasmin was also the executive creative director of advertising agency Leo Burnett Kuala Lumpur at the time of her death.
Watch some of Yasmin Ahmad's famous festive commercials for Petronas below:
Petronas Merdeka Commercial 2002:
Petronas Hari Raya Commercial:
Petronas Deepavali Commercial:
Petronas Chinese New Year Commercial:
Comments