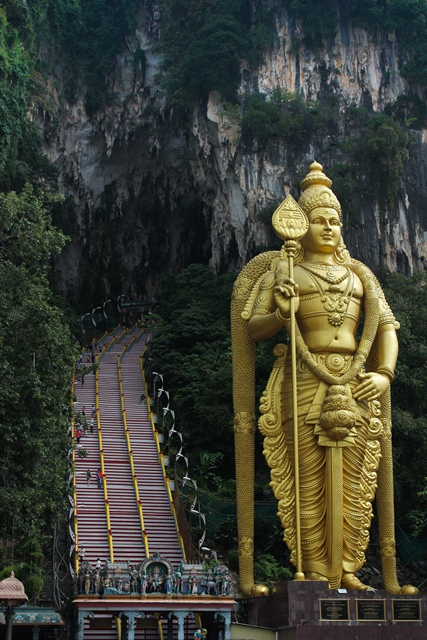 An observation on Hindu celebrations and festivals will tell you they are normally elaborate, colourful, and steeped in myths and legends. Thaipusam is no exception. Celebrated by Hindus of Tamil origin from South India, Thaipusam is a holy festival celebrated as a thanksgiving to Lord Murugan.
It is perhaps the most elaborate and spectacular of all the Hindu festivals, mainly due to the combination of what seems like a painful body piercing and a religious practice.
The festival is about faith, endurance, and penance, and is celebrated in Malaysia over a span of three days. It is celebrated on the tenth day of the Tamil month, known as Thai, depending on the alignment of the sun, moon and planets, and takes place in the sacred Hindu shrine at Batu Caves.
The dynamic, colourful and devotional event was first celebrated at the Batu Caves in 1888 and has since become an important expression of cultural and religious identity to Malaysians of Tamil origin. It is now by far the largest and most significant Hindu public display in the country and attracts more than one and a half million people each year.
The Legend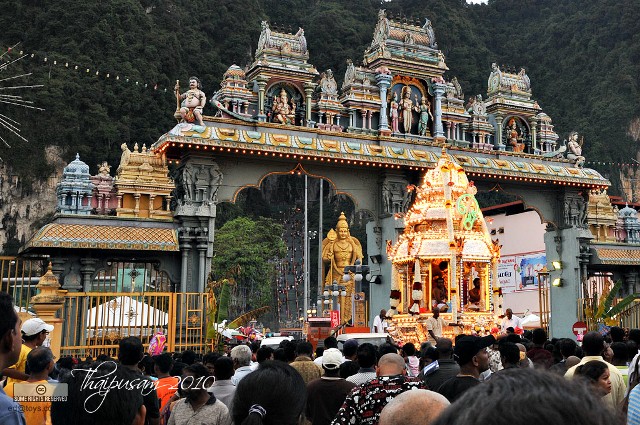 The legend at the centre of this festival tells of Lord Subramaniam who was sent by his father, Lord Shiva, to help free celestial beings from demons. After victoriously completing this task using the vel (spear) that was bestowed upon him by his Blessed Mother Shakti, legend has it that Lord Subramanian appeared to his devotees in a vision, seated on a chariot and adorned with dazzling jewels.
Thus, on Thaipusam day, Lord Subramaniam's image, adorned and decorated, is placed on a silver chariot before his devotees. This is then taken in a procession the day before. Besides being acknowledged as a symbol of virtue, bravery, youth and beauty, the Hindus believe that Lord Subramaniam is also the universal dispenser of favours. Hence, some who have made vows and pledges to Lord Subramaniam prove their gratitude to him by undergoing self-mortification on Thaipusam day.
The Celebration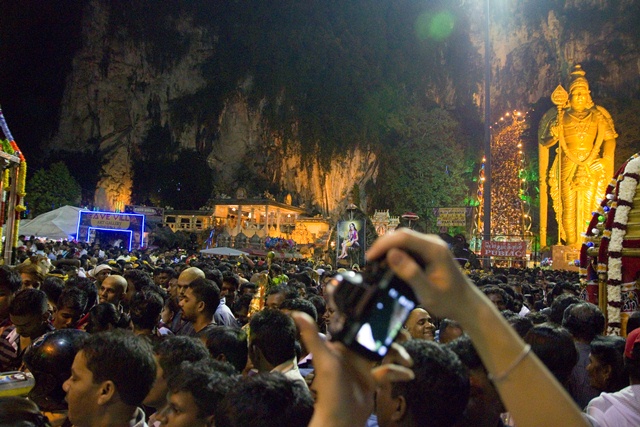 On the eve of the celebration, devotees gather at the Sri Maha Mariamman temple in Kuala Lumpur to witness the ceremonial "bath" of Lord Murugan. The deity is then dressed with elaborate offerings and colourful flowers, before being placed on a silver chariot drawn by two oxen. The chariot leaves the temple grounds and begins its eight-hour journey to Batu Caves, accompanied by hundreds of devotees, some carrying the kavadi – the most popular form of sacrifice.
Kavadi, which means "sacrifice at every step", is a concept that originated from India where it represents a mountain with Lord Subramaniam, at its apex. In the olden days, most Hindu temples were set atop high ridges and mountains, and access to the temples was only possible after one had gone through the "tests".
Whilst undertaking the long and hard journey uphill, the devotees would inflict a heavy burden onto themselves such as carrying the kavadi and other forms of sacrifices which include piercing silver pins through the cheek and tongue and pricking the body with hooks and spearlike needles.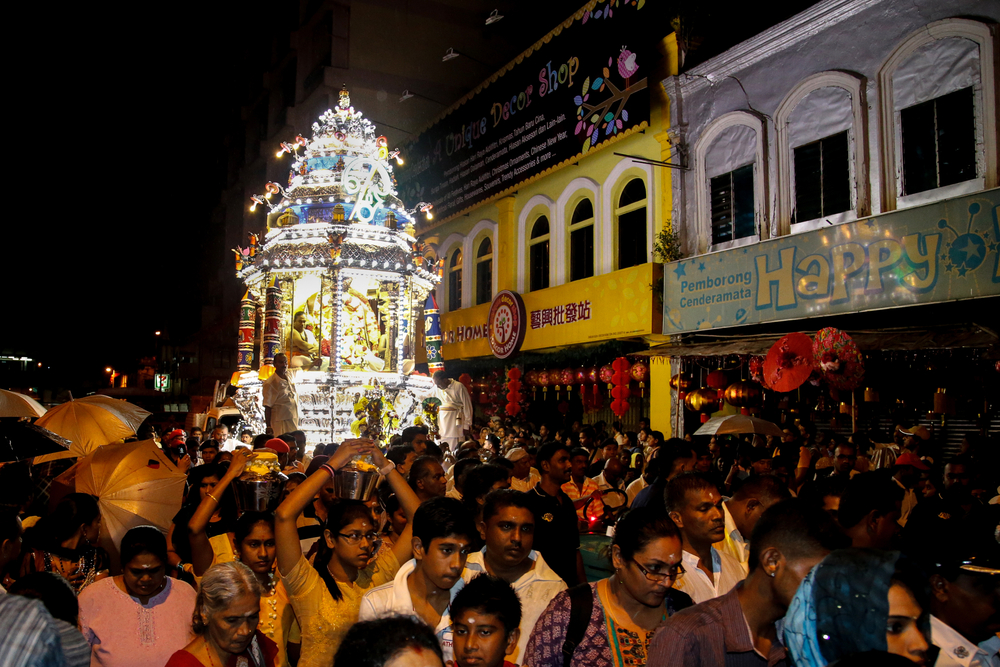 In a similar manner, during Thaipusam, devotees make an effort to ascend the 272 steps at Batu Caves whilst carrying the burden on their back and shoulders. Devotees who have made their vows and prayers to Lord Subramaniam will subject themselves to sacrificial acts in exchange for an answered prayer.
Many devotees bear milk, water, fruits, and floral tributes on pails hung from a yoke and carry them on their shoulders. Kavadi, the vehicle of Lord Murugan, can be made from either steel or wooden frames with bars for support on the shoulders, and is normally decorated with flowers and peacock feathers.
Other forms of sacrifice include piercing silver pins through the cheek and tongue and pricking the body with hooks and spear-like needles. Most women devotees carry a pot of milk called a palkuddam. The milk is poured over the statue of Lord Subramaniam after the procession.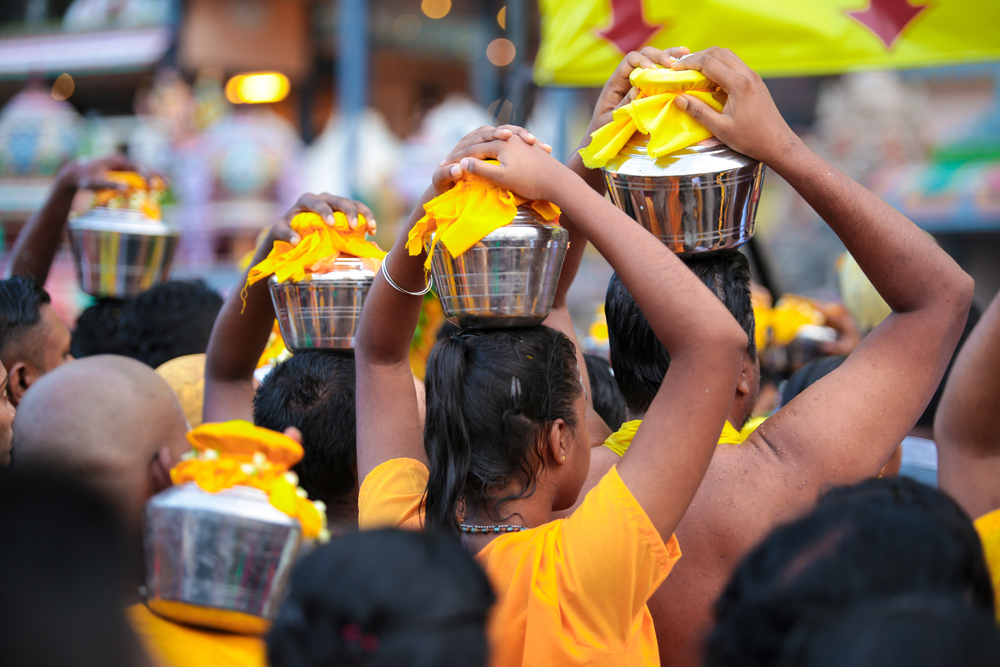 These venerable burdens would normally be wrapped in saffron cloth, indicating "total submission to God". The devotees who intend to perform the sacrifice are customarily required to observe strict physical and mental discipline. The significance of this represents the divine understanding that it is not easy to reach God without effort and sacrifice.
Thaipusam is best summed up as day where there is a flurry of divine activities from dawn to dusk. To the uninitiated, it would not be far off the mark to deem it religious entertainment, but when you delve further into the divinity of the day, you will be amazed that with discipline over mind and body, anything is possible.
Homepage highlight photo credit: ~MVI~(warped), Flickr
Source: Senses of Malaysia January/February 2014
Read more:
What are your thoughts on this article? Let us know by commenting below. No registration needed.
---
"ExpatGo welcomes and encourages comments, input, and divergent opinions. However, we kindly request that you use suitable language in your comments, and refrain from any sort of personal attack, hate speech, or disparaging rhetoric. Comments not in line with this are subject to removal from the site. "
Comments