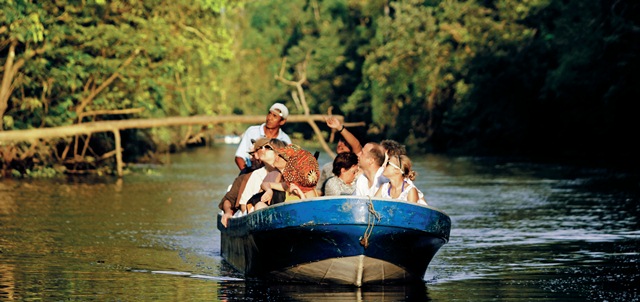 It's still Malaysia, but at times feels like a different world. Welcome to Northern Borneo, where two of the country's largest states occupy nearly the whole top third of this vast and fascinating island. Tag along with David Bowden as he visits Sandakan in the East of Sabah and discovers a primal land of beauty, wildlife, and adventure.
Borneo, the world's third-largest island has an image of adventure, impenetrable rainforests, headhunters, and an endless variety of exotic plants and animals. Sandakan in northern Sabah is a destination its own right, but also a gateway to many of Sabah's other wondrous delights.
Sandakan was once the capital of North Borneo (now Sabah) and because of its isolation there's a sense that things are done a little differently around here. An overnight ferry to Zamboanga in the southern Philippines also provides a frontier image for Sandakan. On the other side of the city, a steady flow of tourists arrive into the airport with most of them heading off to see the Orang Utans at nearby Sepilok.
Sepilok Orang Utan Rehabilitation Centre, the adjoining Rainforest Discovery Centre and the former prisoner of war camp are Sandakan's main attractions. Offshore in the Sulu Sea, Turtle Island National Park virtually guarantees turtle spottings every evening and the Robinson Crusoe island of Lankayan with its isolation and clear waters make it just perfect for diving.
While some fly in from Kota Kinabalu for the day, dedicated ecotourists could spend a week or so in Sandakan as well as places like the lower Kinabatangan River; a few hours' drive from the city.
Rainforest Discovery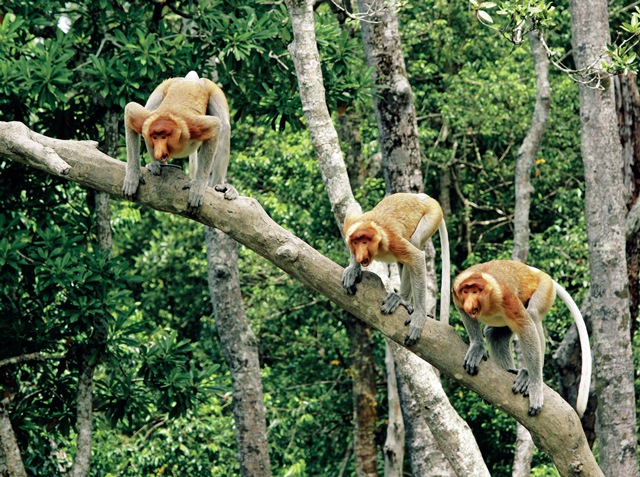 Sepilok's primary function is to have orphaned young Orang Utans taught the survival skills they require for when they are eventually released into the wild. While it's not a zoo, things are well-organised within a tropical rainforest setting and visitors are now being allowed to enter the forests during the twice-daily feeding times. This is when the Orang Utans are conditioned to visit the feeding platforms located immediately in front of the tourist viewing area. Sepilok offers a great opportunity to get reasonably close to these wild animals and to watch their playful antics.
Close by, the Rainforest Discovery Centre is another location that attracts a steady flow of visitors. They come to walk along an extended and elaborate elevated rainforest canopy walkway high above the ground. While eagle-eyed visitors may spot the occasional shrew or squirrel, it's the birdlife that's of most interest. While it's hard to see wildlife anywhere in the dense rainforest, I like the area especially when there are few tourists around. There are some reasonable interpretative signs here and because you are high above the ground, the chances of seeing animals that live in the canopy are increased. Patience, a pair of binoculars, and time are the best items to bring into the forest for sighting wildlife. Nothing is going to leap out at you so it's my suggestion to walk to one of the shaded observation towers and simply sit as long as you can on the lookout for anything that moves. There is a very pleasant café here in which to relax after a hot walk along the exposed canopy walk.
The large-nosed Proboscis Monkey is another unusual primate to seek out. While they inhabit the mangrove areas of Sepilok, the best place to see them is at Labuk Bay Proboscis Monkey Sanctuary, not far from Sepilok. This is located within a privately owned oil palm estate, but the set-up is quite natural, and it's possible to get reasonably close to the monkeys.
It's also worthwhile dropping by the Sandakan Memorial Park on the way back into Sandakan. This memorial was erected for all but six of the 2,434 mostly Australian and British POWs who were incarcerated at the Mile 8 camp during WWII. Only six lived to tell the tale of the misery that was inflicted upon the others during the camp's history and the three notorious "Death Marches" that followed. While somewhat depressing, those who visit will be moved by the excellent display maintained by the Australian Government here in the memorial chapel and by the tragic accounts of the senseless loss of life.
Riverine Santuary
Many travellers use Sandakan as their air gateway to several other eco encounters. The Kinabatangan River is the place to head for some serious wildlife spotting and it's certainly the one where visitors can see several species in one location. A 27,000-ha wildlife sanctuary centred on the small village of Sukau is where most ecotourists head. Despite being surrounded by an expansive sea of oil palm plantations, it offers one of the best wildlife experiences to be found anywhere in Borneo. These forests are home to animals such as the Flying Lemur, Slow Loris, Tarsier, Borneo Pygmy Elephant, Proboscis Monkey, Orang Utan, Silver-leaf Langur, and Long-tailed Macaque.
Each afternoon, a small flotilla of boats carrying eager safari hunters heads off along a tributary of the Kinabatangan seeking out wildlife. The Menanggul River is the heart of the Kinabatangan where there is a greater probability of seeing wildlife than anywhere else in the area. Visitors soon appreciate that the Borneo rainforests offer a completely different wildlife experience to, say, the plains of Africa in that seeing animals is more difficult, but just as rewarding when they're eventually sighted.
Civilised Living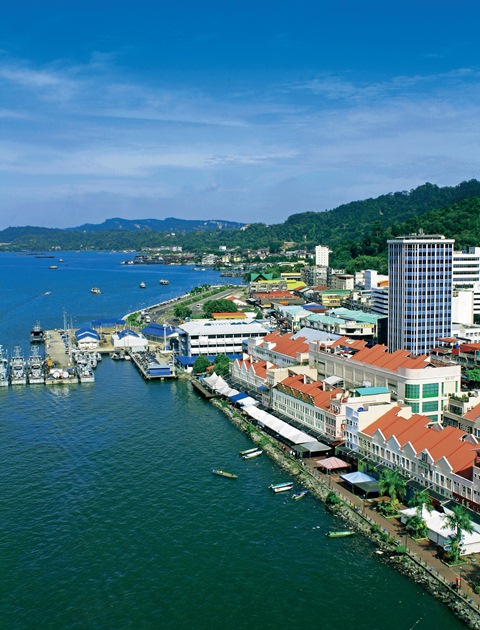 After roughing it in the wilds of Sabah, Sandakan's English Tea House and Restaurant recreates something straight out of the colonial past. If scones with clotted cream and preserves and a round of croquet over a Pimms No 1 Cup sound enticing, then this is the perfect venue for you. This little gem serves English and local dishes in a picturesque tropical garden setting situated in the forested hill above Sandakan Harbour. Alternatively, the appropriately named restaurant The Eatery in the Four Points Sandakan serves some very decent meals. Things are made better by them offering the Starwood Wines of the World Programme in which a range of excellent wines are served by the glass and bottle.
Who would have thought that Sandakan would be where it is now, especially after much of the downtown area was razed to the ground by the Allied bombing that brought an end to WWII in the area.
Getting There:
Malaysia Airlines (www.malaysiaairlines.com) and AirAsia (www.airasia.com) fly from either the Malaysian capital of Kuala Lumpur or from the Sabah state capital, Kota Kinabalu. MASWings (www.maswings.com.my) flies from Kota Kinabalu to Sandakan.
Where to Stay:
Sandakan has a variety of accommodation, mostly budget, but the Four Points Sandakan (www.starwoodhotel.com) sets a new standard for accommodation in the city. Located by the busy harbour, the hotel is a deluxe property, with a great pool and excellent food and beverage outlets. Next to it is the three-star Swiss-Inn Waterfront Sandakan (www.swissgarden.com) with surprisingly good facilities.
Tour Operators:
Borneo Eco Tours (www.borneoecotours.com) and North Borneo Safari (www.cedeprudente.com) offer specialised wildlife adventures in northern Sabah.
Source: The Expat January 2014
Read more:
What are your thoughts on this article? Let us know by commenting below.No registration needed.



" ExpatGo welcomes and encourages comments, input, and divergent opinions. However, we kindly request that you use suitable language in your comments, and refrain from any sort of personal attack, hate speech, or disparaging rhetoric. Comments not in line with this are subject to removal from the site. "



Comments