Kuala Lumpur is well-known as a shopping haven for both tourists and locals. It is home to two of the largest shopping malls in the world, One Utama and Mid Valley Megamall. Based on the 2012 CNN Travel rankings for the world's 10 best shopping cities, Kuala Lumpur came in fourth place. Kuala Lumpur's success is due to several factors such as high quality shopping, affordable prices and sales.
Having a wide array of shopping malls to choose from can sometimes be a hassle. You want to know which shopping malls are worth your visit without having to visit ever single one of them. In order to ease your burden, here is a list of the top 20 shopping malls in the Greater KL region, ranked in no particular order.
See Also: 23 Reasons why Greater KL is Becoming a World Class City
1) Pavillion Kuala Lumpur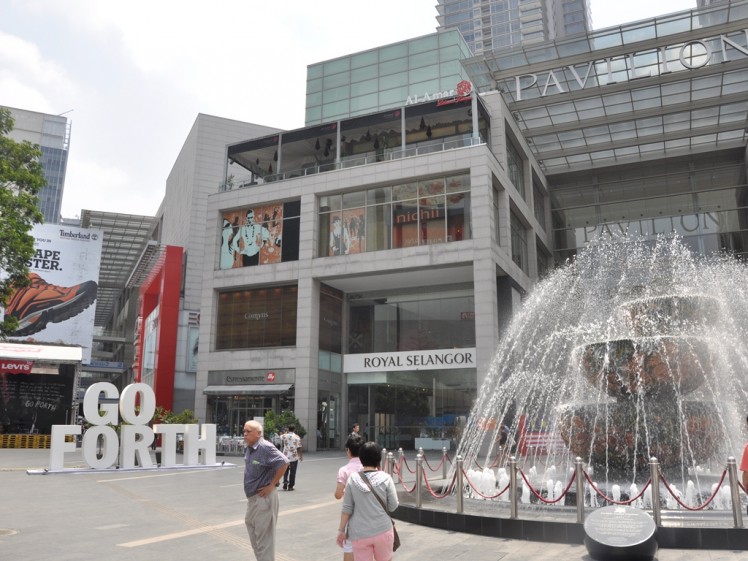 Pavillion Kuala Lumpur is one of the grandest shopping malls in Kuala Lumpur. It is especially exciting to visit during festive periods like Christmas and Chinese New Year when its entrance and interior is extensively decorated to further enrich the festive atmosphere. Opened on 20 September 2007, the mall boasts many luxurious stores with high-end designer labels such as Celine, Salvator6 eFerragamo, Burberry and Gucci. This mall also has a fair share of more reasonable brands such as
Topshop and Zara.
A major portion of the mall's first level is dedicated to food lovers. It houses a wide range of western and oriental restaurants such as "The Manhattan Fish Market", Subway, Madam Kwan's and a large food court called "Food Republic." Equipped with a fitness centre, karaoke studio, a standard cinema and bistros, Pavillion is also a suitable place for entertainment and leisure.
Address: 168 Jalan Bukit Bintang
Nearest station: Bukit Bintang (KL Monorail)
Website: pavilion-kl.com
2) Suria KLCC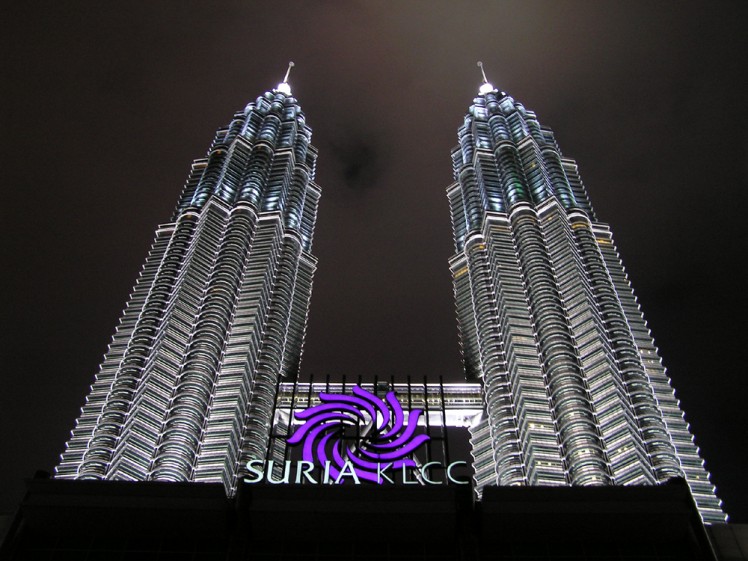 This mall is located at the foot of the Petronas Twin Towers, Kuala Lumpur's proud landmark. It showcases a mixture of high-end and mid-range designer labels. Exclusive high-end brands that can be found here include Chanel, Giorgio Armani and Marc Jacobs while the mid-range labels include Zara, Levi's and 'Mark and Spencers'.
See Also: KLCC, A Mall to Beat Them All
Suria KLCC has two food courts located on the second and fourth floors. The second floor food court mainly offers international cuisine such as Subway and McDonalds whereas the fourth level food court caters to customers who are fonder of local food. The mall also has some famous restaurants such as Chili's Grill and Bar and Madam Kwan's.
Apart from shopping and dining, you can also engage in a variety of other activities in this multi-purpose complex which also consists of an orchestra hall (Malaysian Philharmonic Orchestra), an aquarium (Aquaria), a convention centre (Kuala Lumpur Convention Centre) and an art gallery (Galeri Petronas). Outside the mall there is also a beautifully landscaped park and outdoor swimming pool (KLCC Park) for recreational purposes.
See Also: Timothy Tsukamoto,The Man Behind the Music
Address: Jalan Ampang
Nearest station: KLCC (Kelana Jaya Line)
Website: suriaklcc.com.my
3) Midvalley Mega Mall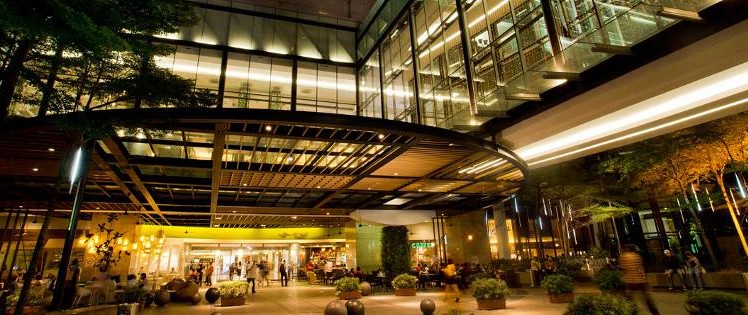 Photo credit: Mid Valley Megamall, Facebook
Mid Valley Megamall is very popular especially among the locals. It has more than 400 middle-range stores for you to visit such as Esprit, Adidas, Guess and Vincci. Its frequent hosting of fashion shows and events with local and international models on the runway gives this mall a glamorous touch to it.
This mall also has many food options for you to choose from. It houses a wide array of restaurants, cafes, bars, coffee shops and fast food outlets. Venture to the lower ground level and you can enjoy reasonable food like McDonalds and The Manhattan Fish Market.  If you are more into expensive dining, you can try food from restaurants like Esquire Kitchen and Pancake House or visit one of the bars such as Brotzeit German Bier Bar and Restaurant, Finnegans and more. Mid Valley Megamall is also well-known for its alfresco dining on the boulevard which is occupied by coffee houses such as Starbucks Coffee and Coffee Bean.
Apart from shops and diners, the mall also has leisure and recreational facilities such as an 18 screen cinema and a state-of-the-art bowling centre.
Address: Lingkaran Syed Putra, Mid Valley City
Nearest station: Seputeh (KTM Line)
Website: midvalley.com.my
4) The Gardens Mall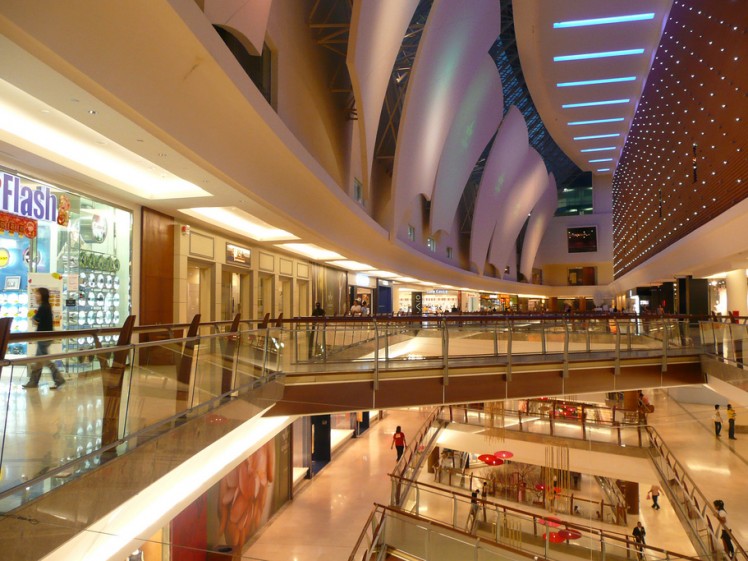 Located right opposite Mid Valley Megamall, The Gardens Mall is the second phase of Mid Valley City. This luxurious mall which caters (mainly) to the wealthy houses many high-end stores such as Louis Vuitton, Armani and Hugo Boss.
There are quite a number of good restaurants at the third floor of the mall which offers cuisine from different parts of the world. These include Sushi Zanmai which serves Japanese cuisine, Flying Chillies with its various Thai delicacies and Spice of India which serves Indian cuisine.
The Gardens has the most luxurious theatre in Malaysia. The Gold class ticket offers a whole new movie experience. By purchasing this ticket, you will be able to enjoy your movie in a comfortable and spacious recliner seat.
Address: Lingkaran Syed Putra, Mid Valley City
Nearest station: Seputeh (KTM Line)
Website: thegardensmall.com.my
5) Berjaya Times Square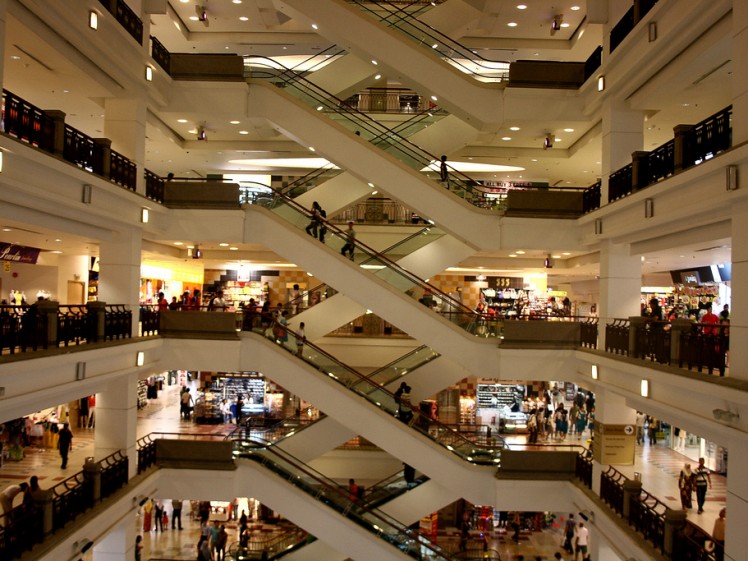 Berjaya Times Square is one of the biggest shopping malls in the world. The mall was first opened in October 2003. It houses Malaysia's largest indoor theme park which boasts a seven-storey high roller coaster.
With stores that offer cheap and affordable bargains, this mall is an ideal destination for the budget shopper. Shops that can be found here include Body Glove, Kitschen and F.O.S. This mall is also somewhat of a food haven with a wide selection of chain food restaurants to choose from such as Kentucky Fried Chicken, Papa Johns, Wendys, Sakae Sushi and many more.
Besides that, it also houses Malaysia's first GSC Max 2D and 3D theatre situated on its 10th floor.
Address: 1 Jalan Imbi
Nearest station: Imbi (KL Monorail)
Website: timessquarekl.com
See Also: Indulge in Shopping, Dining and Entertainment at Berjaya Times Square Shopping Mall
6) Sungei Wang Plaza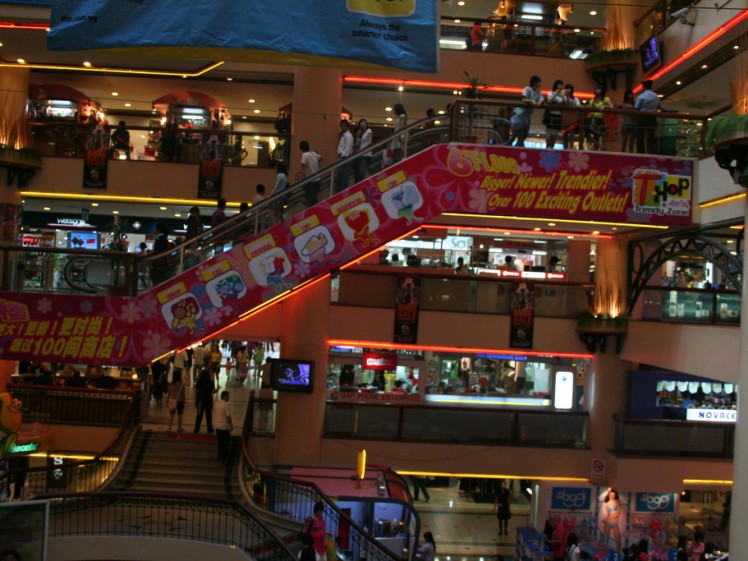 Sungei Wang Plaza is the perfect place to visit if you are looking for cheap bargains. It is strategically located in Bukit Bintang, an area that is packed with shopping malls at every corner. You can find a lot of local designer clothes and accessories here at reasonable prices.  Apart from clothes, Sungai Wang also retails toys, cheap watches and lifestyle items.
Besides shops, this mall also houses hair salons, massage parlours and tailors. The restaurants here mainly serve Chinese food but you can still find your fast food favourites such as McDonalds.
Sungei Wang Plaza is one of the oldest malls in Kuala Lumpur. Despite its 36-year operation, it still remains a favourite especially among the locals due to its ability to reinvent itself so that it stays relevant to current trends and modern living.
Address: 74 Jalan Bukit Bintang
Nearest station: Bukit Bintang (KL Monorail)
Website: sungeiwang.com
7) Low Yat Plaza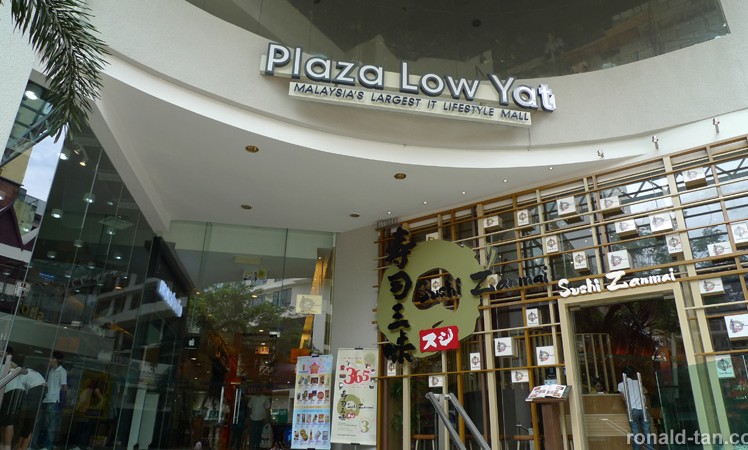 Also located at Bukit Bintang, Low Yat Plaza is a one-stop centre for technological gadgets. The stores in this mall sell a variety of electronic and IT products, such as laptops, cameras, mobile phones, MP3 players and many more. Being Malaysia's premiere electronics retail centre, it frequently holds exhibitions of the latest high tech equipment at the ground floor. Selling products at negotiable prices, this mall is indeed a haven for the high-tech savvy.
Address: 7 Jalan Bintang
Nearest station: Bukit Bintang (KL Monorail)
Website: plazalowyat.com
8) Star Hill Gallery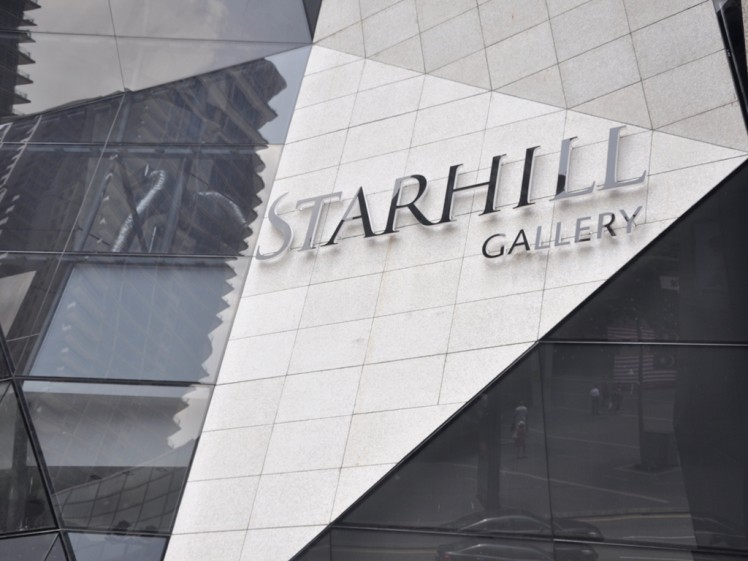 The Star Hill Gallery is probably one of the most luxurious shopping malls in Kuala Lumpur. It houses extreme high-end designer label outlets such as Heuer, The British Master, Sergio Rossi and Ulysse Nardin. It also features more than a hundred famous luxury watches and jewellery brands. Catering to the rich and famous, the mall's interior exudes an exclusive ambience.
At the lower ground floor level you will be spoilt for choice with the large number of expensive restaurants available to choose from. These include fine dining eateries like Enak KL, Spice of India, Tarbush, Fisherman's Cove, Angus House and Villlage Bar. Apart from shopping and indulging in fine dining at the Star Hill Gallery, you can also pamper yourself to a rejuvenating spa at the various spa outlets or visit the different beauty parlours all conveniently located on the same floor.
Address: 181 Jalan Bukit Bintang
Nearest station: Bukit Bintang (KL Monorail)
Website: starhillgallery.com
9) One Utama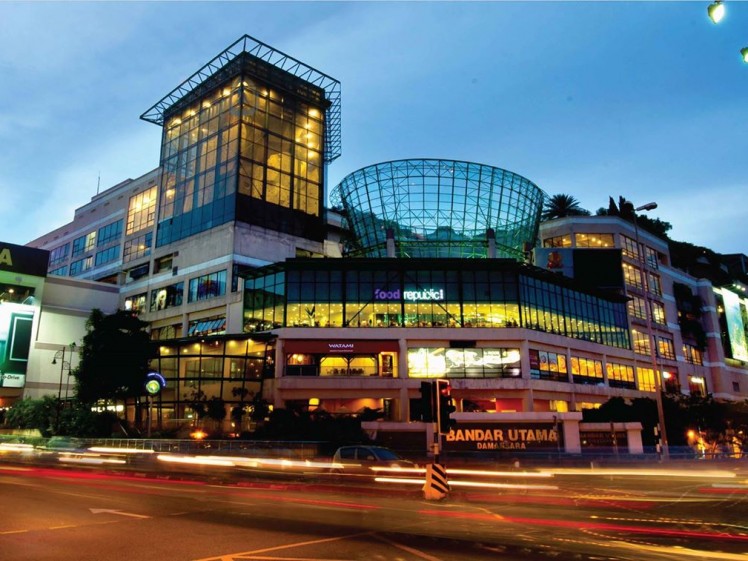 One Utama shopping complex has taken the shopping scene to a whole new level. Embracing a "Go Green" concept, it is the first shopping complex to house a tropical rainforest and an extensive rooftop garden. One Utama's tropical rainforest features a koi pond complete with lush greenery and a suspension bridge. The rooftop garden of the mall is an absolute must-see. It is located 34 metres above the ground and showcases some 500 species of local flora.
One Utama is also famous for its high fashion zone, named Highstreet which features designer labels such as Coach and Armani Exchange. It has two cinemas, TGV cinemas and Golden Screen Cinemas. Unlike most malls, One Utama also has a sports complex where you can take part in a variety of activities such as bowling, rock climbing and futsal.
Visit the One Utama website here.
10) The Curve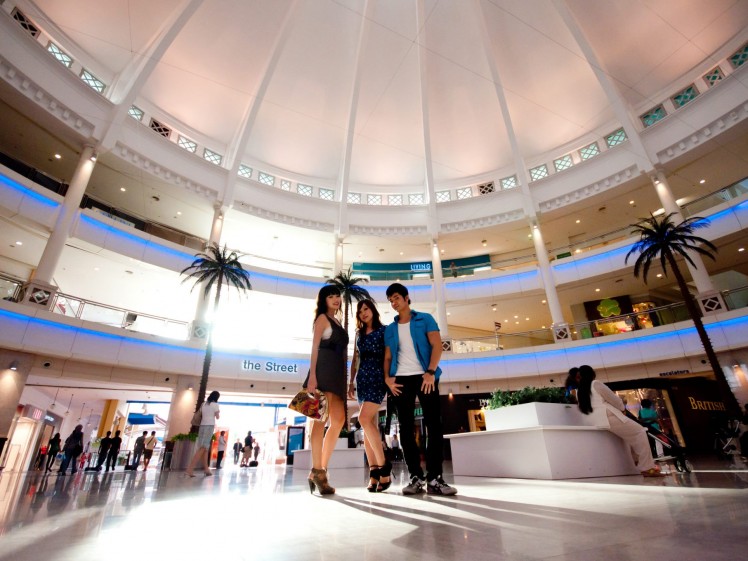 The Curve  mall is situated in the state of Selangor just outside of Kuala Lumpur. It is part of the Mutiara Damansara Commercial Centre which consists of international retail establishments such as IKEA Home Furnishings and eCurve. Stores here include both high-end and mid-range designer labels such as Guess, Giordano, Charles and Keith and Dorothy Perkins.
The Curve also houses numerous restaurants, cafes and snack bars.These include the Malaysian favourite local food eatery, Pappa Rich, cafes such as Secret Recipe and Dome café, and high-quality ice-cream outlets such as Baskin Robbins and TuttiFrutti. Other highlights of this mall include a weekend Street Market which sells different kinds of gift items, clothes, shoes and all kinds of knick knacks.
The Curve also houses a luxurious movie theatre, the Platinum Movie Lounge, that has taken the movie going experience to another level.
Visit The Curve website here.
11) Lot 10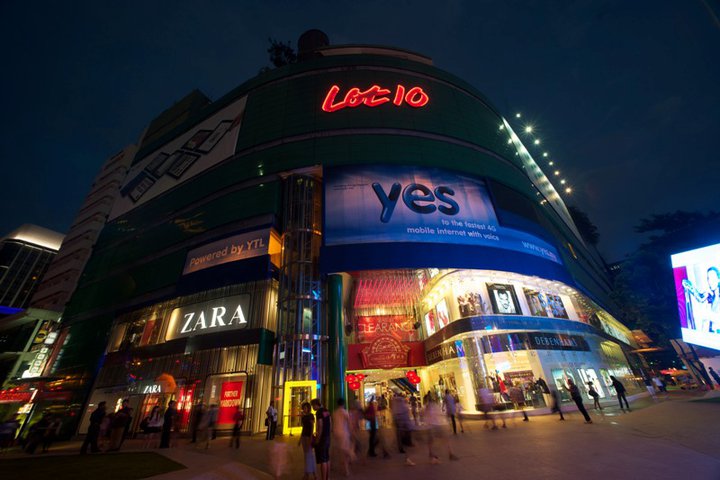 Lot 10 is located in the Bukit Bintang area. It was first launched in 1990. During that time, its target customers were mainly the upper class citizens of Kuala Lumpur. Now, it caters to customers from both the upper and middle income groups. Outstanding stores at Lot 10 include the large National Geographic Store, the Guess flagship store, H&M (3 floors!) and a huge Isetan Department store.
Lot 10 also houses the Hutong food court, the most famous food court in Kuala Lumpur. The food court even sells famous delicasies from Penang and Ipoh.
Visit the Lot 10 website here.
12) Fahrenheit 88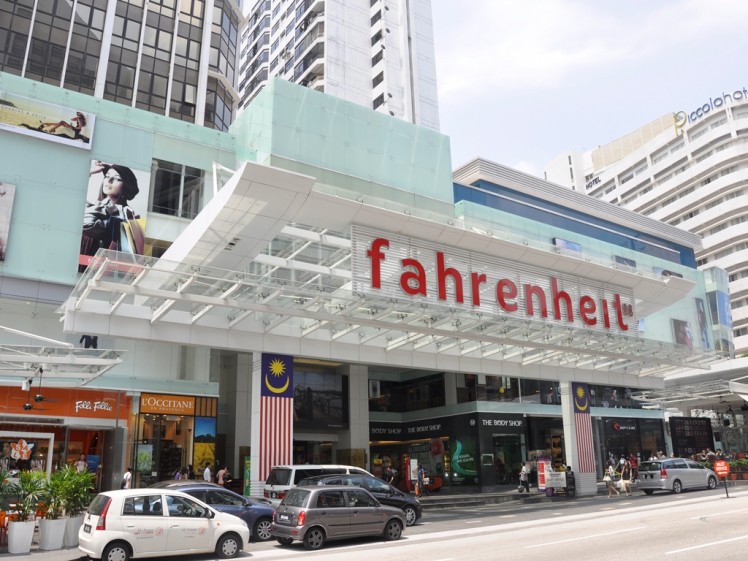 Fahrenheitt 88 targets the young and the young at heart. Consisting of over 250 retail stores, it is one of the trendiest malls in the city. It is anchored by the first Uniqlo flagship store in Malaysia and features trendy mid-range designer labels such as Hush Puppies and Kitschen.
This shopping mall is mostly occupied by restaurants serving Eastern delicacies from locations like the Middle East, Japan, Taiwan and Bangkok. It has limited Western choices like Subway. Besides that, it has a karaoke centre and an IT shop.
Address: 179 Jalan Bukit Bintang
Nearest station: Bukit Bintang (KL Monorail)
Website: fahrenheit88.com
13) Sunway Pyramid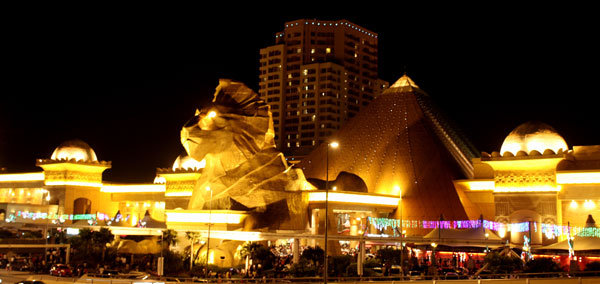 Sunway Pyramid is a unique shopping mall that is inspired by Egyptian architecture. It is located outside of KL within the state of Selangor. The mall is shaped like a pyramid with a huge lion replica in front of it. Its anchor tenants include Aeon and Cold Storage, and the mall showcases mid-range and high-end brands such as Coach, Carlo Rino, Elianto and Victoria's Secret.
Main attractions of this mall include an ice-skating rink and a huge water theme park known as Sunway Lagoon. The mall also cinema where visitors can watch the latest movies.
Address: Bandar Sunway
Nearest station: Setia Jaya (KTM Line)
Website: sunwaypyramid.com
14) Bangsar Village Shopping Mall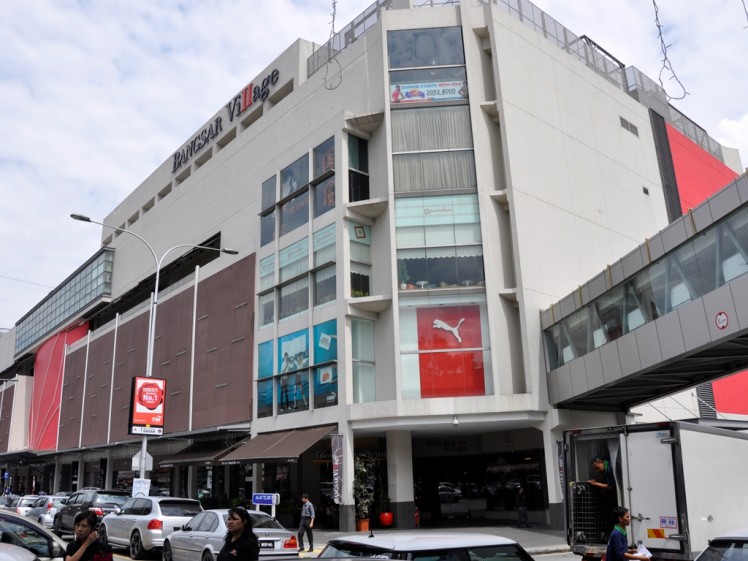 Bangsar Village Shopping Mall is a neighbourhood shopping mall that is suitable for the whole family. It houses international kids stores such as "Toys R Us." It has an expat friendly supermarket called Village Grocer, which sells imported goods that are typically found on supermarket shelves abroad. It also houses an MPH bookstore and a local pharmacy.
Bangsar Village shopping mall also has a Starbucks outlet and fancy restaurants. Bangsar Village has a sister mall known as Bangsar Village 2 located right next to it. Bangsar Village 2 was only launched in 2007. It is primarily an upmarket mall and feature brands such as Zara, Dorothy Perkins, Pandora, Thomas Sabo and quirky eateries such as Nutmeg, Marmalade and more. This mall also has a gym (Celebrity Fitness) and a place for your young ones to burn of some energy as well, Kizsports & Gym.
Visit the Bangsar Village Shopping Mall website here.
15) Great Eastern Mall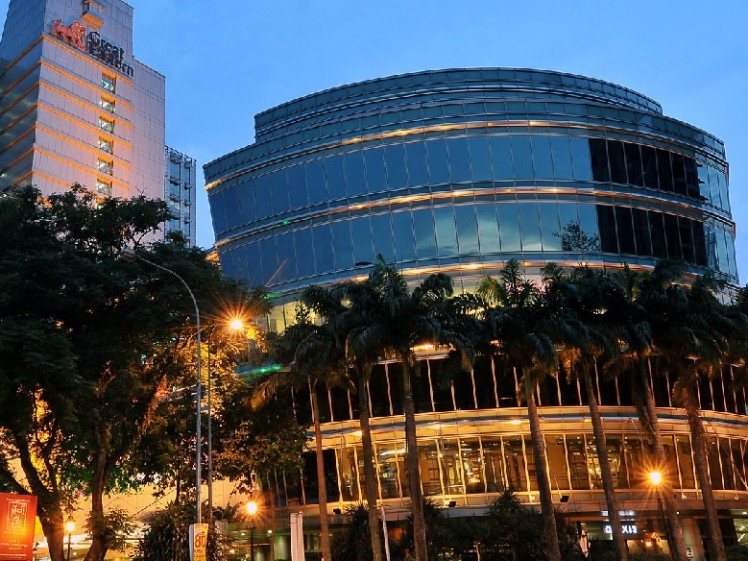 Great Eastern Mall is a neighbourhood mall situated in Ampang, a district located in the suburbs of KL. It is connected to Menara Great Eastern, a well-established insurance company.
This mall is known for being family-friendly because it offers facilities for both adults and children. To enjoy a stress-free time, parents can drop their little kids off at Kidsportz or Gym located on the second floor of the mall.
Visit the Great Eastern Mall website here.
16) Tropicana City Mall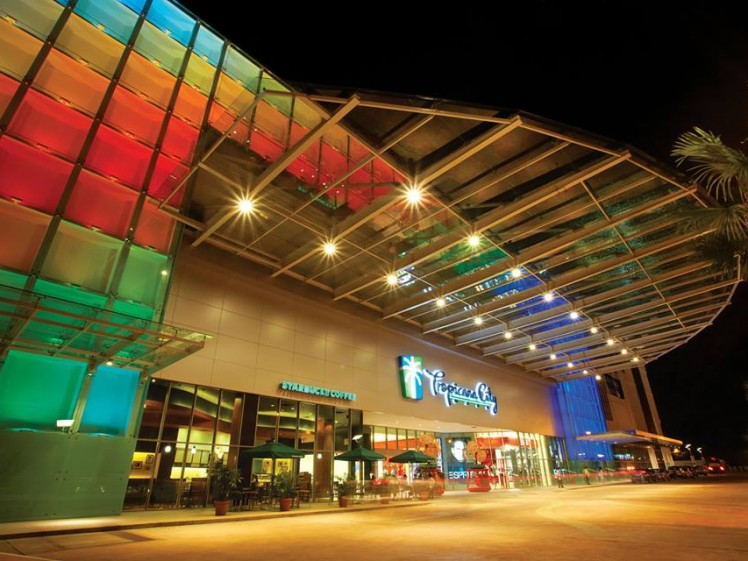 Tropicana City Mall, has quite a lot to offer visitors from around the area and beyond, despite there only being four floors of shopping, entertainment and food and beverage.
The mall houses mostly affordable restaurant outlets such as Ninja Joe, Kenny Rogers Roasters and Nandos. The mall also has a GSC-owned.
Visit the Tropicana City Mall website here.
17) Sunway Giza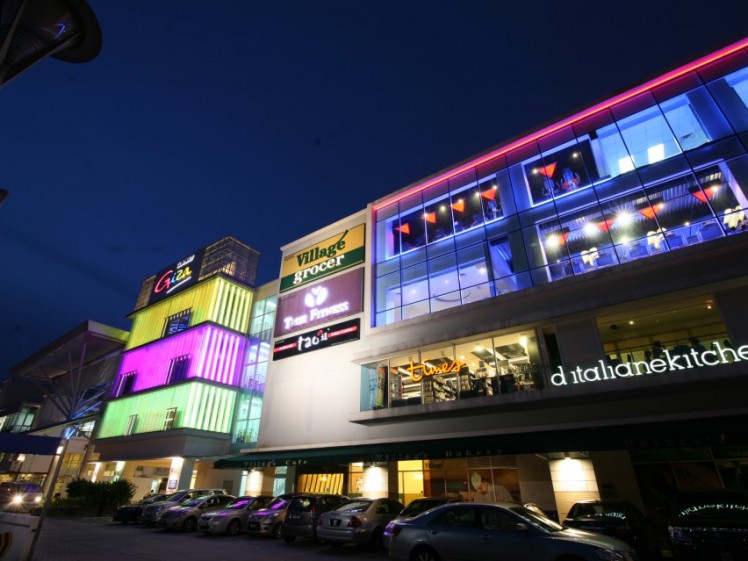 Sunway Giza's anchor tenant is Village Grocer, a supermarket offering uncommon international produce. This affluent mall houses high-end outlets that cater to both adults and children. It also has a few bars for dining and entertainment, and a good variety of food outlets as well.
Visit Sunway Giza here.
18) Bangsar Shopping Center
Bangsar Shopping Center, also known as BSC, is another shopping mall located in Bangsar. This mall also caters to the whole family with a Kids Floor for children, and boutiques for the adults. The mall offers various mid-range brands, such as Hush Puppies and British India. It does not house a lot of international brands but it does have more local brands such as Dodo Art & Craft Fashion, Binwani's, Oriental Links, Cuffz, Fatimah Songket and more. The mall also offers a variety of specialty stores like Royal Selangor and Christofle.
Visit the BSC website here.
19) Publika
Publika is a one of a kind shopping mall located in Dutamas. Its uniqueness is portrayed through the beautiful sculptures that scatter its floors and stunning graphic designs that grace its walls.
The mall was opened in 2011 and features many mid-range designer brands such as British India, Dude and Duchess and Kaleidoscope. It also showcases the creations of budding designers who wish to test the market for their designs. Temporary stores are set up at the ground floor of the mall for these enterprising entrepreneurs.
There is a wide range of food and beverage outlets here. These range from stalls selling local hawker food such as wan tan mee and claypot rice to snack bars like Juice Works and Wondermilk (designer cupcakes). You can also find some higher end restaurants and cafes here. These include "The Bee", a bar cum restaurant which serves a wide selection of Western cuisine, and Swich Café which is famous for its delicious cakes with fresh fruits.
Perhaps the main highlight of the mall is its many art galleries which feature the works of local artists. The mall is also known for organizing various campaigns and events during the weekends to lure crowds. The only thing missing in Publika is a movie theatre.
Visit the Publika website here.
See also: Experience Art while Shopping and Dining at Publika
20) The Mines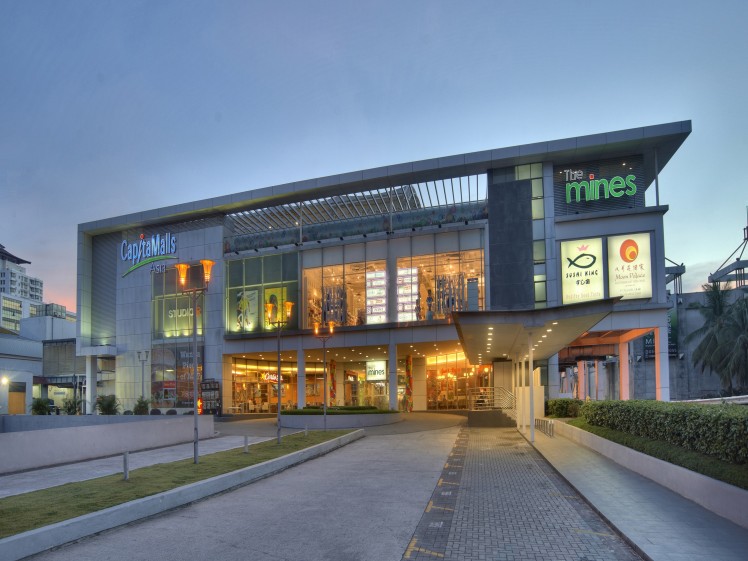 The Mines is situated at the Mines Resort City, Seri Kembangan. Mid-range fashion and accessories brands such as Voir Gallery and Hush Puppies are available here. The Mines also has a variety of food and beverage outlets to choose from such as Old Town White Coffee, Subway and Breadstory. The Mines also has a large IT centre called Digital Mart which boasts over 80 shops and kiosks. Its anchor tenant, Challenger IT megastore is the largest IT megastore in Malaysia.
Visit The Mines website here.
21. Avenue K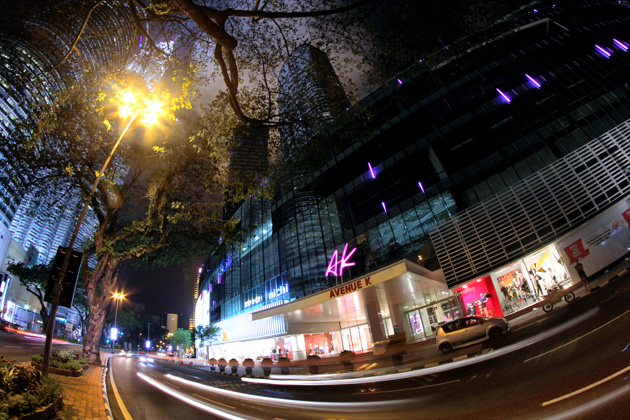 Urban, hip, and lifestyle-oriented, Avenue K has undergone a transformation in recent years. Shopping, dining, and entertainment options abound here with dozens of dining options including a number of cosy cafés for coffee lovers, retail shops large and small, and entertainment offerings from bowling to karaoke. Shares convenient underground LRT access with Suria KLCC mall.
Address: 156 Jalan Ampang
Nearest station: KLCC (Kelana Jaya Line)
Website: avenuek.com.my
22. Quill City Mall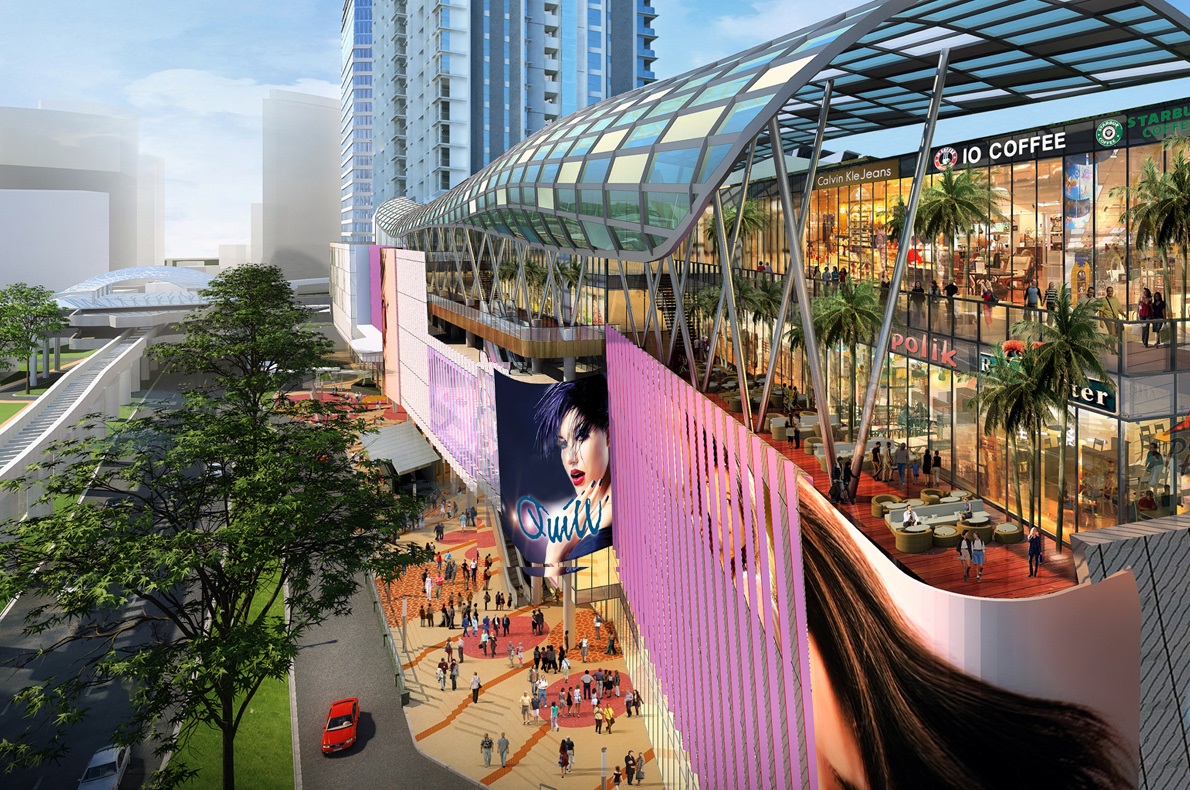 A new eight-floor lifestyle mall with shopping, dining, and entertainment offerings, located on Jalan Sultan Ismail. Numerous small fashion outlets, cafés, restaurants, and a GSC Cineplex are here, along with general retail shops and a supermarket, all anchored by a large Aeon department store.
Address: 1018 Jalan Sultan Ismail
Nearest station: Medan Tuanku (KL Monorail)
Website: quillcitymall.com.my
23. NU Sentral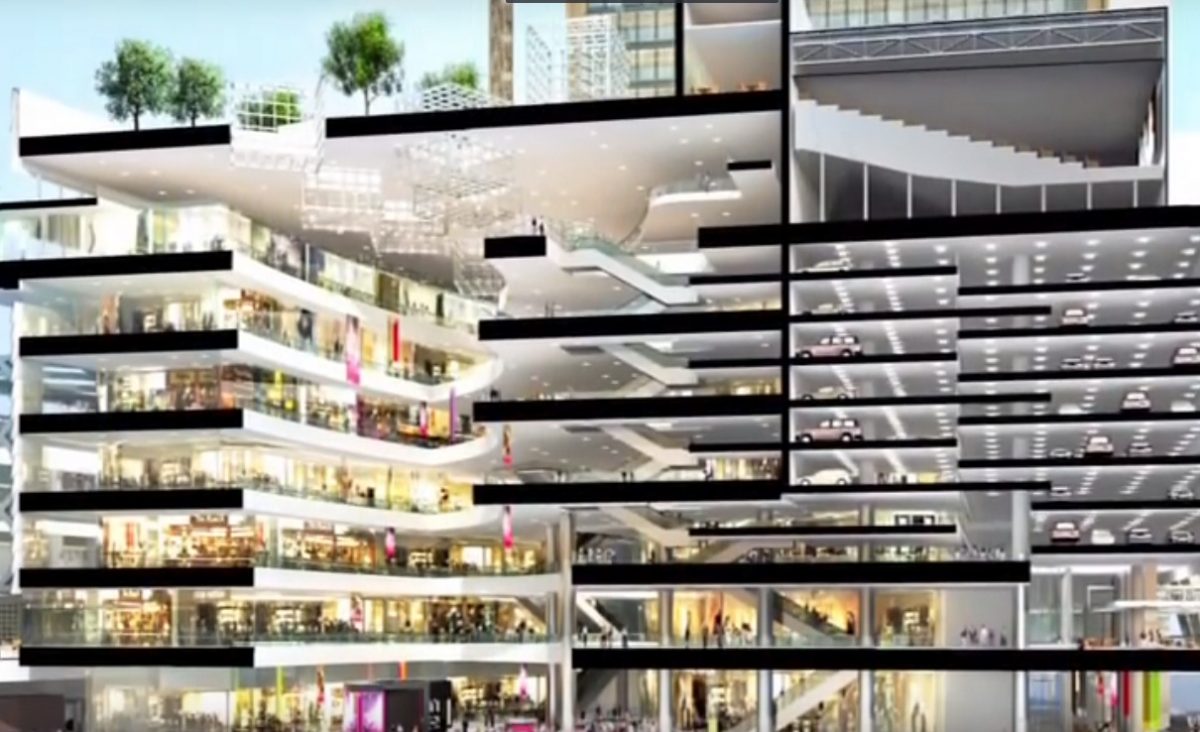 Malaysia's first integrated lifestyle and transit hub shopping mall opened as part of a RM1.4 billion investment in improving the KL Sentral primary transportation hub. With a slogan of "Connectivity, Convergence, and Convenience", NU Sentral delivers on all three concepts, boasting a wide array of retail, F&B, and entertainment outlets, all accessible via unmatched connectivity at KL's primary transit hub.
Address: 201 Jalan Tun Sambanthan
Nearest station: KL Sentral (KL Monorail, Kelana Jaya Line, KTM Line)
Website: nusentral.com
Read more

View Top 20 Shopping Malls in Kuala Lumpur in a larger map
---
"ExpatGo welcomes and encourages comments, input, and divergent opinions. However, we kindly request that you use suitable language in your comments, and refrain from any sort of personal attack, hate speech, or disparaging rhetoric. Comments not in line with this are subject to removal from the site. "