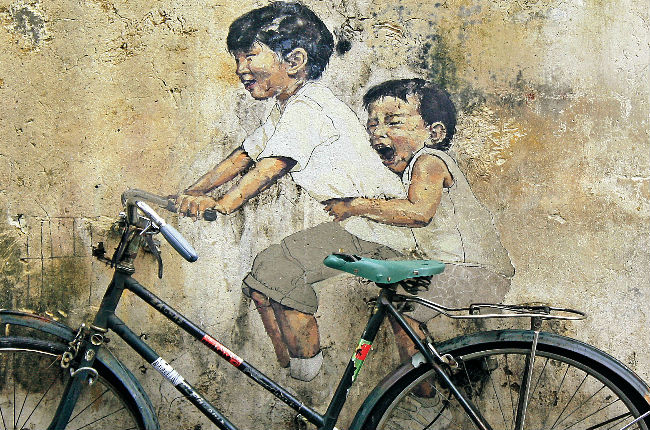 Penang has long held a special place in the hearts of locals and tourists alike. David Bowden traipses through the streets of George Town to find a city that celebrates its heritage while embracing facets of modernity.
Anyone who has recently visited Penang will notice that the streets of the historic UNESCO World Heritage Area precinct are brimming with throngs of tourists. While I don't have anything against the beaches of Batu Ferringhi, historic George Town is what makes the island so special. Penang seems to be adhering closely to the UNESCO guidelines, enabling creative interpretations to the interiors of the heritage buildings while retaining the façades.
Wandering the old streets of Penang is the best way to discover its heritage. Trendy new coffeeshops are sprouting up everywhere and I wondered; are there enough thirsty tourists to enjoy the range of brews available? Restaurants, bars, boutiques and cafés add to the mix, making Penang a place that warrants at least an annual pilgrimage.
Art For Art's Sake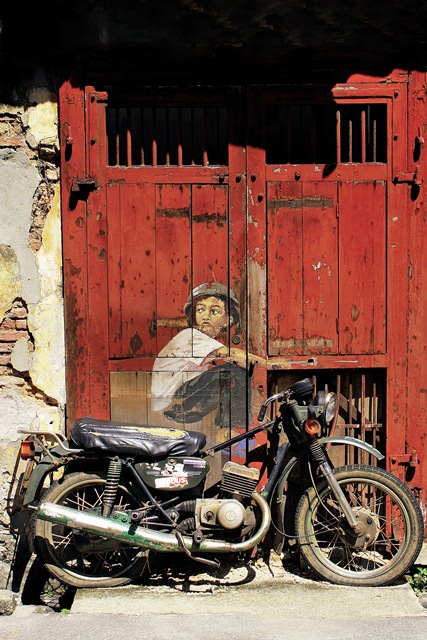 What was most amazing on my most recent trip was just how tourists have taken to the street art and installations that have surfaced. Some of this seems to be by design and others, by default. Similarly, inner city Melbourne has a street art program based upon formalised and legalised graffiti. Both are conscious efforts to inject some fun and interactive art into the urbanscape.
From what I can gather, a lot of what is on offer has been created by Lithuanian artist Ernest Zacharevic who recently created a minor storm on his artist's palette when he introduced his artwork onto the streets of Johor Baru. In what appeared to be a typical bureaucratic knee-jerk reaction, the council down south painted over his original piece saying that his topic was too controversial. Fortunately, the authorities in Penang see merit in Zacharevic's artwork and now tourists line up to be photographed next to them.
Other Penang street art installations were commissioned by enlightened authorities and KL-based company, Sculpture at Work answered the call of the "Marking of George Town Project", with 52 specially designed steel rod caricatures.These installations now pass on valuable historic information about George Town's heritage in a much more lively fashion than traditional historic marker signs.
I have never seen such interaction with street art anywhere and it is astonishing that thoroughfares such as Armenian Street in Penang's George Town now has thousands of tourists wandering down them every day. It really is a sight to behold and the locals have reacted by setting up stalls to cater to tourists' needs. I couldn't help but think that Johor's loss is surely Penang's gain.What also impressed me was how the tourists really admired Zacharevic's marvellous work. I'm sure that those posing in front of artwork such as the Zacharevic's "Bicycle Children", would have sent these images off around the globe to their Facebook friends, helping to reinforce the message that Penang is now "hip".
Maze Of Streets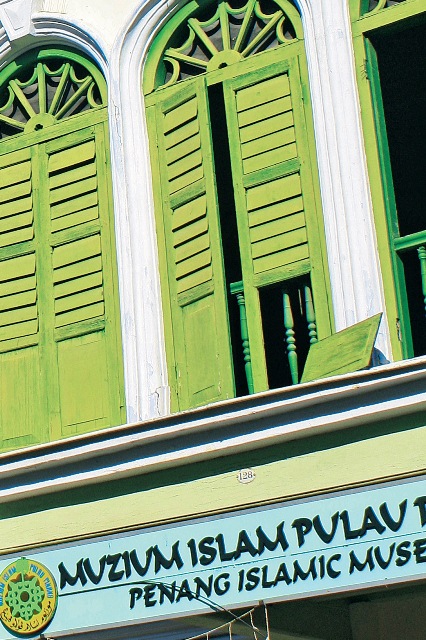 George Town is truly a maze of streets, heritage buildings and narrow passageways. Times are changing as the area now attracts a new generation who place greater emphasis on espressocoffee, carrot cake, and a glass of Oregon Pinot Noir, rather than the traditional shop-front crafts such as goldsmiths, carvers and joss-stick makers. Sadly, many of these are dying trades as the children of these artisans seek more lucrative livelihoods.
My advice is to start exploring George Town by heading to Armenian Street (or Lebuh Armenian), formerly known as Malay Lane because of a Malay kampung that was once here. The original Chinese name was Pak Thang-Ah Kay or Copper Worker's Street as copper and brass were once made and traded here.
Armenian traders first arrived in Asia several centuries ago and some ended up in the spice islands of Penang. Being mostly Christians, they established their churches here but interestingly, there appears to be no evidence of Armenian activity in the street now named after them.
The most famous Armenians in Penang were the Sarkies Brothers who established three of the region's iconic heritage hotels (the Eastern and Oriental in Penang, Raffles Singapore, and The Strand Hotel in present day Yangon (all of which, by the way, once claimed the title of "Best Hotel East of the Suez").
Start exploring the street from near the small park where each evening, a makeshift flea market sprawls across the park and the kerb.The street heads across Lebuh Cannon, southwards along Gat Lebuh Armenian to Pengkalen Weld (the clan jetties). It is a walk of less than a kilometre but with so much to see; allocate half a day to merely scratch the surface.
Opposite the park is the beautifullyrenovated Syed Alatas Mansion at No 128 Armenian Street. This mansion functions as the Penang Islamic Museum, with interesting displays on the street's Muslim heritage.
A little further along the street, No 120 was a hotbed of Chinese revolutionary politics from 1910 to 1911. The terrace house was the Southeast Asian base for the nationalist revolutionary organisation known as Tung Meng Hooi. Chinese national Dr Sun Yat Sen resided here and planned the Canton March, an important event in the Chinese Revolution that led to the overthrow of the Ching Dynasty. The building is now a museum and well worth visiting.
In addition to cafés, restaurants, art galleries (some have an entrance fee), and temples, several terraces have been converted to boutiques. A traditional Chinese bead shoemaker operates out of No 4 (perhaps this is where famous Penang shoemaker Jimmy Choo got his inspiration). No 88 Armenian Street is a good place to start browsing for something unique. Here there is a jewellery shop (Jonathan Yun), glass artistry (Fuan Wong Gallery) and the photographic gallery of StudioHoward. A personal favourite is Bon Ton The Shop (86 Armenian St) with designer pieces sourced from around the region, and an excellent selection of books.
Heritage Home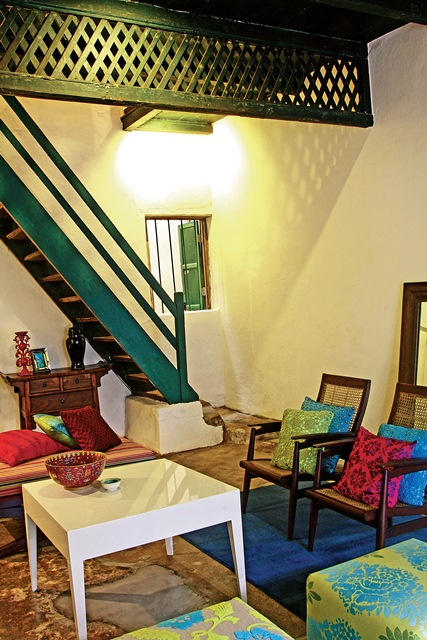 In order to maximise my George Town experience, I stayed at Straits Collection, consisting of five properties located along Armenian Street (Nos 89 to 95). While the façades of the Straits Collection terrace houses have been retained and restored, all have been uniquely decorated with designer interiors that combine contemporary functionality with period pieces. So while it's possible to enjoy air-conditioning, view cable television, and get wi-fi connectivity, the rest of my terrace house covering two storeys was full of striking period furniture. No two houses are the same but in line with maintaining the integrity of the historic properties, there are no double glazed windows so guests know they are staying in a lively street location with the sounds, aromas and sights that are part and parcel of the area.
Acclaimed Street Food
When the New York Times in 2009 mentioned the street food of Penang as one of the travel experiences of year, the locals yawned as the news was nothing new to them. However, the foodie travellers came in their droves and Penangites soon realised how the local economy benefits from even a bit of foreign media praise.
Penang's multiculturalism ensures that the best mix of local food, as well as a growing menu of creditable Western styles, are plentiful. Street and hawker food reign supreme – numerous nasi kandar and Chinese coffeeshops located in George Town seem to open on a daily basis, while new cafés and restaurants are popping up all over town. Several smart new cafés and restaurants are located in historic George Town. Places to check out include Armenian House Café (35 Armenian St), The Daily Dose Café (8C Lebuh Carnarvon), and Mews Café (77 Muntri St).
A very smart bar to relax at is Patio Bar de Tapas (45F Pengkalan Weld), serving delicious lemongrass mojitos. One of the liveliest places to visit from breakfast to late is China House (153 and 155 Beach Rd and 183b Victoria St) that offers something for every hungry and thirsty moment of the day. This is a truly impressive heritage development of cafés, bars, art spaces, and music venues. I dropped in for its big breakfast (which lasts all day) and then later in the evening when some 100 young Penangites were tucking into coffee and cakes at 10pm. With a range of 50 or so tantalising treats, there was something for every taste. Once you've had your fill, retreat to the back bar to listen to some lively blues over a cleansing ale or two.
Source: Senses of Malaysia January/February 2014
Read more:
What are your thoughts on this article? Let us know by commenting below.No registration needed.
---
"ExpatGo welcomes and encourages comments, input, and divergent opinions. However, we kindly request that you use suitable language in your comments, and refrain from any sort of personal attack, hate speech, or disparaging rhetoric. Comments not in line with this are subject to removal from the site. "
Comments