This post is brought to you by Putrajaya Shangri-La.
Located 25km south of Kuala Lumpur, Putrajaya is the federal administrative centre of Malaysia. The planned city was the brainchild of Tun Dr Mahathir Mohammad, Malaysia's former Prime Minister. It is also Malaysia's third Federal Territory (Kuala Lumpur and Labuan are Federal Territories too) as of 2001, and was named after Malaysia's first Prime Minister, Tunku Abdul Rahman Putra. Putrajaya is also home to Malaysia's current Prime Minister, Dato' Sri Najib Razak.
Described as Klang Valley's best kept secret, Putrajaya is, unbeknown to most, a city with many interesting places to visit and sights to take in. These places include the parks (Putrajaya Botanical Garden, Wetlands Park and Agriculture Heritage Park, etc), as well as the bridges (Putrajaya has 8 awesome bridges like the Seri Perdana Bridge, Seri Wawasan Bridge, Seri Saujana Bridge, Seri Gemilang Bridge, Putra Bridge and more. Most of these bridges are sometimes featured in movies and photo shoots because of its unique and modern structure.) It is also has luxurious hotels, such as the Putrajaya Shangri-La. For those who enjoy shopping, Putrajaya's Alamanda mall provides exciting brands to choose from, a wide variety of restaurants, a cinema to catch the latest blockbuster and more.
Putrajaya may seem like a quiet city to some, but this city is actually constantly buzzing with events. Some of the annual events include the International Hot Air Balloon, Floria, International Fireworks Competition and more. Putrajaya is also known for organising many international events such as; the FIA Formula E Championship (to be held on 18 October, 2014), and the Red Bull Air Race World Championship (to be held from 17-18 May, 2014). These events are held with the support from Putrajaya Corporation's (PPJ) President, Tan Sri Aseh Che Mat, who has been aggresively pushing Putrajaya as a tourism destination.
See Also: World's Largest Roundabout is in Putrajaya
With so many things to do and see in Putrajaya, we've highlighted the top five reasons why you should visit Putrajaya.
1.  Take a Cruise on the Cruise Tasik Putrajaya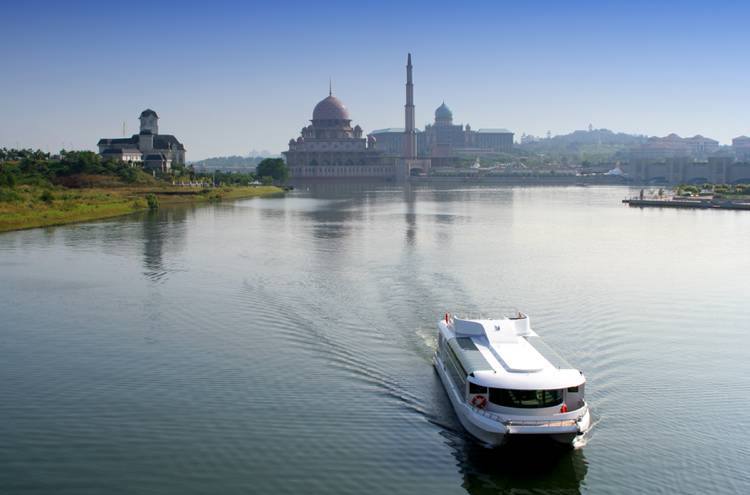 Photo Credit: Cruise Tasik Putrajaya, Facebook
The Putrajaya Lake is a 650ha man-made lake, which was designed to act as a natural cooling system for the city. The lake is popular among tourists for its Cruise tour. The cruise is the best way to take in some amazing landmarks in Putrajaya such as the Prime Minister's office, the Pink Mosque, the unique bridges (there are 8 bridges altogether) and more. There are four types of boats you can choose for your cruise:
The first is the Sightseeing Cruise Boat, which is a 65-foot, fully air-conditioned boat, which can seat 76 people comfortably. This boat has a wrap-around glass window, arching from the seat armrest to the ceiling. This gives you a clear view of the sights around you. At the beginning of the cruise, there will be a short introduction on the history of Putrajaya and its famous landmarks by a guide. Later on, you will be allowed to step outside (on the deck) to snap pictures and take in the breeze.  The Sightseeing Cruise Boat will take you around the Putrajaya Lake and lasts for about 45 minutes. There's a boat every hour so you won't have to wait long.
The second is the Dondang Sayang Perahu, which is a 4 or 6-seater wooden gondola-like vessel. These vessels, or perahu, were designed in the traditional Malay way, and is handled by one boatman. It is a more intimate and romantic way to take in the sights of Putrajaya. The route for this boat is shorter though. Lasting 25 minutes, the boat leaves the jetty and takes you to the Prime Minister's residence and back.
The third is the Dining Cruise Boat. This is on board an 80-foot Dining Cruise Boat that can accommodate 60 people. The air-conditioned and luxurious cruise will take you pass the scenic view of Putrajaya while you enjoy a delicious array of food. You can also choose to hire this boat for a private charter such as corporate and social gatherings, weddings, cocktail events and so on. The duration of this boat is about one and a half to two hours. It tours the whole of Putrajaya Lake.
Cruise Tasik is only a five minute drive from the Shangri-La hotel in Putrajaya. To find out more details on the Cruise Tasik, visit the website.
P/S: If you stay at the Putrajaya Shangri-La Hotel, you can take advantage of the hotel's Stay & Cruise in "Fun-tastic" Putrajaya offer, which allows you to enjoy the luxuries of Shangri-La as well as take in a scenic cruise on the Putrajaya Lake. Priced from RM380 a night, the package includes a one-night stay in a Deluxe Parkview room, daily buffet breakfast for two at Palm Hill Cafe, a 45-minute sightseeing cruise at Putrajaya Lake for two, return transfer to Cruise Tasik Putrajaya, complimentary late check-out until 3pm, subject to room availability and 20% off on all spa treatments at the Health Club & Spa. More information here.
2. Visit Putrajaya's Equestrian Park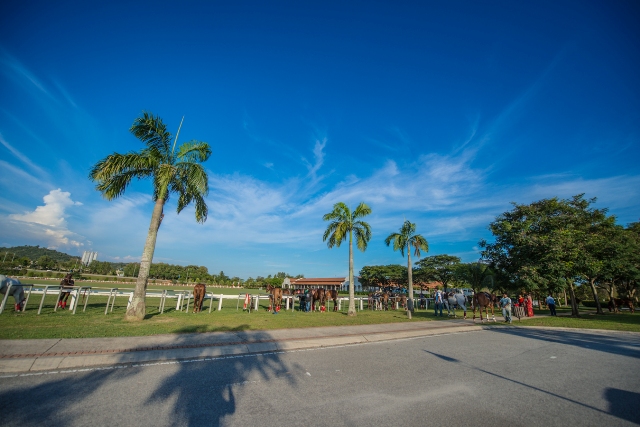 Love horses? Then make sure you check out the Taman Ekuestrian Putrajaya (TEP). This is located in the Southeast section of Precinct 5, and was built on a 70-acre area. The lush green surroundings is perfect for riders and joy riders as well. The place provides 4 types of facilities for you. They are;
Joyride
Bring your kids along and let them have fun riding one of the horses. Experience riding a horse is not needed as there will be a handler guiding the horse while you are on it. Usually held on weekends, the Joyride cost about RM10 for a ride around the stables. This last for about 10 mins. On weekdays, the joyride is priced at RM5 and the ride will be in a cordon area of 60ftx60ft. This will last for 3 minutes. This also entitles you to a 20% discount at Mangiomo! Cafe (terms and conditions apply).
Stable Tour
Take a tour of the stables and see for yourself how the horses are cared for. This includes feeding and bathing as well. You can also get your hands dirty by assisting the handlers in feeding and bathing the horses. Prices for the tour are about RM7 on a weekday and RM10 on a weekend.
Riding School
If you'd like to learn how to ride a horse, you can enrol in the riding school and get some lessons. Start with the Beginners level (RM380 for 8 lessons) before moving on to the Group lesson (RM430 for 8 lessons). You can also choose to take Private lessons (RM500 for 8 lessons).
Livery
If you have a horse or intend on buying a horse, you can choose to keep it at TEP for a small fee to cover the care, food and rent.
For more information on TEP, visit their website.
3. Challenge Yourself at the Putrajaya Challenge Park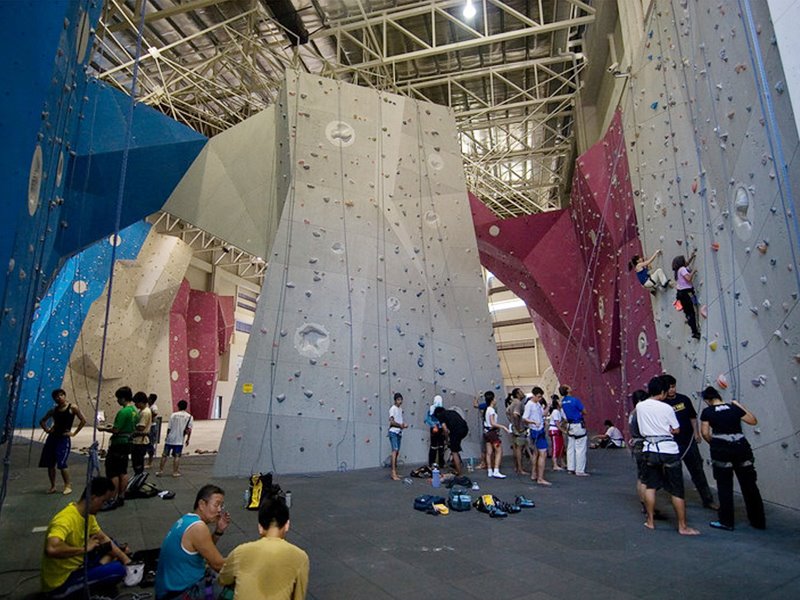 Photo Credit: Putrajaya Challenge Park, Facebook
Also known as Taman Cabaran, the Putrajaya Challenge Park is a 30 hectare park in Putrajaya's Precinct 5. The park is said to have some of the best extreme park facilities in Asia. The three main attractions of this park are;
Indoor Rock Wall Climbing Complex
Housed in a purpose built 2,100 sq.ft. Gym, the indoor rock climbing wall has a number of trapezoidal climbing walls that reach up to 20 meters in height or the equivalent of a 5-storey building. Bear in mind that children below 10 are not allowed in here. Instead, there is a separate area for kids who want to have a go at climbing walls. Admission is around RM6 for adults and RM3 for students. You can choose to rent equipment for a small fee as well. The park is open daily from 10am to 8pm (Sunday-Thursday) and 10am to 10pm (Friday and Saturday).
Skate Park and Thrill Park
The Skate Park has smooth contoured concrete surfaces for skateboarders, inline skaters, BMX bikers, stunt riders and those who want to roller blade. Behind the skate park is the Thrill Park which is for bike riding activities like pump track and slope style jump. Entrance for both the Skate and Thrill Park is free and you can choose to bring your own or hire a bike there. Opening hours are from 10am to 7pm (Monday-Thursday) and 10am to 1am (Friday-Sunday).
Mountain Bike Trail
There is also a customised terrain mountain with bike trails for those who are into mountain biking. The trails are graded based on easy, moderate and difficult. Here, you will find a core trail loop, XC loop, downhill, downhill fun ride and more. The Bike Trail is open every day from 10am to 7pm and entrance is free.
For more information on the Challenge Park, click here.
4. Check Out Malaysia's Important Milestones at the Millennium Monument
The Millennium Monument is a 68m high column, which has been designed to look like a hibiscus (Malaysia's national flower) from the top. It is located on the waterfront of Putrajaya. You can see it when you take the boat cruise of Putrajaya. The high column is actually a multilevel platform wrapped around the base of a column. The monument features a series of engraved glass panels tracing the important milestones in Malaysia's history. Each of the panel relates to a particular year in history with information on that particular event and an illustration as well. Some of the events engraved on the glass panel include the founding of Kuala Selangor as the state capital of Selangor in 1766, the completion of the Chenderoh Hydro-Electric power station in 1930 and more. At the base of the monument is a time capsule, which contains a message from former Prime Minister, Tun Dr. Mahathir bin Mohammad. The message within the capsule will only be unveiled in the year 2020.
5. Visit the Famous Putra Mosque (Pink Mosque)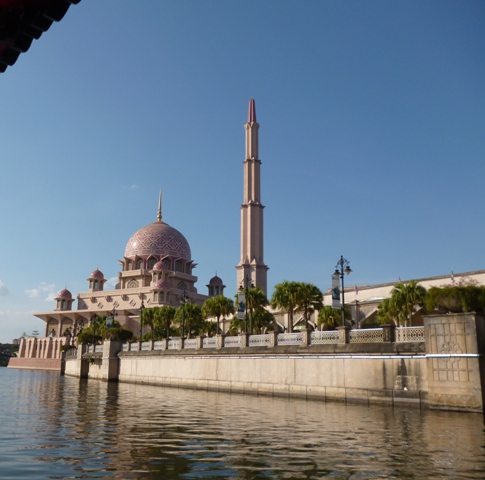 The Putra Mosque, also known as the Pink Mosque, is the famous mosque in Putrajaya. Located on the edge of the Putrajaya Lake (you will definitely see it when you take the cruise), the mosque is exquisite because of the way it has been decorated. The main and smaller domes in the mosque are made from pink granite and are intricately embellished. The designs are a combination of Middle Eastern and traditional Malay designs. The main prayer hall in this mosque has no internal partitions and can accommodate up to 8000 male worshippers at the ground level while the 1st floor can accommodate up to 2000 female worshippers. There is also an auditorium, lecture rooms, a dining hall, a library and an area for funeral services. Non-Muslims are also allowed to enter the mosque, but you must adhere to the rules. Visitors must dress respectfully and female visitors will be shown to a robe counter where they will be given a pink robe with a hood to put on. There is no admission charge.
———————————————————————————————————————–
Where to Stay in Putrajaya?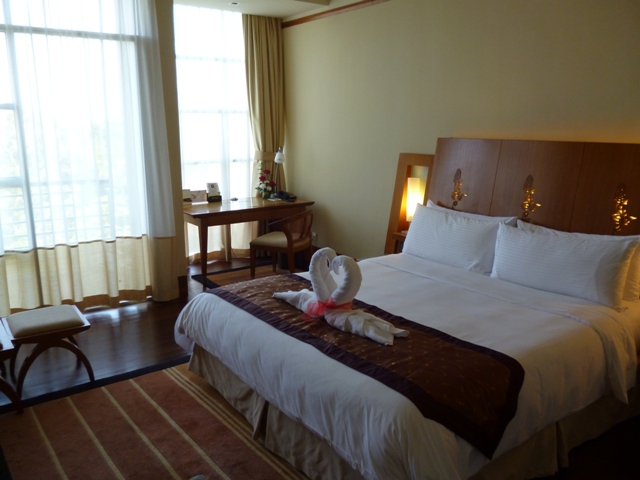 With so many things to do and places to visit, spending the weekend in Putrajaya is a wise idea. The best place to stay would be at the Putrajaya Shangri-La. Probably one of the best things about staying at the Putrajaya Shangri-La is the feeling that you have escaped to a place far away from the hustle and bustle of city life – especially if you live and work in Kuala Lumpur – to be pampered and taken care of, when in fact, you are only about 30 kilometres or so away from the city.
Walking into the hotel, you can't help but admire the intricate songket patterns cast upon the floor, the result of which, is from the design of the roof casting shadows during the day. In fact, the hotel has elements of songket in almost every corner you see.
Now the rooms are definitely something to get excited about. Shangri-La offers 118 luxurious guestrooms and suites. You can choose to stay in a Deluxe Park View/Hill View Room, a Fountain Court View Room, an Executive Suite, a Premier Suite, or the Presidential Suite. Each floor hints at a nature like theme of bamboo, palm, water plants and aromatic herbs. Each room is wonderfully designed and elegantly furnished to ensure maximum comfort.
If you can pull yourself away from the room, you will find that the hotel has a number of facilities to check out. For fitness enthusiast, the well equipped fitness studio will motivate you to work at your fitness goal with the knowledge that you can cool off in the hotel's infinity edge pool after. You can also relax your muscles and unwind by soaking in the Jacuzzi or spending time in the steam and sauna rooms. There are separate Jacuzzi, steam and sauna rooms for male and female.
Visits to the spa is a must at the Putrajaya Shangri-La. Pick a spa package to your liking or choose to have a scrub, wrap, facial or massage to relax your body and mind. There are six private semi-al fresco villas as well as a couple's suite set amidst a serene tropical setting. The only sounds you will hear here are of birds calling out to each other.
Come nightfall, it is time to engage your gastronomic senses. You can start off by having complimentary cocktails at the Lobby Lounge in the evening (on weekends, cocktail hour is held by the Pool Bar) before moving on to dinner at Azur. Azur serves a delicious array of modern European food. The floor-to-ceiling windows offers an amazing view of the garden and lake and is the best place to eat come nightfall if you are looking for something more romantic. Aside from the a la carte menu, you can choose to order a set meal consisting of a 4-course set dinner (RM150 nett), which includes unlimited Dilmah mocktails. There are vegetarian options at Azur, so vegetarians need not worry. There is also a 3-course set lunch (RM138 nett) if you wish to experience the delights of Azur during the day.
The Palm Hill Cafe features an array of scrumptious Malaysian and international cuisines prepared by Shangri-La's specialty chefs from Malaysia, China and Pakistan. The Palm Hill Cafe is perfect for a more relaxing dining environment. There are also vegetarian options here. The buffet is priced at RM110 nett per person (50% discount for kids between the ages of 6 and 12) from Mondays to Saturdays. On Sundays, choose from the delicious array of food from their ala carte menu. Just a few metres away from the Cafe is a stretch of indoor greenery with water features that offers a calming effect for the mind, body and soul. The beautiful indoor garden with a rock garden and mini water fountain at one end is simply captivating.
Come morning, awake from a peaceful slumber without the disturbance of city noise. You can then choose to have breakfast in your room, or proceed to Palm Hill Cafe to check out their breakfast spread.
Putrajaya Shangri-La has a number of packages to suit your needs. The latest package is called The Perfect Celebration Package. The package includes;
3 days and 2 nights stay in a Deluxe Parkview Room
Daily buffet breakfast at Palm Hill Cafe for 2 people
Romantic room arrangements
Complimentary bottle of sparkling juice
A candlelight 4-course western set dinner for 2 people per stay
One-hour Signature Spa treatment in the Couple's Spa Villa for 2 people per stay
Complimentary late checkout till 3pm, subject to room availability
20% off all Spa treatments at the Health Club & Spa
The package is priced at RM1, 176++.
For more information on The Perfect Celebration Package at Putrajaya Shangri-La, call 03 8887 8826. You can also email them at [email protected] or check out their website at www.shangri-la.com.
How to Get To Putrajaya?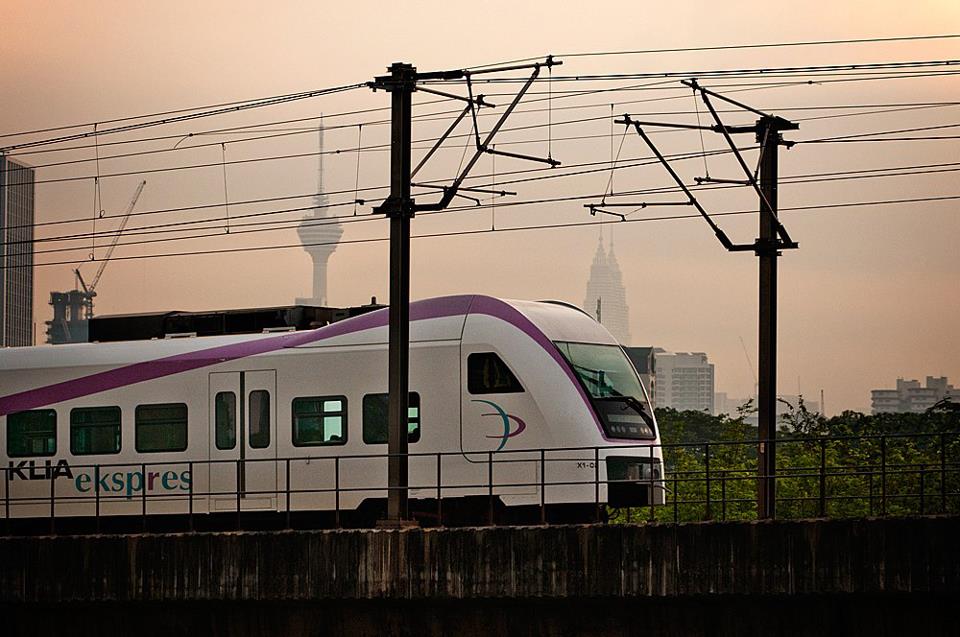 Photo Credit: KLIA Transit, Facebook
There are three ways to get to Putrajaya from Kuala Lumpur;
1. By car
If you prefer to drive, it should take you about 30 minutes from the city centre if the traffic along the way is smooth. The fastest route would be to get on the Maju Expressway (MEX), which is accessible from the Sungai Besi highway (the North-South highway), the LDP highway (heading to Puchong and Cyberjaya), the Salak South, Sri-Petaling-Bukit Jalil and Tun Razak.
2. By Train
Taking the train is probably the fastest way to get to Putrajaya from Kuala Lumpur. You can hop on the KLIA Transit at the KL Sentral station to Putrajaya. It will take no more than 15 minutes. There's a train leaving every 30 minutes and the fare is about RM9.50 for a one way ticket. It is RM4.50 for children. The train will stop at Putrajaya Sentral. For more information on this, check out the website.
3. By Bus
Taking the bus to Putrajaya is a slightly longer route, but it is cheaper. The good thing is you get to take in the sights of Kuala Lumpur when you take the bus. You can catch the E1 operated by Rapid KL from the Pasar Seni LRT Station. The bus will also pass through KL Sentral station, on the outside near the Tun Sambanthan Street. The downside is it is easy to miss the bus, especially if you are taking it from outside KL Sentral. The fare for the bus to Putrajaya should be around RM3.80. The bus will stop at Putrajaya Sentral. More information can be obtained on the website.
So, have you planned your visit to Putrajaya yet?
Photo Gallery
Map
Read more:
---
"ExpatGo welcomes and encourages comments, input, and divergent opinions. However, we kindly request that you use suitable language in your comments, and refrain from any sort of personal attack, hate speech, or disparaging rhetoric. Comments not in line with this are subject to removal from the site. "
Comments