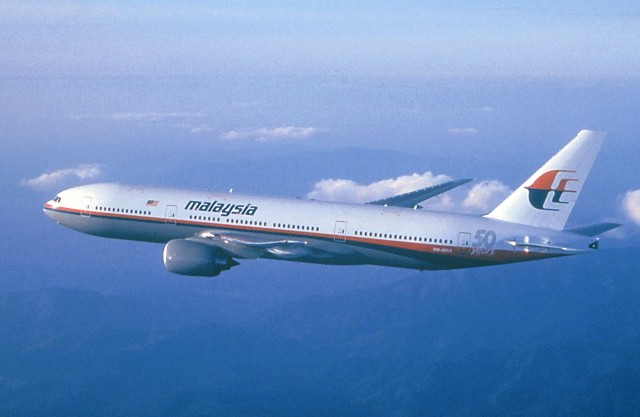 On March 8, 2014, Malaysia Airlines released a statement confirming that flight MH370 had lost contact with Subang Air Traffic Control at 2.40am (on 8 March).
Flight MH370, operated on the B777-200 aircraft, departed Kuala Lumpur at 12.41am on 8 March 2014. MH370 was expected to land in Beijing at 6.30am the same day. MH370 is a Boeing 777-200 aircraft on a code share with China Southern Airlines. The flight was carrying a total number of 227 passengers (including 2 infants), 12 crew members. The passengers were of 14 different nationalities.
1. China / Taiwan – 153, 1 infant / 1
2. Malaysia – 38
3. Indonesia – 7
4. Australia – 6
5. France – 3
6. United States of America – 3 pax plus 1 infant
7. New Zealand – 2
8. Ukraine – 2
9. Canada – 2
10. Russia – 1
11. Italy – 1
12. India – 5
13. Netherlands – 1
14. Austria – 1
On Sunday, 9 March, the Department of Civil Aviation (DCA) investigated rumors that two passengers on board flight MH370 had stolen passports. The rumor appeared to be true as foreign news reports confirmed that Italian Luigi Maraldi and Austrian Christian Kozel both had their passports stolen in Thailand some time ago. This fuels the possibility of foul play although the Malaysian authorities are not releasing any information until there is solid proof. The two people who boarded MH370 using the stolen passports had apparently bought their tickets from China Southern Airlines, with contiguous numbers.
"There are only two passengers on record on this aircraft with false passports and we have the CCTV recordings of those passengers from check in, right to the departure point and this record of the CCTVs are now being used in investigations on this," Department of Civil Aviation Director-General Datuk Azharuddin Abdul Rahman told reporters. Yesterday, Putrajaya confirmed that they are investigating the possibility of hijack links in connection with flight MH370.
The flight was piloted by Captain Zaharie Ahmad Shah, a Malaysian aged 53. He has a total flying hours of 18,365hours. He joined Malaysia Airlines in 1981. First officer, Fariq Ab.Hamid, a Malaysian, is aged 27. He has a total flying hours of 2,763 hours. He joined Malaysia Airlines in 2007.
Unconfirmed reports streamed in yesterday from the Vietnamese media claiming they found a 12-mile long oil slick sighting between the waters of Malaysia and Vietnam, allegedly due to the crashed plane. Search and rescue are currently still searching the area. Defence Minister Datuk Seri Hishammuddin Hussein confirmed that an oil slick was found in Vietnam waters, where the missing MH370 was last located, but added that they did not find any debris. At this point in time, there is no confirmation if the oil slick belongs to MH370. The last coordinates where the aircraft was last heard at 1.30am yesterday morning from puts it somewhere 120 nautical miles off Kota Baru.
Local authorities are also investigating the possibility that MH370 may have been forced to turn around. According to Hishammuddin, the search and rescue team are taking this into account and widening their search scope.
"We have been up all night and that we confirm that our search now has been extended to even wider areas because we are looking at the possibility of an aircraft air turn back in which case, different locations will have to be identified," he told reporters yesterday.
It has been more than 48 hours since Malaysia Airlines lost contact with Flight MH370. The Airline has been actively cooperating with the search and rescue authorities coordinated by the Department of Civil Aviation Malaysia.
Below is a press statement from Malaysia Airlines released this morning, March 10.
Malaysia Airlines' primary focus at this point in time is to care for the families. This means providing them with timely information, travel facilities, accommodation, meals, medical and emotional support.
The costs for these are all borne by Malaysia Airlines. Initial financial assistance has been given out to all families over and above their basic needs.
At least one caregiver is assigned to each family. These caregivers are well-trained staff and volunteers from Malaysia and other organisations.
As of now, there are more than 150 "Go Team" members consisting of senior management and caregivers at Beijing to attend to these families. In Kuala Lumpur, a different group of caregivers are attending to the families' needs.
Families from other nations apart from China have been arriving at Kuala Lumpur since early yesterday. More are expected to arrive today.
Malaysia Airlines is working closely with the government of China to expedite the issuance of passports for the families as well as with the immigration of Malaysia for their visas into Malaysia.
When the aircraft is located, a Response Coordination Centre (RCC) will be activated within the vicinity to support the needs of the families. This has been communicated specifically to the families.
The airline continues to work with the authorities and we appreciate the help we are receiving from all parties and agencies during this critical and difficult time especially the members of the media.
Malaysia Airlines reiterates that it will continue to be transparent in communicating with the general public via the media in all matters affecting MH370.
Malaysia Airlines is similarly anxious and we appreciate the patience, support and prayers from everyone.
The fate of the 239 lives onboard the missing Boeing 777-200 remains unknown, as over 80 maritime vessels and aircraft were dispatched by Malaysian, Singaporean, Chinese, Vietnamese, American and Australian authorities to help the search and rescue operations.
More updates to come.
Source: The Malay Mail Online
Read more on MH370: Two Passengers Using Stolen Passport on MH370 Did Not Buy a Return Ticket



" ExpatGo welcomes and encourages comments, input, and divergent opinions. However, we kindly request that you use suitable language in your comments, and refrain from any sort of personal attack, hate speech, or disparaging rhetoric. Comments not in line with this are subject to removal from the site. "



Comments