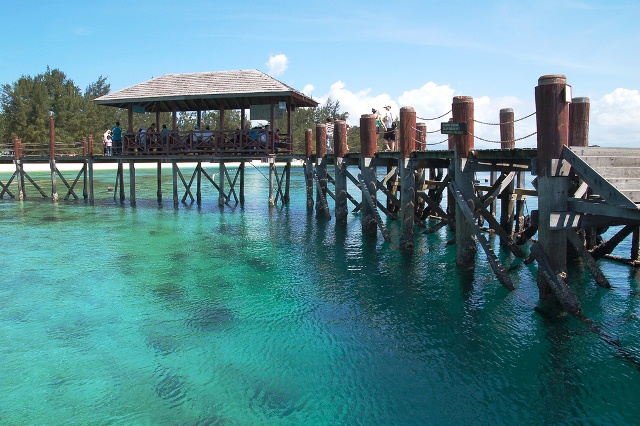 Manukan Island. Photo Credit: Amrufm, Flickr
The Tunku Abdul Rahman National Park is one of the six marine parks one will find in the beautiful state of Sabah. It is also popularly known as the 'Land Below the Wind'. The park received its name in honor of Malaysia's first Prime Minister, Tunku Abdul Rahman, Malaysia's Father of Independence.
Located just off the coast of Kota Kinabalu – Sabah's vibrant capital – the marine park consists of a cluster of five islands, and the sea surrounding them. The seawater fringing the islands boasts an extensive range of coral reefs with a vast array of underwater life, making the park an ideal destination for diving enthusiasts. Besides its marine life, the Tunku Abdul Rahman National Park (TAR Park) also boasts other attractions such as its virgin, tropical rainforests, and beautiful beaches.
Island Paradise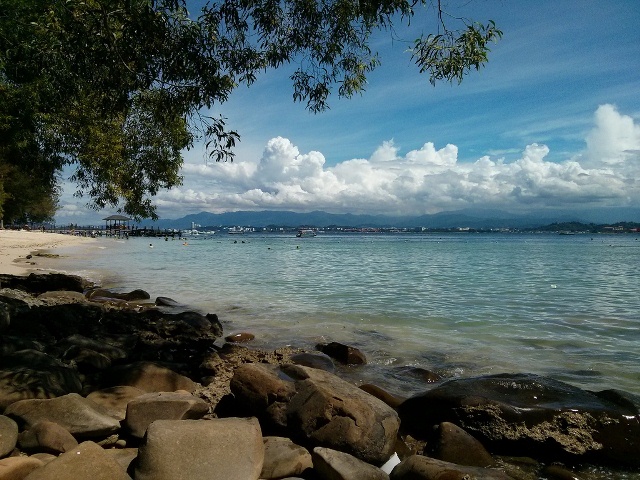 Mamutik Island. Photo Credit: Stan Dalone & Miran Rijavec, Flickr
As mentioned above, TAR Park covers five islands. All five islands have names that are symbolic of their history and early discoverers. The names of the islands are Gaya Island('big'), Manukan ('fish'), Mamutik ('for shell collection'), Sapi (the sound of a mowing buffalo), and Sulug (commemorating the ancestry of the Sulu peoples of Sabah).
All the islands are located in close proximity with one another, with Gaya Island being the largest of the five. Despite being the largest island, Gaya Island is not the most developed. It falls behind Manukan and Sapi in terms of development. The remaining two islands, Sulug and Mamutik, are the least developed with limited facilities.
Each island offers a different atmosphere to visitors. If you enjoy crowds or being surrounded by people, head over to Sapi or Mamutik Island, which are more popular among visitors. For a more private getaway, Sulug Island is the ideal destination as it is furthest away from the mainland.
A short 15 to 20 minutes speedboat ride from the Jesselton Point Ferry Terminal in Kota Kinabalu will take you to any of the five islands.
What To See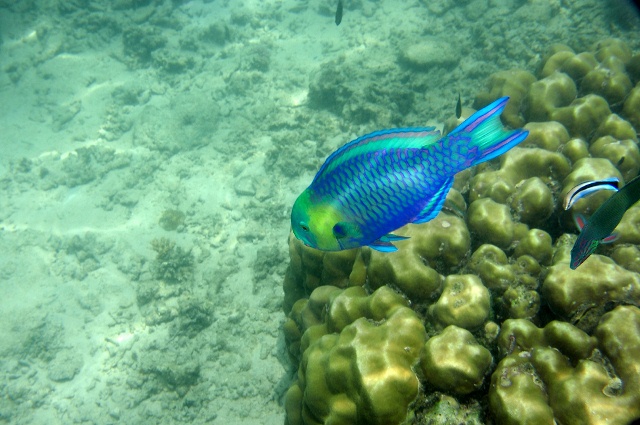 Photo Credit: James.Kirk, Flickr
1) Marine Life
There is a lot to feast your eyes on when you visit the TAR Park. The sea surrounding the islands is teeming with a colorful array of marine life. These include the common schools of barracuda, snappers and fusiliers. It is also common to spot cuttlefish, moray eels and all the seven species of clownfish in the waters. The surrounding sea is also home to a variety of crustaceans, mollusks, starfish and sea cucumbers. All these sea creatures make their homes in the expansive coral reefs fringing the islands.
Larger marine creatures such as turtles and rays are also regularly seen by divers. Probably the biggest attraction underwater is the magnificent whale sharks which are said to make their appearance within the parks' boundaries throughout March and April, during the migration period. Whale sharks are the largest fish on the planet, in case you weren't aware of it.
2) Plants
The islands located within the confines of the park house an abundance of flora and fauna, much to the delight of nature lovers. Gaya Island houses the only undisturbed coastal dipterocarp forest in the whole of Sabah. The forest features tall keruing trees and various species of coastal flora. The island also houses mangrove swamps that are characterized by their extensive root systems. Other islands within the marine park house typical shoreline vegetation such as ferns, palm, coconut trees and casuarinas.
3) Wildlife
Walking through the trails of the inland tropical forest of Gaya Island, you may get a chance to spot the many types of wildlife living there, such as squirrels and monkeys. Jungle trekkers also occasionally spot the bearded pig and scaly pangolin. Also worthy of your attention are large birds such as the white-breasted sea eagle, pied hornbill and green heron, which are found in large numbers. By the way, Sapi Island is famous for macaque monkeys roaming around the island.
What To Do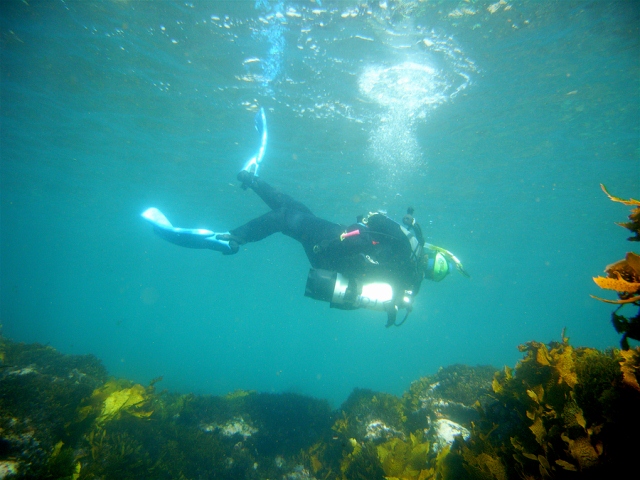 1) Underwater Activity
Diving and snorkeling are two of the most common activities carried out at TAR Park. The islands have many dive hubs which offer a variety of diving packages such as; snorkeling, scuba diving for beginners and leisure diving packages. These centers also offer PADI certification courses. To ensure that you are directed to the best dive and snorkeling sites in the marine park, it is best that you go through the diving operators available.
The Downbelow Dive Centre, which is based in Gaya Island, offers some interesting diving packages such as Daily Scuba Diving, Try Dives for first-timers, Snorkeling, and Skin/Free Diving. The centre was nominated No.1 on Trip Advisors "Things To Do in Kota Kinabalu". The centre has a shallow lagoon located right in front of its Beach House where training activities for beginners are conducted. It conveniently organizes three boat dives per day.
2) Beach Activities
As mentioned, the islands of TAR Park also occupy pleasant beaches. The beaches are suitable for various activities such as picnics, barbeques and sunbathing. Manukan Island is a well-known picnic spot among locals and foreigners. The availability of barbeque pits in most of the islands enables visitors to enjoy a good barbequed meal in between beach activities. Overnight camping is allowed at islands that do not provide accommodation such as Sapi, Mamutik and Sulug. However, it is important that you seek permission from the Park Warden beforehand.
3) Jungle Activities
Gaya Island houses an extensive forest reserve making it an ideal place for jungle trekking. A 20km walking trail stretches throughout the entire forest accommodating visitors who enjoy the natural outdoors in its rawest form! Even the mangrove swamp has a plank walk built across it for the convenience of visitors who wish to explore the swamp's diverse eco system. Manukan and Sapi Island also have jungle trails for relaxing nature walks.
4) Sea Sports
Each island offers a variety of sea sports. These include swimming, wind surfing, riding around the islands on a water jet scooter, sea kayaking, parasailing, banana boat rides and wake boarding. All these activities are managed by operators that are usually stationed at the beach.
5) Other Activities at Sea
Other activities offered at TAR Park include sunset cruises on a catamaran boat where you can enjoy a free flow of beer, soft drinks and light snacks. For those who are afraid of snorkeling and are disappointed at the prospect of not being able to experience the beauty of the underwater world, do not be disheartened. The park provides glass bottom boat trips, which will enable you to view the beautiful corals and other sea creatures without having to dive into the water!
Where To Stay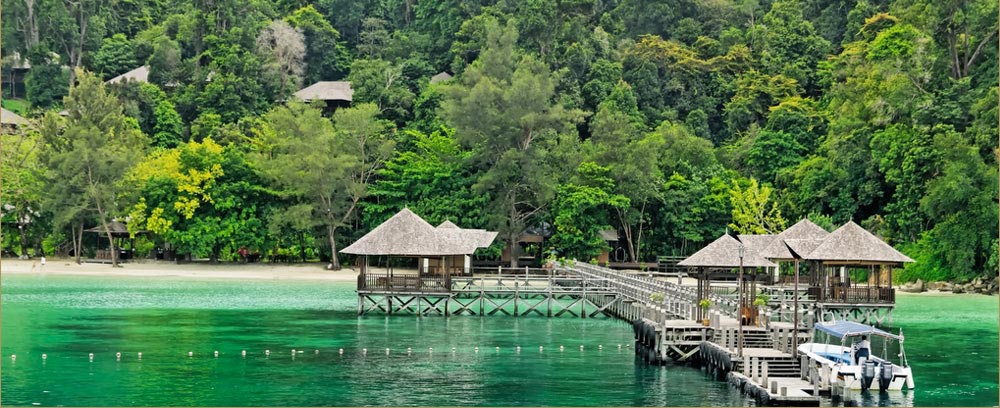 Bunga Raya Island Resort. Photo Credit: Bungarayaresort.com
Accommodation in TAR Park are only found on Manukan Island and Gaya Island.
Manukan Island has a few chalet operators such as Kinabalu Gold Resorts Sdn. Bhd. and Sutera Sanctuary Lodges. Kinabalu Gold Resorts provides 20 wooden chalet units situated on a lush, green slope overlooking the sea.
Overall, the marine park houses three five-star resorts. One of them is located in Manukan Island while the remaining two are at Gaya Island. They are:
1) Manukan Island Resort, Manukan Island
This resort provides hilltop cabins with scenic views and beach lodges for those who wish to live closer to the sea. The chalets feature spacious living rooms and unique looking bathrooms. For more information on this, please visit the resort's homepage.
2) Gayana Eco Resort, Gaya Island
This resort is the only one in the park that has a Marine Ecology Research Centre. Visitors who wish to stay here have the option of choosing from five types of villas. These include the Lagoon Villas, Mangrove Villas, Rainforest Villas, Ocean Villas and Palm Villas. These villas differ from one another in terms of location. Opt for the Mangrove Villas and you get to experience living near a mangrove swamp, where you get glimpses of mangrove inhabitants such as hornbills and sea eagles from your window. On the other hand, the Ocean Villas, which are built on stilts protruding the ocean seabed, gives you a whole new lodging experience with the view of the glorious sea right at your backyard! For more information on this, please visit the resort's homepage.
3) Bunga Raya Island Resort, Gaya Island
This resort has a total of 48 private villas. Interesting offers of the resort include a plunge pool villa and treehouse. The plunge pool villa features your very own private plunge pool and an open deck balcony complete with deck chairs for relaxation. The tree house, on the other hand, offers you a unique jungle living experience. Recommended for honeymooners and couples, it features an outdoor Jacuzzi and a lounge. For more information on this, please visit the resort's homepage.
———————————————————————————————————————-
Other Facilities
The following are the types of facilities provided for public usage in each island:
Sapi Island– picnic shelters, barbeque pits, tables, changing rooms and toilets
Manukan Island– a clubhouse, restaurants, souvenir Centre, diving Centre, a swimming pool, tennis and squash courts
Mamutik Island– changing rooms and toilets; picnic shelters and tables
Sulug Island– changing rooms and toilets; picnic shelters and tables
Gaya Island– public shelters, changing rooms and public toilets.
How To Get There
Boat rides to any of the islands within TAR Park are available at Jesselton Point Ferry Terminal in Kota Kinabalu. The boats depart every hour. You are required to purchase your ticket inside the terminal from any of the boat operators there. A return ticket to any of the islands cost RM23 for adults and RM18 for children. This excludes a tariff fee of RM7.20 per person.
After purchasing the ticket, you are required to proceed to the dock and wait for enough passengers to fill a boat before it departs. Upon arrival at an island, you are required to pay an island conservation fee of RM10 per person, which is valid for one day. For every next island you visit, you are charged a small fee. "Island hopping" tickets are also available for purchase at the Jesselton Harbour.
The boat rides to the island start at 7.30am and end at 4.30pm. The final boat ride back to Kota Kinabalu is at 5.00pm. If you miss the ride, you will have to hire a private transport, which will cost you a bit more than the regular fees.
General Guidelines
TAR Park was gazetted in 1974 as Sabah's second national park in an effort to protect its marine life and natural surroundings. Therefore, certain rules have been created in order to ensure the conservation of the island. Visitors to the island are strictly prohibited from engaging in the following activities:
Hunting the animals in the park or carrying any weapon that may endanger the lives of the animals in the park.
Harming or disturbing any plant
Picking, cutting, or collecting plants, insects, corals, shells, and any other materials, dead or alive.
Writing on rocks, trees or shelter.
Bringing pets into the park.
Who To Contact
For more information on the marine park such as its rules and regulations and fees, please contact the following body:
Sabah Parks Headquarters
Lot 45 & 46, Level 1-5
Block H Signature Office
KK Times Square Coastal Highway
88100 Kota Kinabalu, Sabah, Malaysia
Tel: +6088-486430, 486430, 486432
Email address: [email protected] / [email protected]
Read more:



" ExpatGo welcomes and encourages comments, input, and divergent opinions. However, we kindly request that you use suitable language in your comments, and refrain from any sort of personal attack, hate speech, or disparaging rhetoric. Comments not in line with this are subject to removal from the site. "



Comments