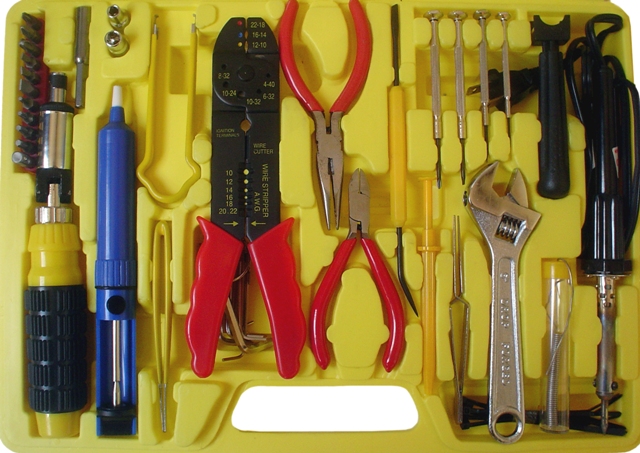 For homeowners in America, doing it yourself is all part of the equation. As Editor Chad Merchant has learned, though it's not quite the same here in Malaysia…but that seems to be changing.
I still remember quite plainly the first apartment I looked at when I moved to Malaysia. I had been staying for a couple of weeks with a friend of mine in Bukit Antarabangsa when I landed a job near Damansara Perdana. Wanting to keep my commute to the barest of minimums, I proceeded to look for a place in that area, really not knowing anything about anything in KL at the time! So we walked into the place with the real estate agent, and I was totally shocked at what I saw. This was new construction – the development was existing but this particular block had only recently received its certificate of fitness – and I quickly learned than when a unit in Malaysia is advertised as "unfurnished," boy, they really mean unfurnished!
Bare walls, no light fixtures (just wires protruding from holes in the concrete), no cabinets, the cheapest builder-grade tile floor available, a sad little aluminium sink in the kitchen area, certainly not a scrap of furniture… it was a rapid education in the parlance of property listings in Malaysia! Needless to say, my friend and I made an abrupt about-face as politely as possible and moved on to other units.
I got lucky and found a pretty ideal condo on about my fourth viewing ("fully furnished!" the listing trumpeted), and lived there for over two years until the owner decided he wanted to sell the place. I wanted to stay in the area, even though I wasn't working there any longer, so I looked at numerous units, trying to find something suitable. This time, however, it was a much more difficult task. Every place was either too ramshackle, too expensive, too big, too small, had rubbishy furniture, you name it. Finally, though, I found a place and negotiated a rental rate. I'm still there today, nearly three years later.
I enjoy cooking and entertaining, so for me, the kitchen is a key space in a house. In many Malaysian homes, though, with the exception of very modern ones, the kitchen seems to be something of an afterthought. Perhaps it's just that with so much good food available locally – and cheaply – people here eat out far more frequently than they do in my home country, where eating out a lot can seriously dent your monthly budget. (Plus, when you dine out, there are no dishes to wash!) So the kitchen in this new place was pretty good. However, there was only one light fixture hanging from the ceiling, and try as it might, it just didn't cast enough light for food prep and cooking.
So I paid a visit to the neighbourhood electrical store and found these small thin-line fluorescent light fixtures with warm white bulbs that could be "daisychained" together. I bought all of the necessary wiring and hardware, then easily mounted four of them under the cabinets in my new kitchen, easily solving my lighting problem. The owner popped by a few days later to drop off some things and was impressed by the new lighting scheme in the kitchen, but was much more impressed that I had done this myself. He told me with a laugh, "You could have a tidy side business doing this sort of thing here. Malaysians don't do anything like this themselves. They just call someone."
I wondered about this, and it does seem to be largely true here. Back home in the U.S., labour is so expensive, homeowners are highly motivated to adopt a "do-it-yourself" mindset, or risk going broke keeping up the house. I suppose some of it might be down to a "can do" attitude and the satisfaction of doing the job yourself, but when just getting the plumber to say hello can lighten a wallet by $80, American homeowners learn how to unclog their own drains and fix their own toilets pretty quickly. In my home back in Colorado, I patched the roof, put up a privacy fence, planted trees, did basic plumbing and electrical work, installed ceiling fans throughout the house, and more, simply because there's an infrastructure there that supports and encourages doing it yourself.
Slowly, it seems that some of that is blossoming here in Malaysia these days. Home improvement stores are packed with home-owning shoppers on weekends and even the DIY sections of local hypermarkets have expanded noticeably in recent years. Once again, it's hard to know whether this is on account of rising labour prices or just a sense of personal accomplishment, but it's encouraging to see.
Some things, of course, are better left to the pros. With circuits here carrying double the voltage of those in my home country, I figure electrical matters are just fine for others to tackle, and I've not developed any great desire to learn how to chemically clean and recharge my home air conditioner units, either, the latter having been pushed to the fore by the recent spate of hot, dry weather and a bedroom air-con that does little more than move the air around. Guess it's time to take off the DIY hat and give someone a call!
Source: The Expat Magazine March 2014
Read more:
What are your thoughts on this article? Let us know by commenting below.No registration needed.



" ExpatGo welcomes and encourages comments, input, and divergent opinions. However, we kindly request that you use suitable language in your comments, and refrain from any sort of personal attack, hate speech, or disparaging rhetoric. Comments not in line with this are subject to removal from the site. "



Comments