Andy Davison reveals the results of the recent survey The Expat Group conducted to gather resident expats' views on corruption in Malaysia. Our first survey on this subject was conducted in 2010, with a follow-up effort completed last year.
A few months ago, we repeated a survey we conducted in 2010 to obtain feedback on expats' views about corruption in Malaysia. The survey was done at the request of the NKRA Against Corruption, the government department which is charged with leading the effort to reduce corruption in Malaysia. We have been working with this agency for some time and have no doubt about their commitment to improve the situation and reduce corruption in Malaysia.
See Also: An English Expat Working Against Corruption in Malaysia
The 2013 survey carried many of the same questions as the 2010 survey so we could compare the results. It was clear that there has been a negative shift in expats' views.
The respondents were a mixed group of expats. It was completed by 265 expats from 39 countries. Roughly half said they were working here and the other half comprised a mix of people who have retired here and those who are the spouses of working expats. In terms of longevity, we broke people up into four groups; those who have been here less than two years, those from two to five years, those over five and up to ten years, and those over ten years. Roughly a quarter fell into each of the four groupings.
The percentage of expats who felt corruption is widespread in Malaysia increased from 44% in the 2010 survey to 60% in the current survey. This is a significant increase, and the shift in attitude was reflected in the answers to most of the questions. More than half the respondents felt there was little or no progress in addressing corruption and that the amount of corruption in Malaysia is essentially unchanged. In fact, one-third felt the situation had become worse.
There was very high awareness of the government's current efforts to address the problem, but over 60% said they were not sure it would be successful.
Perhaps because we work closely with this government department and know how hard they are working to address the problem, we were a little surprised by this pronounced negative swing in expats' views. We then looked closely at the verbatim comments and could see the likely reasons for this more negative view.
First, it became clear that the subject of corruption has been given a lot more media coverage than in the past, resulting in increased awareness of it being a big issue. That appears to have generated more discussion among the expat community, and this has led to shared experiences about corrupt practices.
Second, it seems evident that many expats' views were influenced by last year's General Election. There was a significant increase in the number of expats who felt that corruption related to elections was a major problem. In the 2010 survey, 59% of respondents said that corruption related to elections was a major problem, but in 2013, that figure increased to 84%. Overall, corruption in government was perceived to be a key problem which has not been adequately addressed.
Third, a number of expats felt that the Malaysian Anti-Corruption Commission (MACC) lacked sufficient power to take action against those in senior or highranking positions who might be involved in corrupt practices. Many expats felt insufficient efforts had been made to go after some prominent Malaysians who had been allegedly linked to corrupt practices. One senior individual, who has been the subject of various articles in the foreign media questioning the source of his wealth, was mentioned several times.
The area where most expats felt corruption was not a major problem was in general business dealings, although one-third of the respondents disagreed and felt that, even in this area, it was a significant issue.
Interestingly, when it came to expats' personal experiences, we saw no real increase in them being asked for corrupt payments. The chart on the right shows the percentage of people who said they had been asked for payment, or thought they had, in both the 2010 and 2013 surveys. This question only includes people who had direct exposure to this type of situation. The responses show that there has actually been a slight decline in the cases where expats have been asked for money, supporting our theory that other factors have influenced the shift to more negative sentiments expressed elsewhere in the survey.
Expats recognise that corruption is a problem in many countries in Asia and generally feel Malaysia is no worse than most of the others, with the exception of Hong Kong and Singapore, both of which commenced their own anti-corruption efforts over 30 years ago. The vast majority of expats think corruption has an impact on foreign investment and that efforts must be accelerated and increased to reduce its frequency. However, only a third of expats were willing to report corruption when they came across it. The two principal reasons for this were a belief that nothing would be done or that they might be subjected to some form of retaliation.
It is clear from the survey that expats need more convincing that efforts to reduce corruption are being implemented and will produce the desired results.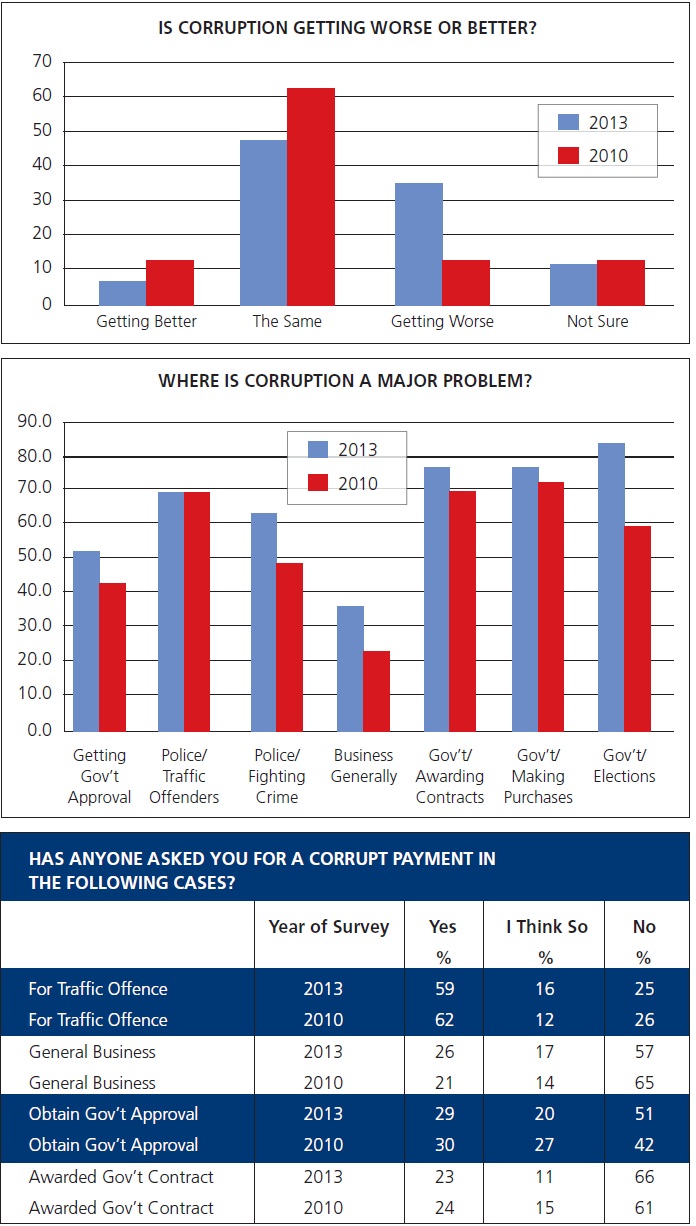 Source: The Expat Magazine April 2014
Read More on Corruption in Malaysia:
What are your thoughts on this article? Let us know by commenting below.No registration needed.



" ExpatGo welcomes and encourages comments, input, and divergent opinions. However, we kindly request that you use suitable language in your comments, and refrain from any sort of personal attack, hate speech, or disparaging rhetoric. Comments not in line with this are subject to removal from the site. "



Comments