This article is brought to you in part by Answers-in-Law.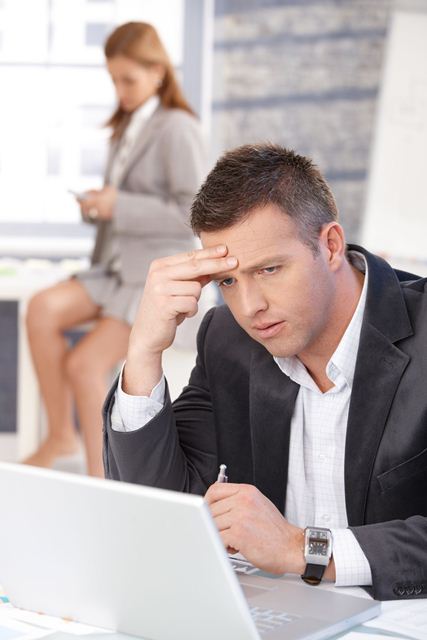 Answers-in-Law ® 2013
As an expat in Malaysia, you may not be familiar with the local legal system and consequently are unsure of your rights in a given situation. A unique new service called Answers-in-Law can help you figure out your legal options.
What is Answers-in-Law?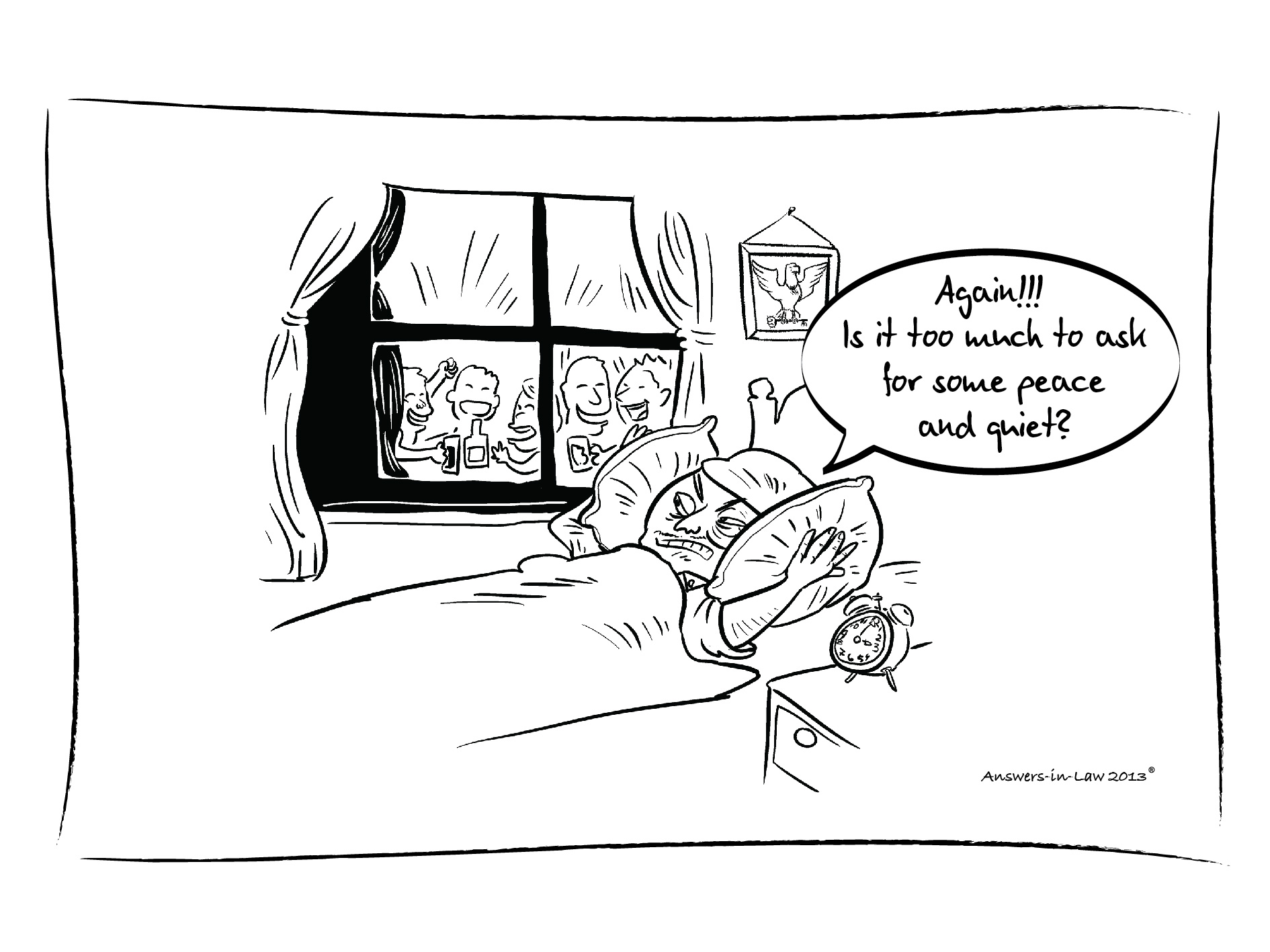 Answers-in-Law ® 2013
Answers-in-Law is a subscription based legal access service that connects its subscribers to a network of established independent law firms. This service was established to ensure that everyone living in Malaysia would have access to legal advice in a timely and cost efficient manner.
This service provides you with safeguards to deal with circumstances and more by ensuring that legal advice is readily available to you and your family. As a subscriber of this service, you will be assisted in identifying a law firm or lawyer that is well versed in the needed practice area, ready to engage in dialogue with you, and accessible to address your legal matter.
3 Great Reasons to Subscribe to Answers-in-Law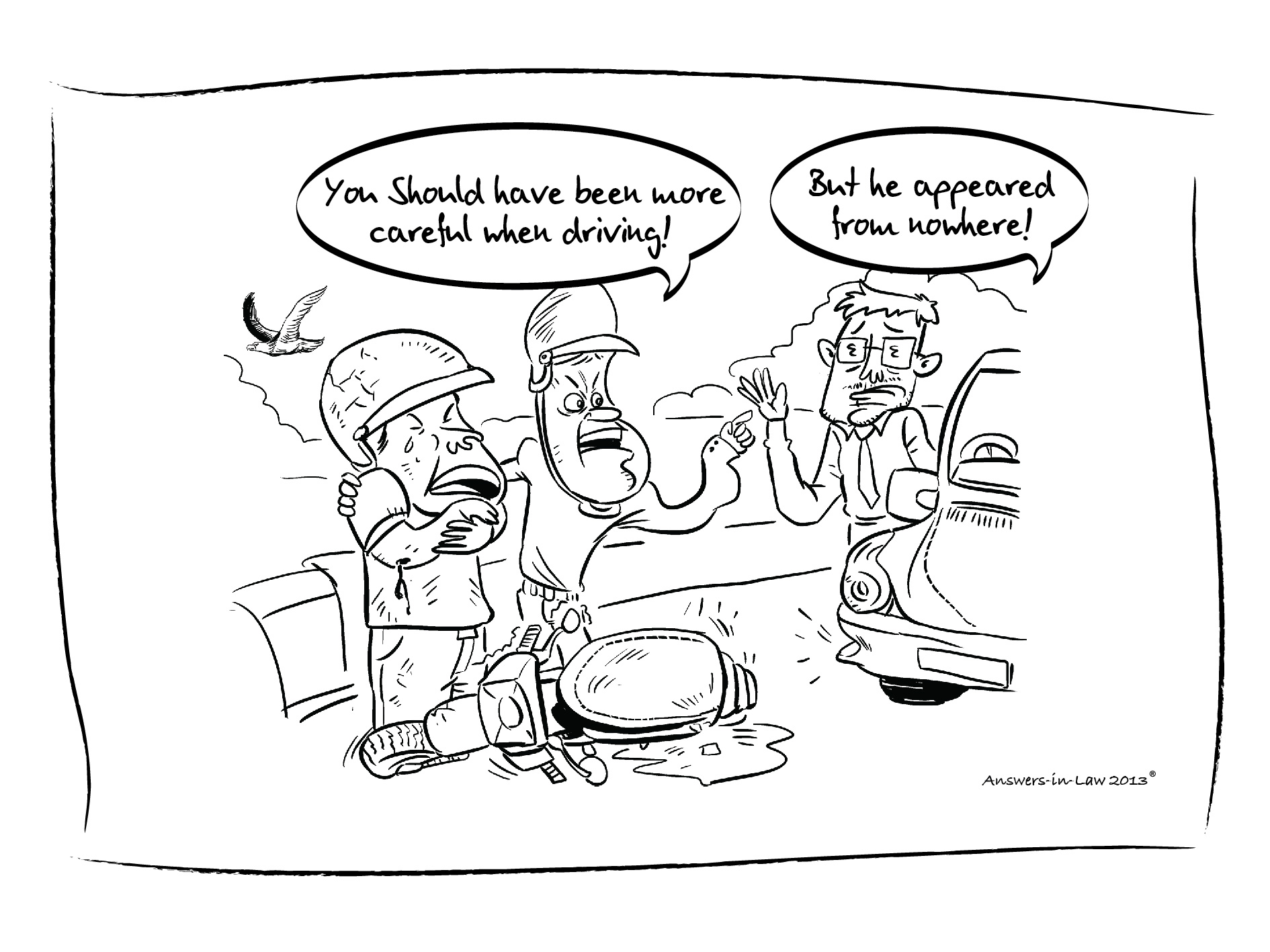 Answers-in-Law ® 2013
1. Get Legal Advice for Predicaments, Business Decisions, or Personal Decisions
Legal plans offered by Answers-in-Law are designed to encompass the vast majority of the legal needs of the average person. This means you'll not only be able to consult a lawyer in the face of a legal predicament, you can also seek legal advice when it comes to important personal and business decisions. For example, you can use the service to seek legal advice about purchasing a home or starting a business here in Malaysia.
2. Select Legal Services Tailored Specifically for You
Subscribers may select a law firm or lawyer based on their particular needs and criteria such as the area of law, location of the firm, language, and even the gender of the lawyer.
Answers-in-Law's network of law firms are able to assist subscribers for the following areas of law: banking and finance; insurance; motor vehicle; employment and workplace relations; family law; income taxation; professional negligence; sale & purchase of property/land; accident and personal injuries; bankruptcy and insolvency; consumer protection; construction and engineering; as well as landlord and tenant issues.
Furthermore, Answers-in-Law offers two types of affordable plans that are tailored to the specific needs of expatriates in Malaysia.
3. Access and Use a Wide Range of Extra Benefits
By subscribing to Answers-in-Law, subscribers will be privy to a host of benefits that include legal advice by phone and/or web-chat, face-to-face consultation, reviewing and drafting of contracts and agreements, drafting and vetting of standard legal documents, such as personal guarantees and letters of undertaking, court representation and legal correspondence.
Additionally, subscribers are entitled to legal assistance with their visa, work permit, as well as driving license applications and renewals. The host of benefits include phone and online access to a comprehensive legal and public services directory that comes complete with contact details and maps. This directory includes hospitals, clinics, police stations, fire brigades, commissioners of oaths, courts, and more.
How Do Subscribers Use Answers-in-Law?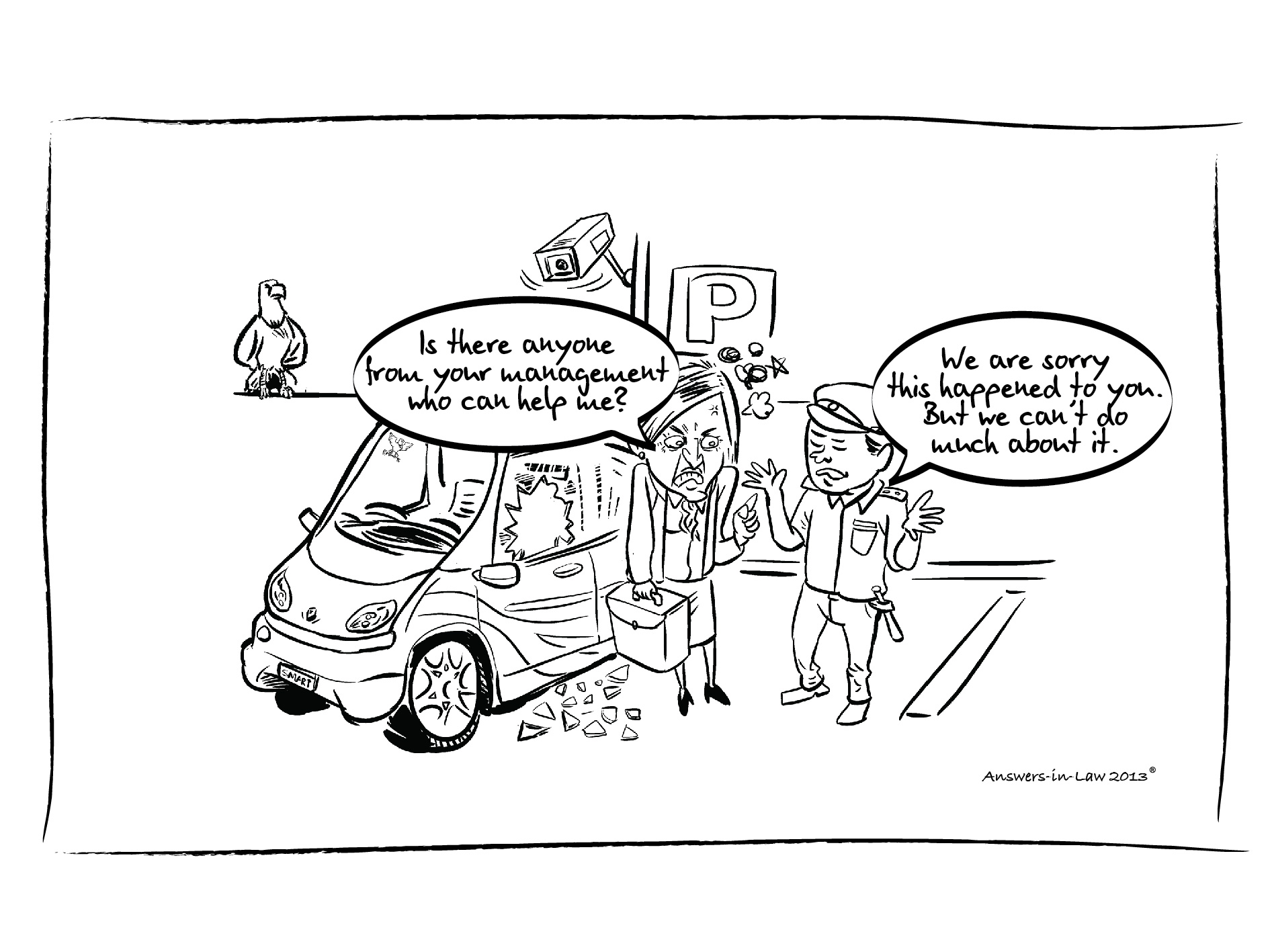 Answers-in-Law ® 2013
Once subscribed to Answers-in-Law, members can obtain legal services by following these three easy steps:
Step 1. Log onto the member's webpage or call customer service to request for a law firm.
Step 2. Member will be provided with a list of advising law firms to choose from
Step 3. Within 24 hours the selected law firm will communicate with the member via phone or web-chat
Plans and Pricing
There are two plans for you to choose, let's see which one best suits your needs and budget. (Click the image to see a larger version of it).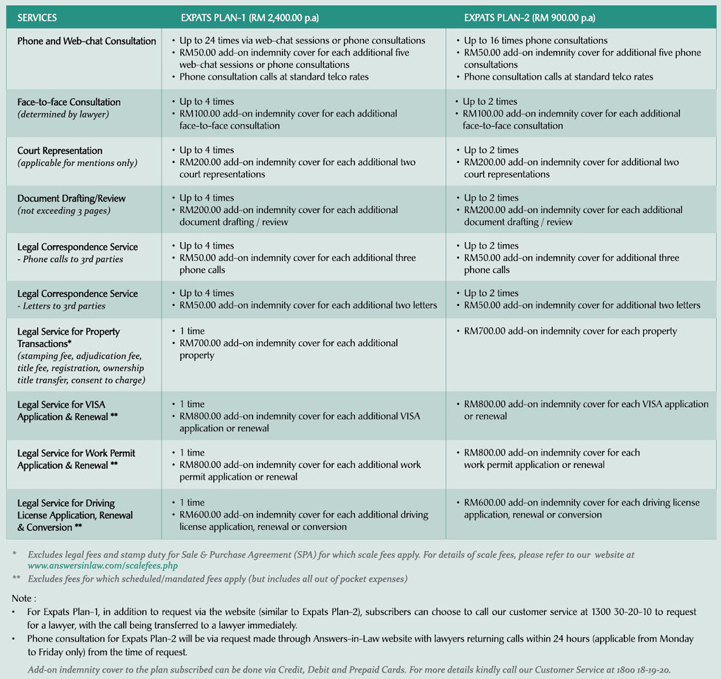 Answers-in-Law ® 2013
"Prepare Your Umbrella Before It Rains"
An old Malay proverb says "prepare your umbrella before it rains." While there is no foolproof way to avoid untoward incidents or unforeseen events in our lives, measures can be taken to ensure that our interests are safeguarded at all times. As we live in a society governed by the rule of law, the best way to do this is to ensure that you have immediate access to professional legal service providers. That is what Answers-in-Law provides.
Here is a video you can watch for a brief introduction to Answers-in-Law too.
For more information, please visit www.answersinlaw.com/Expats or call 1800-18-19-20. Also, if you have any questions, please feel free to post in the comments below.
Read More: 8 Legal Questions Expats Ask in Malaysia



" ExpatGo welcomes and encourages comments, input, and divergent opinions. However, we kindly request that you use suitable language in your comments, and refrain from any sort of personal attack, hate speech, or disparaging rhetoric. Comments not in line with this are subject to removal from the site. "



Comments