Krabi, located on the west coast of southern Thailand is a popular hotspot for tourist. Like most holiday destinations, Krabi is filled with exciting activities for everyone, no matter what your preferences are. Below are a list of activities I personally found to be the most fun.
1) Rock Climbing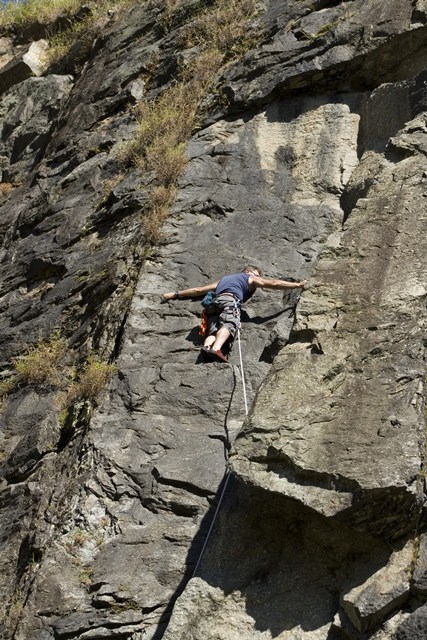 Rock climbing in Krabi is the in-thing among tourists and is a must-try whether you are a beginner or a highly-experienced climber. It is safe to climb the rocks here as metal bolts are placed throughout climbing routes to offer reasonable protection. Railay Beach and Tonsai offer some of the best rock climbing spots. This is evident with the number of rock-climbing enthusiasts that flock here yearly. If you are a novice climber, rock climbing schools are available for you to enroll in. It doesn't take long for you to be a competent rock-climber. For most people, a three-day course is sufficient for you to scale the beginner routes. Rock climbing here is a rewarding experience as the end product is a spectacular birds-eye view of the ocean and its surroundings.
2) Cave and Temple Exploration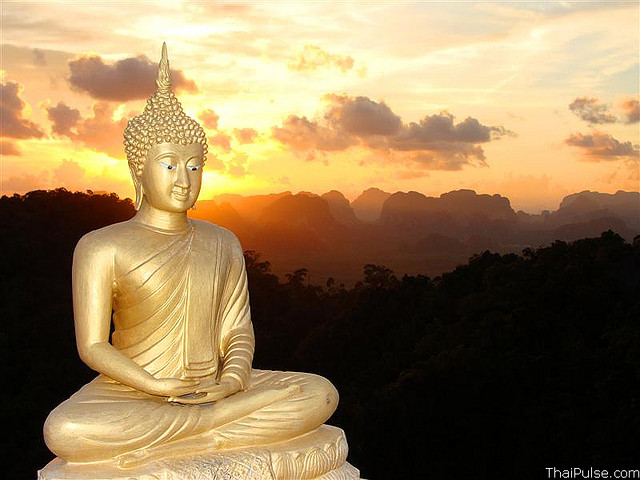 Photo credit: aimforawesome / Foter / Creative Commons Attribution-NoDerivs 2.0 Generic (CC BY-ND 2.0)
Krabi has some beautiful limestone hills. And where there are limestone hills, there are also limestone caves to explore. The two often come in a package. In Krabi, the Tiger Cave or Wat Tham Sua is one of the most popular ones. It houses a Buddhist temple where you can find orange-clad monks piously praying and meditating. Slightly on the creepy side, the cave is decorated with skulls, skeletons and graphic pictures of human entrails as a reminder of the brevity of life. A strenuous climb up 1,272 steps will lead you to a gilded Buddha statue. Coastal caves are also major attractions as they reveal collapsed caverns. A journey into these curious structures will lead you to beautiful interior lagoons that open up to the sky.
3) Spend Time at the Beach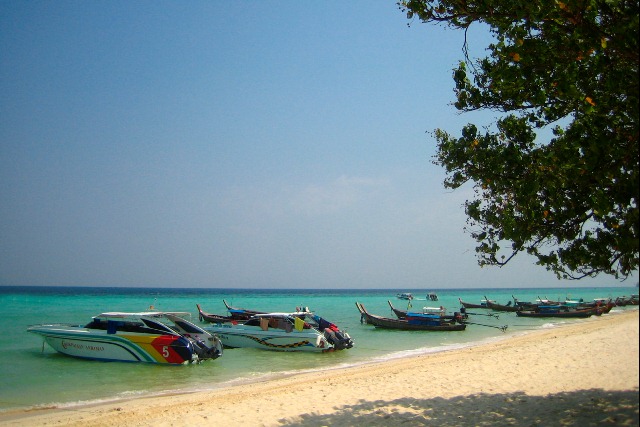 Krabi has some of the best beaches in Asia. In 2012, two of its beaches were listed among the top 5 beaches in Asia by Tripadvisor; Railay Beach appeared in the top three while Phra Nang came in fifth place. The beaches here are picture perfect, boasting gorgeous white sand, emerald green waters and towering cliffs. Some of these beaches are only accessible by sea despite being attached to the mainland, creating a rather secluded and tranquil island atmosphere. This is a result of towering limestone formations that are wedged between the beach and the mainland. Beaches like these are ideal places to relax and sunbathe with an ice cold drink.
For a livelier beach atmosphere, Ao Nang Beach is highly recommended as it is the most developed. Over here, you can shop, eat and drink to your heart's desire in a vibrant beach setting.

4) Island Hopping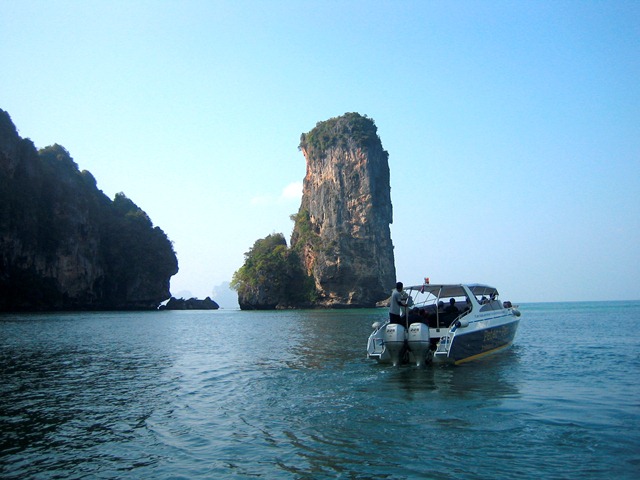 Island hopping is almost compulsory in Krabi. Missing the island hopping tours here is equivalent to missing a significant portion of the Krabi experience. There are four groups of islands that are accessible from the mainland. These include the famous Phi Phi Islands, the Hong Islands, the 4 Islands and James Bond Island.
The Phi Phi Islands are always crowded as one of its islands was once used for the filming of "The Beach", a rather famous Hollywood film starring Leonardo DiCaprio. Since then, many tourists have flocked here to experience for themselves the island's alluring charm as portrayed in the film. People do not only go island-hopping just for the islands, the boat rides to the islands are also an exhilarating experience as you get to witness amazing rock formations on open sea. And most boat tours will stop at specific spots for you to snorkel.
5) Elephant Trekking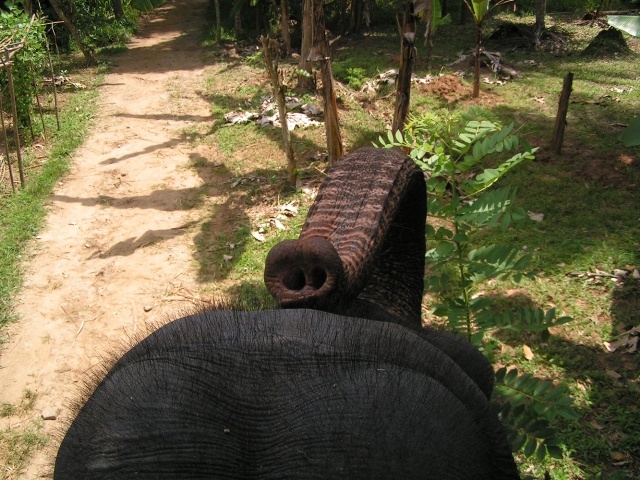 Sit on a comfortable seat that is placed on the elephant's back and enjoy the most unusual ride of a lifetime as the elephant gently makes its way through oil palms, rubber plantations and unspoiled jungles. Elephants are massive creatures and so sitting on top of them may be a little scary at first as the rides tend to be a little shaky. But you will get used to the rocking motion before the one-hour long trek is over. After the ride, you are usually given the chance to feed the elephants with pineapples, bananas or cucumbers. If you stay at the elephant camp a little longer, you will get to watch these gentle giants as they enjoy their evening bath in the river.
6) Scuba Diving and Snorkeling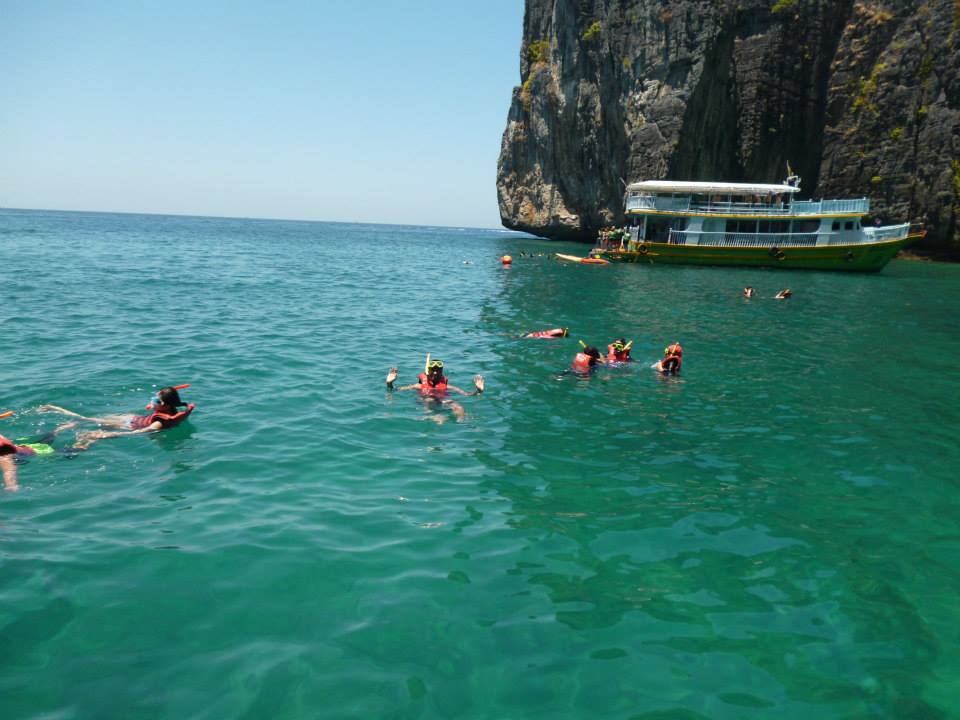 Krabi has more than 32 dive sites for you to choose from and many more snorkeling sites. Marine creatures that are frequently spotted in the waters include leopard sharks, turtles and more. Other sights worth diving for in Krabi include amazing coral reefs, underwater caves and rock formations.
Some of the best places to dive at Krabi include the Phi Phi Islands which boasts beautiful dive sites that are suitable for both beginners and advanced-level divers. For a more adventurous diving experience, head on over to the Ko Ha Yai Islands, which offers a more spectacular diving environment in the midst of underwater caves. The waters here are exceptionally clear! And for whale sharks and manta ray sightings, the remote Hin Daeng and Hin Muang are the best sites!
7) Sea Kayaking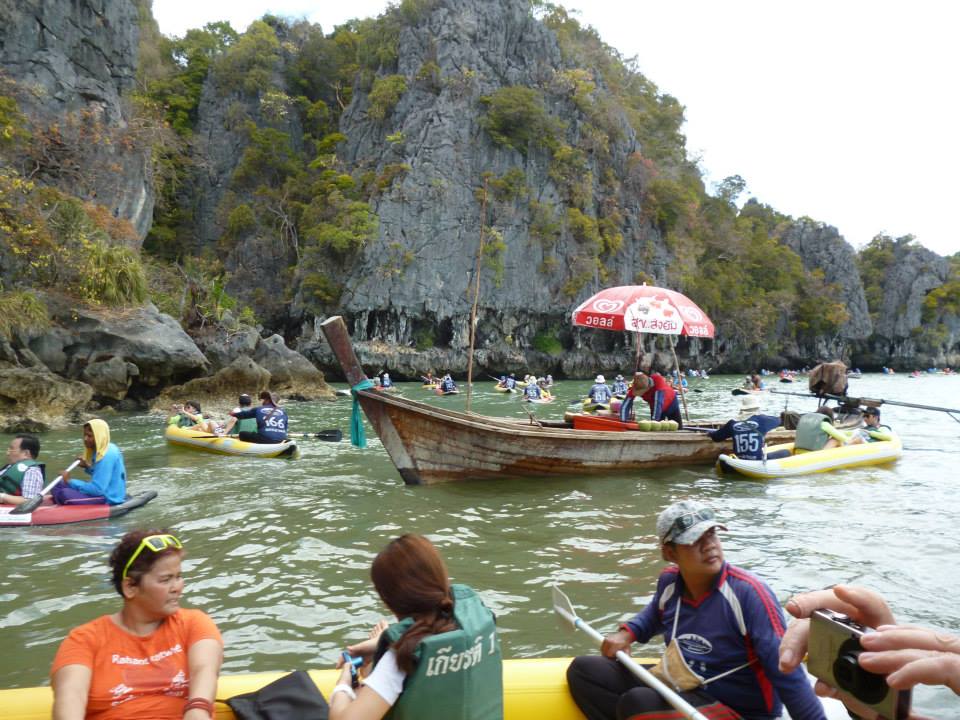 Sea kayaking is a great way to explore mangrove swamp ecosystems and sea caves. In Krabi, you can either choose to go for guided kayaking tours or simply rent a canoe from any beach location. Many of the guided tours take you to three main areas in Ao Luk, situated North of Krabi. These areas include Ao Thalene, where you can kayak through mangrove swamps and canyons, Bor Thor, where you can kayak right into limestone caves and Koh Hong Island, which is well-known for its hidden lagoon.
In all these places, you are sure to get close-up views of a variety of animals from hornbills, kingfishers, little herons, macaque monkeys and brightly-coloured crabs. Beginners need not worry as there are tour guides to assist you. Most of these kayaking routes are not strenuous, so the overall experience is blissful and not over-exerting.
8) Bathe in Hot springs and Natural Spring Waters

Apart from the beaches, Krabi's hot springs are also perfect places for you to relax and unwind. Almost nothing beats the soothing warmth of a hot bath. Imagine being submerged in a huge tub of hot water. That is just what you will get at the Klong Thom Hot Springs, situated 70 km south of Krabi Town. The spring waters are believed to have healing properties for ailments such as rheumatism and skin diseases. Originating from volcanic chambers deep underground, the waters are at an ideal 35 to 40C. Not very far from the hot springs is the Emerald Pool with its stunning appearance. Its cool and refreshing waters originate from natural streams that come from the hills nearby. It is especially nice to come and swim here early in the morning when it is peaceful and quiet.
Read More Articles on Islands and Beaches:



" ExpatGo welcomes and encourages comments, input, and divergent opinions. However, we kindly request that you use suitable language in your comments, and refrain from any sort of personal attack, hate speech, or disparaging rhetoric. Comments not in line with this are subject to removal from the site. "



Comments