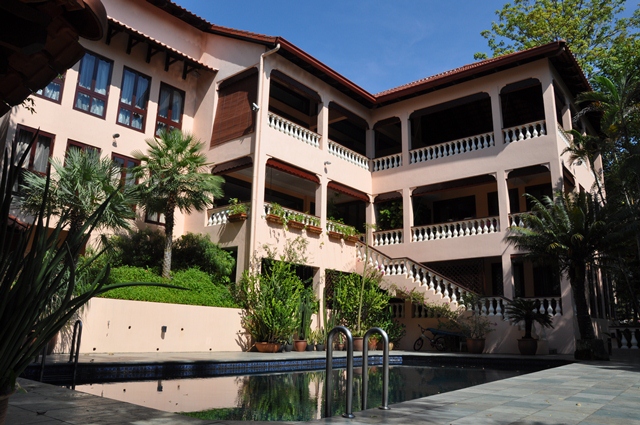 Some of the most stunning homes in Malaysia are owned and occupied by expats seeking to create an oasis for themselves in their new country. Manveen Maan takes us on a tour of one of these beautiful habitats.
For German expat Johann and his Malaysian wife Siti, finding the perfect home did not happen overnight. "I first came to Malaysia in 1994 and lived in the Ampang area because of the convenience," Johann says. City living however, came with a price. "It was quite congested, and also polluted so we decided to look for somewhere that was close enough to the centre of town, but had a sense of tranquillity to it," he explains.
First looking at ready-made houses, they quickly discovered that the quality of homes was not quite up to the standard they were expecting. "I'm German, okay, so I'm very particular about quality," quips Johann. "Obviously when you buy property, you want to be reasonably sure that it ticks all the boxes on your requirement list."
Having lived in an apartment riddled with problems before, Johann and Siti knew that when they moved into their new home, they wanted it to be worth their while. Citing the proximity to the city, quiet surroundings, and lush greenery as plus points in the exclusive suburb of Bukit Tunku, Johann believes that when looking for a home it is best to ensure the area suits your lifestyle.
Having bought the three-level, six-bedroom home from a Malay couple, Johann felt a need to preserve certain aspects of the distinguished home, thwarting ideas of demolition from contractors. "The previous owners still have a strong emotional connection to the house, so we felt that we needed to preserve some of the essences of the past," he admits. "We also love this area because it's secluded. The greenery surrounding us prevents Peeping Toms from looking in, and you also can't see much of the house from the public road. We value our privacy, and from a security perspective, it fit our needs."
Despite all the advantages, there was still a fair amount of work to be done. "Originally, the ceiling was so low you had to bend over when walking in," says the six-foot Munich native. "We raised the ceiling, and added glass panels to allow more natural light to enter. The view from the living room was of the roof, so we redesigned that entire area into a vast balcony and outdoor living area, complete with a view of the KL skyline – just sensational."
Their stunning home was definitely not built in a day, with Johann taking a sabbatical from work and moving into a nearby apartment to supervise the construction. "Eventually we had to blow our budget, but it had to be done. I'm a firm believer in the German way – do something once and get it right!" he laughs.
Johann's project management background complemented Siti's architectural roots, forging a formidable duo when it came to redesigning and rebuilding their home. "We learnt lessons along the way. For example, we didn't want to deal with termites, so we used hardwood to combat that problem. We also ran into issues with contractors, so it took about a year and a half longer than originally planned," he admits. "We wanted specific contractors to work on interiors, roofs, furnishings and other aspects separately, which took time."
Once the groundwork was laid, they introduced what Johann refers to as "fancy stuff", which brought about its fair share of complications. "We employed a rather energy saving computerised lighting system from Germany that turns lights on and off automatically," he explains. "The company couldn't install it properly and ended up having to fly a German employee in to work the system for us. He initially thought I was being a difficult customer, and then admitted that it just wasn't being installed correctly!"
Johann also recalls how he got their centralised airconditioning system custom-designed in Japan to ensure that the quality was not compromised: "I think we may be the only house in KL with a full Japanese system that has not been manufactured anywhere else!"
The result of all that attention to detail is a beautiful home that could easily pass off as a luxurious resort. A vast saltwater pool sits on the lowest level, surrounding by tropical greenery, bringing a zen quality to a home that's a mere stone's throw away from the pulsating city centre. Wooden staircases ensure that everyone keeps fit while going between the myriad floors of the massive home. In case anyone wants to work up a sweat, there's an indoor gym handy, complete with sauna and shower room.
"It's a nice feeling to know that 95% of what you dreamed of came true," Johann says. "We spend lots of our time outside, manning the barbecue or swimming in the pool. There's heaps of space when we entertain guests, and the kids put on evening concerts for us with their musical instruments. If you step out at night, the lights that pepper the perimeter of the house are just breath-taking." Perseverance sounds like a small price to pay for such beauty.
Photo Gallery
For more information regarding this property please contact Angela Lee on 012 6783335 or visit www.rumahbukittunku.com
Source: The Expat Magazine April 2014
Read More Articles on Expat Homes:
What are your thoughts on this article? Let us know by commenting below.No registration needed.



" ExpatGo welcomes and encourages comments, input, and divergent opinions. However, we kindly request that you use suitable language in your comments, and refrain from any sort of personal attack, hate speech, or disparaging rhetoric. Comments not in line with this are subject to removal from the site. "



Comments