What do you do when you have captured every title in your respective sporting realm? Apparently, you just keep winning. Manveen Maan speaks to Malaysia's most successful athlete to date and discovers there's still a competitive fire in her belly.
Fresh off her presenting duties at the Laureus World Sports Awards, the first time Malaysia has hosted the event, squash sensation Nicol David meets me for breakfast at a hotel in downtown Kuala Lumpur. "It was such a surreal experience," gushes the multiple world champion. "I got to meet all these sporting greats like Michael Johnson, Mark Spitz, Nadia Comaneci, and Eric Cantona. I even got to meet Missy Franklin!"
See Also: 6 Malaysian Athletes You Should Know
Such is the unpretentious personality Nicol possesses – unaware of her own star power and the effect her very presence has on the people around her. As we chat, there are many admiring glances directed our way, but Nicol is oblivious to it all as she recounts her star-struck experiences the night before. "It was one of the best days of my life. I also got to meet the Laureus people, as I'm a Laureus ambassador, and they were so helpful and supportive of the work I do."
Not Your Average Jane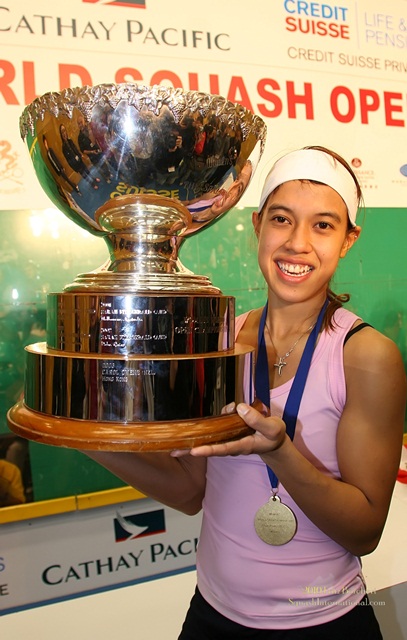 Chuckling at the irony of Nicol's own fangirl moment, I ask about her thoughts on being the youngest person ever to be conferred the honorific Datuk title in her home state of Penang. Her response is as down-to-earth as can be. "Because I'm away from Malaysia so much, no one really brings it up. So when I come back, I often forget that it's my title!" she laughs. "The recognition that the state and public have given me is something I am so grateful for. I mean, I'm just playing squash! Not a lot of squash players get that level of recognition, and I'm so humbled by it. It's a huge honour."
"Just a squash player" is probably not how most would refer to her. Nicol won her first international title at the age of 11, and built on that impressive feat by winning almost every championship that came her way, right until she bagged the World Champion title in 2005, while simultaneously being the top-ranked squash player in the world. "I was so speechless that I won. It was a dream come true to be ranked number one and be World Champion, in the same tournament," she reminisces.
The Makings of a Winner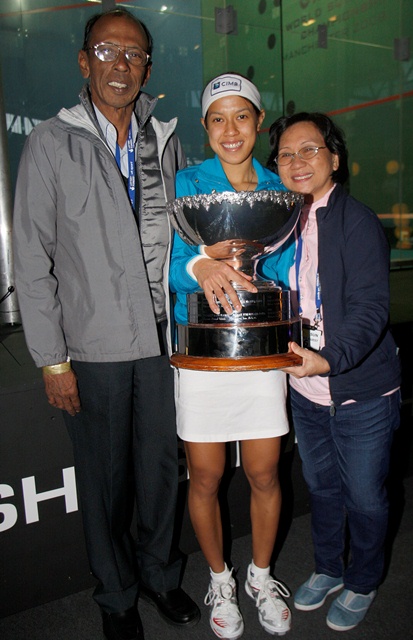 The path to squash glory however was not always smooth sailing. Starting out at just five years old, Nicol honed her talents at the first public squash courts in Penang, built by a friend of her father's. "At that time, squash was limited to private courts, so when the public court opened, my sisters and I utilised it," she says, referring to older siblings and former squash players, Cheryl and Lianne.
Highly competitive from a young age, Nicol battled to win every game against her older siblings. It was perhaps a foreshadowing of what she would be doing in the years to come – namely, emerging victorious over players both older and more experienced. Amidst all her personal triumphs, Nicol also had the honour of representing Malaysia at the 1998 Commonwealth Games, an experience she counts as one of the highlights of her life. "When the hosts announced the Malaysian contingent was entering the stadium during the opening ceremony, the roar of the crowd was just deafening; it felt like they were about to break the stadium!" she laughs. "There were all these flashes of lights and cheering; you can't imagine what it feels like. At just 14, to be able to experience that, was simply incredible."
No Pain, No Gain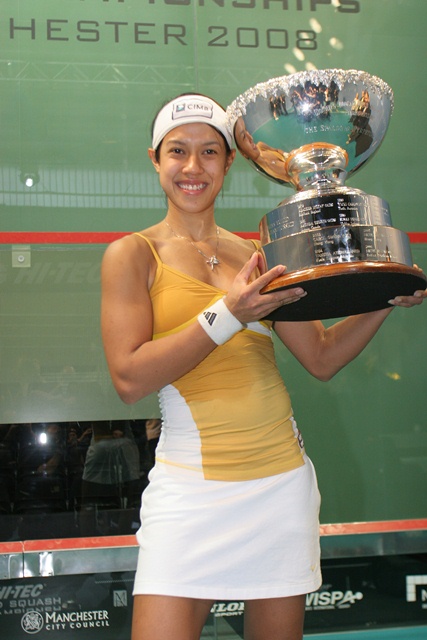 And this talented youngster has proven to be no flash in the pan, her stellar career continuing to burn bright throughout her adolescence and beyond. Nicol rewrote history to be ranked the number one female squash player in 2006 at the age of 23, and simultaneously became the first Malaysian (and the first Asian woman) to gain top ranking in the sport – an extraordinary feat she's held over the past eight years.
Although gifted with a natural talent that few possess, Nicol is quick to point out that performing at such a high level, to say nothing of sustaining such a long winning streak, is a multi-faceted operation. "I train six days a week, and in between, there are conditioning lessons, mental training, physiotherapy, and physical training that all play a role," she says, ticking off the rigors on her fingers. "I'm lucky I've got a great coach – Liz Irving – who really understands what I need to do to raise my game level and to sustain the momentum."
Of course, behind the scenes of Nicol's many triumphs and accolades are those nearest and dearest to her, namely her parents. "They are my biggest inspirations. My dad used to be an athlete himself, so I think it's in my genes!" she smiles. "When I got the opportunity to move to Amsterdam, my parents understood that those chances don't come easily. They said that if I wanted to play full-time, they would support me. So I did for a year, and then I did it for another year and another, and now, 13 years later, I'm still playing the game. They have been instrumental throughout this whole process."
Not many parents would let their kids move halfway across the world to pursue their dreams, but Nicol stresses that her parents did so because they believed in her abilities, a foundation that surely reinforced her nascent drive to succeed. "My parents got a lot of grief from people who wondered how they could let their daughter skip university," she explains. "But they never pressured me into doing anything and always gave me lots of love and support. They trusted that I would always do my best, and hey, I guess a kid can't ask for any better than that right?"
What The Future Holds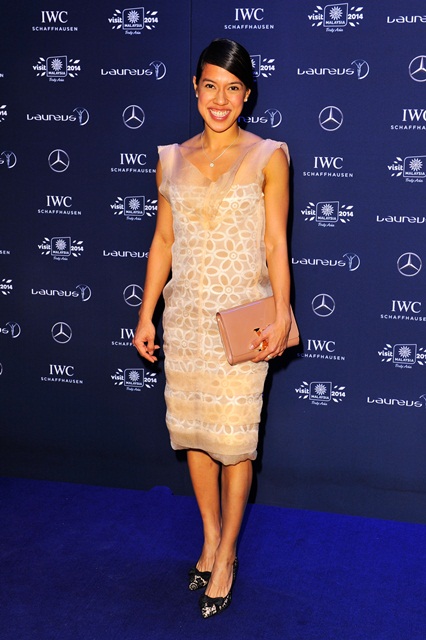 Despite Nicol's considerable achievements, there is still one special crown that has yet to be seized. An Olympic gold medal has yet to be earned by Nicol, or any other Malaysian athlete, for that matter, a particular challenge for her, as squash is currently not on included in the Olympic Games. When pressed about being the country's best hope for that elusive golden moment, the squash darling responds with, "No pressure!" quick as a flash. "We worked really hard for Back The Bid – that's the squash community's efforts to induct the sport into the 2020 Olympic Games – and World Squash put a lot of money into it," she says. "We didn't succeed but the campaign raised so much awareness around the world and even got the US Open to produce equal prize money for the very first time. So there are positives in every situation."
Supporting the need for honing local talent has also become an integral part of Nicol's life. "There is so much potential for sport here in Malaysia. We need to focus on grassroots programs because we have some gifted athletes," she emphasises. "In the near future, I want to set up a foundation that focuses on both sport and academics, to show women and children that sport can give them the confidence to succeed in life. Self-esteem is so important, but that's how sport really helps – it strips away all the distractions and shows you how great it is to be yourself. Nobody can take that away from you."
As for her own plans in the years to come, Nicol is not letting age dictate whether she's going to be topping the ranks or not. "I love the game, and I hate losing, so I just have to keep winning!" she quips, serving notice as effectively as she serves a squash ball. Watch out, world, the reigning squash queen is not done with you just yet.
For more information on the Penang Squash Academy (located in the Nicol David International Squash Centre), please visit www.squashpenang.com. To find out more about the Nicol's charitable ventures and how to be a part of them, just head to www.nicoldavid.com.
Source: Senses of Malaysia May/June 2014
Read more:
What are your thoughts on this article? Let us know by commenting below.No registration needed.



" ExpatGo welcomes and encourages comments, input, and divergent opinions. However, we kindly request that you use suitable language in your comments, and refrain from any sort of personal attack, hate speech, or disparaging rhetoric. Comments not in line with this are subject to removal from the site. "



Comments