Singapore is a small island nation south of Malaysia that is prosperous and teeming with life. A thriving bustling modern nation with the wealth and amenities to prove it, Singapore has become one of the go-to places in South East Asia for financial and leisurely purposes. Packed with towering high density buildings, a wide variety of entertainment venues, high rise office buildings, all surrounded by natural splendours, the Lion City should be a definite pit stop when spending some time in Malaysia.
To ensure your stay in Singapore is a pleasant and unforgettable one, choose to stay in either one of these 10 five-star Singaporean hotels. Each of these hotels offers something unique enough to differentiate itself from the rest of the pack.
See Also: Top Six Places to Honeymoon in Malaysia
1) Marina Bay Sands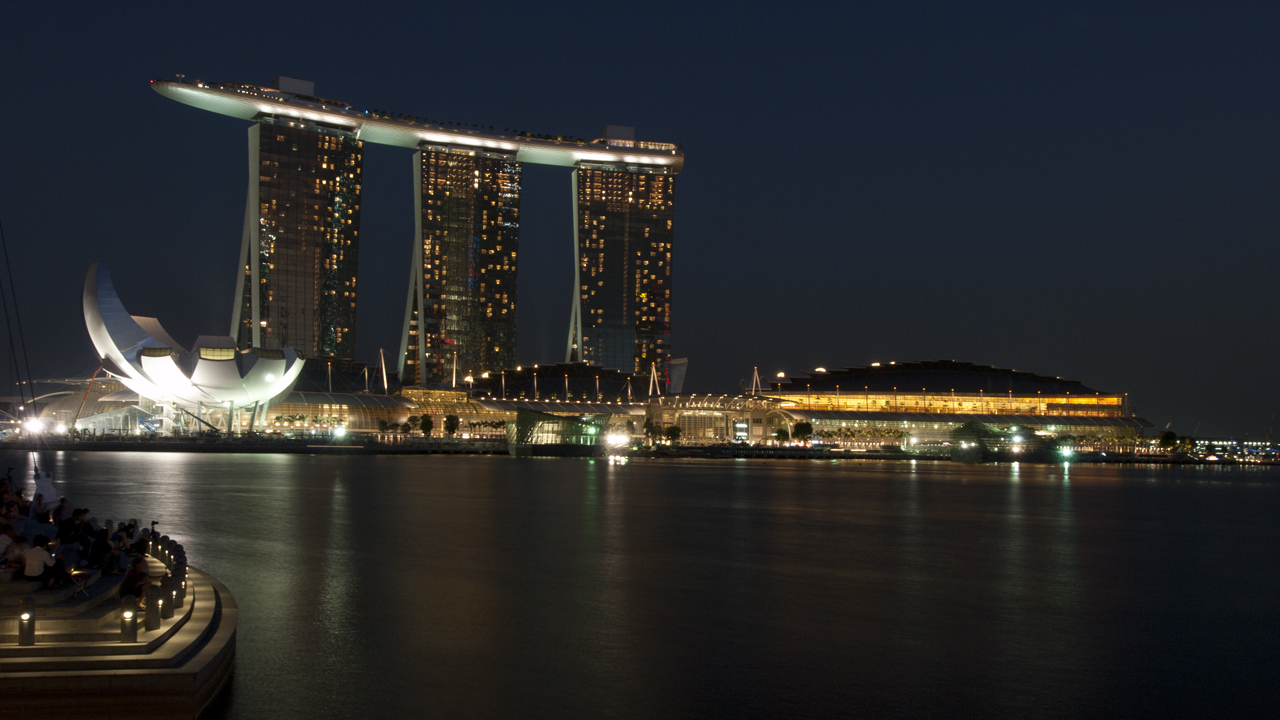 Towering over the southern part of Singapore, the Marina Bay Sands hotel is a triple building behemoth with stunning views, both in its interior and exterior. An icon to Singaporean development, the hotel contains several amazing facilities and services that have propelled it to the top of the hotel scene. Boasting a renowned Skypark that connects all three of its buildings on the roof, the hotel's club lounge and exceptional infinity pool on the top grants an amazing view of Singapore, irrespective if it is day or night. Not to be remembered for just its Skypark, the Sands also features four types of rooms and five types of suite accommodations, complete with access to modern day amenities. The hotel also houses a casino, a shopping complex complete with a wide variety of restaurants and nightlife venues, along with other nearby entertainment destinations and events.
Contact Info:
Address: 10 Bayfront Avenue, Singapore, 018956
Email: [email protected]
Telephone: +65 6688 8868
Website
2) Resorts World Sentosa Beach Villas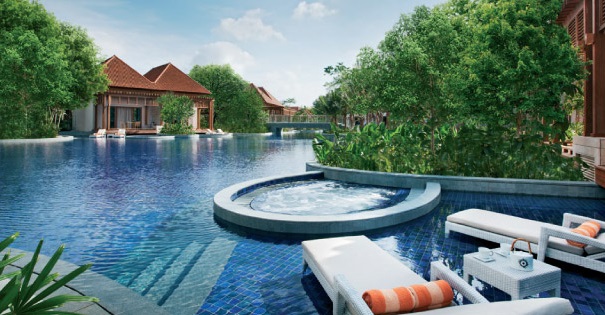 Sentosa Island sits on the southern end of Singapore and is home to the Universal Studios Singapore, a beach, a couple of golf courses, and a selection of stunning resorts. Resorts World Sentosa comprises of six different hotels but the one that really stands out is their Beach Villas dwelling. The Beach Villas offer six different types of accommodations, ranging from one-bedroom villas, to their high altitude TreeTop Lofts, and even an Ocean Suite that comes complete with views to their open ocean habitat aquarium. The Ocean Suites particularly stands out, as marine enthusiasts will appreciate the sunken Jacuzzi bathtub next to an open tank-viewing window, allowing them to bask in the therapeutic ambiance of 50,000 fishes in the comfort of their own private suite. Each of the six Beach Villa living quarters also comes with a 24-hour on call butler. Just be ready to shell out a small fortune for the chance to temporarily live like a sultan.
Contact Info:
Email: [email protected]
Telephone: +65 6577 8888
Website:
3) W Singapore Sentosa Cove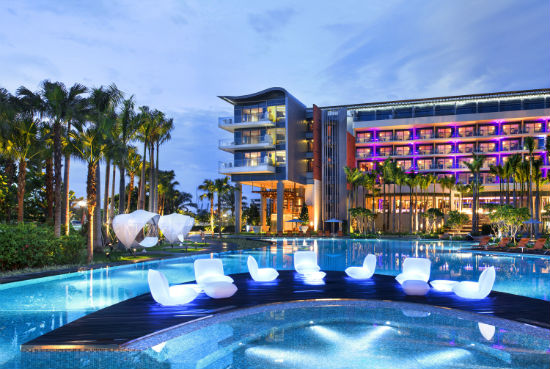 Photo credit: W Singapore
Another resort tucked away on Sentosa Island, W Singapore is a fresh looking quirky hotel that will dazzle guests upon arrival. Whether you choose to arrive by car and walk up the red-carpeted staircase or by yacht at the docking berth, W Singapore will certainly be a feast for the senses. With its clean white colours, intricate wood carved designs, topped with purple-neon themed lights that come alive when the sun comes down, the hotel feels as if it took inspiration cues from the future with a slight touch of the past. Sporting five different types of beautifully themed rooms and suites, W aims to please a wide variety of individuals with every need imaginable. Its WET pool is similarly styled to amaze, covering a wide area and equipped with a poolside bar that comes to life with neon glowing chairs and décor that compliments the latest music played by a DJ. This trendy and stylish hotel comes finished with a renowned restaurant and cocktail bar.
Contact Info:
Address: 21 Ocean Way, Singapore, 098374
Telephone: +65 6808 7288
Email: [email protected]
Website:
4) The Fullerton Bay Hotel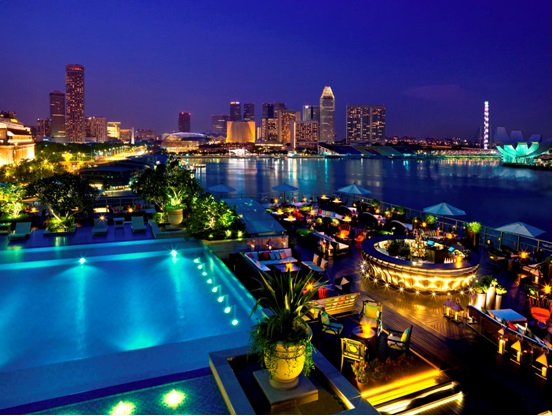 Photo credit: Fullerton Bay Hotel
The second hotel featured on this list situated in Singapore's Marina Bay, The Fullerton Bay Hotel is a luxurious modern yet classical themed 5-star hotel. Armed with a plethora of room and suite selections with different styles, it would be difficult not to feel relaxed and rejuvenated if one opts to make this place their holiday home away from home. All rooms feature balconies that show off a majestic view of the city skyline, especially at night when buildings light up and become a treat for the eyes. The hotel offers a rooftop pool with staggering views of the cityscape, a gym, three refined places to wine and dine, as well as complimentary shuttle services for guests to popular destinations around the city.
Contact Info:
Address: 80 Collyer Quay, Singapore, 049326
Telephone: +65 6333 8388
Email: [email protected]
Website:
5) Parkroyal on Pickering

Photo Credit: Parkroyal on Pickering, Facebook
Situated at the gateway of Singapore's Central Business District, Parkroyal's flagship hotel prides itself on offering guests exponential services encapsulated in a great locale, all while being environmentally conscious. Green devotees will be happy to know that the hotel has taken the term "eco-friendly" to amazing heights by interweaving innovative sustainable features into a modern hospitality environment with a variety of awards to boot. Room and suite choices come in a modest selection, finished with wood décor that plays in tune with the entire green decorum of the establishment. High above the hotel's top floors rests the Orchid Club, an exclusive enclave with rooms, suites, meeting rooms, a library, and a dedicated concierge that all possesses fantastic views of the Singaporean cityscape. In addition, the hotel also harbours a Skygarden, an outdoor pool with side cabanas, and a 300-metre garden walkway. The place comes complete with a spa and a modern eatery and bar called LIME.
Contact Info:
Address: 3 Upper Pickering Street, Singapore, 058289
Telephone: +65 6809 8888
Email: [email protected]
Website:
6) St. Regis Hotel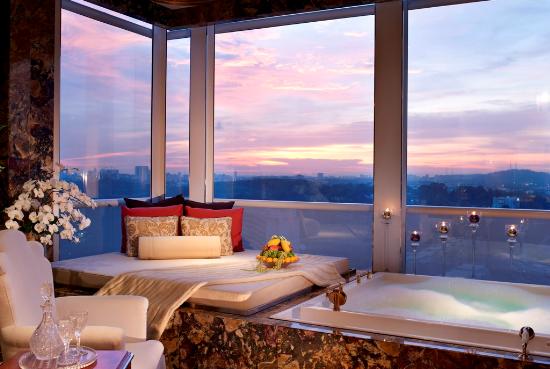 Photo credit: St. Regis Hotel
Resting in the heart of the city's most famous shopping street, Orchard Road, St. Regis' name has become synonymous with luxury and elegance in the hospitality industry. Upon arrival at Changi Airport, your sumptuous journey can begin with an option to pre-request a prestigious Bentley or limousine chauffeured ride to the hotel. Once at the hotel, your journey through life in the high lane continues with a selection of rooms or suites that will end up being your base of operations. Rooms are pampering, inviting, and comforting with a décor that gives a nod to sophistication. All lodging choices further come with a complimentary butler service that epitomizes the very height of luxury one can expect when staying at the hotel. A plethora of amenities can be found at the hotel, ranging from a spa pool, a fitness centre, an art museum, to indoor tennis courts. There is also a babysitting service and, business and handicapped service provided by the establishment.
Contact Info:
Address: 29 Tanglin Road, Singapore, 247911
Telephone: +65 6506 6888
Email: [email protected]
Website:
7) Raffles Hotel
Photo credit: Raffles Hotel & Resorts
This 126-year-old legendary landmark in Singapore offers the finest elements of two separate eras: colonial and modern. With its heritage steeped in fabled writers and other notables, the Raffles hotel itself has become a destination when visiting Singapore. Home to the famous Long Bar and renowned for the creation of the Singapore Sling cocktail, the establishment houses 15 different restaurant and bars. It also contains 103 exuberant suites, a spa, a shopping arcade, and an outdoor swimming pool and gardens. Hotel services that pamper its guests include a fleet of limousines for hire and a 24-hour butler assistance. While its past resonates with memories from famous figures of a bygone era, the hotel still retains the fame and charm it is known for around the globe.
Contact Info:
Address: 1 Beach Road, Singapore, 189673
Telephone: +65 6337 1886
Email: [email protected]
Website:
8) Naumi Hotel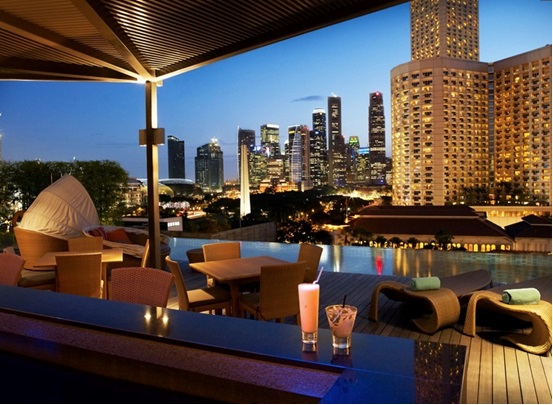 Photo credit: Naumi Hotel
A lot of hotels around the globe were built upon the core belief that being bigger is better, that being enormous would essentially lend the place a certain sense of grandeur. This isn't always the case. Then there are small cosy luxury hotels like Naumi. Positioned within reachable distances of a myriad of famous landmarks, the hotel is proud to offer a peaceful haven amongst the hectic life of downtown Singapore. Its rooftop pool and bar is the perfect locale for guests to unwind after a long day of pampering and self-indulgence, all combined with a magnificent view of the Lion City. Their 40 rooms and suites were thought up by award-winning designers and feature a moderate array of choices packed with 5-star amenities. While the hotel itself isn't huge, its rooms are surprisingly spacious and intelligently utilizes the space it is given.
Contact Info:
Address: 41 Seah Street,
Singapore, 188396
Telephone: +65 6403 6000
Email: [email protected]
Website:
9) Mandarin Oriental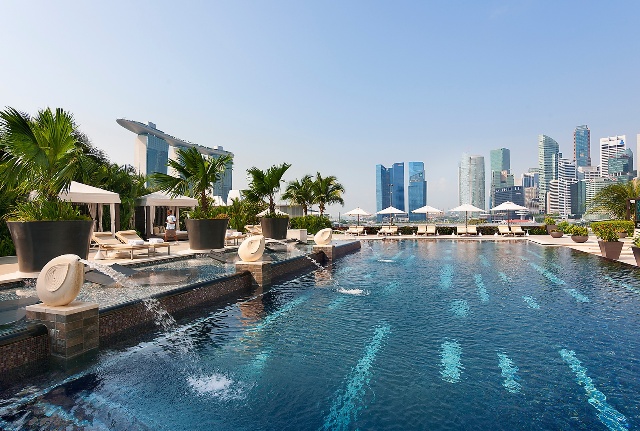 Photo credit: Mandarin Oriental
To really enjoy the beauty of a city is to sometimes observe it from a distance, where it is possible to admire the entire city's skyline. Strategically placed in the heart of Marina Bay, near Suntec and Raffles City, Mandarin Oriental's rooms and suites offer astonishing sights of the harbour, ocean, and of the entire city. Rooms are decorated with subtle oriental touches amongst a more evident contemporary luxurious design. Dining choices also varies between a mix of Western and Asian cuisines, while those who seek to melt their troubles away through treatments can do so at the in-house spa that emits tranquillity. A wave of positive reviews from travel sites all mention the establishment's fine service, accommodations, and facilities, as the reason they primarily enjoyed their stay. Excellent service makes all the difference during a holiday.
Contact Info:
Address: 5 Raffles Avenue, Marina Square, Singapore, 039797
Telephone: +65 6338 0066
Email: [email protected]
Website:
10) Hotel Fort Canning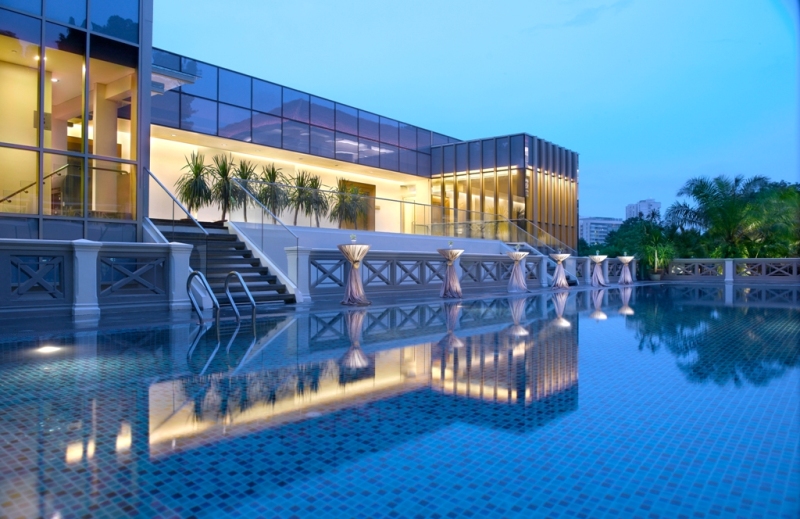 Photo credit: Hotel Fort Canning
Another Singaporean hotel with a rich history, Hotel Fort Canning used to be a former British Military Administration Building due to its tactical location in the heart of the CBD. Burrowed in Fort Canning Park, the hotel appears to be simultaneously in tune with nature and its city surroundings. Hotel guests often forget that they are lodging in a bustling metropolis when their immediate surroundings are covered in lush greeneries with the sound of wildlife in the distance. While the hotel's exterior resembles that of a small tropical forest, its interior is dominated with marble, wood, and pizazz. Lodging options come in six choices, starting from the deluxe and ending with three different types of suites, which elevate the luxury even further by adding whirlpool baths and extraordinary views of the park or city. Guests at the Hotel Fort Canning will find themselves in a unique position in Singapore, one that gives them the seclusion and privacy of a tropical mini forest hidden amongst a thriving city packed with life.
Contact Info:
Address: 11 Canning Walk, Singapore, 178881
Telephone: +65 6559 6770
Email: [email protected]
Website:
Homepage Highlight Photo credit: Jimmy McIntyre – Editor HDR One Magazine / Foter / Creative Commons Attribution-ShareAlike 2.0 Generic (CC BY-SA 2.0)
Hotels & Resorts in Malaysia:
---
"ExpatGo welcomes and encourages comments, input, and divergent opinions. However, we kindly request that you use suitable language in your comments, and refrain from any sort of personal attack, hate speech, or disparaging rhetoric. Comments not in line with this are subject to removal from the site. "
Comments