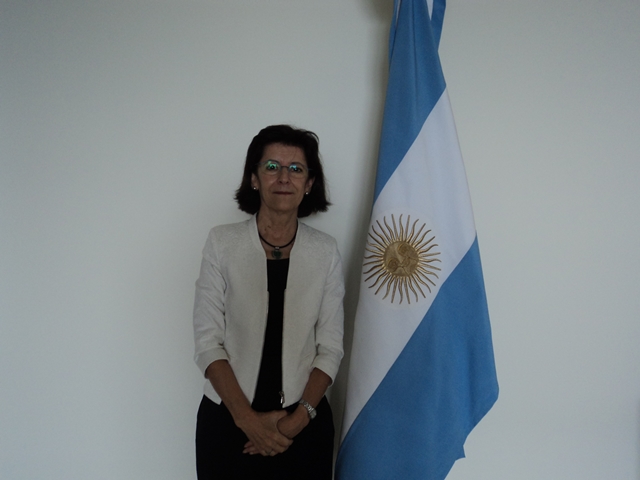 As I walk into the light-filled, tastefully decorated home of the Argentinian ambassador, Her Excellency Maria Isabel Rendon, I can't help but be struck by the numerous eyecatching paintings that frame her living room. "I love looking at art, but I must confess to not knowing much about it," laughs Rendon. "I have managed to obtain a few pieces from my homeland of Argentina, some Malaysian paintings, a few Chinese ones, and a selection from other countries."
This global outlook displayed in her art collection mirrors Rendon's own life story, and journey to becoming ambassador for her country. "I was always curious about other cultures," she confesses over a smooth cup of mate, a type of Argentinian tea. "As soon as I was old enough to appreciate reading the newspaper, I would pore over the tiny international news section of my local daily, fascinated by what was happening around the world."
It was this very curiosity, along with her desire to help people that drew her into the world of international relations. "I initially thought I would become a doctor but my aversion for blood and needles quickly put that idea on ice," she recalls with a laugh. "Because I had such an interest in the world, I thought I could become a diplomat, without actually knowing what that meant really!"
After completing a degree in International Relations and Political Science, Rendon wisely decided that the Foreign Service exam was the way to go. That marked the beginning of an illustrious career for the multilingual Rendon, who packed her bags soon after for a stint in the Peruvian capital of Lima. Not long after, Rendon headed to Copenhagen, a city she enjoyed very much. "At that time, Denmark was contemplating joining the European Union, so it was a very exciting phase to be there," Rendon says. A posting to Rome ensured her Italian language skills were up to scratch, followed closely by her first foray into Asia. "It's funny how things work out because I had always wanted to visit China," says Rendon, of her subsequent posting as Deputy Head of Mission in Beijing. "When I was about 18, I read a book from my grandfather's library called The Mandarin and loved it. Ever since then, I was completely fascinated by China, so when I got the job, I was overjoyed."
Luckily for Rendon, her stint in Beijing opened up doors for her to explore another Asian country four years later. "As a diplomat you do a lot of research, so before I arrived in Malaysia I had some idea as to what the country was like," she explains. "But I never expected Kuala Lumpur to be so modern!"
Despite being so far away from her home country, Rendon has managed to find an Argentinian link right here in Kuala Lumpur, within the confines of the city's most iconic buildings no less. "Not a lot of people know this, but the architect behind the Twin Towers, a man called César Pelli, is an Argentinian," she says excitedly. "As a result, everyone in Argentina knows about the Towers, and so they should. They are so beautifully designed and it gives me such pride knowing that Pelli helped create such a celebrated building."
Like any other profession, Rendon's work comes with its share of obstacles, but this self-confessed idealist has rather a realist's slant on tackling them. "There are moments where it can be difficult to move forward on issues, so you just have to accept that nothing more can be done. It may be frustrating but you just have to agree to disagree," she states matter-of-factly. Having said that, Rendon admits that there are rewarding moments that can emerge out of seemingly negative situations. "If someone needs help, or if they fall ill, that's where we step in. Our duties go beyond diplomatic ties. We become the extended family; that's the other side of the bureaucratic fence."
Despite having mastered the tricky bends of political diplomacy, Rendon continues to push boundaries in the workplace, citing the responsibility given to her, as her main motivation. "From the very beginning, I felt a real sense of honour to serve my country," the patriotic Rendon says.
Her four-plus years in Kuala Lumpur may have afforded Rendon honorary citizen status, but the modest diplomat insists there's always room for improvement. "There's always a need to learn something new," she says. "It takes a long time to understand a country that isn't yours, and I do feel that there's so much more I'd like to learn about Malaysia. Even though my time here is coming to an end, I will take the warm hospitality of the people, and parts of Malaysian culture with me when I return." Curiosity clearly hasn't deserted her yet.
Source: The Expat Magazine May 2014
Read More Interviews with Ambassadors in Malaysia:
What are your thoughts on this article? Let us know by commenting below.No registration needed.



" ExpatGo welcomes and encourages comments, input, and divergent opinions. However, we kindly request that you use suitable language in your comments, and refrain from any sort of personal attack, hate speech, or disparaging rhetoric. Comments not in line with this are subject to removal from the site. "



Comments