Artists have always travelled in search of the inspiration of exotic landscapes and richly intense cultural experiences. Frances Wilks met three expat painters, Graham Green, Susanna Hernesniemi, and Thomas Powell, who live and work in Penang.
1. Kate Hunt and a Sense of Place
"It is a bittersweet thing, knowing two cultures. Once you leave your birthplace nothing is ever the same," so wrote Sarah Turnbull in Almost French: Love and a New Life in Paris. And yet despite the loss of the comfortably familiar that travel involves, many artists are global citizens in some form or other. So it's not surprising that quite a few of them are now living in Penang, where the rich tides of world cultures meet and mingle. Lithuanian-born artist Ernst Zacharevic started the trend with the Street Art series he produced for the 2012 George Town Festival (including the now iconic bicycle painting in Armenian Street). These have earned him the soubriquet of 'the Banksy of the East' (though perhaps he is a Banksy without the social bite) and others have joined him, as Penang is on the verge of becoming an internationally creative city.
Recently, British artist Kate Hunt, who was born in Penang but lives and works in London, returned to her birthplace with a stunning exhibition at China House in George Town. She's an expat artist in reverse. Her father was a padre with the RAF stationed in Butterworth in the early 1950s. Until she returned to Penang in 2011 after a more than half a century away her memories of the place were, she says, "unreliable and unsubstantial. They were based on hearsay, myth, black and white photographs, and disturbing feelings of loss." Coming back to Penang for a holiday enabled her to find and trace buried sensations of early life and the light of the tropics. Her work is abstract, intangible, and pared to the most minimal expression of form and space – and yet somehow the golden warmth of Penang subtly pervades her European-painted canvases.
2. Graham Green – The "Gauguin of Batu Ferringhi"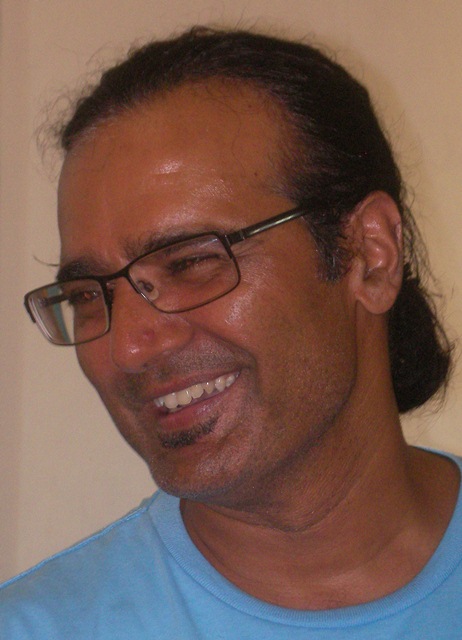 Bangalore-born Australian artist Graham Green has chosen at the age of fi fty to settle in Penang with his family. He's freer now, after twenty years working as an art director and lecturer, to spend most of his time painting. "I'm inspired to live here for the reasons I love Penang, I love the cultural mix, it's small and intimateat times and also a big enough city to have everything you need, the people, food, lifestyle and warmth. What also inspires me about Penang are the differences in colours I see from back home. The colours that I see in here are so unique especially on the beaches –blues, greens pinks and purples I've never seen in nature and the vibrant rich colours that are present in the cultures and traditions of the people."
Many of his paintings feature the beaches of Penang and the diverse ways that Penangites make use of the beaches here. "I am blown away by how people here use beaches to enrich their lives spiritually," he says. "Back in Australia, the beaches are more for recreational activities." He combines the rounded rocks of Batu Ferringhi with surrealistic prancing wooden horses, local fishermen's boats and ancient Buddhist symbols.
In another shoreline painting, "Wishes", a group of Indian women, their saris hitched up, wade into the shallows of the sea as they watch a teacup improbably float away on the tide. Sometimes the only witness to the drama of the beach is a lone dog. But the painting found most poignant was of a woman on a beach covered in a black burqa from head to toe, contemplating a multicoloured parasail, the essence of aerial freedom and fluid movement. Graham has just had his first solo exhibition, "Inherent Qualities", at Galeri Seni Mutiara in Armenian Street.
3. Susanna Hernesniemi – Expressing a Passion for Nature in Abstraction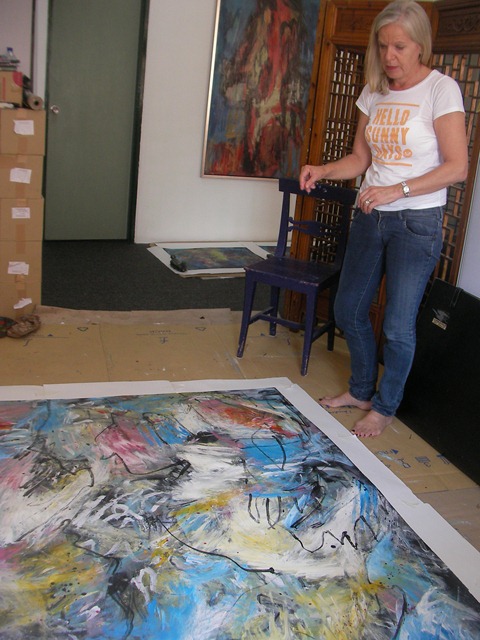 Susanna is an Australian-born Finnish artist who has lived with her husband in Penang since 2008. Born in Western Australia, she spent her early childhood out in a remote mining area outside Northampton. She reflects on her past, "When I was only four years of age, my family left the sub-tropical climate and moved to the north, back to their roots in the Finnish countryside. That is where I grew up, surrounded by intense gorgeous forests which since have deeply rooted into my mind as something special and precious which needs to be protected and taken care of."
Susanna had always drawn from an early age and was fortunate to be taught by a famous Finnish artist Justus Sarisalo, who lived locally and he encouraged her to draw more. Since then, she has travelled and lived in many countries with her Danish husband whose work has taken him around the globe. When they lived in China where she held an exhibition entitled "Conservation of the Nature" in Beijing, in the famous arts zone known as 798, formerly a military factory. Saddened by the environmental pollution of China, she donated the proceeds to children whose health had suffered as a result of it.
She and her husband decided to settle in Penang because of the friendliness of the people, as well as the sea and the jungle. She particularly loves Penang Hill. "The trees are gorgeous and we trek there often, just being part of nature, thrilled by seeing a bird or a flying lemur." She has made good links with the local artists of Penang, and is a member of the Penang Art Society. She has recently produced a book of her work. Her work is in the tradition of abstract expressionism, with deep, rich canvases that invite the viewer to create their own interpretation. She invites us to see the beauty and drama of our environment, to refl ect on being human, and to understand how we are
linked to nature.
The Archaic Modernism of Thomas Powell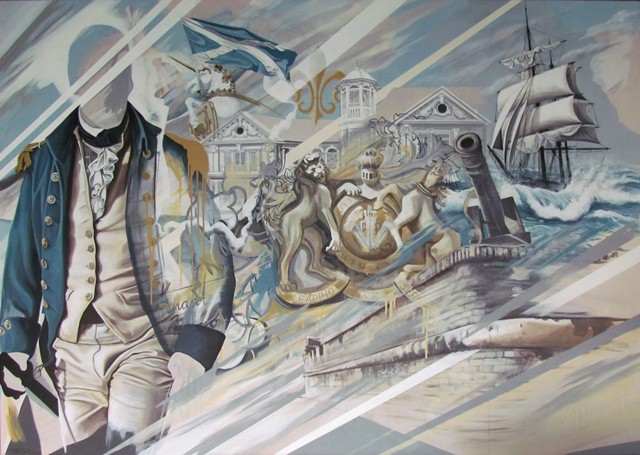 Thomas Powell doesn't actually live in Penang – although he visits the island frequently and shows his work here. British born, and trained in Art at Loughborough College, he first came here in 2009 and met local arts luminaries, such as George Town Festival director, Joe Sidek, photographer Howard Tan, and glass worker, Fuan Wong. He has spent six months in the hills above Balik Pulau, in the artist-in-residence programme at Malihom. He lived in KL for two years but prefers the edginess of Penang, its food, culture, and friendliness.
His work links the old Penang and the new one. "It's a port city, always has been, only now it exchanges ideas, not goods," he says. He combines the archaic and the modern in the form of old maps and charts, using the emblems of the East India Company, images of the early figures of Penang – such as Light and Macalister – old buildings, and square rigged sailing ships.
Some of his work celebrates aspects of Penang's past, such as scenes from George Town and Weld Quay, and details of everyday scenes, sometimes cheekily brought up to the present day with the inclusion of a Starbucks or a McDonald's logo. He is completing a large series of Chinese Zodiac paintings. They feature an outrageous monkey, behaving badly, still in outline form, and, for the Year of the Tiger, the "fearful symmetry" of a tiger's head joined to the body of an 18th-century monarch – King George III – who reigned at the time of Penang's founding. The effect on the viewer is one of terrifying power wrapped up in the silken garments of a powerful civilisation. You will be able to see the full series later in the year at Macalister Mansion.
Graham Green is represented in Penang by Galerie Seni Mutiara. Susanna Hernesniemi's book, "Nature in Transformation" is available from Galerie Seni Mutiara, where she also exhibits. Thomas Powell exhibits regularly at venues in George Town and can be contact via his website, www.thomas-powell.com.
Source: Penang International April/May 2014
Read more:
What are your thoughts on this article? Let us know by commenting below.No registration needed.
---
"ExpatGo welcomes and encourages comments, input, and divergent opinions. However, we kindly request that you use suitable language in your comments, and refrain from any sort of personal attack, hate speech, or disparaging rhetoric. Comments not in line with this are subject to removal from the site. "
Comments