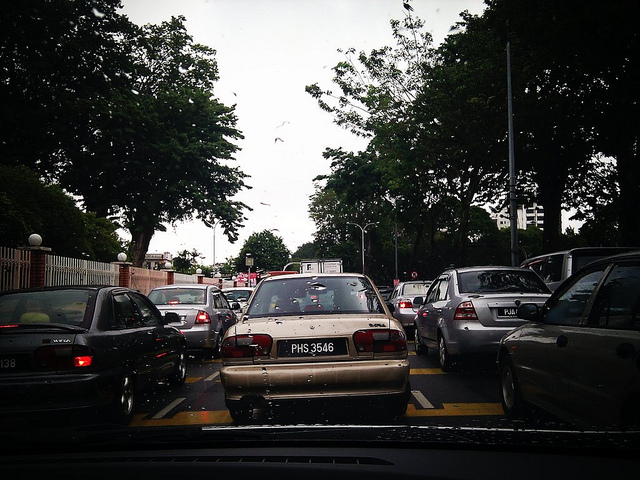 Photo credit: nicholaschan / Foter / Creative Commons Attribution-NonCommercial-NoDerivs 2.0 Generic (CC BY-NC-ND 2.0)
People love living in Penang. For a small island, it's got amazing diversity – sea, culture, heritage, food, and jungle clad hills. But it does have traffic issues and, like most of the world's cities, it's getting worse. The new one way system in Pulau Tikus and Gurney does seem to be smoothing out some of the worst jams going north and, with any luck, the new parking coupons will take some of the frustration away from trying to find a parking attendant to pay in George Town.
In the longer term, better public transport and more cycle power is probably going to be part of the answer. Building more north/south roads, given the island's topography, would be quite a challenge if existing buildings and communities are not be destroyed. There was an ambitious plan to create a monorail out to sea which would bypass all the roads and provide a wonderfully scenic way to enjoy the island but nothing has come of it. There's a potential (as yet unrealised) for water buses which would be a pleasant way of commuting to George Town from places like Batu Ferringhi and Tanjong Bunga as well as the new developments in the south of the island.
So for now, Penang's traffic is just something we're going to have to live with. But there are more or less creative ways of coming to terms with travelling in Penang. Here are some enterprising people who have found a way to minimise the effect of traffic and parking problems.
1. Pink Lady on a Pink Vespa – Louise Goss-Custard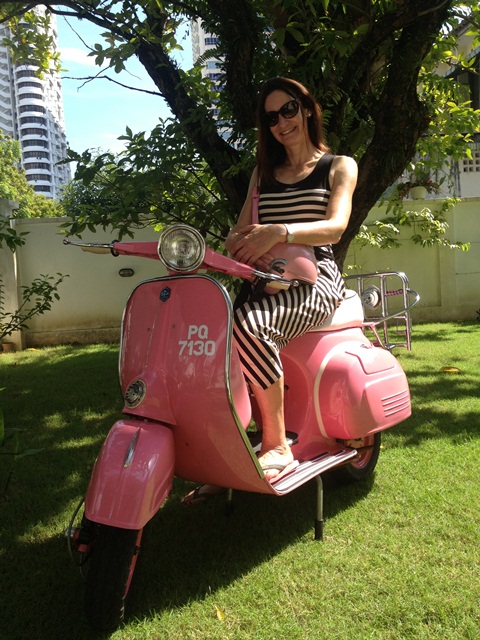 I don't actually drink "pink ladies" on my pink Vespa. Since my husband runs That Little Wine Bar in Jalan Chou Thye, wine is my choice of tipple but defi nitely not while I'm driving as the traffic can be quite challenging! All the same riding my Vespa in Penang is enormous fun. The colour makes me stand out and puts a smile on people's faces. When they honk their horns it is not because they are annoyed, but because they want to catch my attention and give me a thumbs up! It is the fastest and most practical way to get around Penang. I am never stuck in a traffic jam and I can always find a place to park. There is plenty of room on the back for a passenger (I took my 71-year-old Mum everywhere on it when she was visiting last month) and also for the shopping if my husband Tommes asks me to pick up things from Pulau Tikus market for him. Being Italian, my Vespa sulks (and won't start) if it gets left out in the rain, and actually I don't much like riding in the rain either so I sympathise. But since at time of writing it feels as though it may never rain in Penang again this seems to be less and less of an inconvenience!
2. Personal Parking Angel – Sandie Lenton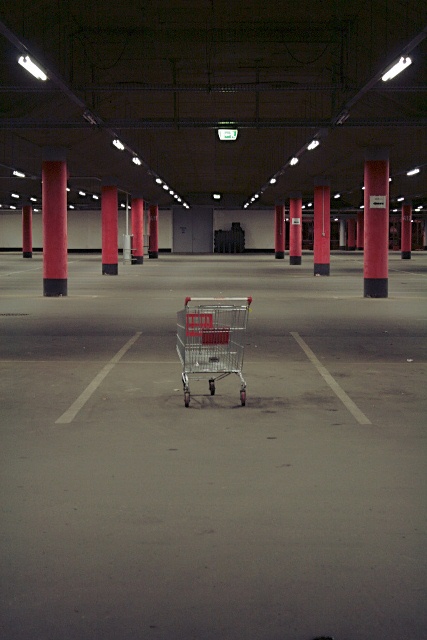 Photo Credit: Sergey Podatelev, Flickr
I can't remember who introduced me first to my Parking Angel, or indeed when it was, but for many years I have had a close and friendly, nevertheless always respectful, relationship with her. When driving to, say, Gurney Plaza, where I hate having to go to the lower level so I politely ask the Angel to find me a space.
"Hello, Parking Angel, are you around" I normally start, "if it isn't too much trouble, could I please ask you to find me a nice space, really close to the entrance?" It is very rare when she is too busy to help me out and I mostly drive into the best space in the location, much to the amusement and sometimes annoyance of my friends. I never forget to say out loud, "Thank you so much, Parking Angel, I am very grateful,"Somebody asked if I could loan out my Parking Angel – my reply was a resounding "No! "You didn't listen; MY Parking Angel is mine! Find your own Parking Angel. Surprisingly some have tried and succeeded and I admit I have quietly asked my Parking Angel if she can put a good word out for close friends. Try it for yourself, I think that you will be very pleasantly surprised. Just remember always be polite and respectful. I am pretty sure that Parking Angels have other work and they fit in the space finding as a favour – so don't overwork yours if you find her.
And yes, to the best of my knowledge, all Parking Angels are ladies. But – on the other hand maybe there are male Parking Angels but they only look after the men – that would make sense given where the average man parks – as far away from the entrance as possible, often across a muddy field!
3. Going Solo on a Unicycle – Dirk Reese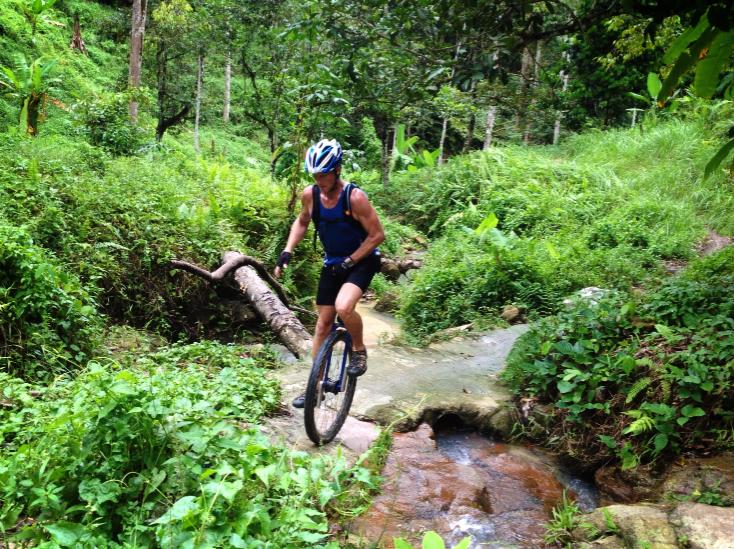 On a unicycle you can go on highways, byways, and off the beaten track. I can easily ride through a small river – if the stones aren't too slippery. In town I can even jump over a storm drain (which can be very useful when you're trying to create an unorthodox short cut). Actually there are some quite complex manoeuvres that can be carried out for this –including using my unicycle a bit like pogo stick.
A unicycle has no brakes because there's no frame on which to mount one. So to stop, you have to stop pedalling, and early on in my training I learnt how stay upright while stationary – you just stand on the pedals! Of course mounting a unicycle is harder than getting on a normal bike. You have to have your back to a wall – always literally and sometimes metaphorically. Most unicycles have no gears but I have benefitted from knowing about the one man in the world who handcrafts a gearbox which enables me to go up hill and go at an increased speed downhill.
I'm teaching other people to unicycle in Penang well as leading classes in riding on two wheeled bikes – we take up far less room than cars and my goodness – it makes you fit!
4. Mobile University student – Robert Kirby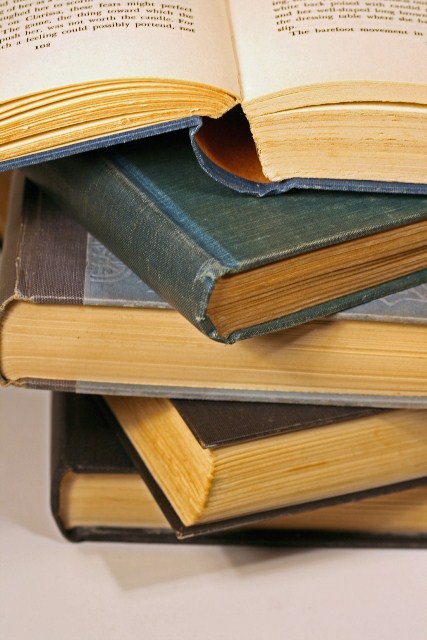 I never mind Penang traffic nowadays because I enjoy learning so much. Most people spend at least 90 minutes a day travelling to and from their work place and that works out to around 300 hours a year. What an opportunity that represents to turn that "Drive Time" into "Personal Development Time/Achiever Time".
I have turned my car into a University, it is full of Motivational CDs from the Greats such as Robert Kiyosaki, Gary Vaynerchuck, Rich De Vos (co-Founder of AMWAY), Stephen Covey, Darren Hardy, Seth Godwin, Robin Sharma, and John Maxwell. I particularly enjoyed listening while researching my first book, Dancing Dragon or Headless Chicken which is about leadership and will be published shortly. In fact I started to enjoy traffic jams because they give me such an opportunity to study. And of course now you can download motivational podcasts to your iPhone and play them through your car's sound system….I think in 12 months you can receive an Honorary Doctorate from the University of Commuting!
5. Moke Bloke – Ronni Pinsler
Photo Credit: Pedro Ribeiro Simoes, Flickr
I usually try to drive with a convivial friend so as to enjoy the time when I'm stopped in one of Penang's inevitable traffic jams. If I'm in my Mini Moke (which I've had for nearly forty years) its open sides offer good opportunities for friendly interactions with everyone on the pavements which tends to reduce frustration.
During Chinese Festival times I am often handed cans of cold beer accompanied by strips of roasted pork right on the street. Many of the local temples are active at these times with shamans on duty in full costume, adding to the general colour and ambience of the streets. In a narrow alley in George Town, I might see a baby paddling pool filled with water blocking the road. Naturally I stop. A teenage lad is enacting the Deity "Lor Jia" known as "The Third Prince" He is a three year old dragon slayer, and it's his bath time, and he squeals with happy gurgles of baby laughter as he splashes in his pool. After about ten minutes he decides to go off to a stroll in the neighbourhood, and the traffic, until now, patiently held up, can get on its way. Where else but in Penang! And what could be more normal on this night when the gods party with mortals in the streets of Georgetown. So the next time you're stuck in a Penang traffic jam, remember there may (or may not) be a "divine" cause!
Homepage Highlight Photo credit: sierra2u / Foter / Creative Commons Attribution-NonCommercial 2.0 Generic (CC BY-NC 2.0)
Source: Penang International April/May 2014
Read more:
What are your thoughts on this article? Let us know by commenting below.No registration needed.
---
"ExpatGo welcomes and encourages comments, input, and divergent opinions. However, we kindly request that you use suitable language in your comments, and refrain from any sort of personal attack, hate speech, or disparaging rhetoric. Comments not in line with this are subject to removal from the site. "
Comments