The frenetic lifestyle and bustling traffic we experience in the city can sometimes be maddeningly unhealthy for our well-being. Sometimes it pays to live in the suburbs where the mind, body, and soul can recharge and rejuvenate for a better quality of life.
The Living Room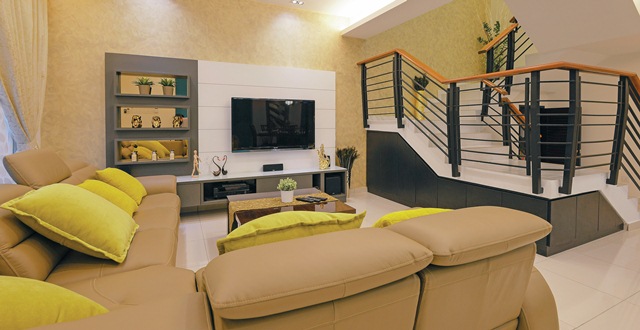 Dining Room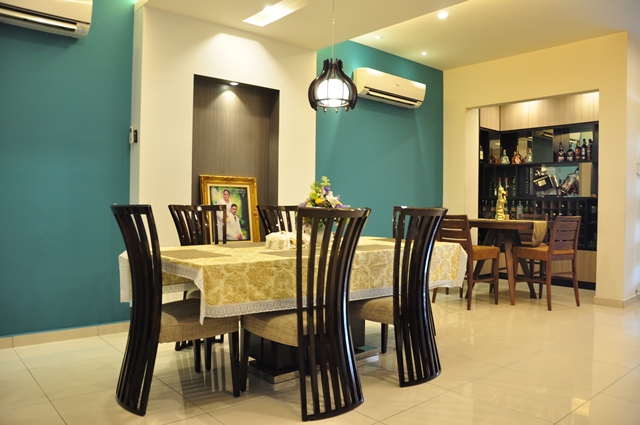 Kitchen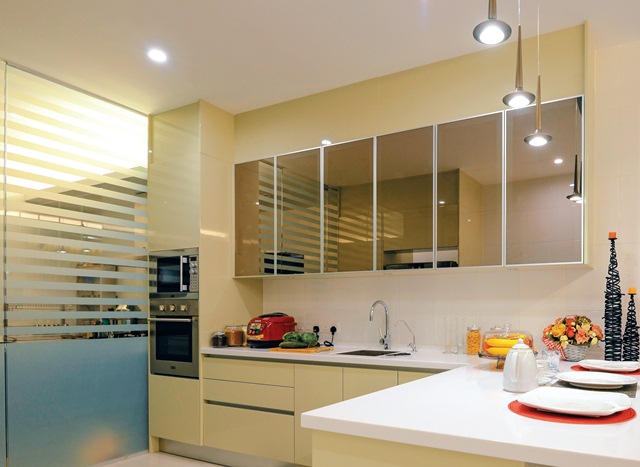 Mini Bar
Spider-Man Themed Bedroom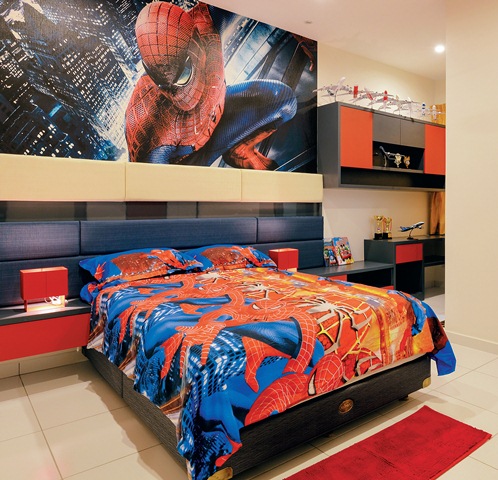 Master Bedroom
Bedroom
Outside Patio
View from Outside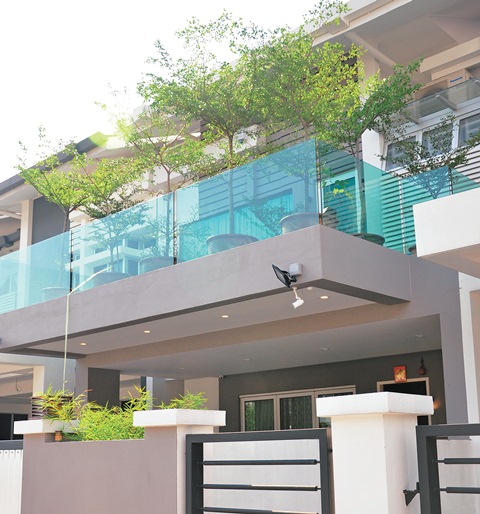 About the Home and its Owner
Bandar Parklands in Klang is a green development that emphasises the importance of community health with 10 specially designed theme parks at various strategic locations where its natural landscape provides green lungs and spaces for healthy outdoor activities located in 427 acres of freehold land.
For Sri Lankan Rosham and his Malaysian wife, who moved in to their new home in Bandar Parklands at the end of April, it is easy to see why this was their ideal choice, as the environment is not altogether different than the one they homesgrew up in. "I come from a small village in Sri Lanka where the lifestyle and pace is relatively slow, compared to that of KL, and I found that same pace in Klang and was attracted to the simplicity of it," said Rosham who has been living in Malaysia for the past 17 years. "My wife, who lived in Rawang before she married me, is also used to an environment with less traffic and more greenery, and she also fell in love with Klang."
Having lived in a rented house in Bandar Botanic, Klang for a few years, Rosham felt that it was time he bought a home to call his own – one that would reflect his and his family's identity. "Although Bandar Parklands is new, it is the perfect place for us to buy a home because it is new development and the neighbouring area is rapidly developing," said Rosham who owns and manages an import-export business here. When I purchased this house, instead of moving in immediately, I renovated the house so that it would appear more spacious and reflect the design idea my wife and I have been discussing. "My wife is a stay-at-home mum, and I felt it was important to take into account her ideas and as she will be spending the most time in the house. The renovation, which involved 80% of the house and required working closely with the designers at Id Industries*, took almost four months to complete, and the end result was a more spacious-looking interior on both floors," explained Rosham.
The fine line between the design and the actual finished work can tend to become blurred in today's properties, but when clients work closely with their designers, the final work will align more closely with both what the designer envisioned and the client needs, translating into more efficient and livable spaces. Here, the design team at Id Industries worked with Rosham and his wife to create an initial design concept, which enabled them to collectively explore a full repertoire of work in terms of floor plans, elevations, 3D images, and more, right down to the smallest details. A further plus point for Rosham was that the interior design fees were waived once the desired plan was confirmed and assigned to Id Industries!
Rosham, who is Buddhist, further explained that the double-storey link house carries strong feng shui influence, as he believes with the right feng shui, the house and its occupants will benefit greatly. The ground floor is taken up by the living, dining, and kitchen area, and what is easily sensed is the pride Rosham has in his roots and culture. A Buddha statue from Vietnam sits resplendently at their display case and exudes an almost serene vibe, while other paraphernalia sourced from Rosham's many travels also adorn the display case.
Rosham's favourite spot in the house is admittedly the living room, where he spends his time hanging out with his 11-year-old son, Duleen, and watching TV. "Our furniture is mostly from different stores. We do not believe in buying everything from one store so it all carries a uniform look. My wife and I enjoy taking drives to the many furniture stores available and we like picking items that carry a contemporary and simple design," said Rosham, pointing out the L-shaped settee.
Especially eye-catching was the mini-bar tucked in a corner of his living room. It was discreet, away from public view, yet inviting enough for one to have a drink and unwind. "Although I do go out to meet friends and clients, nothing beats staying at home and relaxing with great company. It allows for us to spend quality time without worrying about the time or traffic," said Rosham with a laugh. Despite the modern furnishings throughout the house, Rosham and his wife have a soft spot for light brown woods when it came to picking out the furniture for their home. Besides the teak dining table that sits next to the kitchen, all the bedframes are all made from the same rich wood that lends a hint of warmth to the interiors.
The highlight of the first floor is definitely Duleen's room, which has been furnished to their son's liking. Enter the room and it feels like steeping into Spiderman's lair. A huge poster of Spiderman greets you as you enter the room, while a Spiderman bedspread provides the finishing touches. As you take in the room, the boy's love for animation is clear, as the room has at least one character out of an animation show. This room is the only stark contrast to an otherwise clean and simple look that is adopted for the first floor. Throughout the home, the recurring theme is definitely earthy, woody, and clean, with simple strokes of designs adding a touch of elegance to their home.
Although Rosham owns a hardware enterprise and has a home back in Sri Lanka, he feels no immediate need to return to his homeland. "I have embraced the culture and lifestyle here and in the past 17 years I've managed to learn Bahasa Malaysia, and enough Tamil to be able to carry a fluent conversation," he said. "Malaysia is a land of opportunities, and the hospitality of the people here has always made me feel nothing but welcome."
*Id Industries Sdn Bhd have outlets in the Klang Valley and Penang. For more information, please contact 03-6157 3933 or visit www.id-ind.com.
Source: The Expat Magazine June 2014
Read more:
What are your thoughts on this article? Let us know by commenting below.No registration needed.
---
"ExpatGo welcomes and encourages comments, input, and divergent opinions. However, we kindly request that you use suitable language in your comments, and refrain from any sort of personal attack, hate speech, or disparaging rhetoric. Comments not in line with this are subject to removal from the site. "
Comments