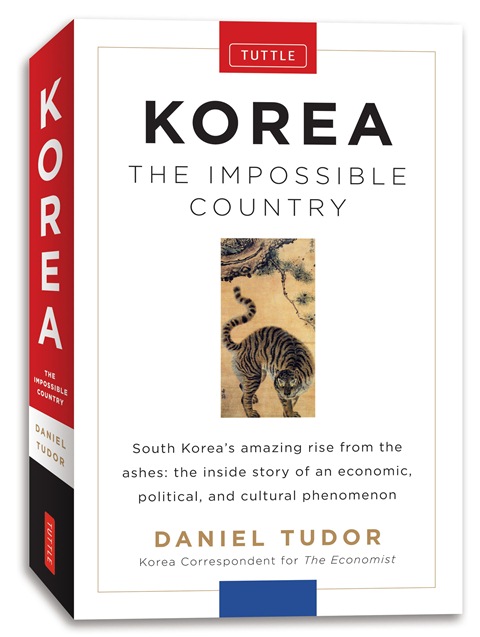 In just 50 years, South Korea has gone from a poor country with little hope for modernization to an economic, political, and cultural phenomenon. In Korea: The Impossible Country, author Daniel Tudor explores its fascinating story and reveals a deep understanding of Korean society.
A small country long overshadowed by neighbouring Japan and China, South Korea has become, in many ways, one of the great success stories of the last several decades. Yet despite the ubiquity of Korean products on the market, South Korea remains largely a mystery to most Westerners, even those with a professed interest in Asian cultures. Despite its financial clout and growing influence in the world of pop culture, South Korea is not only routinely overlooked, it is also often seriously misunderstood. Many misplaced assumptions still exist, oftentimes based on incorrect or outdated stereotypes.
Of course, there are other amazing success stories in Asia in the last 50 years, including Taiwan, Malaysia, and Malaysia's neighbour to the south, Singapore. These countries have all made impressive strides in the post-war decades to become increasingly important players on the world stage. But perhaps none have made such a dramatic turnaround as South Korea. Fifty years ago, South Korea was a poor, war-torn country that pitched unhappily from dictatorship to democracy and back again. It was doubtful to most that South Korea would even survive as a sovereign state. Yet, it has not only survived, it has become a model for stability, democracy, and prosperity to other developing nations in the world.
So why is Korea called here "The Impossible Country"? First, because its people genuinely have achieved what was largely considered impossible. In 1960, South Korea had a per capita GDP of less than US$100, few natural resources, and only the most basic of infrastructures, much of it ravaged by war. The so-called "Miracle on the Han River" saw 30 years of economic growth, however, and lifted the country out of abject poverty. Today, the per capita GDP is around US$30,000, an exponential improvement. The second impossibility was its successful political transformation, moving from a country ruled by a military dictatorship to one led by a stable, democratically elected government. South Korea is a nation which values the rule of law and upholds rights for its citizens, a marked change from the Korea of years past. Truly, what the people of this country have accomplished is incredible.
In another way, however, the country's "impossible" sobriquet has a darker subtext. As the book details in chapters covering social codes, rigid hierarchical realities, and the gruelling work culture, a sense of genuine contentment and satisfaction seems to elude the people of South Korea, a people under immense pressure to not just succeed, but to conform to nigh-impossible standards of education, performance, social reputation, physical appearance, and career progress. Beyond this, a growing infatuation with learning English has caused significant social complications, plastic surgery is startlingly big business in South Korea, and the small country has one of the developed world's highest rates of suicides, a rate that actually quintupled between 1989 and 2009, suggesting that the problem is deepening.
Korea: The Impossible Country is written by Korea-based writer and journalist Daniel Tudor, who serves as the Korea correspondent for The Economist. This 300- page book, though rather text-heavy, nevertheless reads well and provides a highly informative and illuminating look at not only South Korea's history, and the foundation of its remarkable transformation, but also gives an in-depth cultural context for today's Korean society. From the uneasy relationship with North Korea to young Koreans' pursuit of physical perfection to the evolving role of women in a society that, until recently, disallowed them from being even heads of households (South Korea now has its first female president), the book provides a wealth of interesting and educational insights into this sometimes hard-to-understand country.
Recommended for expats and any readers who are keen to learn more about Asian cultures, Korea: The Impossible Country is a well-researched and authoritative window into a country and its people, a society at once fascinating and perplexing to outsiders.
Korea: The Impossible Country, retails for RM72, is published by Tuttle Publishing, and is available at leading bookstores in Malaysia.
Source: The Expat Magazine June 2014
Read more:
What are your thoughts on this article? Let us know by commenting below.No registration needed.



" ExpatGo welcomes and encourages comments, input, and divergent opinions. However, we kindly request that you use suitable language in your comments, and refrain from any sort of personal attack, hate speech, or disparaging rhetoric. Comments not in line with this are subject to removal from the site. "



Comments