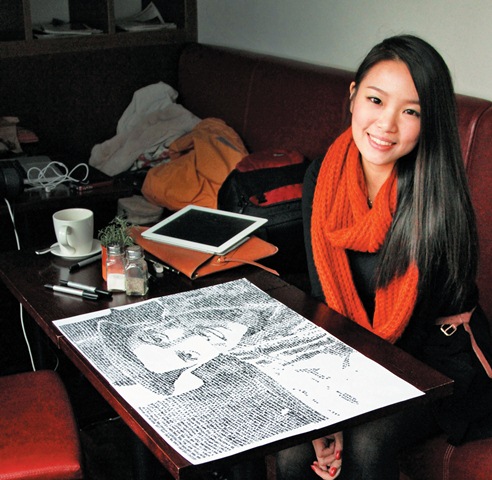 The Malaysian art scene has developed at an impressive rate over the last decade or so, but there is one particular artist who has managed to make a name for herself worldwide. Manveen Maan finds out more about the country's hottest artistic export.
It's not every day that you get to meet someone whose name is a colour (with apologies to Blue Ivy). Intriguingly named Malaysian artist Red Hong Yi is used to questions about her unique moniker. "My name is Hong Yi but I go by the nickname 'Red' because 'Hong' sounds like the word 'red' in Mandarin," she explains.
Early Inspirations
Famed for her unorthodox methods of "painting", Red has gained fans from all over the world for her innovative use of everyday things to create art. Her YouTube videos detailing the creative process of her artworks have garnered millions of hits, and she is known as the artist who 'loves to paint, but not with a paintbrush'. An impressive feat for an architecture graduate who stumbled rather inadvertently into this field.
"After graduating from university in Australia, I took up an offer to work for Australian architecture firm HASSELL in their Shanghai office, and was completely taken with it," she says. "The city' contradicting charms and chaos inspired me to start creating art using local everyday materials as my medium."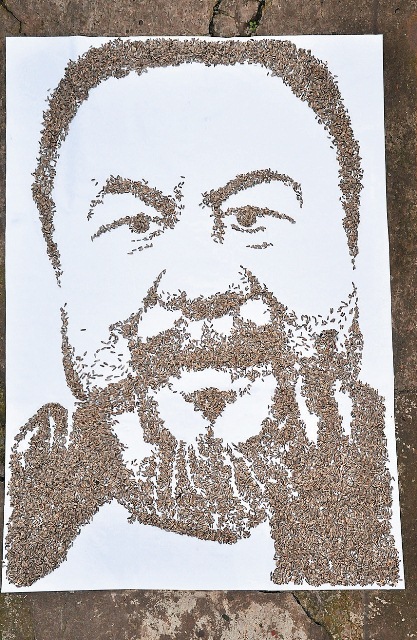 Red's grandparents and father left Shanghai, China in the '60s during the start of the Cultural Revolution and moved to Malaysia where she was born and raised. Growing up, she heard stories about life in China, but never imagined that one day she would find herself in the land of her ancestors. "My grandparents would tell me about China, while my parents made sure I could speak Chinese and knew about our relatives in China," says the 28-year-old.
Her interest in both art and architecture stemmed from a young age. "I've always loved art and building things, and my father works in the building industry so getting into architecture seemed to make sense!" says Red. "As a child, I wanted to become an artist but my parents persuaded me otherwise. I guess being in Shanghai – a whole different environment – inspired me to do things differently. I experimented with a lot of found objects in this city and posted my work online. People started taking notice of my creations, and before long, I had job offers coming in."
Throwing Out The Paintbrush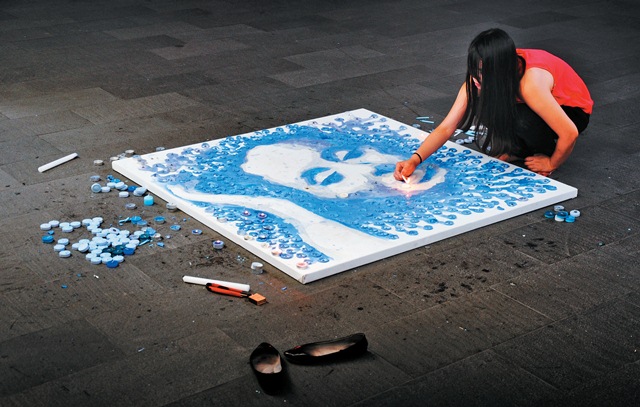 Red's first big project was a depiction of Chinese artist AiWeiWei, using seven kilos of sunflower seeds, as a tribute to his porcelain sunflower seeds installation. "I created it along a little back alley in Shanghai and many people stopped to watch me at work," she recalls with a smile.
Following that, Red decided to expand her creative boundaries and came up with a portrait of Chinese singer Jay Chou, using coffee cup stains – a project that brought her unconventional artwork lots of attention, and propelled her to take on more works that defied orthodox art boundaries. "I think the Jay Chou piece is probably my favourite one, because it was inspired by one of my favourite songs by him. It's called 'Secret' and he sings about drinking a cold cup of coffee. I also like that the piece smells good!" she laughs.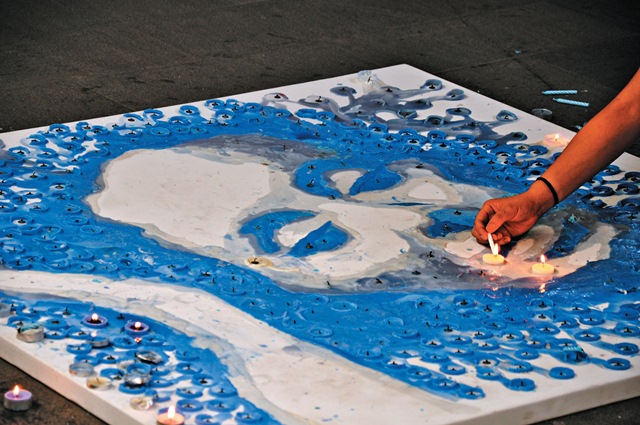 From then on, there was no stopping her. Her portrait of Chinese basketball star Yao Ming, painted with a basketball dipped in red paint, propelled her to YouTube fame, with local and international press falling in love with her talent and innovation. "Even today, sometimes I can't believe all this started out with posting that one video. It's incredible how much has come out of a simple video," she says.
Symbolism plays a huge part when Red visualizes the end product. "I pick a material that is associated to something they do or are known for," she explains. "I usually start by doing a lot of research on a person I want to paint, or I work the other way round where I get inspired by an object, and think about who I can associate the object with."

Naturally, her works include a portrait of badminton player Li ChongWei made out of 1,800 shuttlecock feathers, a portrait of Aung Sang Suu Kyi with dyed carnations, a melted wax portrait of Grammy award winning singer Adele, the face of Facebook founder Mark Zuckerberg using books, and her most recent masterpiece, a Jackie Chan portrait made from bamboo chopsticks. "I actually feel that Aung San Suu Kyi was one of my earliest influences. Mum used to tell me about her as a kid, and I really admire her bravery and love for her people," she states. "With the Jackie Chan portrait, I spent a month collecting 64,000 chopsticks, in Zhejiang and in Beijing. I then tied the chopsticks into different bundle sizes with strings, and hung them from a steel frame. Being able to present the finished portrait at his birthday concert, in front of thousands of people, was truly amazing."
Making Her Mark On The World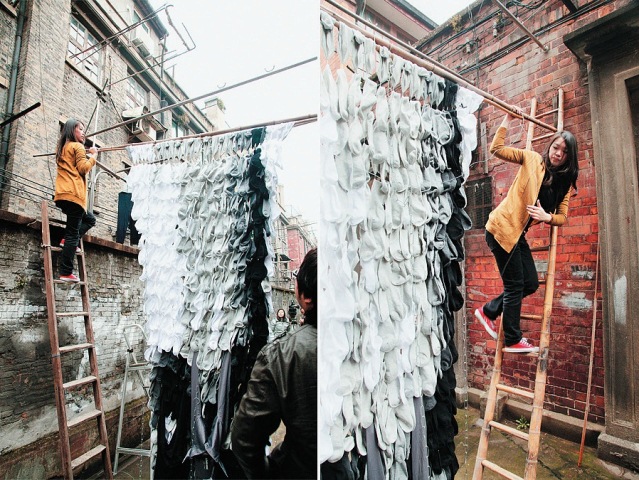 As such a talented artist, Red's works have been featured by media around the world including Huffington Post,Wall Street Journal, ABC, CNN, NBC, and the Daily Mail. Besides her own projects, Red has worked with some big name clients including Hewlett Packard, Unilever, Nespresso, AT&T, and Mercedes-Benz. She was invited as a presenter at the 6th and 7th EG Conferences in Monterey, California, at TEDxkl 2013 in Kuala Lumpur. "Being invited to speak twice at EG Conference in California was a dream come true. TedxKL happened when they asked me to be a presenter, and it was an honour to share my journey with fellow Malaysians on home ground," she says, of the highlights in her life. "Oh, and working with Jackie Chan was unbelievable!"
Besides that, Red has also lectured in design universities Domus Academy and NABA in Milan, opportunities she rates highly, and earned a coveted spot on Esquire Magazine's '12 Brilliant Malaysians' of 2013. "It feels so unreal to be able to represent Malaysia on a world stage," she says. "I sometimes wonder if I am dreaming still. I'm just so thankful and grateful for everything."
And there's no stopping this talented lass. Red emphasizes that she wants to continue to use mundane, ordinary, and often overlooked objects to make beautiful art and through her art and the Internet, and be able to connect people throughout the world. "I want to continue to create interesting work and possibly collaborate with people around the world. I realised at the start of last year that my projects were able to sustain me financially. If I do not do it now, then when?"
Watch Red Hongyi Paint Malaysian Football Stars: Ronaldo, Neymar, and Messi
Watch Red Hongyi at TEDxKL 2013
Syndicated form Senses of Malaysia July/August 2014
Read more:
---
"ExpatGo welcomes and encourages comments, input, and divergent opinions. However, we kindly request that you use suitable language in your comments, and refrain from any sort of personal attack, hate speech, or disparaging rhetoric. Comments not in line with this are subject to removal from the site. "
Comments