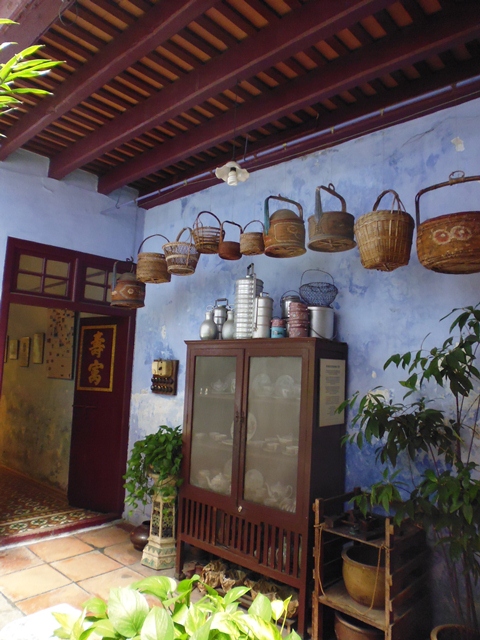 Take a walk with Frances Wilks down one of Penang's most famous heritage streets and find out just how abstract Batik can be, where the Chinese uprising of 1912 was secretly planned, and what a puppet looks like without his clothes on.
Armenian Street is probably the most iconic street in George Town – its four or five hundred yards of length pack in Ernest Zacharevic's bicycle, a great draw for tourist 'selfies', three gorgeous heritage kongis, or clan houses, almost museums in their own right, as well as three actual museums, each reflecting a very different facet of Penang's rich history. All the museums are in residential townhouses (very much akin architecturally to shoplot houses) and offer different takes on the restoration and renovation of heritage George Town. The Batik Museum projects the crisp, clean lines of a gallery on three floors, while the Sun Yat-Sen Museum gives us an insight into a traditional Chinese dwelling. The Teochew Puppet and Opera Museum is much simpler in décor – the lower floor of an old Club house of a clan association – with members still playing mah jong upstairs.
Despite the street's name, it had nothing to do with the Armenian community who were indeed quite prominent in Penang during the nineteenth century. There just happened to be an Armenian family living in a house on the corner of the street, and so quite by chance, it became known as Armenian Street.The Chinese community have always called it Pak Thang Ah Keng, or Coppersmith's Street in Hokkien, because of the many Malay workshops which produced brass and copper ware in days gone by. Indeed this is the heartland of the old Malay quarter of George Town so it's entirely fitting to visit the Batik Painting Museum first as batik is a craft that's closely associated with the Malay archipelago.
Batik Painting – A Malaysian Art Form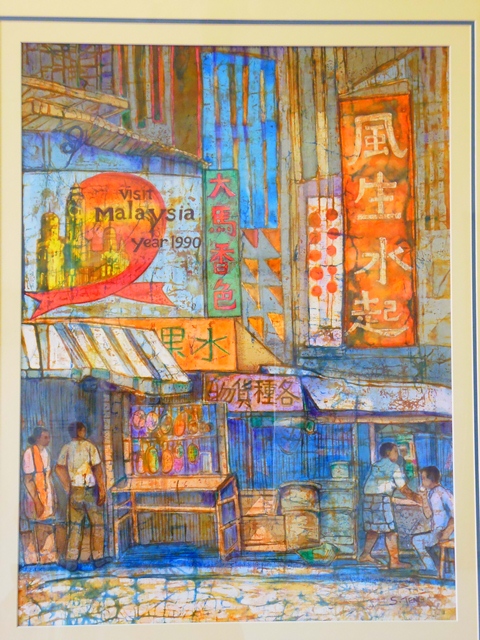 Whilst there are a number of museums that display batik fabrics and designs, the Batik Painting Museum is unique in that it focuses on the use of batik as a fine art form. Batik is a technique has been used for hundreds of years to produce brightly coloured sarongs and other decorative textiles. Using hot wax to outline the pattern, the fabric is repeatedly dyed in different colours to produce complex layers of colour. Unlike paint, which builds up colour in a straightforward way, batik requires the artist to think from the end, and "discover" the colour through repeated washings and dyeing, so making it quite a challenging medium to master. Using traditional tools, Malaysian artists have been producing batik paintings since the 1950s. One of the earliest pioneers, Datuk Chuah Thean Teng, who passed away recently in his 90s, declared "Chinese brush painting is associated with China while watercolour and oil paintings are associated with the west. We can say that batik is the art medium that best represents Malaysia." His work is concerned with Malaysian pastoral scenes, focusing on everyday subjects such chickens and eggs, women combing their hair, food being prepared, or the washing of clothes.
Later artists have used the possibilities of the medium in a different way. Tay Mo-Leong's picture of "Rubber Trees" and workers makes use of the crackling that batik often produces to create a more abstract effect. It's fascinating to see his take on Venice which seems to uncover a secret Oriental undertone to the Italian city. Don't miss Chuah's son's painting entitled "George Town Heritage City" which juxtaposes colour and form to create the noisy, diverse effect of a heritage street. His other son, named Chuah Seow Keng is represented by an expressive picture "Sunrise" which has the limpidity and light of a watercolour. Contemporary batik painting seems to be moving far more towards the abstract in this kind of work. Koay Soo Kan's pair of panoramas are an interesting combination of abstract painting which also draws on traditional Chinese iconography. Foreign artists, such Thai Mohammed Rojana- Udomet, are also part of the display.
Uprising And Rebellion In Penang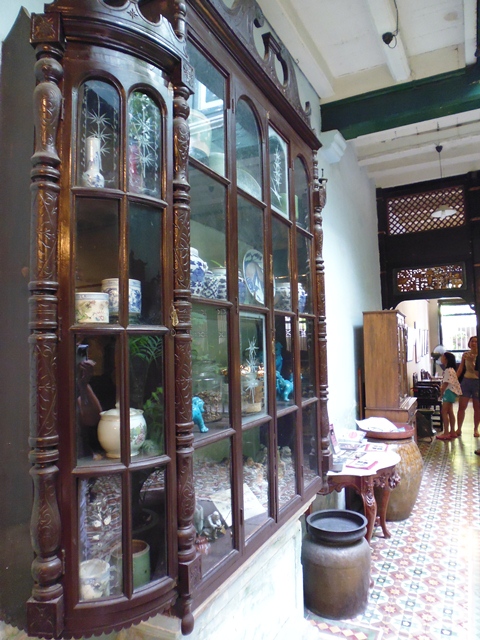 While the Batik Painting Museum looks at work from six decades, the Sun Yat-Sen Museum is firmly anchored in the Penang of 1910 when Dr Sun Yat-Sen, the leader of the Chinese Nationalist Revolution lived in 120 Armenian Street for four months. He moved the South-East Asian headquarters of his revolutionary party, the Tongmenghui, to Penang because there was local support from the overseas Chinese community here. The momentous Penang Meeting was held in this house in 1910 which led to the Canton Uprising of 1911 which in turn led to the overthrow of the Qing Dynasty and the birth of modern China in 1912.
Although this piece of the Penang Story is fascinating, it is perhaps even more interesting to see the inside of an old residential townhouse, dating from the 1880s, more or less as it would have been lived in. A carved gilded screen provides a distinction between public and private space. Trees grow in central courtyard wells, creating a feeling of an inner garden space. There is also a wonderful Nyonya kitchen with all the culinary implements that would have been available to the cooks of those days. The red spiral timber staircase is authentic as is much of the furniture, including the blackwood Straits Chinese settles and round marble tables. From 1926, the house was owned by a Hokkien merchant, Ch'ng Teong Swee. His granddaughter, the writer and heritage advocate, Khoo Salma Nasution, is the custodian of the house today.
Puppetry And Opera From The Teo Chew Community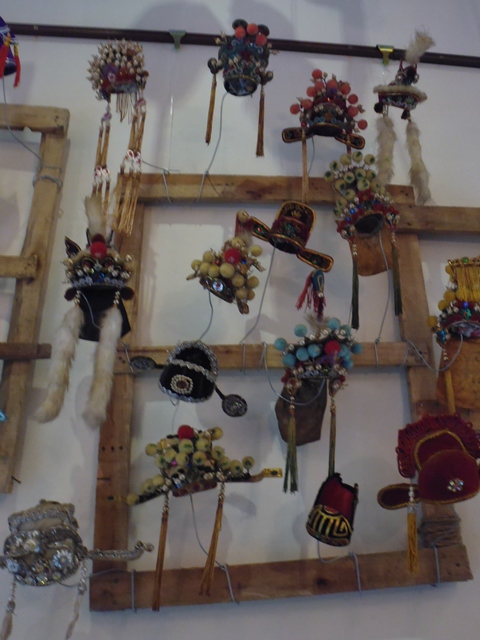 The recently opened Teochew Puppet and Opera Museum is the brainchild of another Chinese woman – Ling Goh, a fourth generation puppeteer and Teochew opera performer. The Teochews are a smaller ethnic group than the Hokkeins, and brought their traditional arts with them from Canton province when they migrated to Penang.You can see both puppets in all stages of robing here, giving an insight into how they are constructed. The head, limbs, breasts, and shoes are all detachable. When you want to change a character's clothes, you just move the head to a new body, which means you can change a scene very fast.
Chew Cher-Yang, who shows visitors round, explained the archetypal nature of Teochew drama. "Beards are often a shorthand for a character's personality traits such as curly and woolly for a rough bad person, red for a barbarian, smooth and white for a scholar. Usually a drama will contain a villain, with a fierce face, a wise man with a long beard, and a clown with a painted face and the audience will be able to read who is who, despite their outward role in life."
The puppets are iron rod puppets which are more lively than either marionettes or hand puppets. Indeed a skilled puppeteer can make them turn somersaults. It is said by lovers of puppet theatre that the gods themselves (to whom the performances are really directed although a human audience is always welcome) prefer the iron rod puppets especially for their expressiveness. Although women weren't allowed to perform in puppet dramas in the past, it's interesting to note that there are many powerful women characters, such as female emperors and generals. You can also see the musical instruments the performers used and a shrine to the three gods of the stage – triplets – whose blessing will create a fine performance.
After a marathon of three museums, it's time for refreshment. There's ample choice, including the Malay-themed food of Jawi House, the more international fare of Edelweiss, as well as innumerable coffee shops.https://www.expatgo.com/my/article/620/gain-skills-and-learn-culture-in-malaysia
The Batik Painting Museum
19 Armenian Street, George Town, 10200 Penang.
Open daily 10 am– 5 pm.
www.facebook.com/batikpg
The Sun Yat-Sen Museum
120 Armenian Street,
George Town, 10200 Penang.
Open daily 9 am – 5 pm.
www.sunyatsenpenang.com
The Teochew Puppet and Opera Museum
122 Armenian Street, George Town, 10200 Penang.
Open daily (except Mondays) 9 am – 5 pm.
Source: Senses of Malaysia July/August 2014
Read more:
What are your thoughts on this article? Let us know by commenting below.No registration needed.
---
"ExpatGo welcomes and encourages comments, input, and divergent opinions. However, we kindly request that you use suitable language in your comments, and refrain from any sort of personal attack, hate speech, or disparaging rhetoric. Comments not in line with this are subject to removal from the site. "
Comments