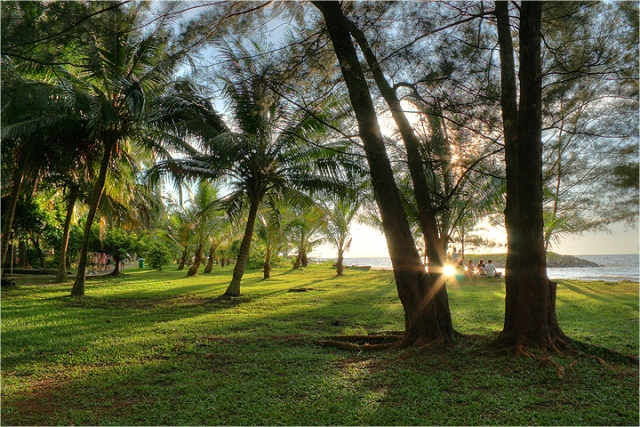 Though a Malaysian native, assistant editor Manveen Maan has spent much of her life overseas, and upon return to her home country, felt much the same as any other expat as she soaked up the unique and occasionally bizarre Malaysian experience.
The title of this column is terribly clichéd (way to make an impression, I know) but it sums up my time here perfectly. Although Malaysian by birth, my formative years in Kuala Lumpur were confined to the schoolyard where the pinnacle of decision-making revolved around lunchtime choices and sleepover timetables – skills that don't currently come in handy unless I somehow regress to a childlike state. After a decade abroad (and much deliberation), I decided to take the road less travelled and packed my bags for a return three years ago from Australia back to the land I always referred to as home. Easily done, right? My passport is emblazoned with MALAYSIA after all.
Labelling the experience as "reverse culture shock" is probably a slight understatement. Crossing the street was akin to ninja training, manoeuvring your way past drivers, and dodging motorcyclists while hanging on to your valuables. Changing your order or asking for specific dietary requirements in a restaurant was like a Middle Eastern peace negotiation talk – in the end you settle for a lot less than you intended. The infamous "Wait, ah" instruction followed by a good 20 minutes of automated messaging before someone in charge (who is unlikely to solve your problem anyway) picks up the phone. And of course, the ubiquitous "Still not married?" from everyone including the gardener, my neighbour's mother, my local nasi lemak vendor, and the Indian auntie network, ever ready with a "nice boy's phone number" for me. Malaysia is not for the faint-hearted, that's for sure!
Adjusting to life in any new country requires a supportive network, a vat of patience and the tenacity to outsmart tricky (and sometimes dodgy) systems – all of which I thankfully picked up along the way. Day in and out, my wonderful colleagues welcomed my traffic-weary self with a cup of coffee (and later tea when my caffeine intake became too frighteningly high), friends waited patiently with me while someone else's order was taken before mine (despite us being there first), and people taught me the best places to park in Bangsar's Telawi area without getting a ticket (even during Friday prayers). I think it's safe to say I'm definitely better off possessing these skills now.
It's often said that moving to a new country takes a lot of guts. I realize we're not finding the cure for cancer here, but uprooting from a comfortable life and leaving all that's familiar behind is no walk in the park either. However, the sense of accomplishment gained from being able to survive, and ultimately thrive, in a completely different environment is priceless. I daresay I'm more Malaysian now than I ever was before, and really, I can only thank Malaysia herself for it.
My driving skills have improved (or worsened, depending on what country you're originally from), my ability to strike a bargain has a new record time (be prepared to walk away is the best advice I can give), and my capacity to talk my way out of a ticket has improved vastly – although this could be attributed to both my gender and the enhanced fluency of my Bahasa Malaysia language skills. My knowledge of the regional political landscape has skyrocketed (nothing Malaysians love more than a heated political discussion), my hankering for street grub is now insatiable, and there's always a Ladies Night somewhere in Greater KL any day of the week. Cheers to that!
But just as I eased into the familiarity of it all, the penny dropped – I was comfortable. So the wanderlust-er within decided it was time to take on new challenges and experience the world before the boundaries of my comfort zone became more permanent than porous.
We often ask expats what advice they have for newly arrived ones. Mine would be to soak it all up – every experience here is bound to be a memorable one in Malaysia, and your understanding, appreciation, and respect for the life and culture here is bound to grow exponentially. During my time, I have had more highs than lows, met the most amazing people, visited the most beautiful places, and eaten the most delicious food. Malaysia truly is a multi-faceted nation, and we are indeed blessed to live in such a diverse and peaceful land. Some of my fondest experiences have been rediscovering the nation's history in Melaka and Penang, sampling delectable cuisine at the persuasion of warm and friendly locals, and revelling in the glorious nature of the Borneo rainforest and East Coast islands. Needless to say, my stint here would not have been half as incredible without the remarkable people I've met and worked with along the way.
As I embark on my travels to the other side of the globe, I'm reminded of this quote by Michelangelo: "The greatest danger for most of us is not that we aim too high and we miss it, but we aim too low and reach it."
Challenge accepted.
Source: The Expat Magazine July 2014
Read more:
What are your thoughts on this article? Let us know by commenting below.No registration needed.
---
"ExpatGo welcomes and encourages comments, input, and divergent opinions. However, we kindly request that you use suitable language in your comments, and refrain from any sort of personal attack, hate speech, or disparaging rhetoric. Comments not in line with this are subject to removal from the site. "
Comments