1. Waking Up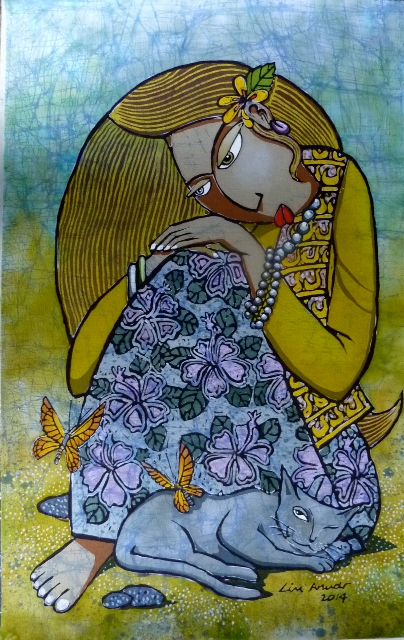 2. Stealing Fish
3. Dancing Together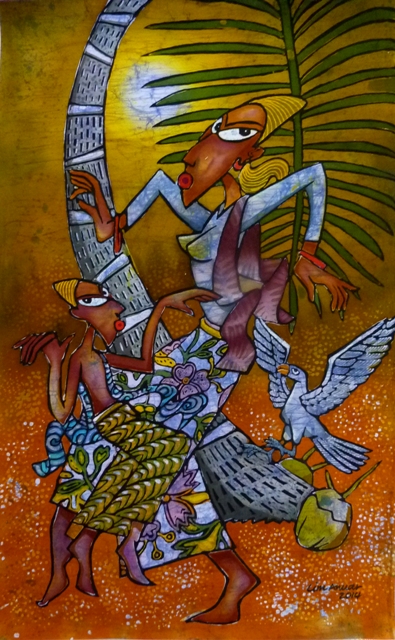 4. Working Ladies

5. One World, One Family
6. One World, One Peace
About the Artist
I had looked forward to meeting Mr. Lim Anuar after weeks of emailing with him and speaking on the phone with his sign language interpreter, Ms. Caroline Chin. Anuar was born deaf and mute, so Caroline is a near-constant presence with him, assisting him to communicate with others. I'd already seen much of his art portfolio online and thought his range was very diverse, demonstrating a mature, skilled talent. I was particularly impressed with his willingness to learn the uniquely Malaysian traditional batik art form and his obvious mastery of this difficult hot waxing technique. But more than that, I was intrigued to meet him because in spite of having serious physical disabilities, he has always succeeded; not just in handling the challenges throughout his life, but continually striving to excel at the highest levels of the non-disabled.
Malaysia is a developing country still trying to set up even minimal measures to enable the physically challenged to live as full a life as possible. Unlike Western countries, you will rarely see sign language interpreters anywhere. Indeed, most people with physical limitations have to stay at home since accessing infrastructure is so difficult, or perhaps their families and they themselves are ashamed of how they look, so it's highly unusual for the greater public here to see people like Anuar, with obvious impairments, as manifested by his need to have a sign language interpreter.
I know only too well how Anuar must have struggled with all sorts of things most people take for granted, never mind having to add on the sad reality here when someone looks "different." I too, look different owing to my own disability, so I understand Anuar's struggles, even though they are of course different from my own. He is shunned by many, but I believe it is just mostly because most people here are not used to seeing disabled people integrated into society.
Yet, in spite of the myriad obstacles in his life, Anuar managed to earn a B.A. degree in Interior Architecture from Limkokwing University. Afterwards, he worked for 25 years at various companies designing, drawing, and painting in conceptual design. It was during those years that he set his three primary life goals: become a lecturer in art and design for the deaf, become an art consultant and manage an art centre for the deaf, and lastly to be a professional full-time artist at the
international level.
To that end, he enrolled in a Masters Degree in Visual Arts programme at University Malaya, which he expects to complete late this year. After becoming a full-time artist in 2011, he received the Gold Medal in Silk Painting in Seoul, Korea and has participated in group exhibitions. winning top awards in Japan, Perth, and Miami, as well as here in Malaysia. His three goals will be fully attained soon, of that I have no doubt.
"After my first solo exhibition in Penang in August 2013, I was privileged to be introduced to Dato' Tay Mo-Leong, one of the finest batik master artists in Malaysia. Upon seeing my artwork, he was impressed and agreed to accept me under his tutelage. That marked the changing phase of my career as an artist, as well as of my art itself. I was indeed very thankful and felt fortunate to be guided by Dato' Tay, as the two other batik master artists in Malaysia [Datuk Khalil Ibrahim and Datuk Chuah Thean Teng] are in poor health or have passed away," he told me.
Indeed he credits Dato' Tay with being able to add a new level of maturity to his artwork. "With the new knowledge I learned from him, coupled with my growing up in a small kampung in Penang and my vast technical experience, I developed and strengthened my own identity through my artwork," he remarked.
He ultimately wants people to see past his disability and "to recognise me as a professional artist first, and then notice I can't hear or speak." His disabilities do not define him, thankfully, and I think they actually add to his deep scope of character and wisdom. He's a shining role model for Malaysians, whether disabled and not.
Anuar has saved about 10 paintings from his 2nd Solo Exhibition in May, fittingly called "The Turning Point," held in Penang, for this issue of The Expat. All the paintings displayed here are available for sale. If you are interested in purchasing any of these paintings, please email me at marybeth@ theexpatgroup.com.
Each painting is done using the batik method, a painstaking and complex procedure requiring hot wax to dry multiple times whilst applying colour pigments in a meticulous manner. Anuar tells me that his subject matter has always been connected to his vivid memories of growing up in the small rural kampungs in Tanjung Bungoh, Penang, which sadly no longer exist. The breathtaking indigenous flora and fauna that once existed there in abundance has now given way to property development.
Anuar is determined to recreate the vivid and what he calls the "lively spirit" it gave the people living there and to share it with the generations to come. To capture his vision of all Malaysians as one people living together in harmony themselves as well as with the environment, he creates symbols of great meaning to other ethnicities into his work. For example, "One World, One Family" has three elements within it: the Koi fish in the pond indicate Chinese culture, the Indian and Malay villagers walking together to work, and the doves in the sky which symbolise heaven and the supreme peace all Malaysians long for. All in all, a stunning and meaningful piece of art. We certainly wish Lim Anuar continued success on his journey of a remarkable life.
Source: The Expat Magazine July 2014
Read more:
What are your thoughts on this article? Let us know by commenting below.No registration needed.
---
"ExpatGo welcomes and encourages comments, input, and divergent opinions. However, we kindly request that you use suitable language in your comments, and refrain from any sort of personal attack, hate speech, or disparaging rhetoric. Comments not in line with this are subject to removal from the site. "
Comments