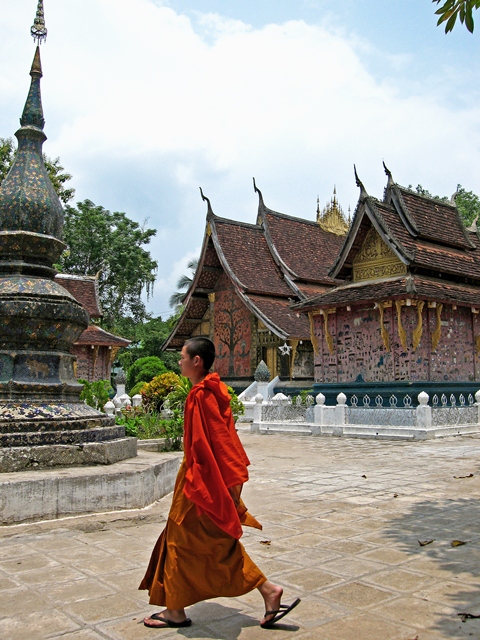 Enjoyed by travellers as one of the most laidback and unintimidating capitals in Southeast Asia, Luang Prabang is a must-visit destination for anyone considering a trip to the captivating country of Laos.
For travellers, historians and archaeologists, the Peoples' Democratic Republic of Lao (Lao PDR or Laos) remains one of the region's most fascinating destinations. Its former royal capital of Luang Prabang, located at the confluence of the Khan and Mekong Rivers, is the country's most alluring destination. The architecture of Luang Prabang's historic centre is a fascinating blend of local and European styles and fortunately much of it has been retained. French colonial influences and the local cultural heritage combine to offer a very stylish town with complex traditions and contemporary sophistication.
World Heritage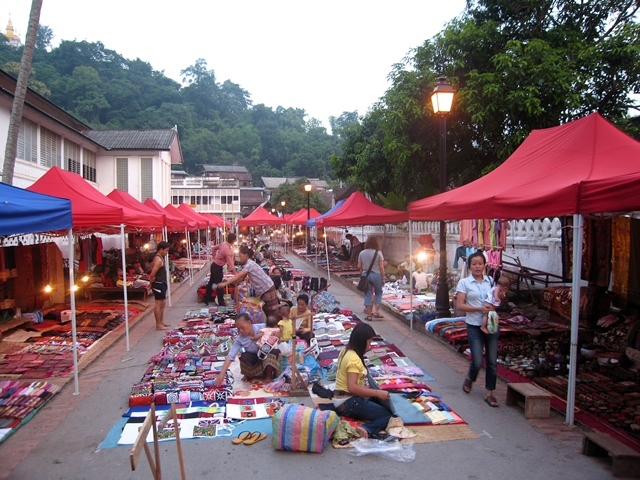 With its ancient Buddhist temples and continued adherence to local traditions, Luang Prabang became the centre of Lao culture. Acknowledging its importance to the world, the town was designated a UNESCO World Heritage Site in 1995. Parts of the old town have since seen the benefit of a detailed restorative effort to protect the urban streetscape.
The World Heritage protection has worked for and against Luang Prabang. It is now no longer a sleepy backwater visited by adventurous travellers. Yet despite it now being a popular destination on many travellers' tour of Indochina, the influx of tourists, the opening of dozens of restaurants, bars, and smart boutique hotels, Luang Prabang still manages to retain much of its grace and charm.
One of the great attractions of the old town is that it is easy to explore on foot or by bicycle. During the cooler months (November to February) the climate is pleasant and the mornings are crisp and cool. Rise early and witness the age-old tradition of scores of Buddhist monks, resplendent in their orange robes collecting alms from the faithful. Climb the stairs to the top of Phousi Hill for panoramic views of golden chedis, shimmering temple roofs, the Mekong River, and mountains covered in mist.
Temple Town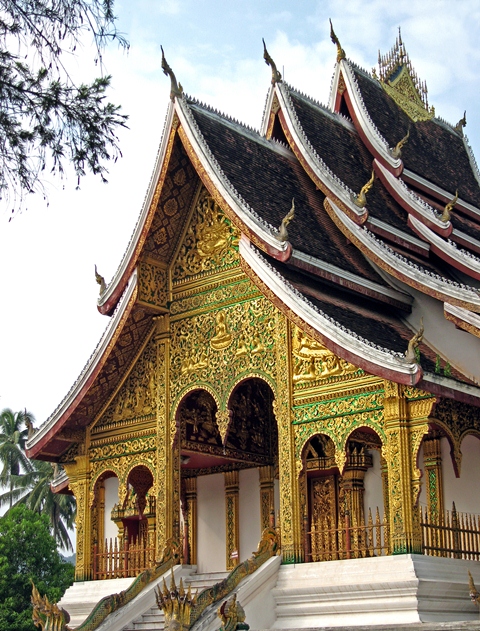 The town has over 30 ancient temples, with the most magnificent being Wat Xieng Thong. The oldest structure in this temple compound dates back to 1560 and there are numerous displays of colourful mosaics, detailed architectural features and beautiful gold-stenciled artwork.
Many of the temples share a similarity in design with those in northern Thailand as the two regions were once part of the same kingdom. Low sweeping roof lines and intricate design set Luang Prabang temples apart from many others in the region.
Mighty Mekong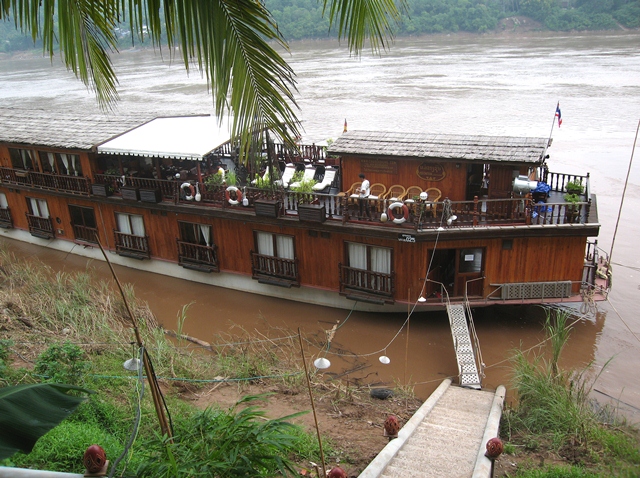 Teak-hulled boats from China, Thailand, and upriver Laos unload their cargo and await a fresh consignment before continuing either back upstream or further downstream along the mighty Mekong River. Known locally as the Mae Kong or 'mother river' it is vital for the people living in the region. The 4,880km-long river is used by adventurous travellers and for exploring sights such as Pak Ou Caves. Two hours upstream, these two cavernous limestone caves are located in a steep cliff face that rises from where the Mekong and the Nam Ou Rivers come together. The craggy mountain scenery is impressive and the strenuous climb to see dozens of Buddha images enshrined here is worth the effort. Tour boats often stop at the former pottery village of Ban Xian Hai which is now better known for distilling the infamous rice whisky so popular with locals.
Pleasure Palaces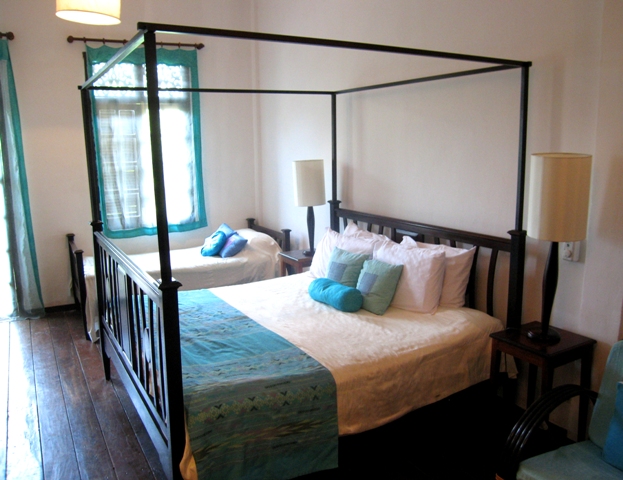 Good accommodation is abundant in Luang Prabang and quite cheap for the high standards offered. Budget accommodation can be obtained for as low as US$15 in some good guesthouses in the historic parts of the town.
Move up a little more upmarket and there are some unique boutique properties. A popular choice with design-conscious travellers is The Apsara (www.theapsara.com) described as the chicest place in town. The Apsara offers two locations with the original one in the old town being home to a handful of spacious rooms decorated with local hill tribe textiles, four-poster beds and period furniture. Corridors and rooms feature purple glass Buddhas and colourful hanging lights. The downstairs bar, restaurant and lounge are some of the town's most desirable outlets.
International hospitality group Accor has just announced their management of two exciting new properties in the town. They have just taken over the Hotel de La Paix which, after renovations to be completed within 12 months will be re-branded as the Sofitel Luang Prabang. With just 23 rooms, restaurant, bar, pool, and cooking school, the new Sofitel will offer refined hospitality. The well-established 3 Nagas Hotel will become the MGallery 3 Nagas after an extensive refurbishment to be completed by mid-2015.
Dining Delights
Many travellers come to Luang Prabang to simply chill out. For such people, taking time over coffee, visiting souvenir shops, and dining are as important as seeing the sights. Luang Prabang's cuisine is distinctive and different from other Lao food and has more in common with northern Thailand than elsewhere. Rich in vegetables, the soups and curries are a healthy choice for diners.
Although the growth in tourism has brought with it a more universal selection of restaurants serving various international cuisines, the local food is what attracts most visitors.
The restaurant at The Apsara serves an excellent selection of local and Western favourites. Elephant Blanc in the Maison Souvannaphoum Hotel has a delightful open-sided poolside setting. Both the Lao and Western dishes are innovative and the surroundings are very refined – try keng som pa or sour fish soup with its subtle lemongrass flavour.
In the not too distant past Luang Prabang nodded off by nine in the evening but today with the influx of cafés, bars, and restaurants there's a little more life but things tend to be subdued. The evening markets provide a good distraction for those seeking quality souvenirs.
Clustered around Thanon Sisvangvong and pushed up against the Mekong, Luang Prabang's bars and restaurants offer alfresco dining in the pleasantly balmy climate. Other restaurants and cafés to visit include Joma Bakery Café, Café de Laos, Saffron, 3 Nagas Restaurant and Tam Nak Lao plus several restaurants like the Riverside Restaurant overlooking the Mekong River for great sunset views.
The royal city of Luang Prabang may have awoken from its slumber but it still offers the opportunity to get a glimpse of a part of Southeast Asia that has changed little over time.
Travel Essentials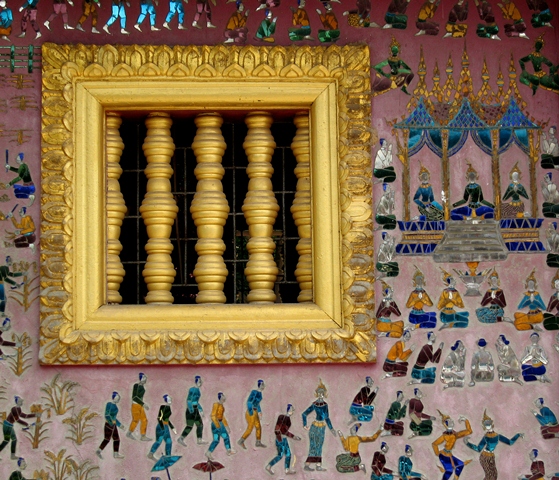 Arriving:
Arrive by air, land or river. Like many isolated destinations, arriving by air involves a little adventure and time. Fly from Kuala Lumpur to Luang Prabang on Bangkok Airways (www.bangkokair.com) and stops in Koh Samui and Bangkok offer the interesting possibility of a multi-destination holiday. There are also flights to and from Vientiane, Siem Reap, Chiang Mai, and Hanoi and Ho Chi Minh City. The main river access is at the Huay Xai (Laos)/Chiang Khang (Thailand) crossing for boats travelling along the Mekong to Luang Prabang. It normally takes two days with an overnight stop at Pak Beng.
Timing:
The best time to visit is the cool season from November to February. The hot season from March to May is best avoided, although Luang Prabang is a mountainous destination where elevation helps moderate the heat. December, January, and August are peak months when it's harder to get rooms.
Visas:
ASEAN passport holders don't require a visa. Most other nationalities can get 30-day visas upon arrival. This requires two passport photos and US$30, although the rate varies for some nationalities.
Money:
The local currency is kip, but Thai baht and US dollars are accepted in most places.
Contact:
Lao Tourism (www.tourismlaos.gov).
Homepage Highlight Photo credit: el_floz / Foter / CC BY-NC-SA
Source: The Expat Magazine August 2014
Read more:
What are your thoughts on this article? Let us know by commenting below.No registration needed.
---
"ExpatGo welcomes and encourages comments, input, and divergent opinions. However, we kindly request that you use suitable language in your comments, and refrain from any sort of personal attack, hate speech, or disparaging rhetoric. Comments not in line with this are subject to removal from the site. "
Comments