Nostalgia Series
1. Nostalgia Penang

2. Nostalgia Malacca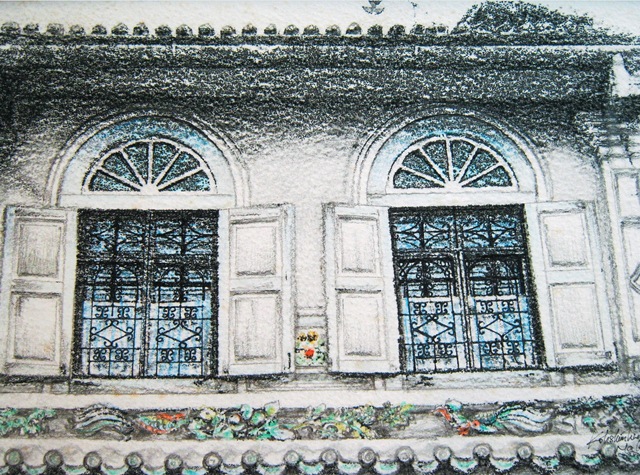 3. Nostalgia Penang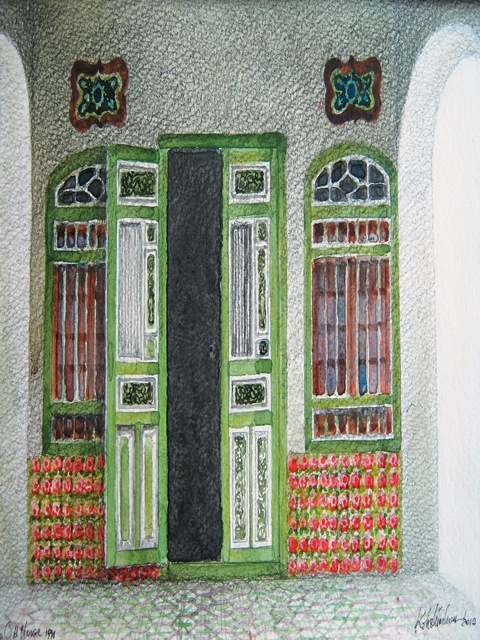 4. Nostalgia Malacca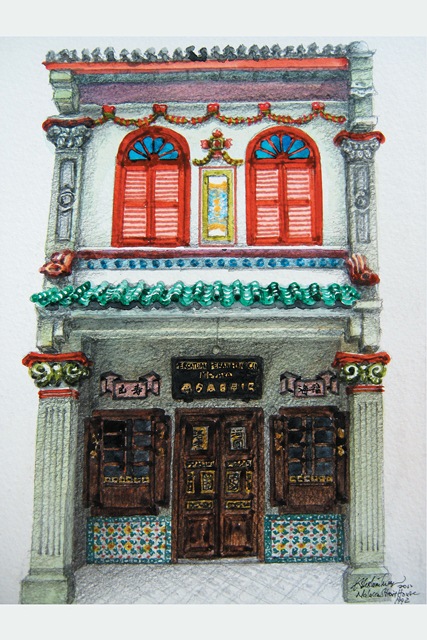 5. Nostalgia Malacca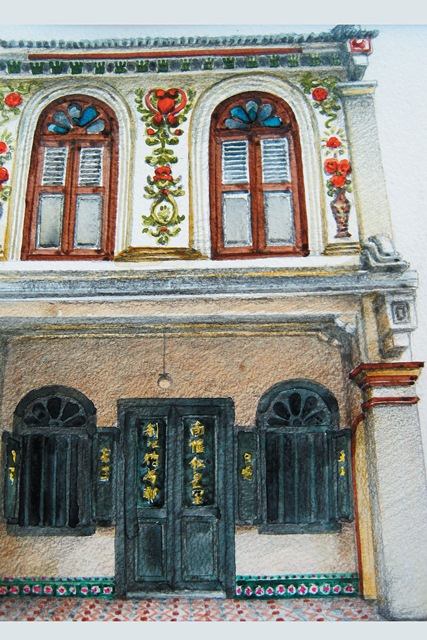 Kampung Series
6. Kampung Melody 1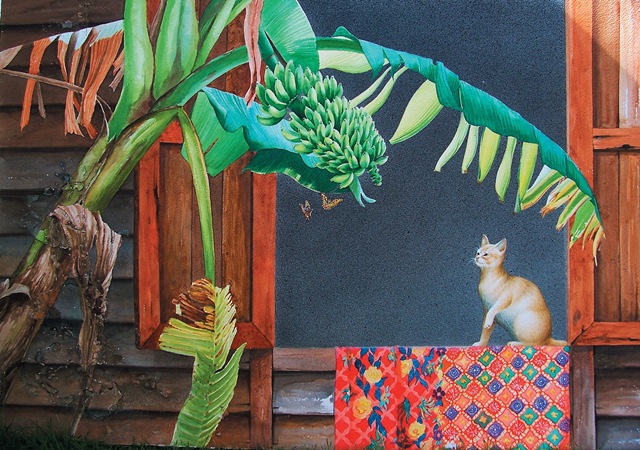 7. Kampung Melody 7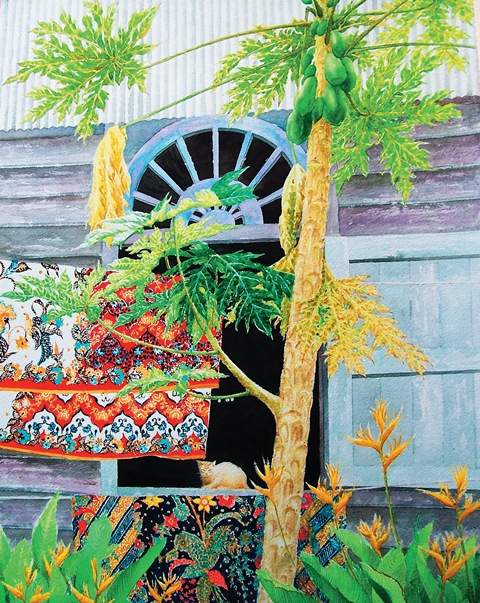 8. Kampung Melody 3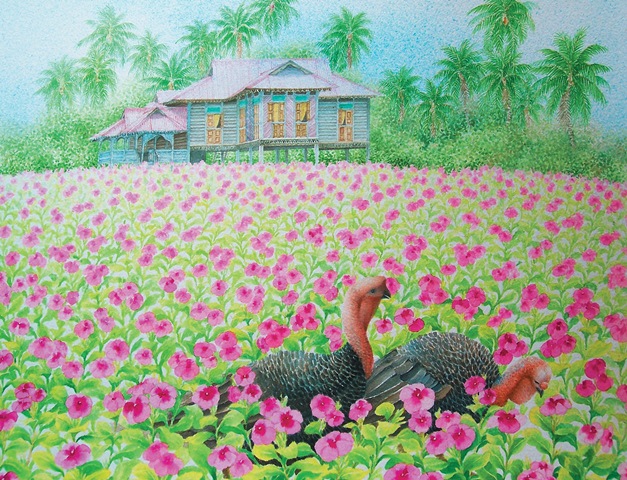 About the Artist
Shim Luen was born and raised in a village in Perak. At the time, in the 1960s and '70s, her kampung had dozens of beautiful Malay houses built under countless coconut trees, a pastoral environment that appealed to her, and inspired her, as well. She tells me it was then she fell in love with their architecture. Blessed with an innate talent for drawing, sketching, and painting in several media, Shim Luen knew she wanted to be an artist from a very young age. Her father was an artist and her mother a gifted writer, and she credits them with encouraging her to go with her passions and to pursue her artistic talents.
The paintings we are showcasing here are from her recent solo exhibition called "Nostalgia."
She decided to use five different media to produce them: pencil, coloured pencil, watercolour, inks, and charcoal – "mixed media" indeed. She completed over 100 pieces of these historically accurate paintings complete with write-ups on their history and background. The paintings are based on buildings from two Straits cities in Malaysia, Penang and Melaka. They are each A4 size, just the size of a standard sheet of paper.
Shim Luen used a combination of her skills as an acrylic and watercolour painter to produce these miniature treasures and they do indeed invoke deep feelings of nostalgia for Malaysia's colonial past. She has won awards and acclaim for her accuracy of detail, not only in the painstaking measurements of each building but their original colours, as well. In 2003 she held a solo exhibition entitled "Kampung Melody," which garnered wide praise and accolades.
In the mid-1980s, she moved to Penang to complete her degree in fine art at Universiti Sains Malaysia and came across the Straits Buildings in the town centre. She started to record them by expertly sketching them and photographing them. Then she travelled to Melaka and sketched the historical buildings there. She had found her niche and passion.
In 2012, she became a full-time professional artist and began to paint all the historical buildings she had spent three decades sketching and photographing. "I feel a strong desire to paint these buildings so as to preserve this special legacy of Malaysian history," she tells me. "I especially wanted to be true to the amazing detail the original buildings were constructed with, and by doing so, to have a permanent record of an amazing part of two of Malaysia's major cities, Penang and Melaka, and their colonial past.
"My philosophy of life is quite simple: to live happily, we must shower ourselves with the beauty all around us, and in the art that so many talented artists before me have produced in an effort to preserve Malaysia's vibrant past. For me, painting is my form of spiritual contentment."
The exquisite attention to detail in each of her paintings and her immense creativity at combining media and colours speak volumes to me, and underscores her talent and skill. And all of us, whether Malaysian or expat, should be grateful to her for allowing us to see what parts of this country looked like in the 18th and 19th
centuries.
If you are interested in purchasing any of these paintings, they each come with a historical background document and are priced to be affordable to all. Please contact me at [email protected] for further information.
Shim Luen has planned three exhibitions to showcase these hundred paintings. One was held in July and the other two will be held in October and December.
Source: The Expat Magazine August 2014
Read more:
What are your thoughts on this article? Let us know by commenting below. No registration needed.
---
"ExpatGo welcomes and encourages comments, input, and divergent opinions. However, we kindly request that you use suitable language in your comments, and refrain from any sort of personal attack, hate speech, or disparaging rhetoric. Comments not in line with this are subject to removal from the site. "
Comments