This post is brought to you by Jadi Batek Gallery.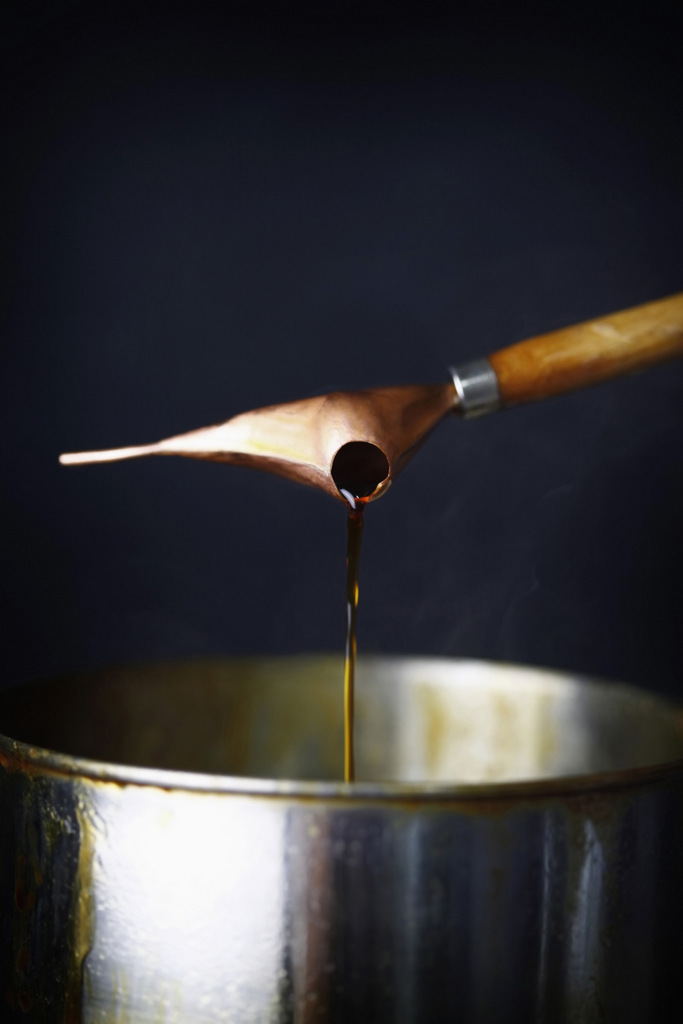 If you don't already know this, batik is a type of technique one uses to draw elaborate patterns using wax on a piece of cloth. Although batik is well-known in Malaysia, countries such as Nigeria, China, India, the Philippines, Sri Lanka and Indonesia are also known to produce and sell batik. The word "batik" is Javanese in origin. Batik did not originate in Malaysia; in fact, the technique was introduced to Malaysia (then Malaya) in the 1920s, when Javanese batik makers migrated to the east coast of Malaysia.
The translation for batik is "writing in wax." To do this, one will use a canting or a spouted, pen-like tool to draw dots and lines on a cloth with hot wax. The wax acts as a dye-resist, so that once the cloth is dipped in dye, only the desired area will be coloured. Once dry, another section of wax is removed (either by scraping or boiling in hot water) and dipped in dye again. This process is repeated until the entire cloth is coloured. This somewhat differs from the Malaysian style of making batik. In Malaysia, batik makers or artist rely more on a brush painting method instead of dipping in dye to apply the colours onto the cloth. The Malaysian style of batik is also famous for its geometrical designs and uses more leaves and flower designs instead of animals or human forms.
So, as you can see, batik is more than just "patterns on fabrics."
Batik is commonly found in Malaysia, but what exactly can you do with it? The below five reasons might interest you.
1. Learn the Secrets Behind Batik Making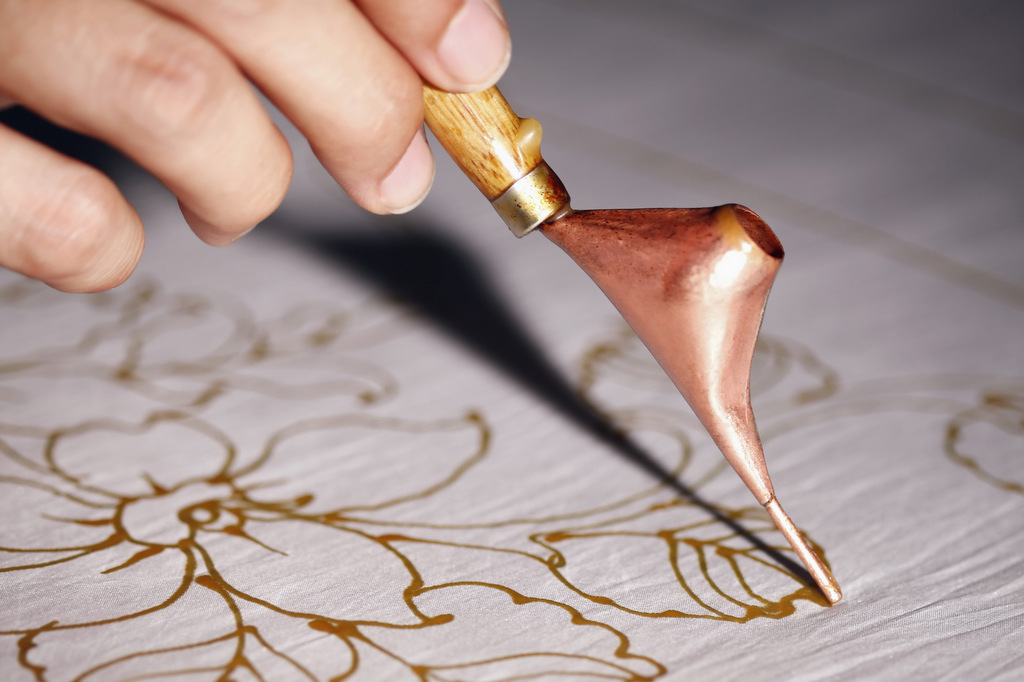 Visit a Batik Workshop to watch batik artists as they produce their work of art. Jadi Batek, one of the largest batik and handicrafts center in Kuala Lumpur has a batik workshop which can accommodate 12 production lines. The workshop produces up to 3000 meters of batik a month. The Jadi Batek Gallery is one of the few places in Malaysia where the process of making batik is disclosed to visitors. Visitors are free to observe the full-time batik artist as they turn a piece of cloth into an exquisite piece of batik. The in-house guides at the gallery will explain the entire process to visitors who are interested to know the process.
2. Join a Batik Making Class
Watching batik artist making pieces of art is alright, but wouldn't it be better to create your own batik pieces? Jadi Batek conducts classes to teach those interested in the art of batik making. The classes are available every day and are priced at RM50 (Batik Drawing Experience), RM150 (Make Your Own Batik Pareo) and RM90 (Make Your Own Batik Scarf) per person. All the necessary equipment such as cloth, canting, wax, colour and brushes are provided. There will also be a batik artist to guide you along the way. After your class, the helpful people at the gallery will dry your batik, fix the colour and remove the wax for you. All you have to is come back the day after to collect your masterpiece, which will be given to you framed in a paper frame with plastic. You can make your bookings (for the class) up to two hours in advance by calling 03 2145 1133. This is also a great activity to organise for a bonding session between kids and parents, friends and as team building exercise, as it's both fun and interactive. This is also a great cultural experience, and, as an expat in Malaysia, you should try your hand at this art form. Who knows, you might just create a really cool t-shirt or scarf you can use again and again.
3. Send Gifts or Collect Souvenirs
We've all been there before, stuck for gift ideas. Unless you want to buy another t-shirt, tie or bracelet, why not buy something made out of batik? Its timeless, will never go out of style, and is a unique gift for someone not accustomed to it, especially an expat new in Malaysia. Batik can be found in many forms, and you can choose to buy a batik shawl, skirt, bag and even a shirt, something one can wear for most formal functions in Malaysia. Just so you know, the Malaysian government is endorsing the Malaysian batik as a national dress code, and many Malaysian designers have come up with creative and new batik designs reflecting Malaysia in their latest collections. Also, buying an expensive piece of batik cloth and then framing it up before presenting it as a gift is a good gift idea. Who knows? It might be worth a lot more in the future. Giving away small pieces of batik handicrafts as souvenirs at functions and parties is a great way to be more creative as it is something unique. Like at media events. Do you really want another 200MB thumb drive or notebook? Well, maybe if it is covered in a cool batik design.
4. Decorate Your Home and Accessories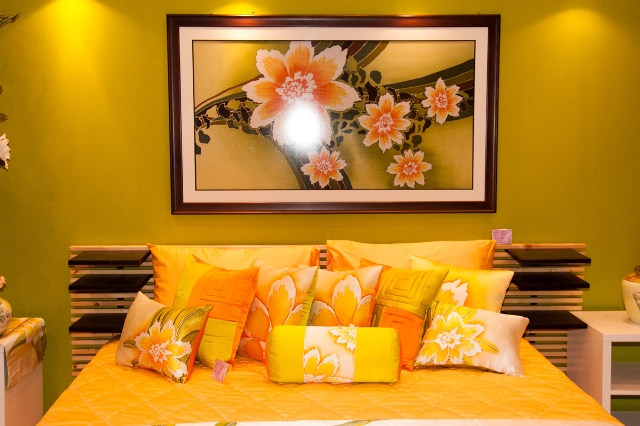 Batik designs can be found on a variety of items, not just silk shirts, tops and skirts. It can also be used as decoration. Many households, especially those who appreciate the art form, can be found with framed pictures of expensive pieces of batik-designed cloths. There are also batik designs on pen, table cloths, photo frames, book covers, bags, notebooks, bottle warmers and more.
5. Expand Your Wardrobe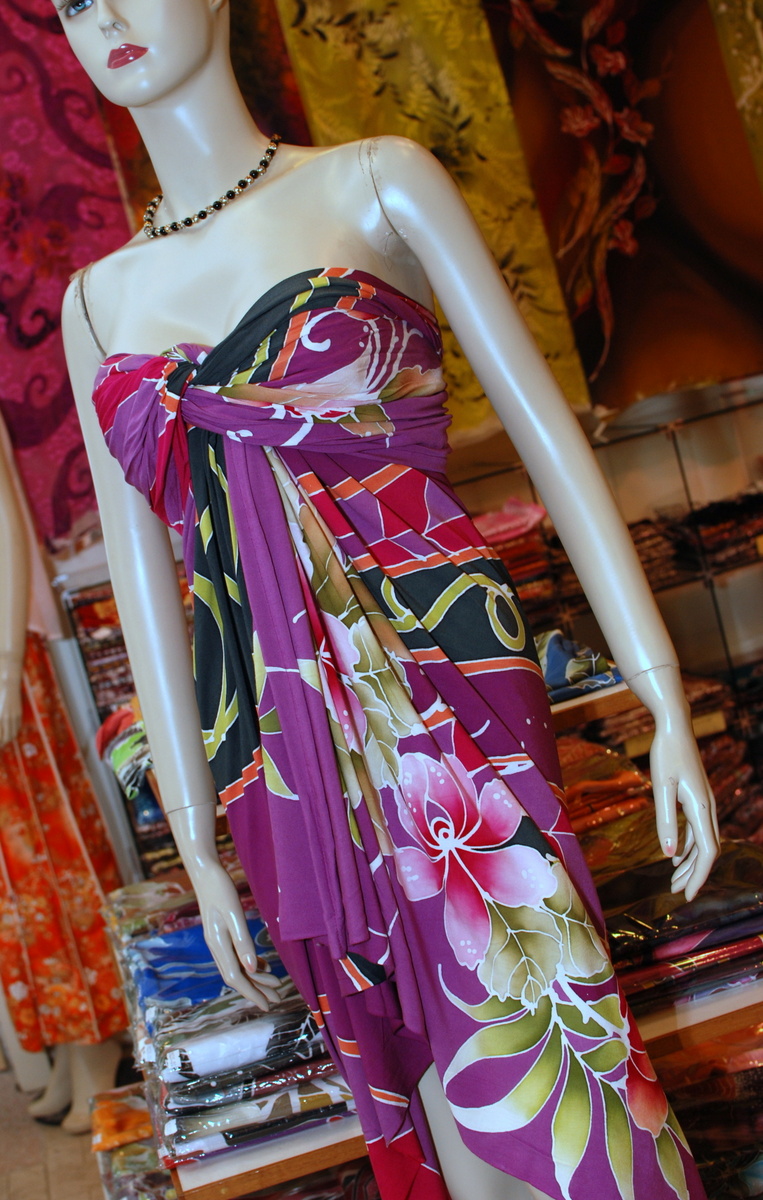 Batik is pretty popular in fashion. Malaysian designers such as Bill Keith have worked hard in incorporating elements of batik in their collections. And we don't just mean the normal batik silk shirt you see at functions. These days, one can shop for evening dresses, blouses, flirty pleated skirts and even bikini tops made with batik designs. Malaysian designers have taken a step above from the usual batik designs by coming up with bright and bold colours and designs. Who said batik clothes were conservative? Aside from clothes, there are even shoes and accessories with batik designs on them. Using a batik-designed fashion item is a great way to showcase a small part of Malaysian culture to the world.
About Jadi Batek Gallery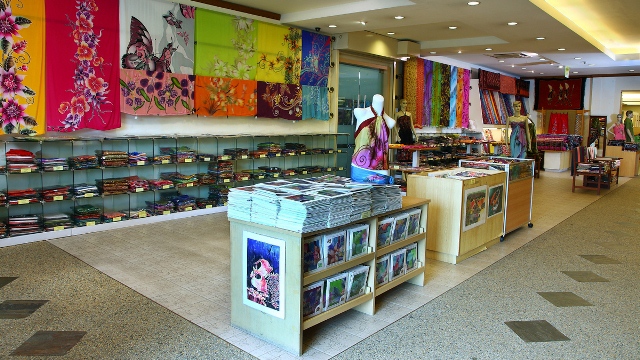 Located in the heart of Kuala Lumpur, Jadi Batek is one of the largest batik and handicrafts center in Kuala Lumpur, Malaysia. The gallery is a must visit, especially if one is interested in a holistic experience in Malaysian batik and handicrafts.
With a strong belief in preserving Malaysia's unique heritage and identity, one can be assured that the batik and handicrafts produced at Jadi Batek is of the highest quality, and are authentic.
The warm and friendly staffs at Jadi Batek will put any visitors, especially foreign visitors looking to learn more about this art form, at ease as they fully immerse themselves into every visual and sensual aspect of the gallery.
Aside from selling quality batik and handicrafts, Jadi Batek Gallery also offers a variety of activities for one to take part in, supervised by highly trained batik designers and makers. These batik artisans are skilled in their craft, and will assist visitors who join their batik making classes in producing high quality pieces.
To learn more about Jadi Batek Gallery, visit their website here.
Map to Jadi Batek Gallery

View Jadi Batek Gallery in a larger map



" ExpatGo welcomes and encourages comments, input, and divergent opinions. However, we kindly request that you use suitable language in your comments, and refrain from any sort of personal attack, hate speech, or disparaging rhetoric. Comments not in line with this are subject to removal from the site. "



Comments