Nearly all road signage in Malaysia is solely in Bahasa Malaysia, so you'll need to learn a few key words and phrases to help make your driving experience here a little less stressful. Here are some common signs you may see on the roads and what they mean.
1.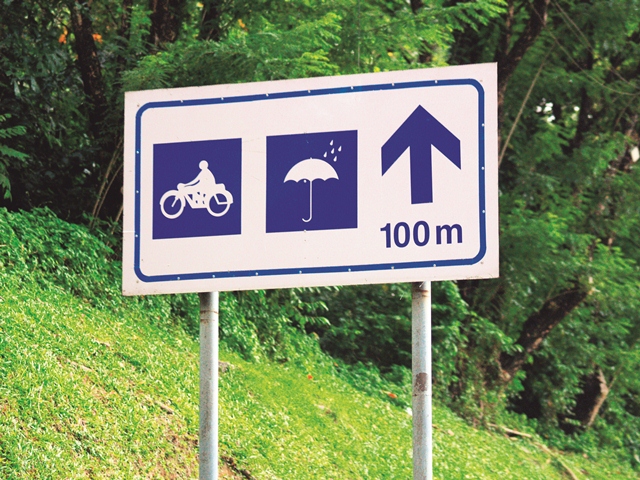 This sign indicates that there is a shelter for motorcyclist in exactly 100m. Much needed when it rains.
2.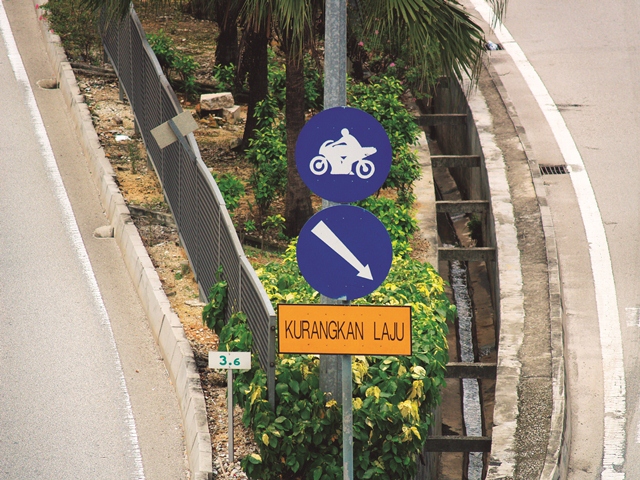 "Reduce speed." This also shows an entry point for a dedicated motorcycle lane.
3.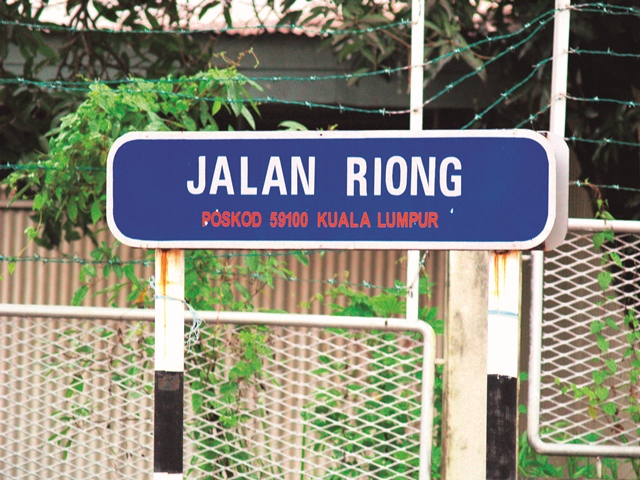 Jalan means "road" or "street." In this case, Riong Road.
4.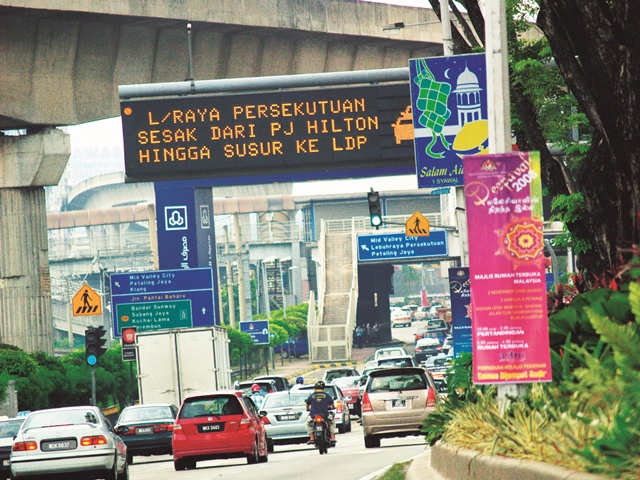 Electronic message boards are placed on major roads. This one says, "Traffic Jam From PJ Hilton to LDP" – just in case you couldn't already tell by all the cars surrounding you.
5.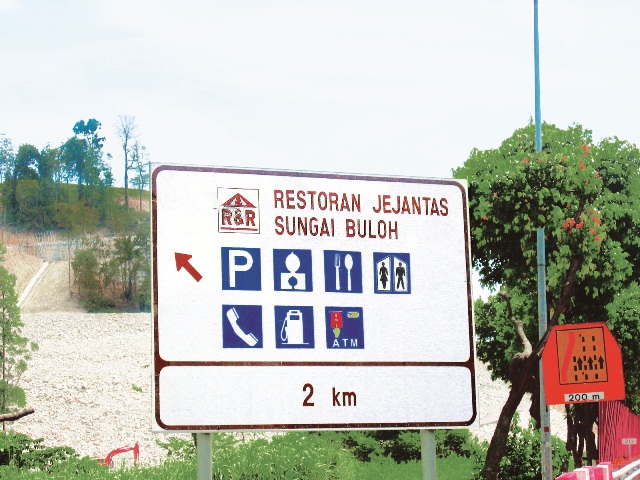 There are regular places to stop along the highway. The signs show what facilities are available. This one offers parking, a prayer room, food, toilets, public telephone, petrol, and an ATM machine.
6.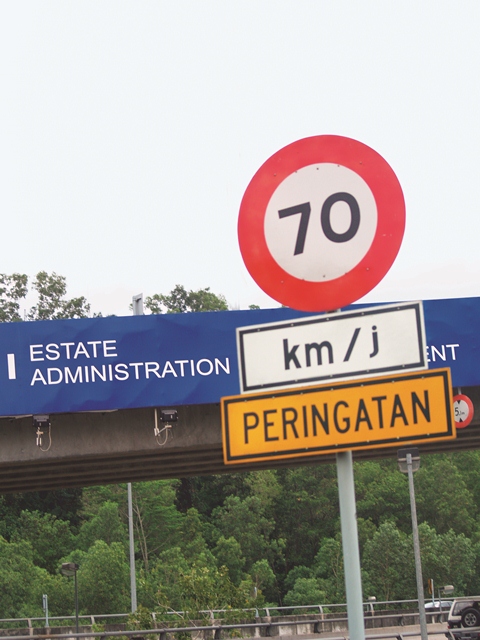 "Reminder" – the speed limit on this stretch is 70kph. In built-up areas where there are no signs, it is generally reasonable to assume the limit is 50kph.
7.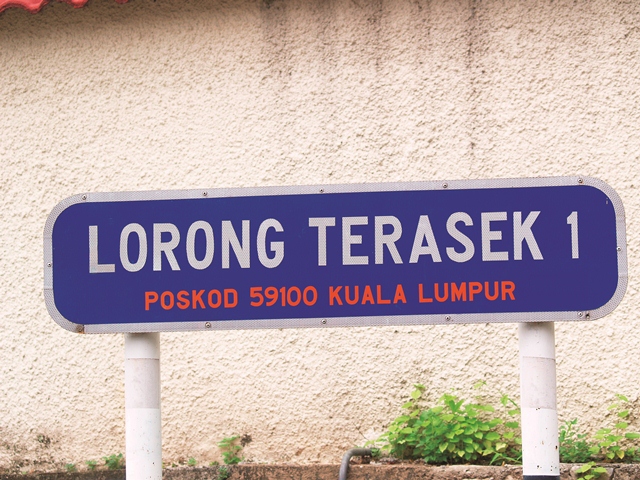 If you come across the word lorong, it means "lane".
8.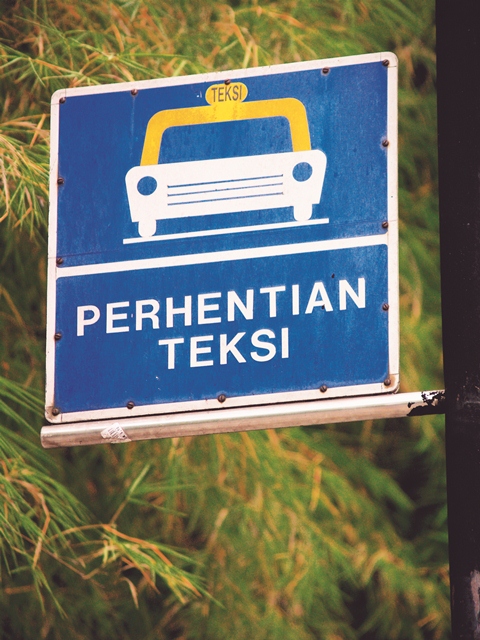 "Taxi stop" or "Taxi stand." If the word sahaja is added, it indicates the lane or area can be used by taxis and/or buses (bas) only.
9.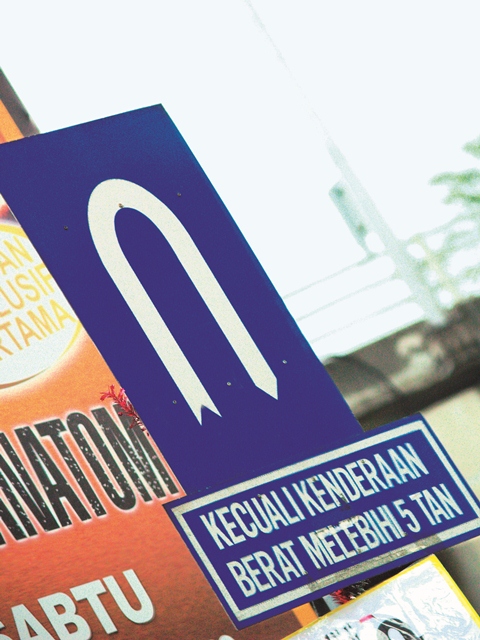 This sign indicates that cars are allowed to U-turn, except those that weigh five tons or more.
10.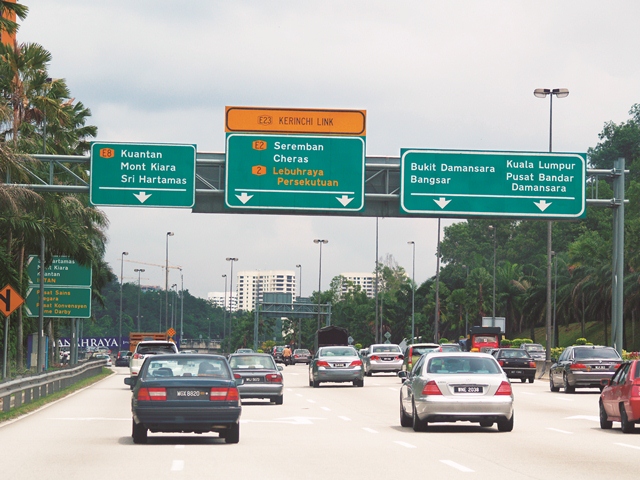 Green and blue road signs use coloured text to help you understand the directions they are giving. Yellow lettering indicates the road name (in this case, Lebuhraya Persekutuan, or Federal Highway). White lettering is the name of the town or area. Green lettering on white background indicates a building or attraction. Areas or roads are noted by distance, with the nearest at the bottom, e.g., using the left lane, Sri Hartamas will be reached before Mont Kiara or Kuantan.
11.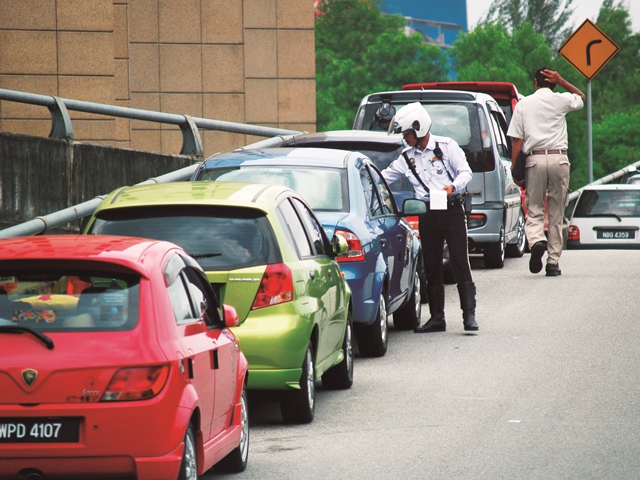 Traffic Police make regular rounds and issue summonses for those who park illegally.
12.
Sadly, accidents on highways involving buses and heavy trucks are not uncommon. Many toll roads have Ronda, or "patrol" service vehicles to assist with accidents, breakdowns, or other emergencies.
13.
These relatively new signs indicate you are in a residential area. It urges caution and reduced speed (kurangkan laju) because people could be walking or cycling and there are speed bumps.
14.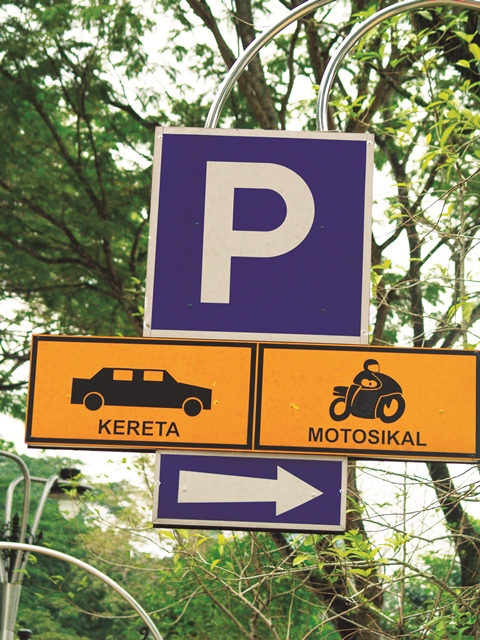 Parking is only permitted for cars and motorcycles.
15.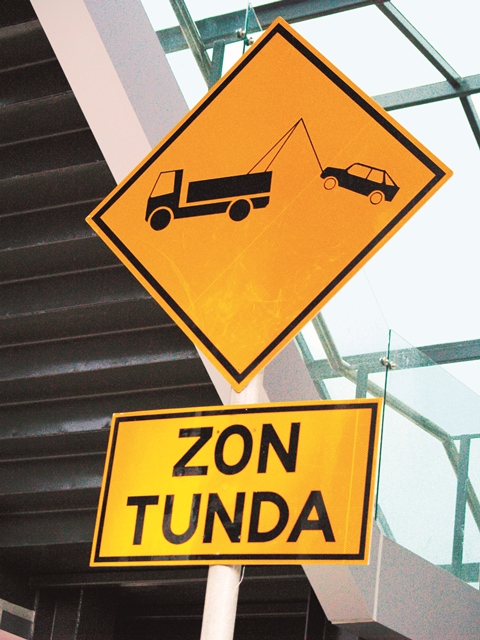 "Tow-away zone." Parking here will result in your car being towed. Except probably not really, as we have found this warning is rarely and erratically enforced. However, park at your own risk… especially if there's room for a tow truck in front of your car!
16.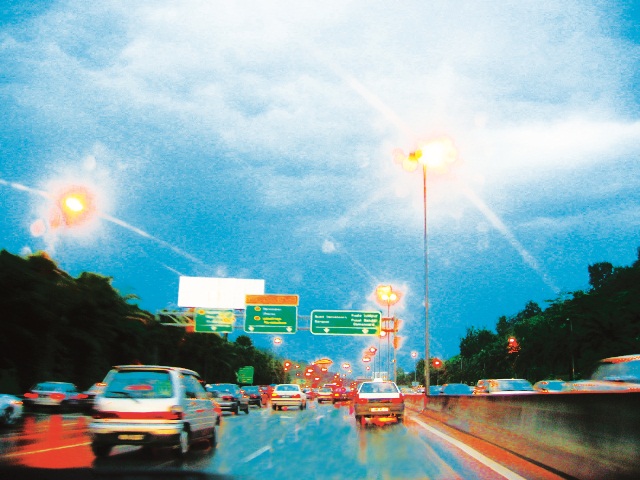 Driving on rainy nights presents many hazards, and keeping your distance is particularly important if you want to avoid joining a multiple car pile-up.
17.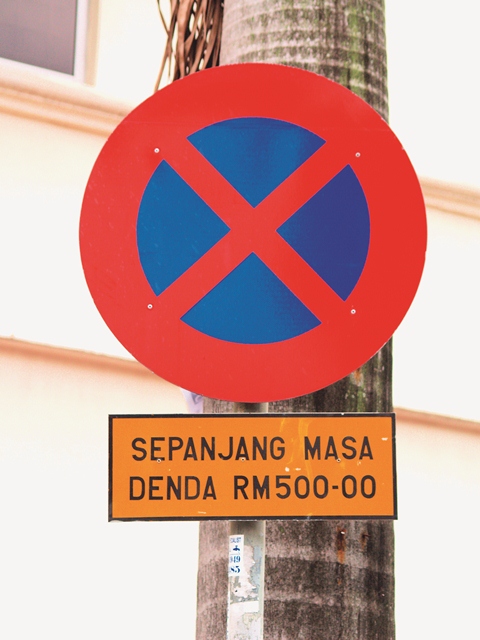 This sign indicates that parking is prohibited sepanjang masa, "at all times," failing which a fine (denda) of RM500 will be incurred.
18.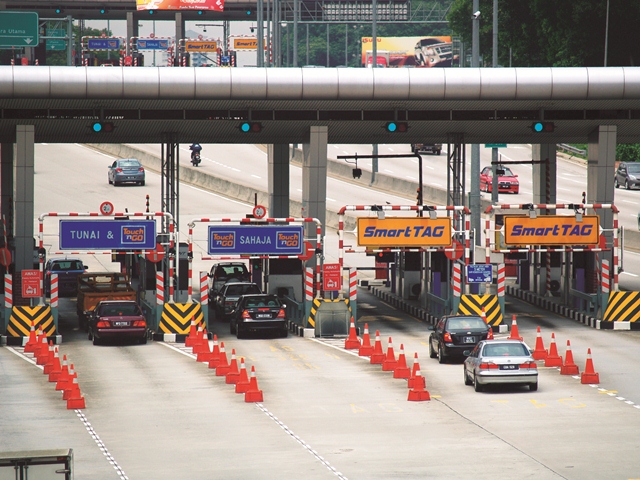 Sahaja = "only." These signs indicate dedicated toll booth lanes on the highway for Touch 'n Go and for Smart Tag. Drivers without either should look for Tunai, or cash lanes.
19.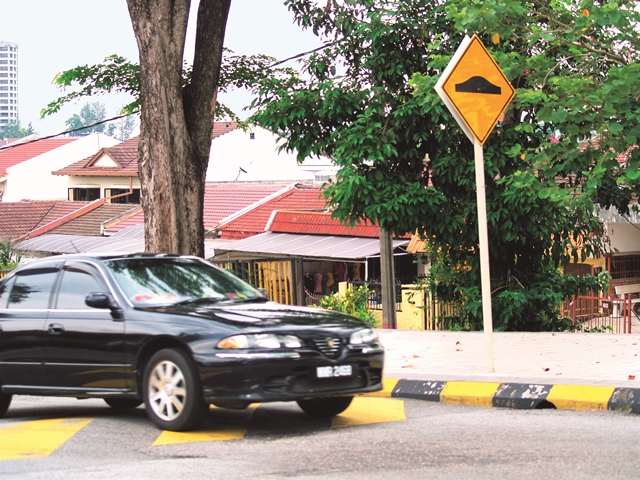 Practice caution when driving over speed bumps, as some are very steep. Look for telltale gouges in the roadway because of cars smashing back onto the road after going over the speed bump too fast.
20.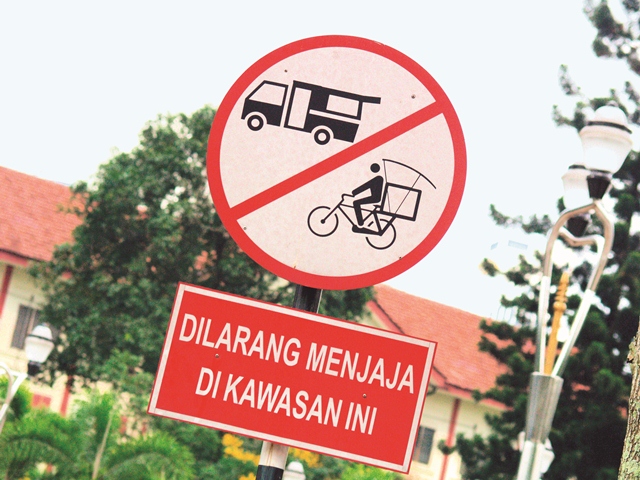 Dilarang = "prohibited." In this case, no vendor/hawker selling allowed in this area.
21.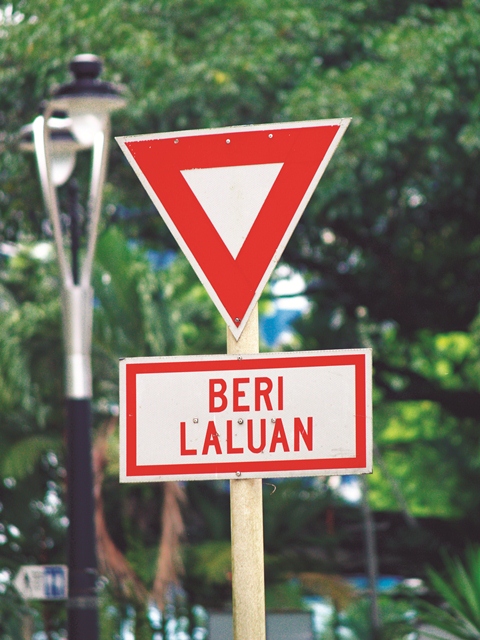 "Give way" (or yield): motorists should give way to other vehicles.
Source: The Expat Magazine August 2014
Read more:
What are your thoughts on this article? Let us know by commenting below. No registration needed.
---
"ExpatGo welcomes and encourages comments, input, and divergent opinions. However, we kindly request that you use suitable language in your comments, and refrain from any sort of personal attack, hate speech, or disparaging rhetoric. Comments not in line with this are subject to removal from the site. "
Comments