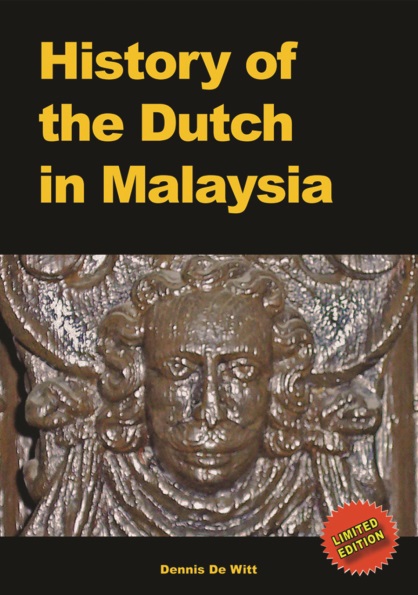 The recent tragedy of MH17 underscored, perhaps to a world community previously unawares, the ties of friendship and diplomacy which have long been shared by Malaysia and the Netherlands. It is a heritage built on foundations of mutual interest, respect, and commerce, enduring over centuries and still very much present today.
Author and historian Dennis De Witt, himself of Dutch-Malaysian descent, has authored a staggeringly well-researched and comprehensively presented book on the many years of this bilateral relationship between two nations and its peoples. History of the Dutch in Malaysia, at over 250 pages, does far more than merely chronicle a timeline of historical events, though it covers that exceptionally well, too. A gifted storyteller, Mr De Witt's understanding and knowledge of history makes for a compelling read.
The history of the Dutch in Malaysia dates back over four centuries to the initial contacts between the peoples of these two countries. Though the Dutch did indeed capture and control Malacca, they did not come to Malaysia to expand their geographical dominion. Rather, a Dutch company called the Verenigde Oostindische Compagnie (VOC), which means "United East India Company," was established, formed as an amalgam of six smaller companies, in 1602 in the Netherlands and given special authority to enter into contracts and treaties with local rulers, raise its own army, and build forts. It was a private commercial enterprise owned by investors and governed by a Board of Directors. The primary impetus driving the Netherlands' arrival in Malaysia was therefore commercial in nature, not geopolitical. Establishing trade routes and securing markets was a primary concern, and with this in mind, the Dutch sailed to Asia, and by 1670, the immensely successful VOC was the richest private company in the world, with 50,000 employees and a private army of 30,000 soldiers. The VOC was so profitable, in fact, that annual dividends paid out to shareholders reached as high as 40% on the investments.
Around the same time the VOC was being initially established back in Holland, the Dutch were sowing the seeds of friendship in Malaysia already. Admiral Jacob van Heemskerk had arrived on the Malay Peninsula and was setting up an alliance with the ruler of Johor, Sultan Alauddin Riayat Shah III, who eagerly accepted the proffered friendship owing to his need for support to seize Malacca from the Portuguese, who controlled it at that time, and protection from the Acehnese in neighbouring Sumatra.
However, the new alliance between the VOC and the Sultan of Johor proved insufficient to supplant the Portuguese on the first attack in 1606, and the union failed again in successive efforts, until finally in 1640, an all-out siege on Malacca ultimately succeeded, and with the fall of the Portuguese forts in Malacca, Johor was finally freed from the Portuguese and Acehnese threats which had plagued it for many decades. Malay rulers throughout the region sent their congratulations to the VOC, Johor began to prosper, and its status and prominence in the Malay world began to grow, all as a result of the friendship and alliance with the Dutch.
Of course, it didn't end there, as the prize of Malacca was jealously eyed by both the English and the French, and naturally, the defeat was a bitter pill to swallow for the Portuguese. The Dutch, nevertheless, managed to hold onto Malacca for decades. The decline of the VOC didn't really take hold until the latter half of the 1700s, and Dutch rule in Malacca didn't come to an end until 1825.
If it sounds like a script for a great movie, it's not surprising. It has all the right elements: deceit, guile, sea battles, strategies upended by countermoves, suspicions of treachery and treason… even love and betrayal. Mr De Witt's prose effectively educates the reader and weaves an immense tapestry of historical facts and information, but does so in a largely entertaining manner. For any Dutch expat living in Malaysia, or anyone even peripherally interested a particularly compelling period of history in this region, this is a highly recommended book to seek out.
Begun as a quest for the source of prized spices, Holland's journey to the Malay Archipelago may have been born of necessity, but the element of chance and a forged friendship forever changed the direction of the country that would become Malaysia. Dutch occupation, rather than causing social strife and economic decline, laid the foundations for flourishing regional trade and ties of diplomacy and friendship that exist even to this day. History of the Dutch in Malaysia brilliantly recounts the
important contributions and developments of this largely hidden minority ethnic group in this Southeast Asian nation.
This popular and critically lauded book saw its previous editions completely sold out, so its publisher has re-introduced a final printing of the title in a limited edition hardcover version that is currently available at Silverfish Books in Bangsar, as well as KL's Badan Warisan and The Penang Bookshelf. Interested readers may also visit the publisher's website at www.nutmegpublishing.com.
History of Dutch in Malaysia, a 258-page hardcover limited edition, is available for RM90 retail. Dennis De Witt is also the author of Melaka from the Top and Historical Tombstones and Graves at St Paul's Hill Malacca.
Source: The Expat Magazine September 2014
Read more:
What are your thoughts on this article? Let us know by commenting below. No registration needed.



" ExpatGo welcomes and encourages comments, input, and divergent opinions. However, we kindly request that you use suitable language in your comments, and refrain from any sort of personal attack, hate speech, or disparaging rhetoric. Comments not in line with this are subject to removal from the site. "



Comments