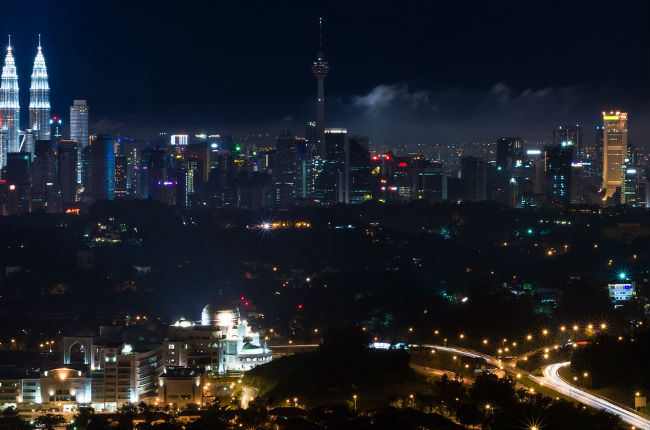 Photo credit: turbozmr2 / Foter / CC BY-NC-SA
Malaysia has a lot going for it in many respects, but when it comes to doling out names, the folks here aren't often the most creative bunch. I've long been rather interested in place names and their origins. Some are pretty self-explanatory (KLCC, for instance, doesn't require much sleuthing), but many make you wonder. However, beyond the etymology of these names, sometimes – at least here – you're left scratching your head not so much about the name's origin, but rather why they didn't work a little harder to come up with something better.
It first came to me, I think, over a condo development in my neighbourhood that's been dragging on for years. In my small township of Damansara Perdana, one of the most prominent condos is Armanee Terrace. Setting aside the flagrant "reappropriation" of the famous designer's name, when the developer started construction on another massive tower sited next to the original, they didn't bother coming up with a new name (perhaps "Goochie Terrace"), they just named it Armanee Terrace 2. Like it's a sequel or something.
Turns out this phenomenon isn't just related to condos, though. A new township near Seremban? Hey, let's call it Seremban 2. The long-awaited second bridge to Penang? The Penang Second Bridge. And when it was decided to replace the much-derided lowcost carrier terminal – itself cleverly called LCCT – at KLIA, what was the inventive moniker chosen? Yup, KLIA 2. In Bangsar, when you're meeting someone for dining or shopping, you'd better ensure they know it's Bangsar Village, not Bangsar Village 2. Fortunately, at least these two places are connected should you get confused. Of course, the "sequelization" approach isn't the only example of the peculiarities of names in Malaysia. In the last year or so, the curiously named- to-begin-with Ikano Power Centre underwent what was supposedly a major rebranding effort. New signage, new colours, even a new name and logo. What was this bold turnaround to rebrand and update the Ikano Power Centre? What was their fresh new name? IPC Shopping Centre, which I guess works out to "Ikano Power Centre Shopping Centre." Sigh. This also makes me wonder why, in names in Malaysia, the word "centre" always retains its English spelling yet the word "central" does not. (Indeed, I've been here so long now, seeing it spelled sentral almost looks right to me.)
Across from Ikano – sorry, IPC – is another mall. As it's built along a curved road, I presume, they named it The Curve. Really not the worst name, to be fair, but in another bizarre rebranding effort, the attached shopping, dining, and entertainment complex at The Curve was recently transformed from Cineleisure to e@Curve, a rather odd name, especially when said aloud. In addition to The Curve, geometry lovers can also find The Sphere, The Square, and The Circle at various locales throughout Greater KL. None of these, it must be said, fall within the city's Golden Triangle. The Oval, however, does.
Sometimes, a good name comes along, only to be promptly overused. My very neighbourhood is probably the best example. I'm in one of some 18 townships bearing the name Damansara. And some of these are nowhere near each other. My place is adjacent to Mutiara Damansara, which sort of makes sense, and Kota Damansara is just around the corner, but Damansara Damai is a good distance in one direction, Damansara Jaya equally so in another direction, and Damansara Heights off in yet another. You might expect that Bandar Sri Damansara and Bandar Pusat Damansara might be quite near each other, but in actual fact. they're not remotely close.
Finally – and I wasn't aware of this until I had lived here for a while – there is a curious trend of using a string of Malay words to form an English acronym, though sometimes involving a bit of a stretch. When you're on the SPRINT expressway system in KL, for instance, you're really using the Sistem Penyuraian Trafik KL Barat (or the Western KL traffic dispersion system). And RapidKL? That's not just a false promise, it's also an acronym for Rangkaian Pengangkutan Intergrasi Deras. If you're driving through the SMART Tunnel, you're not just utilising an impressive bit of engineering, you're enjoying an acronym for Syarikat Mengurus Air Banjir dan Terowong. There was also an after the- fact name devised in English, too: the Stormwater Management And Road Tunnel.
Of course Malaysia is by no means alone: all places have their own naming idiosyncrasies. My home country's suburbs are often derided as the place where they cut down the trees and then name the streets after them. Or name the streets after things that were never there to begin with. Back home, there's a posh neighbourhood called Cherry Hills Village. It's literally none of these things (not even a proper village, as it's just a sprawling collection of expensive homes). No cherries, no cherry trees, nothing cherryflavoured. And the whole neighbourhood, naturally, is as flat as a pancake.
Still though, I'm fascinated by place names, and many times, there are interesting little tidbits behind where the names came from. Even here, where it can admittedly be as unromantic as Kuala Lumpur ("muddy estuary") or as uninspired as Kota Bharu ("new city"), there are still tales to be told and facts to be learned, all held in the names of places.
Read more:
What are your thoughts on this article? Let us know by commenting below. No registration needed.
Source: The Expat Magazine October 2014
---
"ExpatGo welcomes and encourages comments, input, and divergent opinions. However, we kindly request that you use suitable language in your comments, and refrain from any sort of personal attack, hate speech, or disparaging rhetoric. Comments not in line with this are subject to removal from the site. "
Comments