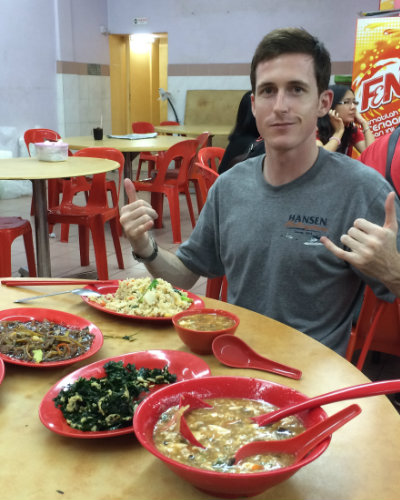 Name: Simon Fiddes
Home Country: New Zealand
Designation/Company: Helicopter pilot, Layang Layang Aerospace.
Other countries you have lived in: Guam, Marshall Islands
What brought you to Malaysia?
I came to Malaysia for work. A great job opportunity presented itself in Sarawak so I jumped at the chance to cultivate my inner Asian! I've been living in Miri and Sibu for about six months.
What do you like or dislike about the country?
I like how friendly everyone is here, particularly in the many villages I visit as part of my job. The locals are always keen give you some food and drink, and generally make you feel very welcome. The thing I dislike most would have to be the driving. Malaysian drivers are crazy! Also, the Miri to Brunei buses are quite terrible.
Name three typical weekend activities you enjoy most.
I enjoy exploring new places. Heading to Singapore, Brunei, KL, etc., is a great way to unwind after work and there are plenty of things to do in these areas. Experimenting with new foods is great fun too.
What is your favourite holiday destination here? Why?
Despite not having spent much free time there, I'd probably pick Kuala Lumpur on account of its size, wealth of activities, and tasty restaurants. Sushi, get in my mouth! Equally enjoyable, in a different way, is Belaga, a jungle town in the Sarawak interior. I go there as part of my job, so it isn't really a holiday getaway, but it feels like the purest way to experience Malaysia and get a good dose of culture.
Describe a memorable eating experience you have had here.
Hands down, the first time I ate sambal (chilli paste). Pretty sure I nearly died! I later found out that the person who made this dish had put 15 chillies in it.
What do you miss most about your home country?
I miss my friends, family, and crazily enough, the cold weather. You don't realise how much you love snow until you live in a country where it never does.
What advice do you have for a newlyarrived expat?
Don't be afraid to get right into it! Cast aside your fears of contracting hepatitis and eat all of the glorious food that Malaysia has to offer. Learn some of the local languages; be it Bahasa, Iban, Mandarin, etc. The locals appreciate the effort and you'll have a much easier time fitting in and making friends.
How long do you plan to stay in Malaysia? Where would you like to go next, and why?
I think I'll be here for a good five years or so, depending on the nature of my job. Next stop for me will probably be the UAE or Australia as there are great job opportunities for pilots in these places.
Is Malaysia a good place in which to work and do business? Why?
I think it's a great place to work. I get to see some of the best scenery I've ever seen from the driver's seat of my helicopter and I wouldn't trade it for the world. I'm involved in healthcare, so I also get to experience the satisfaction of helping out those who are sick and less fortunate in this country. I absolutely love it.
Read more:



" ExpatGo welcomes and encourages comments, input, and divergent opinions. However, we kindly request that you use suitable language in your comments, and refrain from any sort of personal attack, hate speech, or disparaging rhetoric. Comments not in line with this are subject to removal from the site. "



Comments