Although Malaysia is home to a smorgasbord of great food, there are a few places that tourists and locals alike flock to, to get their fill of delicious goodness. The quaint little town of Ipoh is one of those spots, drawing a veritable crowd each weekend, eager to sample the delectable dishes for which the town is famous.
Ipoh has a large Chinese population, a result of its tin mining history that inadvertently helped shaped its culinary landscape. Chinese immigrants were drawn to Malaysia by the tin mining industry, bringing their various regional dishes with them to add another culinary quirk to the mix. Over time, the tastes and food styles were influenced by the local food scene to create new dishes that could not be found in any corner of their original homeland, thus cementing Ipoh's reputation as a truly unique culinary capital.
Here are a few of Ipoh's Hall of Fame dwellers:
1. Curry Noodles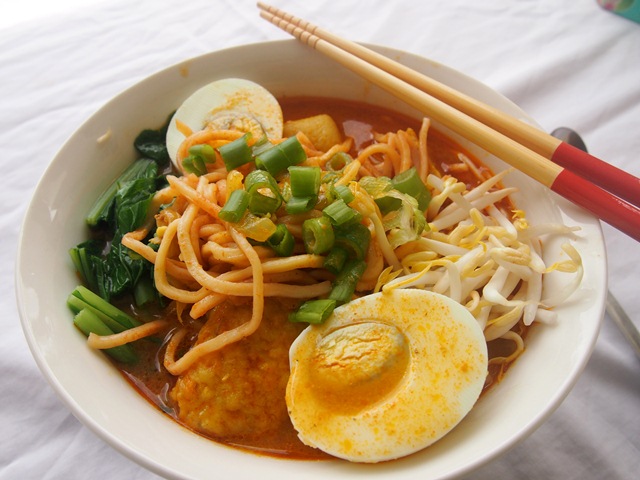 It may sound simple enough, but there is a complex variety of condiments that go into the making of a perfect bowl of curry noodles. Otherwise known as mee kari, the Ipoh version is famed for its fiery, curry-based broth, a major drawing card for spice lovers near and far. A uniquely Malaysian favourite that is equally popular on the streets and in the kitchen at home, curry noodles is packed with fresh wheat noodles and topped with sprouts, fish cake, and prawns – a definite slurp-worthy dish best enjoyed piping hot!
2. Char Kuey Teow
Many states jostle for position when it comes to crowning the best char kuey teow in the country (yes Penang, we're looking at you), but Ipoh manages to serve up a stalwart example of this Chinese-Malaysian dish. Usually made with noodles, bean sprouts, prawns, egg, chives, and meat, char kuey teow may vary from region to region (as will the spelling), but always drips with oil and with oil melts any hungry heart. Ipoh's Old Town is home to one of our favourite versions so if you're in the area, pop by and have your fill.
3. Popiah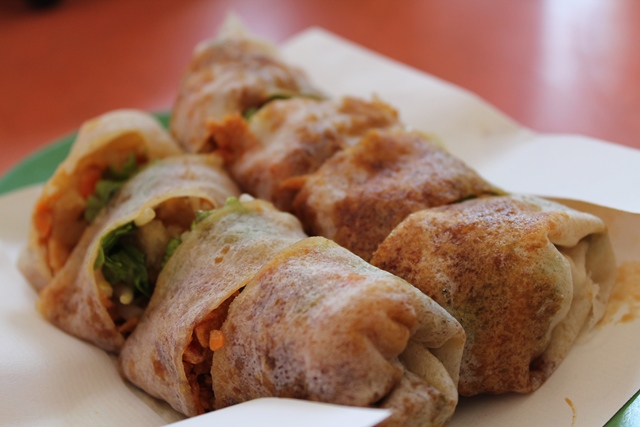 Popiah is one curious creation that has become a national treasure, with Malaysians swearing by their local vendor as being "the best" in the business. Ipoh's night market is home to some fabled versions of this popular spring roll type snack, with many making the pilgrimage just to sample these goodies. Filled with shredded vegetables and shrimps, and doused in chilli sauce, popiah may have its roots in the Fujian province in China, but it has found its niche in humble ol' Ipoh.
4. Chee Cheong Fun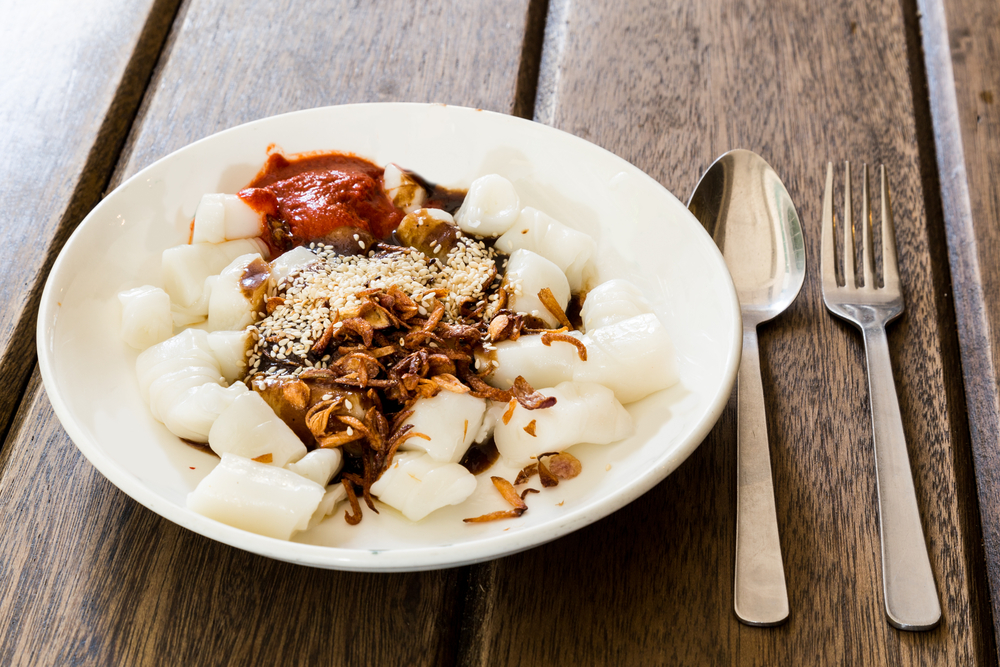 Even though it's a bit of a tongue twister to say out loud, there's nothing difficult about smashing through a plate of chee cheong fun. There are different versions available. The most popular one is served with a shrimp paste and is actually known as the Penang version. In Ipoh, it is usually served dry with soy sauce, sesame seeds, fried shallots and onion oil. Another popular Ipoh version is served with curry and mushroom gravy, sesame seeds and fried shallots.
5. Kaya Puff
The humble kaya puff has found its way into the hearts of many. The puff itself may look too small to have much in it, but in reality, it is packed with flavours from the splendid kaya (coconut and egg jam) filling, and the flaky, crispy-when-hot pastry. Incidentally, the puffs retain their crispiness even after several hours out of the oven. Paired with a hot beverage (why, hello there, white coffee!), this union brings tea time to a whole new level of excitement.
6. White Coffee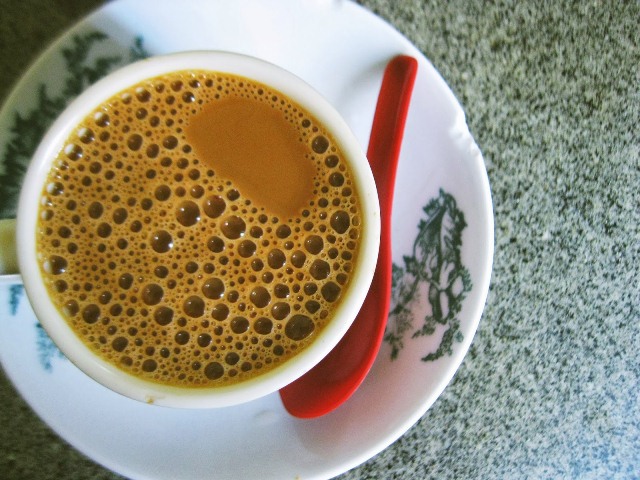 So famous that it's got a chain store named after it, the white coffee drink stands its ground in the midst of this teh tarik-obsessed nation. Originally from the Hainan region, but perfected in Ipoh, the term "white coffee" in Chinese is bak kopi; however, the "white" term has nothing to do with the colour in this instance, but is rather a reference to the way how the coffee is roasted. In Chinese, bái also means 'without, or unadulterated', meaning nothing has been added to the coffee during the roasting process. Whatever you call it, both a piping hot cup and an icy cool glass of this frothy, milky coffee will leave you reeling with delight.
7. Bean sprouts chicken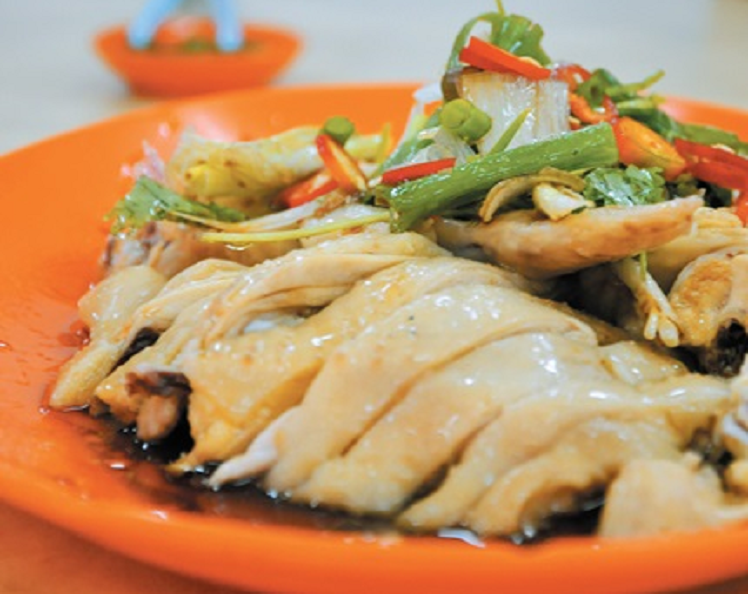 Like yin and yang, the steamed chicken would be lost without its ever faithful partner, bean sprouts. Most commonly found as part of the solid chicken rice combo, this Malaysian favourite has its roots in the Hainan province in China, and many a foodie will thank these migrants for bringing a delicious piece of their land over to Ipoh.
The ingredients are simple, but it is the manner in which the chicken and the bean sprouts are cooked that distinguishes the delectable from the disastrous. Touted as the best in the country, Ipoh's version of chicken rice has spawned many copycats around the globe. Always imitated, never duplicated – a testament to the finesse of this amazing dish.
 Read more:
Source: The Expat Magazine November 2014
The image for chee cheong fun was updated to reflect the correct version of the dish. This article was edited by ExpatGo Staff on the 20 June 2016
---
"ExpatGo welcomes and encourages comments, input, and divergent opinions. However, we kindly request that you use suitable language in your comments, and refrain from any sort of personal attack, hate speech, or disparaging rhetoric. Comments not in line with this are subject to removal from the site. "
Comments