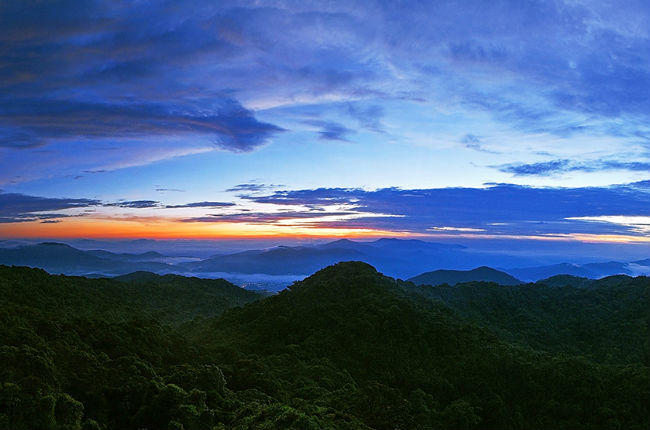 Photo credit: tlchua99 / Foter / CC BY-NC-SA
Go exploring on a multi-destination adventure with Paula Tan as she wanders around in Peninsular Malaysia's largest state, Pahang.
The dirt road ahead looks daunting in the slashing rain, and the combination of Arianna Grande on the stereo and our slapping wipers does little to steady my nerves. As we inch along the muddy terrain, a faded wooded signboard emerges in the grey, and as we turn into the compound, I see two smiling faces waiting in the patio amidst a lush tropical garden.
Discovering Janda Baik
We have arrived at Sailor's Rest, one of Janda Baik's ecofriendly hideaways, where the owners, a charming older couple, spend quality time with guests on their three-acre property dotted with fruit trees and a stream that runs through it. Here, a sampler of outdoor activities awaits and visitors can sleep under the stars in tents, or opt for a more comfortable arrangement in a stylish chalet, kampung house, bungalow – or the property's pièce de résistance, a houseboat.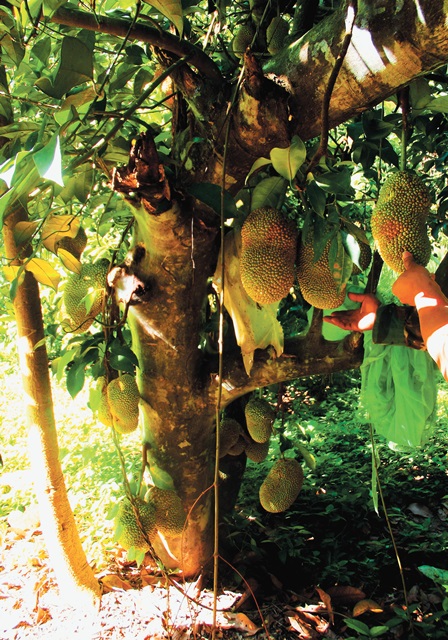 In Janda Baik, nature still reigns. Located in Pahang, an easy 45-kilometer drive from Kuala Lumpur, this green enclave is favoured by families and company team-builders. It is connected to the Karak highway by a meandering road into the hills and nestled in a valley between Genting Highland's towering resorts and the sophisticated Bukit Tinggi. Retaining its village appeal with a sprinkling of homestays and chalets, Janda Baik means "good widow" in Malay, and is believed to have earned its name from a kind widow, who helped tend the wounds of a mercenary returning in the wake of a civil war in Selangor. Some 4,500 feet above sea level at its highest point, the district's temperatures dip below 22°C by night, making for a cool respite from the lowlands. Let your cares float away in the tumbling stream that crosses the district, or have fun with a list of outdoor adventures that includes camping, jungle trekking, abseiling, and obstacle courses. Try your hand at organic farming in the cropfields of eco-resorts like Saufiville and Tanarimba, and at dusk, drive down to the nearby town for a tasty dinner of simple Chinese dishes, seafood, frog porridge, or even flying fox. Follow up with a dessert of fresh local fruit, sold by vendors at the foot of the hill.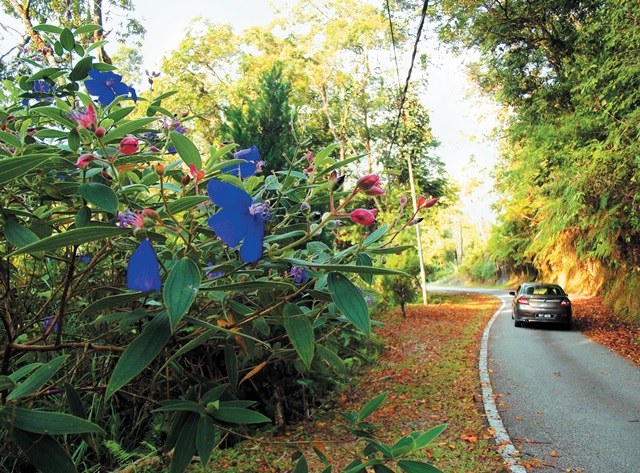 Discovering Bentong
Just under 40 kilometres away, the district of Bentong boasts a superior glamping (that's "glamorous camping" in case you wondered) experience at the Tanah Aina Farina eco-resort and Caravan Serai, a ranch-style setup. In the era of the famed Silk Road, a caravanserai was a roadside inn where travelers could rest after their day's journey. Now, it takes the form of luxury tents, complete with attached bathrooms, king-sized beds and air-conditioning. Awake to a clanging pan, beaten military-style by the friendly guide who will put you in bright yellow wellingtons before taking you on a morning hike across the property's steep hill. As you climb, you can pick fruit like mangosteens and jackfruit off low trees while learning the finer points of hiking and how to identify common plants before you ascend to an amazing view of nearby Frasers Hill, bathed in sunshine. Back on level ground, you will meet a river that allows you to wade your way back upstream. While glamping in Bentong, allow your tent time to cool by leaving it for an afternoon jaunt to the nearby Chamang Waterfall, a 15-minute drive inland from the main road. Gushing in a powerful roar from the heights above, the Chamang falls are breathtaking, yet slip into a calm ripple to the river below, making it perfect for a wade or dip in its refreshing waters. While you explore Bentong town's old streets, pop in for a meal at the Tawakal Restaurant, a tribute to Malaysia's prime ministers since Independence, with its extensive menu of dishes prepared in the old-fashioned way. Then, make your way over to the vintage CK Ice Cream shop, where handmade durian ice-cream adds creamy flavour to sundaes and the local shaved ice dessert air batu campur, commonly known as ABC.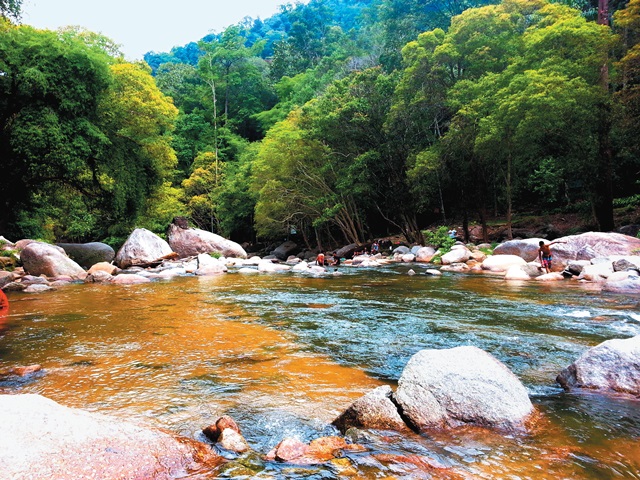 A short drive from Bentong, Frasers' Hill lies asleep. A gem in the crown that is Pahang's mountain range, it is one of Malaysia's last hill stations, an imprint left by the British colonials, with roots in the 1890s tin ore trade when Scottish prospector Louis James Fraser came to explore the remote Titiwangsa range – and vanished. As you arrive at this little hamlet through The Gap, as its border is called, peace slips its hand in yours, leading you back to the days of the planters, and a place to rejuvenate your tired soul. Up in the clouds, it is where you can stroll down quiet country lanes, have curious, colourful birds and butterflies flit around you, and enjoy beautiful views of the valley. Among Frasers' 270 species of birds are some that come from as far as Siberia to escape the winter cold, a factor that has made it the location of the annual International Bird Race – a competition that allots a 24-hour window during which teams must identify as many birds as possible. You can also trek into a magnificent forest of moss via one of the nature trails the hill is home to, and there are many. For an authentic hill station experience, choose a colonial bungalow over the more commercial hotels. By night, as the tiny town square's ivy-covered clock tower ticks to a forgotten melody, you may like to capture the mood with a delicious English dinner at Scott's Pub and Restaurant. Set your alarm for dawn and breathe in the mystique of surrounding hilltops in the darkness, levitating in a sea of mist.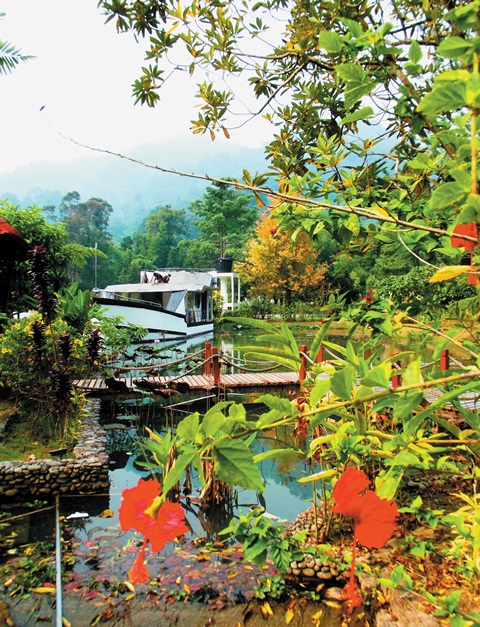 Discovering Kuala Selangor
For a day trip with a difference, one of Malaysia's most magical sights, eagle feeding, waits to be discovered in Kuala Selangor, a mere hour away from Kuala Lumpur city center via the LATAR Expressway. At a little jetty behind Kuala Selangor's Apps Hotel, a boat will take you down the river towards the open sea. Along the way, you will spot storks nesting – but the highlight is the point where flocks of large sea eagles swoop down almost close enough to touch, diving for scraps of chicken fat thrown into the water by the boatmen. Still more magic is to be found further out, with shy dolphins that surface for a lazy swim at sunset. After dark, the same boat will take you past the surrounding mangrove swamps where thousands of fireflies twinkle in the trees. Being a strategic vantage point, Kuala Selangor's Malawati Hill was the site of many battles with the Dutch in the 18th century, after Sultan Ibrahim built a mighty fortress there to safeguard the state. Despite his efforts, the fort fell to the enemy, was reinforced with Dutch cannons and renamed Fort Altingsburg. However, a year later, in a daring night raid, it was repossessed and restored to the Sultanate. Today, Malawati Hill and its lighthouse pays tribute to its history in a little museum on its peak, transporting visitors on a tram to see where brave men once fought to defend what was rightfully theirs.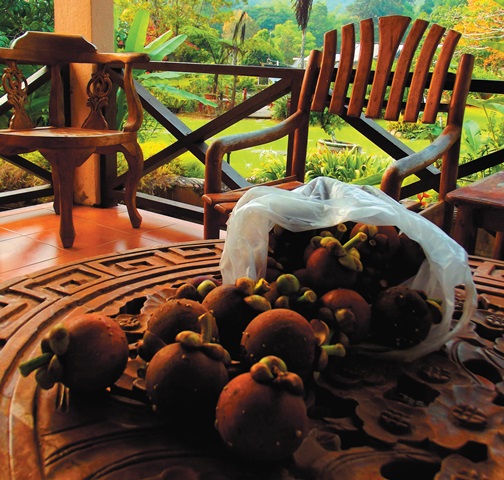 In the thunder of the falls and silent caress of mountain mists, Malaysia's highlands continue to share their stories of nature andwonder. When your alarm rings, open your eyes, pull aside the curtain – and let the sight beyond bring you back to life.
Read more:
What are your thoughts on this article? Let us know by commenting below. No registration needed.
Source: The Expat Magazine November 2014
---
"ExpatGo welcomes and encourages comments, input, and divergent opinions. However, we kindly request that you use suitable language in your comments, and refrain from any sort of personal attack, hate speech, or disparaging rhetoric. Comments not in line with this are subject to removal from the site. "
Comments